Here to make sure Opinion Inn is the best way to make money online?
You've come to the right place because in this review we're going to find out if Opinion Inn is a legit survey site you should spend your time on or just another useless scam.
If you're like me, you've already tried a ton of survey sites but either not ended up getting paid or hardly got paid anything at all and certainly not enough to make it worth your while, so let's run through everything you need to know before clicking the sign-up button.
Opinion Inn Review At A Glance
About: Opinion Inn is a survey site that also offers to commission from referrals. 
Price: Free to join but most surveys only available for users in UK, US, Australia and Canada.
Pros: Is legit and has a long history.
Cons: No info on the owner, limited info on the referral program and limited surveys.
Verdict: Only good as a sideline because survey availability depends on the country and if you pass the qualifications for each survey.  

What Is Opinion Inn?
Opinion Inn is a typical online survey site that rewards users in exchange for taking surveys and giving their feedback. They mostly pay cash through Paypal. The website was made back in 2014.
Like any other survey site, Opinion Inn asks for screening questions to determine if you're a qualified panelist for a specific survey.
When I did my research, one source says Opinion Inn works under Orchid Online Research Ltd. I turned the website upside down and I couldn't see any indication they're connected to the company. The funny thing is, the website really didn't provide any hint of information on who runs it.
I research for Orchid Online Research and I also couldn't find any information about them. So, there's no way of verifying Opinion Inn works with Orchid Online Research if ever it really exists.
To me, this is an immediate red flag because most online money-making opportunities I came across not giving any information on its owner turned out to be scams. I'm not outrightly putting Opinion Inn in the scam list but this does put them closer to it.
However, since it's been around for 6 years now, it adds a hint of the credibility to the website.
Opinion Inn's website looks rather outdated but fairly organized. It's doesn't look like any modern and exciting website but it's still easy to navigate.
At this point, I still couldn't say for certainty whether it's a scam or not.
Who Can Join Opinion Inn?
Anyone from around the world can sign up for Opinion Inn. You need to be at least 18 years old since this is PayPal's minimum age requirement to create an account with them which you'll use to cash out what you'll earn.
If you're over 18 years old and still have no PayPal account yet, you can click this link to make an account.
Signing up is easy you just have to provide your basic information like your name, birth date, gender, email, address, and other commonly asked demographic questions.
Once you finish filling out the form, they'll send you an email to confirm your registration and activate your account. This will also be the time they'll ask you to create a password you'll use in signing into the members' area.
Upon signing up, you'll be given a $10 sign up bonus which is kind of nice to give you a good head start. Although Opinion Inn is available globally, many of the surveys are available for those living in the US, UK, Canada, Australia, and India.
2 Ways To Make Money With Opinion Inn
Unlike other survey sites where you can also download apps, play games, and sign up for free trials to make money, Opinion Inn has only 2 ways to earn some cash: surveys and referrals.
1.Surveys
Paid surveys are the main way of making some money with Opinion Inn. You'll immediately see any available survey once you log in to the members' area. For someone not in the countries I mentioned earlier, the members' area will look something like this: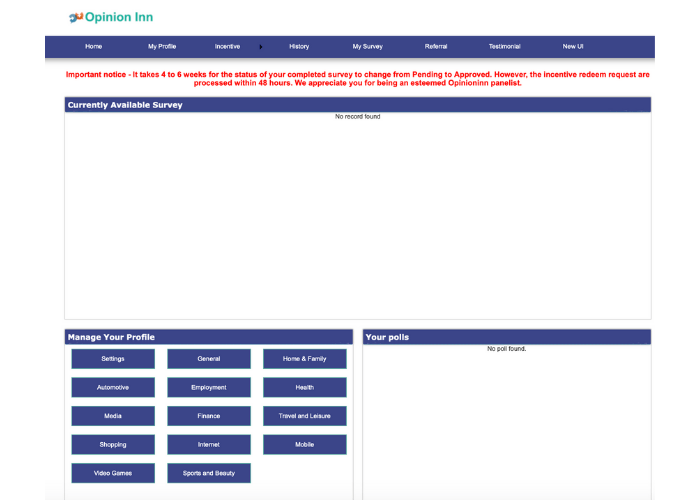 If you are either in the US, UK, Australia, and Canada, your members' area can look something like this: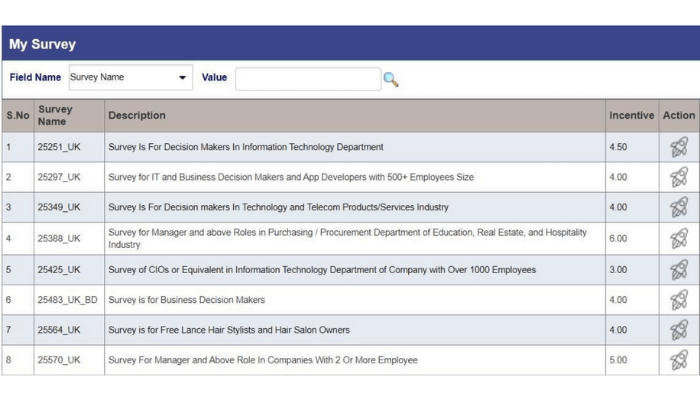 There's nothing different about the interface but with the number of surveys available. Also, if you're not logged in to Opinion Inn, you can still be notified of any newly available surveys because they'll email you.
Every survey starts off with some screening questions, some of it you've already answered before, so you'll need a little patience here.
It always starts off with screening because every survey has an intended group of people, they want to make sure you fit the demographics they're looking for. Otherwise, they wouldn't get accurate results for their research.
After finishing the screening questions, Opinion Inn will immediately tell you if you pass or not. Other survey sites shave this bad habit of letting you answer the survey and telling you in the middle of it that you're not qualified after all. Good thing Opinion Inn is not like that.
If you do qualify, you'll be directed to the survey to start answering. When I tried a survey, I was informed how many minutes it will take to finish, I'm just not sure if it goes for other surveys as well. But good if it does.
Keep in mind that surveys only have a limited number of participants, others have a set date. Be sure to take a survey once it is available if you don't want to lose the chance to earn from it.
Also, you'll get more chances to receive survey invites if you complete your profile. It can take some work, but it does increase your chance of getting chosen to be a panelist once they see you're a good fit for the survey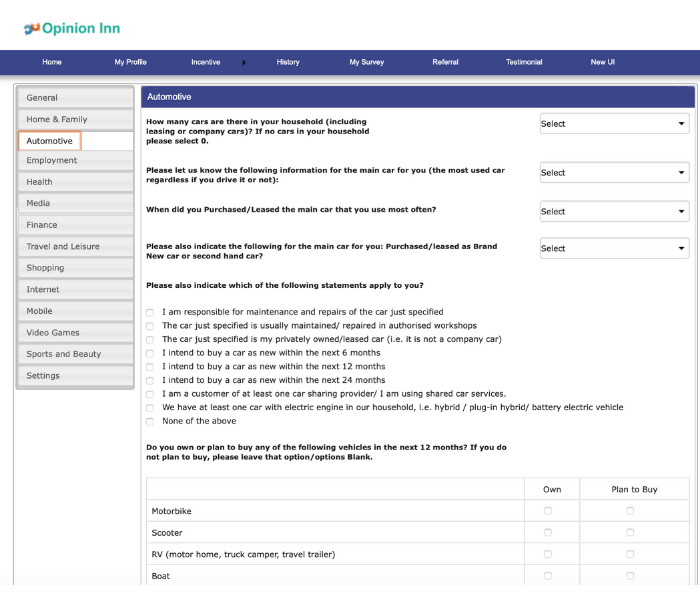 2. Referrals
It's common for survey sites to have referral programs to increase a user's earning potential. In case you get discouraged for the low number of surveys available for you to take, Opinion Inn has the referral program as a supplementary way to make money.
Here's the kicker:
Opinion Inn failed to give details on how its referral program works and how much you can make from it. Once you click the referral tab, you'll only be led to a form where you'll input the name and email of your desired recruit. Opinion Inn will then email them for an invitation to join.
Most referral programs I know give invite links you can use to recruit others, as for Opinion Inn, they'll do the work as long as you the name and email. Quite uncanny to me.
I'd appreciate it and I suppose you will too if they elaborated their referral program guidelines.
How Much Can You Make With Opinion Inn?
It will depend on the survey's length. You can get paid as low as $0.25 or up to $100. The $100 rarely happens though. In general, a survey that takes 15-30 minutes to finish can reward around $3-$5.
This is good if you get at least 3-4 surveys per hour, but this is highly unlikely especially if you're living out of the countries mentioned earlier. Plus, you also have to pass the screening questions to qualify. So you can't expect a steady stream of surveys you can take 8 hours every day.
How To Get Paid On Opinion Inn
After finishing a survey or successfully inviting someone to sign up and answer surveys, a cash amount will be reflected in your Opinion Inn balance. The minimum threshold to cash out with PayPal is $25.
If you ask me, it's quite high. I'm not saying this is Opinion Inn's purpose but most survey sites that don't end up paying up require large payouts so people will keep doing surveys and they will keep earning from companies before you reach the minimum threshold and realize you'll never be really able to cash out.
Another thing, Opinion Inn doesn't credit cash rewards at the same time. Some cash rewards can take 6-8 weeks before it will reflect in your balance. Others will only credit the cash rewards after the whole survey period is closed. Still, there are also others that pay as soon as the survey is done.
The bottom line is, you'll need a lot of patience with this…
Does Opinion Inn Have An App?
Unfortunately, there's no mobile app available for Opinion Inn. You can only access Opinion Inn using your phone through a web browser. But since the website is easy to navigate, doing surveys from your phone is quite user-friendly. You can still take surveys on the go.
Pros Of Opinion Inn
Free to join
Available anywhere
Pays cash through Paypal
Has a sign-up bonus
Cons Of Opinion Inn
No info on the owner
No info on the referral program
Limited surveys
High cash out threshold
Is Opinion Inn A Scam?
Opinion Inn is not a scam. However, there's no direct information stating who owns it. There's a high cash-out requirement, which common to scams. Still, these two red flags are not enough to label Opinion Inn as a scam.
Still, there are others that say, waiting too long to get paid makes them a scam. Check out what a user expressed in Reddit.
Scam or not, the very low earning potential with Opinion Inn and most survey sites, in general, are reasons why I won't recommend this to you. I actually think your time is worth spending on something that rewards more.
My Final Take On Opinion Inn
Opinion Inn, though not as high paying as Swagbucks, is a fairly decent survey site.
However, if you're turning to survey sites as means to make ends meet, survey sites will disappoint you. At most, you can only earn a few dollars in a day with it and your income will always depend on whether there is a survey available or not.
If you want to earn a full-time income online, I suggest you try building your own online business through affiliate marketing. It's a time tested was of making legit money online.
The great thing is, your income won't only stream in as long as you're in front of the computer. When you've established your website, you can earn from it day and night, month after month!
Check out this in-depth Wealthy Affiliate review to get started.
Wealthy Affiliate's free Starter membership gives you instant access to a free 10-lesson beginners course which will walk you through how to get your first income-ready affiliate marketing website up and running.
Take Wealthy Affiliate for a free test drive now, you'll be glad you did!
Questions? Suggestions?
Ever tried Opinion Inn? What's been your experience?
Got any questions about making money online?
Let us know and we'll get right back to you!
Simon Crowe is on a mission to help as many people as possible kiss their bosses goodbye.
Take the free Commission Academy course to discover how to smash your online income goals and make your dream business a reality.