A lot of free time can mean playing games and watching movies endlessly. Others invest that time to earn some money on the side with paid surveys or even build a profitable online business.
If you're considering Cashkarma as a good way to make side money, this review will tell you all you need to know before downloading the app.
You heard it right, it's free to download survey app. If you think you can do surveys on a computer, Cashkarma will try to redirect you to the App Store or Google Play to download the app.
There's your first juice right there and if you want to get the whole picture before signing up, you'll get what you need in this review.
Cashkarma Review At A Glance
About: Cashkarma is Eric Lin's survey app. You can take surveys, watch videos, and sign up for other apps to cahs-convertible points.
Price: Sign up is free.
Pros: Pays in cash of gift cards.
Cons: Confusing point system and low point value.
Verdict: Cashkarma is not a scam. Nevertheless, this app is only good for some extra bucks. Doing tasks in the app won't be enough to pay the bills.

What Is Cashkarma?
Cashkarma is a survey app you can download for free. With it, you can earn points for completing surveys, doing tasks, watching videos, and signing up for other apps. The App Store information states its seller is named Eric Lin.
The Cashkarma app can be downloaded globally. You have to be at least 13 years old to sign up for it. If you want to redeem your points in cash though you have to be at least 18 years old because Paypal will only allow people aged 18 years old and above to make an account.
If you're in the right age but don't have a Paypal account yet, you can click this link to make one.
To download the app, just head to the App Store or Google Play whichever operating system your phone has. iOS users who tried the app rated it 3.2 out of 5 while android users rated it higher at 4.4 out of 5.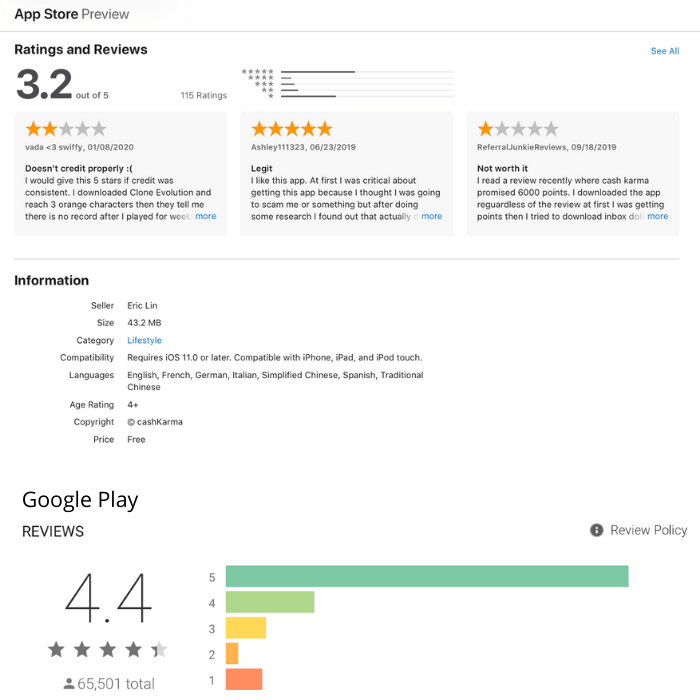 To me, it has fairly good ratings so at this point I'd like to know how I can join and how it works to give me more ideas if I should sign up for this or not.
How Can I Join Cashkarma?
After downloading the app, just tap the 3 dots found on the upper right-hand corner to sign up. It will ask for your email address (which should be the same one as your PayPal address so you can cash it out), a username, and a password.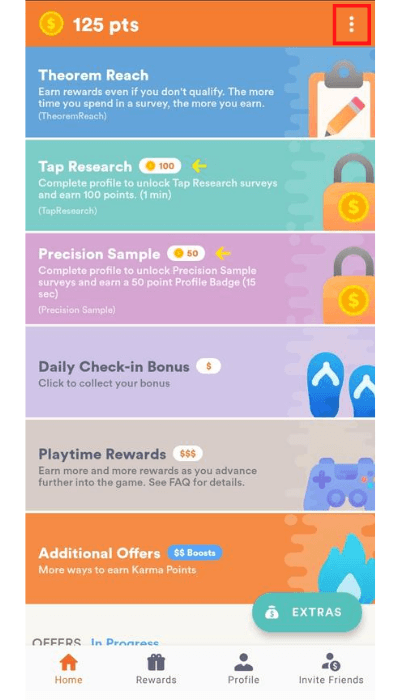 You then earn 50 points automatically for finishing the sign-up process. It's quite weird that when you download the app, you won't be asked to sign in or sign up. To make sure you get the points credited to your Cashkarma app, it's better to sign up.
5 Ways To Earn Points In Cashkarma
Cashkarama offers several ways to earn points from surveys, to watching videos, to playing games, and downloading apps. The points you can gain from each task vary. Mostly, you can around 5-100 points per task.
Here's a short preview of what you can do in Cashkarma:
1. Surveys
It's called a survey app for a reason, the main way to earn points with Cashkarma is through surveys. Before taking the survey proper, as with most survey platforms, you'll be asked to answer some screening questions to see if you fit as a panelist for a specific survey.
Answering screening questions before each survey can mean you have to answer the same questions over and over again. Quite annoying if you ask me, I hope they find a way to automatically answer redundant questions to save some time.
If you pass the screening process, you'll be redirected to the surveys. Each survey roughly takes just around 2 minutes to finish. The good thing is, if you ever get screened out, you'd still get some points for your time and effort. For example, if you get screened out 10 times, Cashkarma will give you 50 points.
When I tried the app I actually saw a good number of surveys which is nice, more chances to earn points! Plus, the app is user-friendly, so you'll have no trouble finding your way to where you want to go.
4 of Cashkarma's survey providers are:
PeanutLab
Theorem
Tap Research
Adscend
If you noticed what I said in the summary, the minimum points needed to cash out for PayPal is 13,500 points. If you make around 100 points for each survey you take, you'll need to take at least 135 surveys to cash out.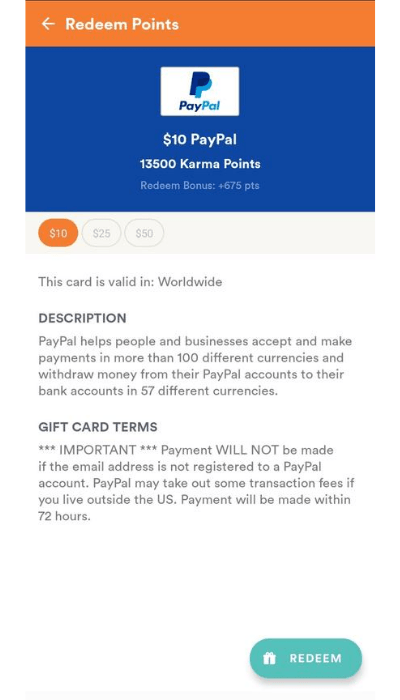 Let's say each survey will take you 4 minutes including the time you spent picking on the next one to take. You can finish 15 surveys in an hour, so it means you'll need just around 9 hours to earn 13,500.
Think about it though:
$10 for a day's worth of work?!
I don't think you're getting enough for the effort you make and the time you spent. And mind you, although there are a good number of surveys available, I can't assure you there will be 135 surveys automatically available to take every day.
Survey platforms usually use a point system to make you think you're making more than what you actually are. Why does it pay so low? Because fewer and fewer companies turn to survey platforms to do research for them. The trend now is to use social media to get the needed consumer feedback they'll need to improve their products or services.
So really, although it's the "best way" to earn points in Cashkarma, the most it can get you is around $10 a day at best.
Making money online isn't complicated…
This video will show you exactly how to get started. Tap to watch now »
2. Referral Program
To make more points, you can also invite others to use the app so you can get 300 points. With this, you'll need to bring in at least 45 people to earn $10 in PayPal.
3. Videos And App Trailers
Watching a 15-30 second video can get you 1 point. Not really as much as you can get doing surveys. However, if you finished all the surveys and you still have some free time, you can turn to watch videos to keep earning.
Plus, if you like learning how new apps or new games work and earn at the same time, this is a good way to do it.
4. Badges And Bonuses
Another technique they put on to get you doing tasks is having bonuses and earning badges. You can get a bonus for signing in every day and for completing offers. There is a total of 4 levels with bonuses:
Level 1 – 50 points
Level 2 – 100 points
Level 3 – 250 points
Level 4 – 500 points
As for the badges, you can get them along with the points for doing tasks like playing games. It's really a nice strategy to keep you motivated and active in the app.
5. Paid Offers And Deals
This is another way to rack more points. It can be fun and quick like answering a few questions and spinning a wheel. The point reward is not big but you can still do it for the fun of it.
Other offers and deals require you to sign up for free trials. You have to keep track of these though because most times although it's free, they ask for our credit card info to they can automatically charge you after the free trial.
If you keep a record of it and cancel the subscription a day or two before the trial period ends, it can save you from spending unnecessarily on these offers.
Here's the thing:
Nowadays, survey platforms usually earn the most for doing this because brands and websites will give them a commission for getting people to try out and eventually pay for their product.
If you remember, companies don't ask them for research as much as before. To continue making money, they ask some questions from users and direct them to products they'll be most likely to try.
How To Get Paid With Cashkarma
For the PayPal cash out, I think I mentioned it a couple of times already. If you want gift cards from Amazon, for example, you'll need at least 11,000 points for a $10 gift card.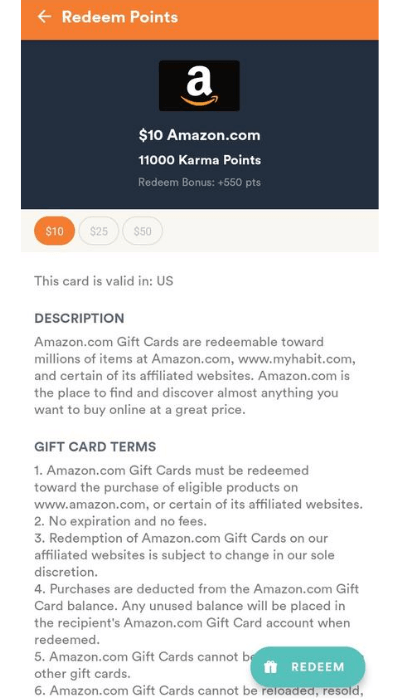 There are also other reward options aside from Amazon and Paypal.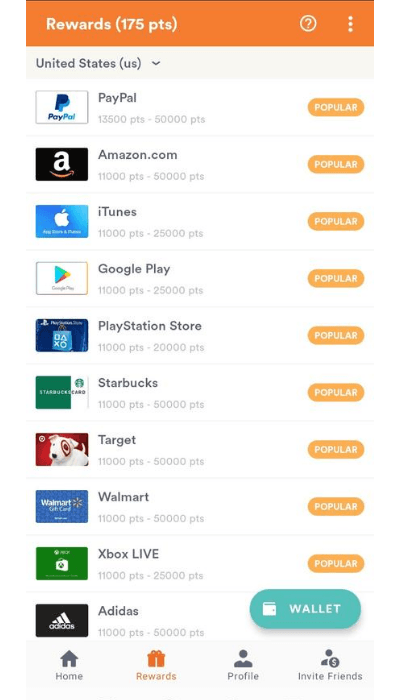 Personally, I'd like my points redeemed in cash through Paypal so I can use it for whatever I want.
Pros Of Cashkarma
Downloading the app is free
Signing up is free
Tons of opportunities to make points
Pays in both gift cards and cash
Cons Of Cashkarma
Point system is confusing
Offers have a lot of ads
Low point value
Is Cashkarma A Scam?
No, Cashkarma is not a scam. They have largely positive reviews from users who say they are legit and they do pay out on time. The most common complaint is there are not enough income opportunities/paying tasks available.
Still, if you want to make a monthly income from doing online tasks, I don't think Cashkarma is the way to move forward. It pays way too low for the effort and time you spend on it.
Cashkarma Review: Closing Thoughts
Cashkarma and all other paid survey platforms are just good for some side money or if you want to monetize your spare time. Doing surveys won't pay the bills and put food on the table.
Other than that, the money you will make will always depend on how much task is available for you to do.
Instead of earning peanuts for putting an effort into something for the whole day, I think it's better if you get your time's worth in something more sustainable.
Why not invest your time in building an online business through affiliate marketing? It's a way better use of your time and effort. If you're scared you don't know how it works, training is given to help you with everything you'll need to know.
If you work on affiliate marketing, you can keep on earning even when you're not in front of your smartphone or gadget. You'll also be able to make enough to make ends meet month after month.
If you're interested in how it works, check out this Invincible Marketer review. 
What's Your Take?
Have you tried Cashkarma yourself? How did it go?
Got any questions about making money online? Let us know and we'll get right back to you!
Simon Crowe is on a mission to help as many people as possible kiss their bosses goodbye.
Take the free Commission Academy course to discover how to smash your online income goals and make your dream business a reality.