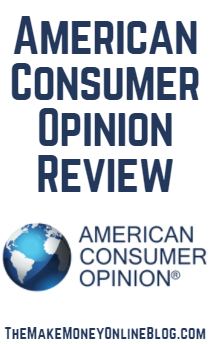 I love side-hustles and lately I've been reviewing a lot of surveys sites to help you guys be able to make money online.
I came across American Consumer Opinion and it seemed a little different to most of the paid survey sites I've seen so far, so I decided to take a closer look.
But is American Consumer Opinion a scam?
I love the idea of earning money by giving your opinion. It sounds easy enough, it's something you can do in your own time wherever you want and it's a decent way to wittle down the time if you find yourself with not much better to do.
So far Swagbucks is the best paying site I've seen, but even they have their shortcomings…
While I like the idea of taking paid surveys, in reality they just don't pay enough to make it worthwhile for me.
But… as always I remain steadfast and hopeful that maybe one day I find a survey site that's worth my time.
American Consumer Opinion seemed a little different to the conventional survey sites I also really like the fact they've been around for so long, this can only be a good sign.
So with my curiosity peaked I decided to do a bit of digging and find out more…
Here's what I found out.
What is American Consumer Opinion?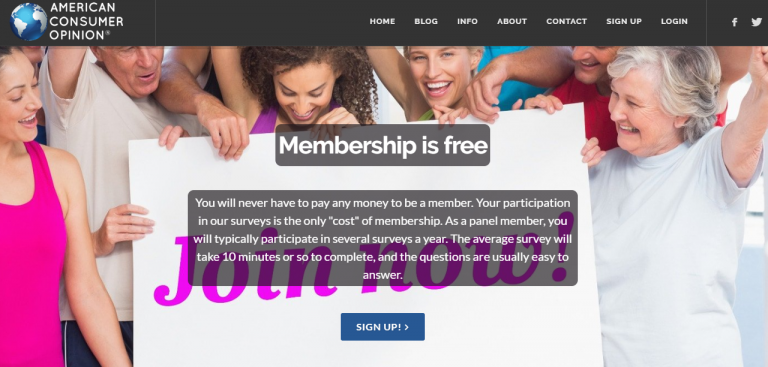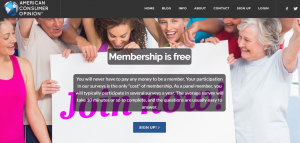 American Consumer Opinion, or ACOP for short, was launched way back in 1996 by Decision Analyst, Inc. when they sent surveys out by post .
As the name would suggest, they're an American-based company right out of Fort Worth, Dallas, though membership is now available in most countries.
This is a free to join survey site which is also available as a mobile app from the iTunes store.
They've grown to over 7 million members and claim to have paid out more than $30 million in payments. American Consumer Opinion is also a voluntary member of the Council of American Survey Research Organizations which can only be a good thing.
They also have nearly 30,000 likes on Facebook and they're active on Twitter.

Like every other paid survey site, ACOP use a points based system where you accumulate points for each survey successfully completed, with 100 points equaling $1.
1 point = $0.01
10 points = $0.10
100 points  =$1.00
1,000 points = $10.00 
You'll need to save 1,000 points before you can withdraw your funds, but the great thing here is they pay directly into your PayPal account. That's a big plus.
I found the sign up process itself easy enough, you just answer a few simple questions and confirm your email address. This is important because instead of having a list of surveys on ACOP.com, they send you email invites for surveys they think you might qualify for based on the information you give them at sign up.
There are 3 ways that you can earn some extra money at American Consumer Opinion. These include the following…
1. Earn points by taking surveys
So it looks like answering consumer surveys is the main way to earn money. They pay out quite well compared to most survey sites out there. Typically you can expect $4-$12 per survey which could take you 30 minutes to an hour to complete.
Ocassionally they have longer, more detailed research projects you can take part in and earn up to $50 but these are few and far between.
2. Earn points by evaluating new products
I really like the sound of this – a company sends you out a new product and you answer questions about the packaging, the design, tell them what you think about the branding and so on.
You will have the opportunity to evaluate new products and new product ideas as well as optimize existing products and packaging designs.
3. Earn points by reviewing new ads
Ocassionally you'll get an email inviting you to watch a short commercial and share your thoughts about it. There doesn't seem to be too many of these form what I've heard but are fun and easy to do if you can get them.
It doesn't look like you can earn points for referring your friends at the moment, but they do have an affiliate program where you earn $1 for each person that signs up under link, as long as they're from the UK, US, Canada, Germany or France.
Here's a quick video I thought you might find helpful, it runs through some of the basics of the site and how to get the most out of your membership:
The American Consumer Opinion website looks good, easy to navigate and siging up was easy. As I say, you can't see any surveys on there so you just have to hold tight and wait for the email invites.
They've got a really good FAQs page and a contact form.
But this is pretty much where the downsides began to show up.
Sometimes it can take up to 6 months to get paid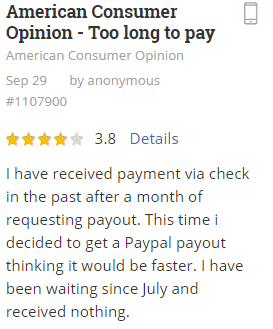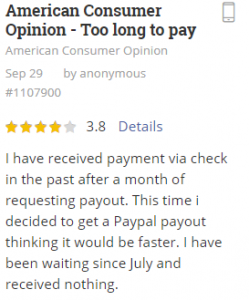 If you're expecting to receive your payments quickly you'll be disappointed with ACOP.
On their website it says:
"Please allow for 8-12 weeks before you receive your payment from the time of cash out. We are currently processing your payment. Thank you for your patience."
But I've found tons of complaints on Survey Police from members who have had to wait longer than 6 months to get paid, and this was only after sending several emails to chase them up.
I don't get why they can't speed up the payments process, I mean they are paying via PayPal after all, shouldn't it be almost instantaneous?
Are they waiting until they've got payment from the company that's hiring them to do consumer feedback before they pass the payment to you?
For me this is quite a turnoff, 3-6 months is a ridiculously long time to have to wait.


Not many surveys
Unlike Swagbucks that always seem to have hundreds of surveys available, with American Consumer Opinion you can only really expect to get a survey invite maybe once every 4 months, maybe even less often if you're outside the US.
To be fair, they do say on the website you can only expect to receive 'several survey invitations a year'.
So there's not much potential here then in terms of making a lot of extra cash. The huge lack of surveys means the amount you can earn is severely limited.
How much money can you really expect to make?
I'd say at best, you could make $8 from a survey once every 3 months. Keeping in mind the minimum cash out limit is $10 and the payment takes at least 3 months to process, you could be waiting an entire year before getting your $10!
It's clear to see that there's no way you can do this full-time, which is a real shame because the payment per survey is relatively high.
Honestly, I just can't see how this is worth your while. Whether you're looking to earn some money part-time or full-time this really doesn't seem to be a viable option.
Here's a review from a happy American Consumer Opinion member who's celebrating the fact it only took him 3 months to earn $10…
On what planet is earning $10 every 3 months supposed to be a great thing? There are 1000's of people earning more than enough income to replace their day job online and here we are scraping around to try and find a few dollars here and there.
I have to say this site is not for me, it's just not worth it.

What I like
Been around in some form or other since 1996
They do pay out… eventually
What I don't so much…
Minimum 3 months processing time for payments
You can only a few survey invites per year
Is American Consumer Opinion a scam or a legit?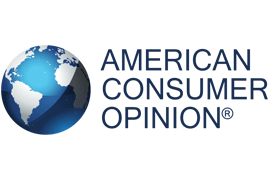 American Consumer Opinion is definitely not a scam… but that doesn't mean I can recommend them as a legit way of earning extra money online.
I score this site a 55 out of 100, not because they're a scam but for someone looking to make serious money online it's just not possible.
Maybe if you don't mind making a few bucks every now and then and you're not in a rush to get paid then sure, why not, give them a go.
But to be completely honest, taking surveys will never earn you more than minimum wage. In fact, most people rarely earn more than $1-$3 per hour at best, and this is assuming you have a steady and consistent flow of surveys to take.
We've all got bills to pay and things we're saving for, but taking surveys just isn't going to help you get to where you want to be. They're very time-consuming and so low paying, I can't see it making any real difference to your bottom line.
If you want a legit way of making money online then I recommend you better use your time and invest it into building a website business you can earn a monthly revenue from.
Sites like Wealthy Affiliate have really good courses for this and you can even get started for free.
Creating an internet business takes a little longer to accomplish, but the rewards are far greater and they last longer. Instead of giving yourself a second job to do, you'd be far better off building a new online income stream for yourself.
Read the full Wealthy Affiliate review to find out how you can get instant access to the right know-how and support.

I hope this American Consumer Opinion review helped you out. If you have any questions at all please leave them in the comments below, I'm always more than happy to help you out.
Related posts
Simon Crowe is the founder of The Make Money Online Blog and is on a mission to help as many people as possible kiss their bosses goodbye.
Get his free Affiliate Marketing Guide For Newbies to learn exactly how to build a real income online and make your dream business a reality.