If you're a frequent United Airlines flyer looking for ways to earn extra miles for sharing your opinion then Opinion Miles Club could be a good fit.
But before you go ahead and dive right in, buckle up and read this review until the end because we're going to be asking:
Is Opinion Miles Club a scam or legit, worth your while or a waste of time?
If you've tried this site we'd love to hear from you! Share your experience with us in the comments below 🙂
Opinion Miles Review At A Glance
About: Opinion Miles is a survey site that mainly caters to MileagePlus members.
Price: Free to join.
Pros: Good for those who travel frequently.
Cons: Received complaints of not rewarding miles rewards, time consuming, only pays in miles.
Verdict: It's hardly legit but not an outright scam. You can't generate income from this though, just some miles points you can use for travels.

What Is The Opinion Miles Club?
OpinionMilesClub.com is a free-to-join online survey site designed specifically for MileagePlus members. The way it works is quite simple: you sign up, receive email invites, take surveys and get rewarded.
They work with companies and governments to get honest and direct feedback from travellers about the products and services they use.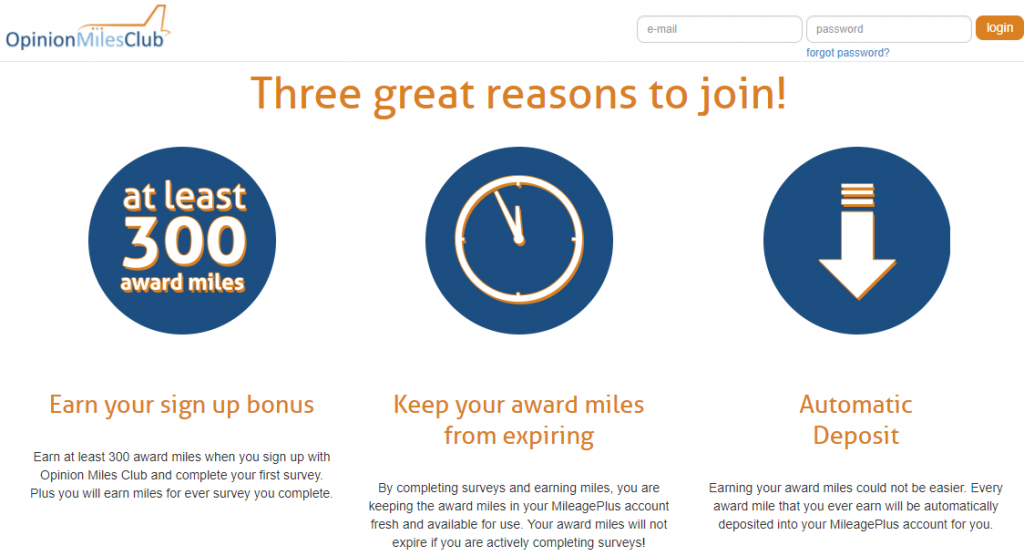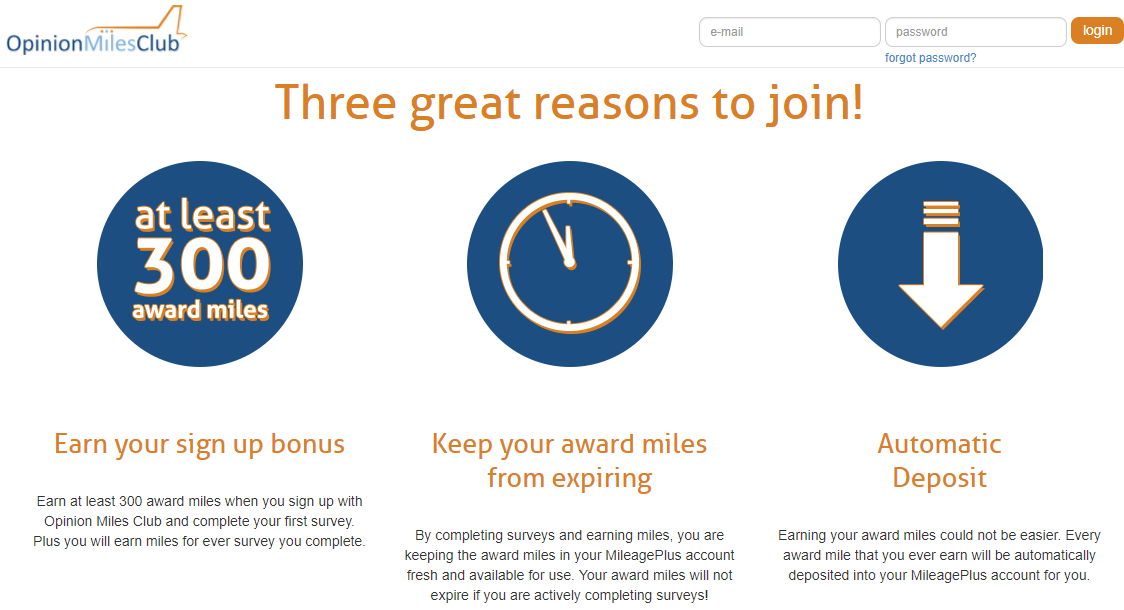 Unlike paid survey sites like GrindaBuck or Legerweb which pay you Amazon gift cards, free products or PayPal deposits for your opinion, Opinion Miles Club pay you in United Airlines travel miles.
What's cool is when you join and finish your first survey you'll get a 300 award mile joining bonus, at least 600 if you're a MileagePlus or Premier cardmember.
Another big plus is the award miles are credited immediately with no minimum amounts or waiting times to worry about.
Getting Started With Opinion Miles Club
What better way to find out if this is legit than to sign up and find out for myself?
On the main homepage is a basic form to fill out with your name, email and MileagePlus number. Once you've done that, you accept the terms and conditions and click the Join Now button.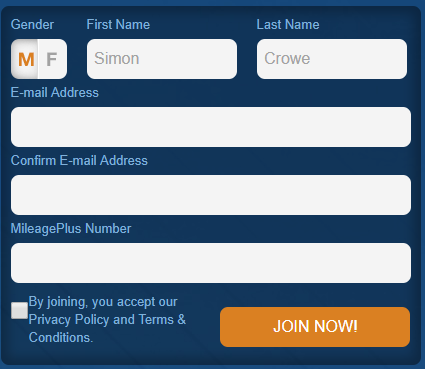 Once I'd done that I received a verification email within a couple of minutes, clicked the link and my account was verified.
Once inside you'll need to finish filling out your profile by answering a few more in-depth questions about your annual income, family situation and so on. This took me less than 5 minutes.
Now to start earning some airmiles!

Inside the member's area they gave me a list of surveys. What I liked was they tell you roughly how long each survey will take and how many miles you'll be rewarded.
I took the first survey which promised 70 award miles for a survey that would take on average 41 minutes.
In reality, I found out that before I could actually take the survey I had to complete a pre-qualifying survey which asked me more personal details like when I'm planning on buying my next car, how much credit card debt I have and if I have any pre-existing medical conditions. Again, this took me no longer than 5 minutes.
The survey questions were very detailed and asked about every aspect of my financial situation, from who I bank with to how many loans I had to my outstanding credit card balances.
I'll be honest: it was a little more invasive than I'd like. I'm not sure I want big corporations knowing everything about my personal life!
Anyways, sure enough, once I completed the survey I was credited with the airmiles immediately so they definitely pay out.
How Many Airmiles Can You Really Earn?
In truth, not very many. Let's do the math…
To earn 25,000 air miles at the rate of 70 air miles per survey I'd have to complete a whopping 357 surveys.
At 40 minutes a pop (45 minutes if you add on the pre-qualifier) I'd have to sit at my computer filling out tedious questionnaires and handing over all of my personal details for 240 hours. That's 10 whole days!
Now I'm scratching my head and asking myself if this is really worth it…
More Opinion Miles Club reviews
It's always a good idea to take a look at what others are saying on the web. After reading through dozens of Opinion Miles Club reviews on sites like Survey Police and Flyer Talk, there are a few big issues that stand out…
1. Some People Get Kicked Out Even After Qualifying
Despite having to take a pre-qualifying questionnaire, tons of frequent flyers complain of getting a "This is not a right survey for you" alert even 20-30 minutes into a survey.
I understand companies are looking for feedback from a certain group of people, but why make people waste 5 minutes answering the pre-qualifier if you're just going to disqualify them anyway?
Unsurprisingly, this is a major source of frustration for people who, after spending 20-30 minutes answering the best they can, are left with nothing to show for it.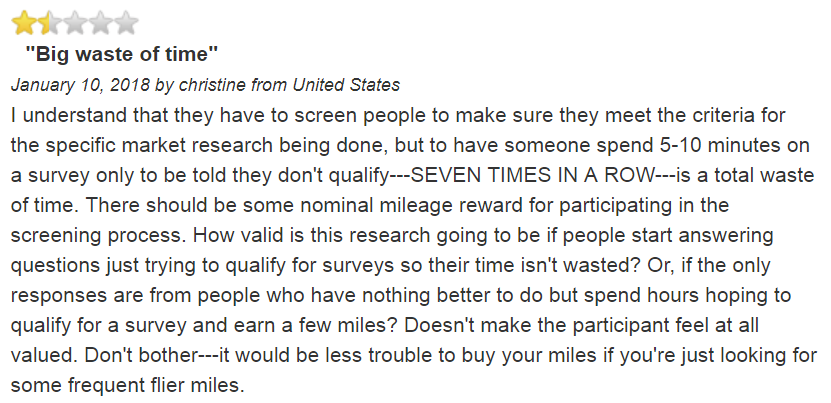 2. You Don't Always Get Miles For The Work You've Done
Even if you take the pre-qualifier and manage to complete a 40 minute survey successfully, there's no guarantee the airmiles will be credited to your account as this member reports:

Is Opinion Miles Club Right For You?
In my opinion, the Opinion Miles Club is not a scam, though I can hardly call it legit or worthwhile either.
I'd only recommend this site if you can see yourself spending hours answering arduous in-depth surveys and handing over your most private information for the sake of a few air miles.
I'm just going to come out and say it: paid survey sites are a waste of time and this site is no different. It's a lot of time and bother for very little in return.
This is the reason why I quit online survey sites altogether and learned how to create an internet business instead. I followed this free beginners training course that taught me how to generate more than $7,000 per month in real revenue.
Yes, you need to work at it as you would with any kind of business, but you're building a real income-producing asset that will give you far greater rewards for a long time to come.
Simon Crowe is on a mission to help as many people as possible kiss their bosses goodbye.
Take the free Commission Academy course to discover how to smash your online income goals and make your dream business a reality.