Is Survey Squad a legitimate moneymaker, a scam or a waste of your time? That's exactly what you're going to know by the end of this Survey Squad review! 😉
Survey Squad say they're willing to pay you cash just for giving your opinion. Sounds like an easy and hassle-free way to make some extra money online right?
Survey sites like Zap Surveys, Cash For Apps and Peanut Labs end up in the category of "not worth it" because when all is said and done they pay you less than $1 an hour. Let's see if Survey Squad can do any better.
Oh, and before we get into the review, I am in no way affiliate with or partnered with Survey Squad. I'm just a successful online entrepreneur giving you my honest opinion to help you filter out time-wasting scams from real money-making opportunities.
That being said, let's dive in!
Survey Squad Review At A Glance
About: Formerly known as Focus Forward, this site connects companies with consumers for product and service feedback.
Price: Free to join.
Pros: Has been around for some time.
Cons: Takes too long to pay out, has lots of complaints, hard to qualify for surveys.
Verdict: Survey Squad is not a scam, but the low-income potential and lack of surveys make this one a waste of time.

What Is Survey Squad?
Survey Squad is a paid survey site, founded in 2003, where you can join for free to get invites to consumer surveys, share your opinion and get rewarded for helping businesses improve their products and services.
I headed over to SurveySquad.com and I'll be honest, my first impressions are that this is a pretty outdated site.
It's basically a landing page with a stock image and a 'Join Now' button: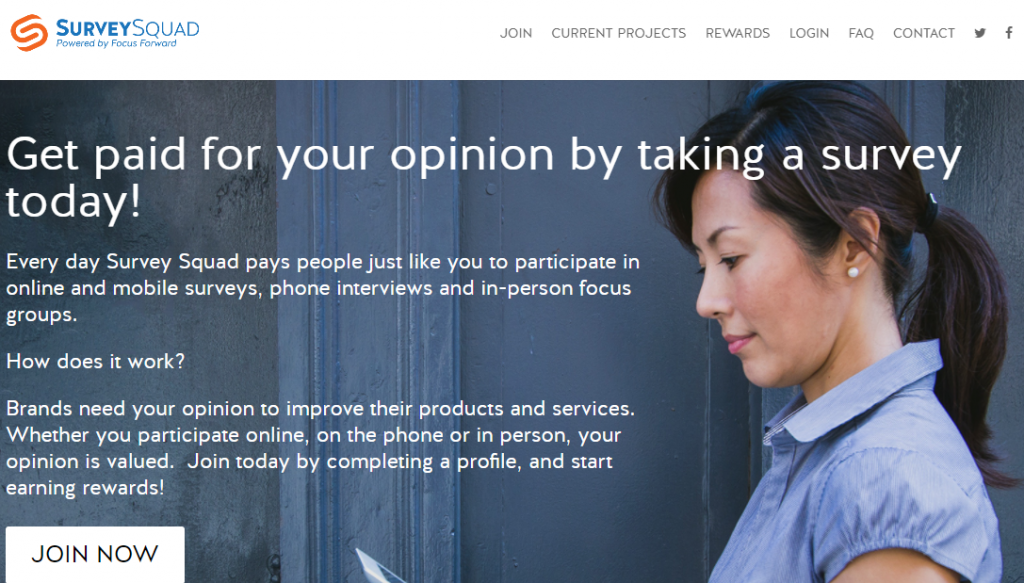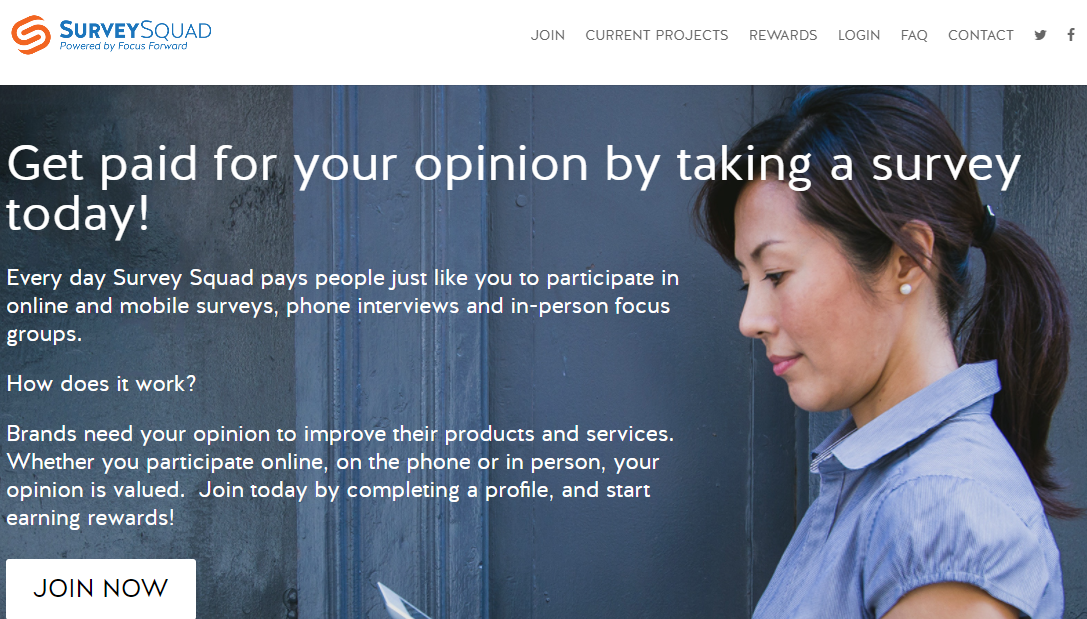 Like other online survey sites like Project Payday and Dollar Surveys, Survey Squad (formerly known as Focus Forward) make money by connecting brands and companies to consumers so they can get feedback on a product or ad campaign so they can make it better.
They promise to pay you for taking part in online and mobile surveys, telephone interviews and in-person focus groups.
Here's their quick overview video explaining how it works:
On their FAQs page, I can see they've been around since 2003 (which is donkey's years in the online world) and they're based in the US. They also have a respectable 15.4k followers on Twitter.
Survey Squad also use a points-based system where 1,000 points are equal to $1.00, which means you're going to need to build up a balance of 20,000 or $20 before you can request a payment.
All the signs are good so far. This site might be better than I first thought…
Signing Up For Survey Squad
What better way to review the site than to become a member and test it out for myself? Well, that's exactly what I did.
I clicked on the join now button and was presented with a pretty basic sign up form asking me for details like name, address, phone number and state.
The date of birth calendar was a real pain to use, giving me another reason to think this site hasn't been updated in a while…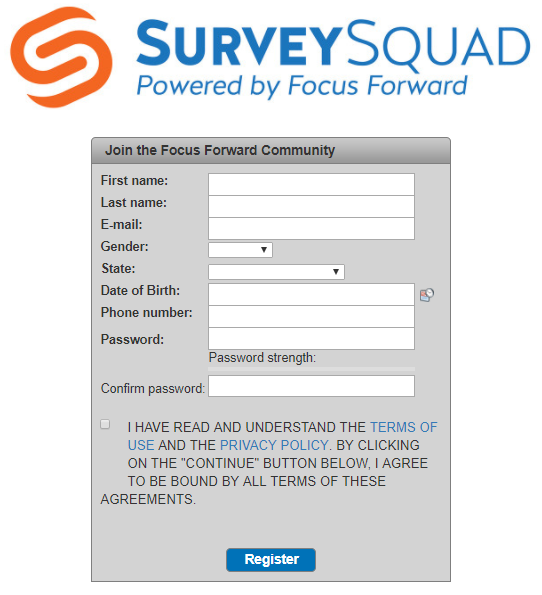 Filling Out Your Profile
I thought signing up was pretty straightforward but it looks like completing your profile is a whole different story. In order to fill out your profile, you need to successfully complete 7 surveys that are all about you.
The surveys (which you don't get paid for) will ask about what kind of technology you use in your home, whether or not you're the main decision-maker when buying things online, whether or not you have any pre-existing medical conditions and so on.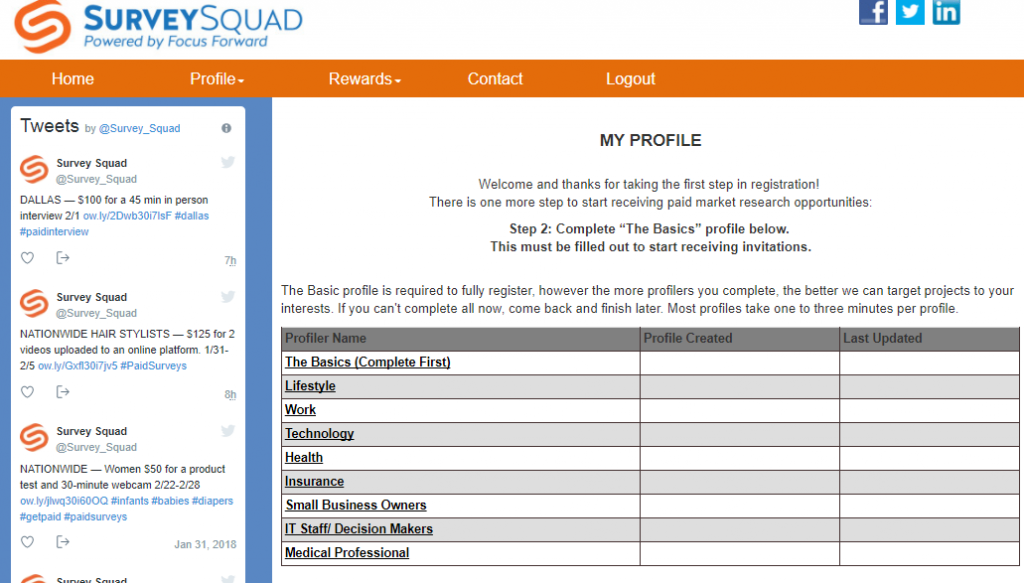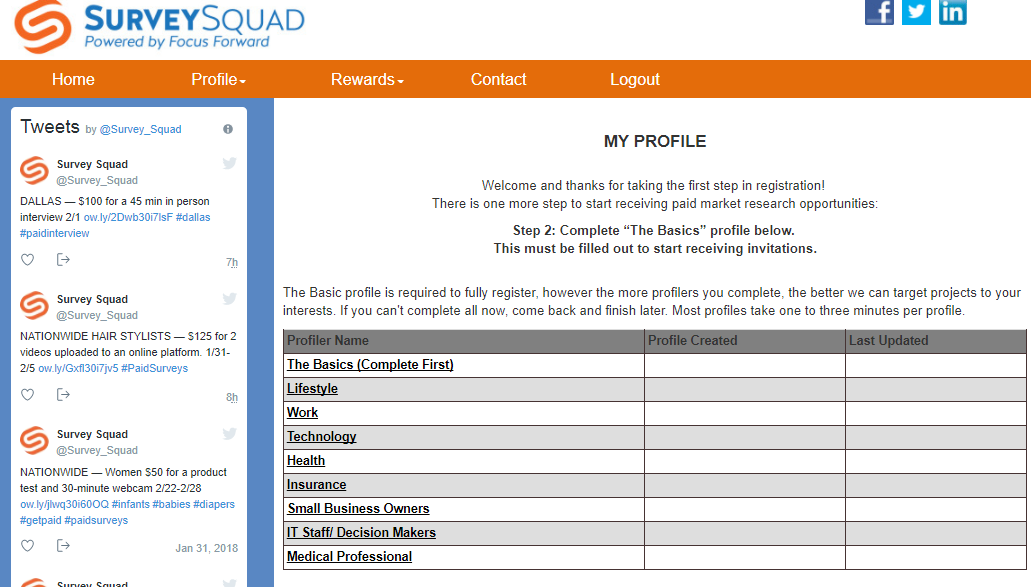 I like this if it means you're only invited to surveys you've already met the criteria for – working through a survey to be told 20 minutes in you don't qualify is a massive bugbear for survey takers trying to make money.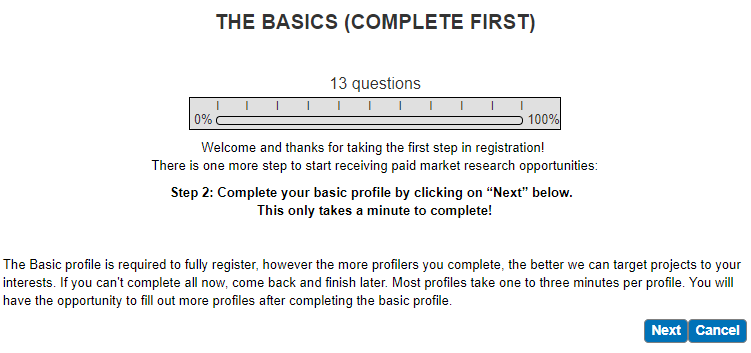 What I don't like so much is the fact you're giving Survey Squad a mass of information about yourself for free and I know that some of the more unscrupulous paid survey sites make the vast majority of their money sending spam emails when they know your car insurance is up for renewal for example.
They ask you for your home phone, work phone and mobile numbers which always makes me nervous as it puts you at risk of getting cold-called by companies this site has sold your information to.
At this point I'm not saying whether or not Survey Squad is legit, I'm just saying it opens you up to the risk of unsolicited sales calls.
Once you've reached the member's area you're told to be on the lookout for email invites dropping into your inbox.
Survey Squad Reviews: What Others Say
Survey Squad score a not so impressive 2.1 stars out of a possible 5-star rating on SurveyPolice.com, with a handful of issues coming up time and again.
Here are a few of the most common Survey Squad complaints:
1. Waiting 6 Weeks+ For A Cheque To Arrive, Seriously?
I believe when it comes to making money online you should be paid well for your work and receive payment in a timely fashion. It seems Survey Squad does neither…
Not only do they pay you $1-3 per hour but they also make you pay a minimum of 6 weeks for payment. There are reports from members who have had to wait 16 weeks for a cheque in the mail!

I just don't understand why they don't just do what Swagbucks do and pay via Paypal where the payment is received instantly!
2. Users Unable To Qualify For Surveys Even After A Year
Many Survey Squad members complain about not being able to actually qualify for a single survey despite responding to every email invite for over a year.
This is super disappointing, especially when you think about all the questions they ask you at the beginning.


I totally get that some companies are looking for feedback from a specific group of people but this site already has a ton of information about you from your profile, including age, race and location.
So Survey Squad, if you're reading this, do us all a favour and filter the survey invites you email out so you're not wasting everyone's time and causing a lot of frustration.
More Survey Squad Reviews
Is Survey Squad A Scam Or Legit?
Survey Squad is not a scam but Survey Squad should be looking into to make it more profitable for their members, like not paying members less than minimum wage or disqualifying users from surveys 20 minutes in.
Survey Squad do have plenty of positive reviews from members who are happy with the site and though it takes forever to get payment, they do eventually payout so, in that sense, they are legit.
But is Survey Squad a worthwhile money maker for you?
When you look at all the survey sites out there you're very rarely going to make more than $10 a month, which is why I quit taking surveys altogether and learned how to create an internet business instead.
I followed this free beginners training course 
Check it out, it'll show you everything you need to know about making serious money online.
You're going to need to invest the time and effort to make your business grow but the amount you can earn has the potential to replace your full-time income.
Your Survey Squad Reviews
Already signed up and tried taking some Survey Squad surveys?
How did you get on?
Let us know if joining has been worth it! 🙂
Simon Crowe is on a mission to help as many people as possible kiss their bosses goodbye.
Take the free Commission Academy course to discover how to smash your online income goals and make your dream business a reality.