A lot of people fancy paid surveys for some extra cash. Many sign up to as many sites as possible to earn as much as they can.
If E-rewards got its way into your list of make money online opportunities to try, check out this review first.
I'm going to tell you about the pros and cons of E-rewards, so you'll get a better idea about this survey site before trying to get in. Actually, not all people can earn from it and I'll tell you why.
E-Rewards Review At A Glance
About: E-Rewards is a survey site where you don't just answer a questionnaire. It's mostly opinion based. You'll then earn gift cards in return.
Price: Sign up is free but someone has to invite you. 
Pros: Rewards are realistic and signing up is free.
Cons: You'll need an invitation to get in and you can get disqualified towards the end of finishing a survey.
Verdict: E-Rewards is not a sustainable solution for making money online. It's only good as a side hustle because you only get gift cards for the work you do.

What Is E-Rewards?
I'm a lot amazed by how long E-rewards had been around. The website was built way back in 1996 and thriving until now tells me a great deal about their credibility. Well, it's not the deciding factor whether a platform is a sneaky scam or not, but it does boost their reliability.

They've partnered with Research Now in 1999, later acquired smaller research labs, and then bought by private equity and now is rebranded as Dynata.
Here's more on Dynata:
Fast-forward to 2008, it has built its name enough to be listed on America's fastest-growing companies.
The main thing is, there's a big trustworthy company behind the website and their operations are not just limited to what they offer in it.
They have some similarities with Survey Junkie and Swagbucks but there are striking differences too.
How Does It Work?
If you love giving out your opinion on anything, this can be good for you. It's like getting pay for a hobby.
But here's the kicker:
You can't easily sign up. You have to be invited by someone to get in. Honestly, this can be a big downer if you're really interested in the platform, most survey sites don't have this rule.
But come to think of it, this might be their strategy to come up with high-quality survey results. After all, this is what companies pay them for.
If you do get an invitation, you just have to activate your link and answer some personal details. After that part, you'll be given an onboarding survey to pair you with surveys you qualify for. Basically, you'll be asked about your shopping routines, eating habits, health, and so on.
After taking surveys you'll be paid in E-rewards currency which you can use to redeem gift cards and other rewards. Sadly, if you're in for some cash you'll end up disgruntled because there is no option for it.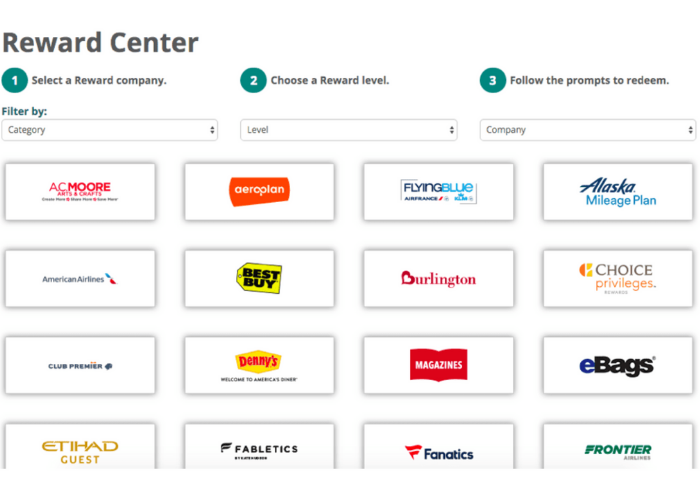 Here are the only options you get:
Physical gift cards
Electronic gift cards
Magazine subscriptions
Airline Miles
I suggest you choose the electronic gift cards because you'll receive it after about 2 hours. Physical gift cards can take 4-6 weeks to arrive.
They've partnered with over 50 retailers (which I think is not much) to sponsor the gift cards. This number can change though, some subscribers say they got less than 50 retailers to choose from.
Here's another thing to keep in mind:
Some prizes can only be redeemed if you're a legal resident of the USA. They'll know this from the onboarding survey the let you fill-up.
Another loathsome thing:
The amount reflecting in your dashboard is far less from what it's actually worth in US dollars. $1 on the website is actually only worth $.40. When you reach the minimum threshold for opinion points which is $60, you can use that to redeem a $25 gift card.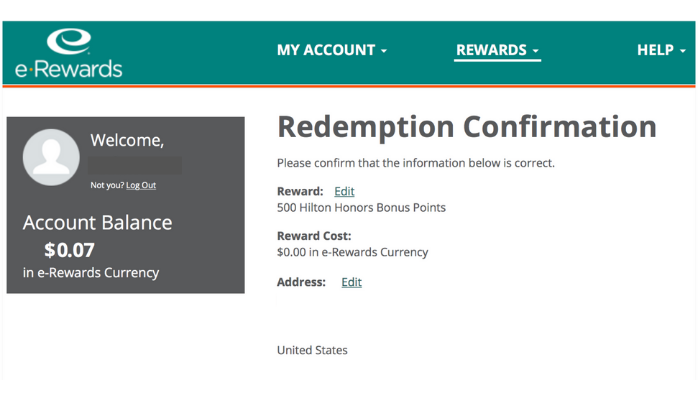 Although some rewards can be redeemed if you have at least $10.
As for the surveys, some of it can be viewed by every subscriber, others can only be seen if you qualify for the criteria for a certain survey. They also send out an email to let you know if there's an available survey you qualify for.
I'd actually want it that way rather than seeing all surveys. E-rewards, like other survey sites also has this lousy thing for notifying you that you're not qualified for a certain survey only when you're almost done doing it.
Nasty, right? I hope they can work on this issue so no subscriber will end up doing a survey they'd get nothing from. If they have the option to only see a survey a person qualifies for, they can get rid of the part where anybody can see all the surveys even if they don't qualify for it.
Also, some survey questions are asked more than once to check if you're really paying attention and not just rushing to finish to get a reward.
The good thing is, E-rewards claims to use the latest data security technology. This means the personal information you give out is kept safe.
Still, I'd like them to work on filtering their surveys.
But the worst part is:
I know companies pay market research platforms like E-rewards for the surveys they collect from people.
Other survey sites like FeaturePoints give you a portion of the pay they receive. So, I think E-rewards is giving you less than what you deserve and hoard most of the pay for themselves.
Anyway, this is better than survey sites that promise to pay hefty amounts for useless surveys. Because at least with E-rewards you're promised a more realistic reward and you actually receive it.
What I Like About E-Rewards
The company is well established so it's trustworthy
Signing up is free
Rewards are realistic
Minimum threshold to redeem rewards is low
What I Don't Like About E-Rewards
You'll need an invitation to join
It will take some time to accumulate E-rewards currency to exchange for gift cards
Some surveys only notify you don't qualify when you're almost done
Some questions asked are repetitive
Is E-Rewards A Scam?
The cons of E-rewards are not heavy deal breakers, just some annoying elements they should work on. (I really hope they do!)
But overall, I think it's a legit survey site. Their track record can attest to that. Plus they don't hype up their payment claims unlike what most scammy survey sites do.
But there's something I want you to consider too:
E-rewards requires a phone verification to redeem your rewards. It's an authentication procedure to make your account more secure. Although its purpose is good, I think there's a bit of a loophole.
You see, they'll have your personal details, your name, address, email, password, date of birth, and other personal information. Asking for phone verification will let them access your phone number, almost everything about you. This can put you in danger of identity theft.
Yes, they do have the data security technology thing but who knows? Some webmaster can turn out to be a hacker who'll sell your info to spammers, or worse steal your identity and try to access your online banking accounts.
A piece of advice:
Use a different password for every survey site you sign up for, a different one from what you use with your sensitive online accounts like your bank.
Others also voiced out their frustration about not being able to redeem rewards like this guy: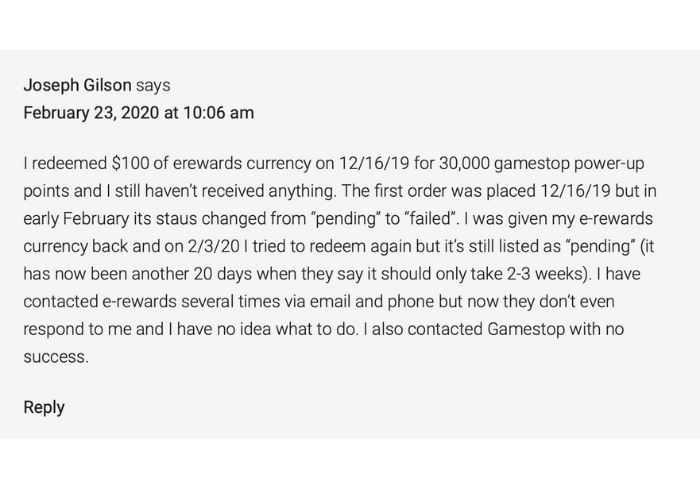 Other than these parts, I think E-rewards is pretty credible.
E-Rewards Review Closing Thoughts
I think E-rewards is only good as a side hustle. If you're looking for a way to make money online, this is not for you.
A little recap of the deal-breakers:
You can only sign up by invitation
The survey reward points have little value
You can't cash out
There's a limited option of gift cards to choose from
If this doesn't suit you well, you can try other survey sites like Swagbucks.
But if you're looking to make money online so replace your physical 9-5 job, I suggest you work on something a lot more sustainable like affiliate marketing.
Affiliate marketing lets you build a business from scratch and teaches you how you can make it.
It does involve a little cost and some time and effort but like every legit business you can earn long-term, it's going to be worth it.
Making money online isn't complicated…
This video will show you exactly how to get started. Tap to watch now »
One thing I really appreciate about this opportunity is the tons of products you can choose to promote. If you're interested in let's say working out, you can find products in that niche and promote it to people who will be interested in work out equipment.
If you love what you're working on, doing tasks won't be so tedious and a lot more enjoyable, and most importantly rewarding.
With affiliate marketing, you don't only get training, but you can also get in touch with other affiliate marketers who are ready to help you grow your business.
Your spare time is worth more than just a few cents and some gift cards. When you start earning from affiliate marketing, you won't have to settle for scavenging gift cards to but items you like. You can buy it with the income you make!
Plus you don't only earn when you're in front of the computer or your gadget, after establishing your business, you can earn even when you're fast asleep.
Just put in a bit more effort than the one you give in answering surveys and you'll reach your online income goals.
To know more about this, check out this Wealthy Affiliate review.
How I Make A Living Online?
After years of working in call centres I finally figured out how to create a 5-figure monthly passive income stream and become financially free.
Thanks to the right training and a lot of hard work I kissed my old boss goodbye and booked a one way ticket to Thailand.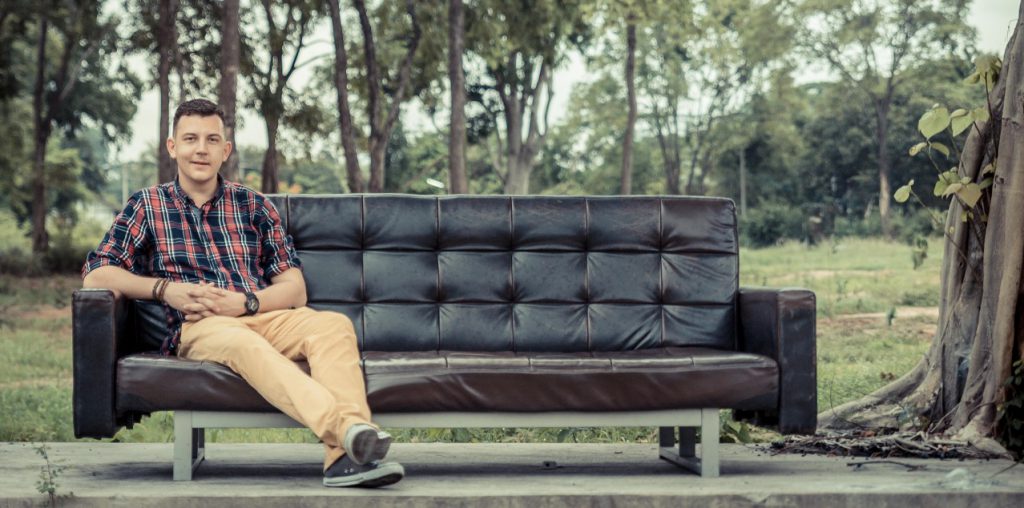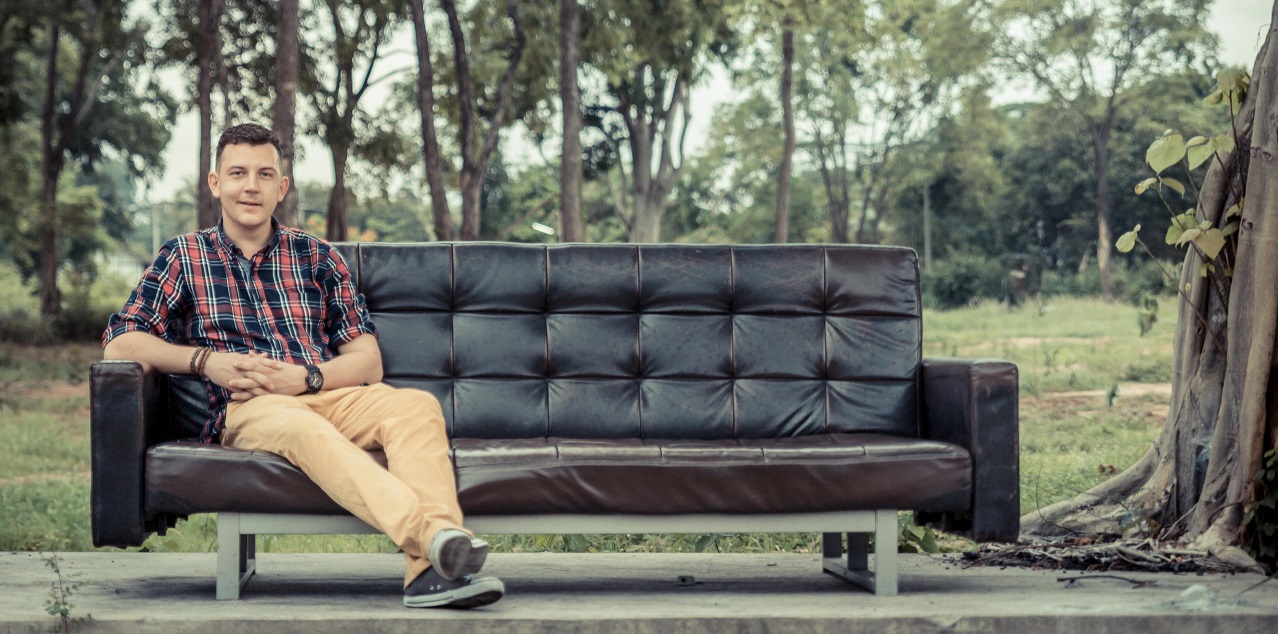 So if you're serious about building a thriving online business, click here for the exact step-by-step formula I follow.
Questions?
What do you like most about survey sites? Share you experiences with us in the comments section below. If you have anything else to say, feel free to do it too!
Simon Crowe is on a mission to help as many people as possible kiss their bosses goodbye.
Take the free Commission Academy course to discover how to smash your online income goals and make your dream business a reality.