If you're stuck doing nothing most of the time, making money from simple tasks can make you more productive.
FeaturePoints lets you earn by taking surveys, downloading apps, watching videos, and other minor tasks you can do while being a couch potato at the same time. But the question is: is it legit or just another time-wasting scam?
GPT sites (Get-Paid-To) like FeaturePoints is great for people wanting to make a few extra cash online. Instead of letting time pass doing nothing, GPTs can put some purpose to those hours. 
FeaturePoints Review At A Glance
About: FeaturePoints is a GPT site where you earn points you can convert to cash by downloading apps, taking surveys, and referring friends to sign up.
Price: Free sign-up.
Pros: User-friendly interface, easy tasks, low payout threshold, and an option to redeem cash or gift cards.
Cons: Gift cards are usually out of stock, no owner info, points will expire.
Verdict: FeaturePoints is not a scam. But if you're looking for an online income to pay the bills this won't suffice. Try this instead.

What Is FeaturePoints?
FeaturePoints works a lot like Swagbucks. You get rewards for doing easy tasks that take only a few minutes. You can either do the tasks on a computer or on any android or IOS device.
I looked around the website, but I haven't found any information on who runs it. Most of the time, this can be a huge letdown because it tells me the owner isn't proud enough to stand up for his product. If he isn't proud, then there could be something wrong with what he offers.
This is a usual tactic used by scammers to easily walk out the door if the scheme doesn't make money anymore. But, not knowing the owner from the website is not a definite indicator that the product is a scam. So, although this is a pretty disappointing fact, it doesn't necessarily prove FeaturePoints is a scam. Still, it's one red flag you'd like to consider.
Anyhow, FeaturePoints has a number of tasks you can make money from. You can earn from it whichever country you are in.
But a little downside:
You can only get hold of some rewards if you are in the US or in Canada. FeaturePoints can either reward you with gift cards or cash, depends on what you want.
It's been created back in 2011 which is awesome because this longevity is one factor considered in knowing an opportunity is legit.

How To Join FeaturePoints
The great thing is, signing up is free. Shelling out to earn is another indicator an opportunity is a scam. But since you don't have to pay anything to start earning, FeaturePoints passed this part of the scam test.
You just have to fill out the sign-up form so you can start making money. Before you'll be directed to the members' area there is some additional info, they'd like you to provide. But if you're not comfortable giving out these personal details you can just skip this part and you'll be directed now to the members' area.
I even nodded in approval when I saw the skip option. A lot of PTCs and GPTs I came across with obliged people to give out sensitive information. Almost all of them turned out to be scams who sold personal information to spammers and even tried to steal other people's identity and money.
The skip option made me feel FeaturePoints doesn't take part in those schemes.
Also, if you have a referral code from a prior member, you'll automatically get 50 points. So far, FeaturePoints haven't ticked my scam gauge to an alarming level yet.
How FeaturePoints Work
I'll start by telling you FeaturePoints gets the money to pay its users. Advertisers who want to increase their apps' download and usage rate use GPT platforms to get users. These advertisers then pay FeaturePoints for providing the people. FeaturePoints then gives a portion of the income to users.
It's a win-win situation for everybody. Advertisers are able to promote their products and users can make some money.
Advertisers, usually those who promote apps and games, turn to legit GPT sites to be sure their product is used by real people. This can then allow them to improve their products based on real human feedback.
So how can you start earning and gaining rewards? I'll tell you the various ways available.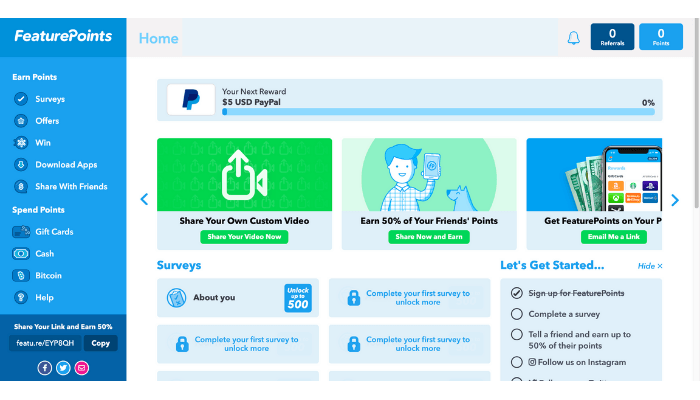 1. Download Apps
Some tasks can be done with both computers and gadgets like smartphones. Others, like downloading apps, can only be done on gadgets.
FeaturePoints will tell you how much you can earn from each app you'll download and the conditions you need to follow in order to gain the reward.
You'll have to take note of this because some apps will only require you to download and open it for some minutes. Other apps will require you to reach a certain level (mostly in game apps) before they'll give you the reward.
In most cases, doing more for the task means a higher reward. If you play mobile games most of the time and fancy trying new ones, this can be good because you can earn while playing. Hitting two birds in one stone, eh?
2. Paid Surveys
Another way to earn is by taking surveys. There are a number of surveys you can take so it's a great way to earn.
So, if you have a knack for sharing your opinion about a product or a topic, this can be a great opportunity for you.
Just remember, you can only get paid with surveys if you qualify for in criteria. So, you can't just take every survey you find and like. When taking surveys, the first things they'll ask are about where you live, what you do, what brands you use, and so on.
This is quite reasonable because companies reach out to GPTs to do some research. They'll have some parameters put in place (demographics) so that the research results will be in line with their goals.
This also means some surveys are only available in certain countries. So, don't get irked if you can't earn from every survey you find. That's just the case with every paid survey.
3. Watching Videos
Like downloading apps, you can only do these in tablets and smartphones. But it's quite easy to do because you just have to click on the video image and watch it until the end. Usually, videos only take about 30 seconds and you can watch as many videos as you want.
The downside it doesn't pay out as high as surveys because it's so easy to do. You also can't earn cash from this; just tokens you can use for contests.
This can be the last task I will do. I'd finish high-paying tasks first and when I've exhausted them, I can do the videos.
4. Online Shopping Cash-back
Now if you're fond of buying stuff online, this can be a really terrific perk for you. They've partnered with a lot of stores so you can have discounts with your purchases.
FeaturePoints get paid by stores for sending you to them. Part of what FeaturePoints earn is shared as your cash-back for an item bought.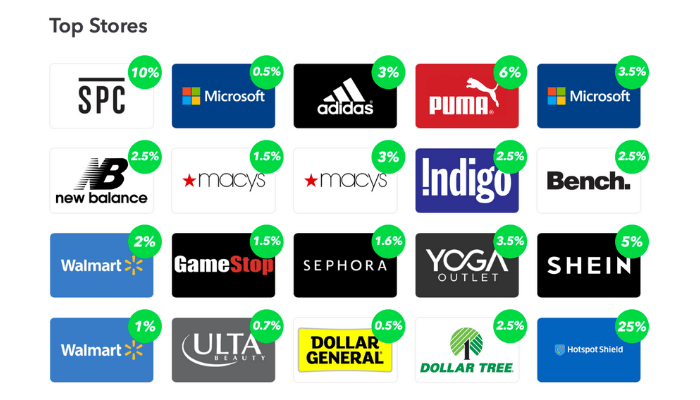 But like the surveys, some cash-backs are only available in limited countries.
5. Paid Offers
Like most GPTs, FeaturePoints has a task wall. You can find tasks like signing up for free trials, signing up for contests, and subscribing to newsletters.
6. Inviting Friends
This works like recruitment. You invite others to join FeaturePoints using your referral link and you get a commission.
Though I'd suggest choosing who to send the links to rather than spamming every person you know. You don't want anyone to get annoyed with you right? Plus, it would be better if you tried it out yourself so they can get a little assured they're not in for a useless scammy opportunity.
7. Free Contests
You may be wondering what the contests I mentioned earlier are all about. FeaturePoints introduce contests every now and then. There are daily and weekly contests, weekly contests offer larger rewards.
You can join these contests if you're an active user. Every 20 points you gain in doing tasks means you also earn one token. You can then use these tokens to get contest entries.
I think FeaturePoints does this as a strategy to keep people active in doing tasks. Because the more people there are doing tasks, the more FeaturePoints earn from companies and advertisers.
So how do you get paid with FeaturePoints?
There are 3 options available: Paypal, bitcoin, or gift cards. You get to decide which is pretty cool. However, if you choose the gift cards, keep in mind these are only available in certain countries. Probably in countries where there's a store for the gift card sponsor.
If you're feeling bad about it, FeaturePoints tries to make up for this by allowing a very low payout threshold of just $3.
Great right? You won't have to wait long before you can enjoy the fruits of your labor.
This is another good thing to know because scammy GPTs have a very high threshold where you'll end giving up before you reach the minimum payout requirement. They're doing this to discourage you from taking out the money you worked for or so you won't realize early on they're a mere scam who don't really intend to pay up.
The low threshold of FeaturePoints is a great indicator that they want you to receive your rewards.
Just take note that if you want to get paid in cash through Paypal, the email you use in FeaturePoints needs to be the same with your Paypal ID. Otherwise, you won't be able to cash out.
Another thing, points expire if you don't visit the website and do tasks in 60 days. This is another strategy put in place, so they'll have as many active users as possible.
Here's what users say about FeaturePoints: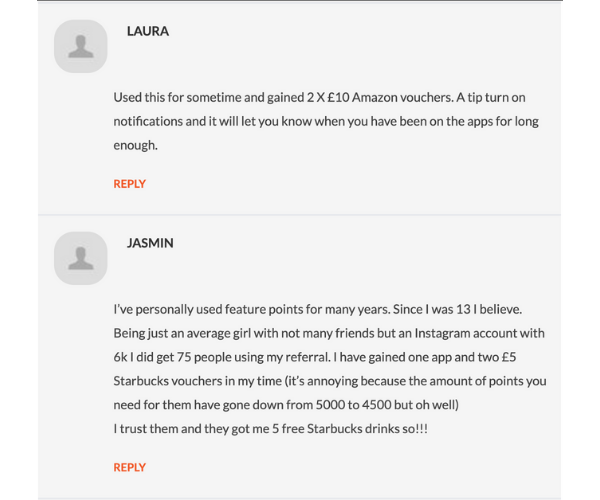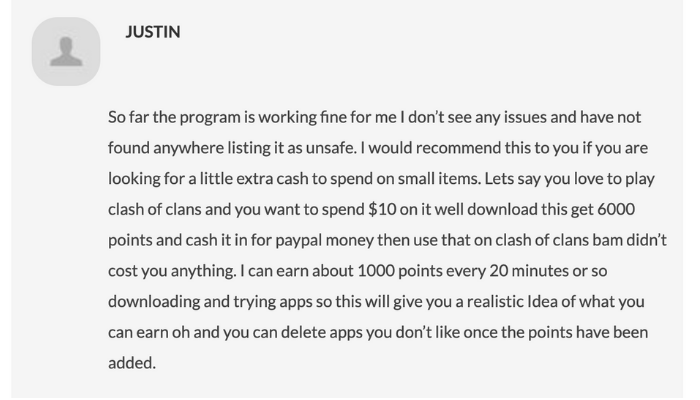 What I like about these reviews is how the users explain how they gained points and how they were able to use them. Unlike scam testimonials that just tell you they made money and nothing more.
What I Like About FeaturePoints
Free and easy sign up
Option to redeem rewards as cash
Simple and easy to earn points
Low payout threshold
Many earning opportunities
User-friendly interface
What I Don't Like About FeaturePoints
Limited apps to download
Gift cards are usually out of stock and not available in all countries
No owner info
Points expire
Is FeaturePoints A Scam?
The good thing is, I don't think it's a scam. Aside from the absence of owner info. I didn't see anything else wrong with FeaturePoints.
However, you just have to have the right expectation of how much you can earn. It can't make you rich or be enough to pay the monthly bills. GPTs are usually good enough for a few extra cash.
Making money online isn't complicated…
This video will show you exactly how to get started. Tap to watch now »
If you have some spare time, it can be a good way to spend it.
FeaturePoints Closing Thoughts
Don't think you can turn to FeaturePoints for a full-time income. Legit GPTs only reward in cents or a few dollars because that's only how much they can afford from the pay they receive from advertisers.
It can be a good way to spend your extra time. But if you did have some extra time, I'd suggest you use it in working for an opportunity that can give you a sustainable income.
I'd suggest you try opportunities like affiliate marketing. It's a way better use of your time. If you're looking for a way to earn during your free time might as well take it to the next level and gain more benefits that just a few dollars. In the end, it'll be more rewarding.
If you don't know how it works, not to worry because it provides training in how you will go about in building your business.
The great thing with this is after you've established your website, you can start earning night and day and even when you're away from your computer. You'll even get some of your free time back to relax and enjoy it.
GPTs are usually just for the short-term, if you want to earn in the long run, you have to invest time and effort. But it's always worth it.
If you want to know more how this works, check out this Wealthy Affiliate review.
How I Make A Living Online?
After years of working in call centres I finally figured out how to create a 5-figure monthly passive income stream and become financially free.
Thanks to the right training and a lot of hard work I kissed my old boss goodbye and booked a one way ticket to Thailand.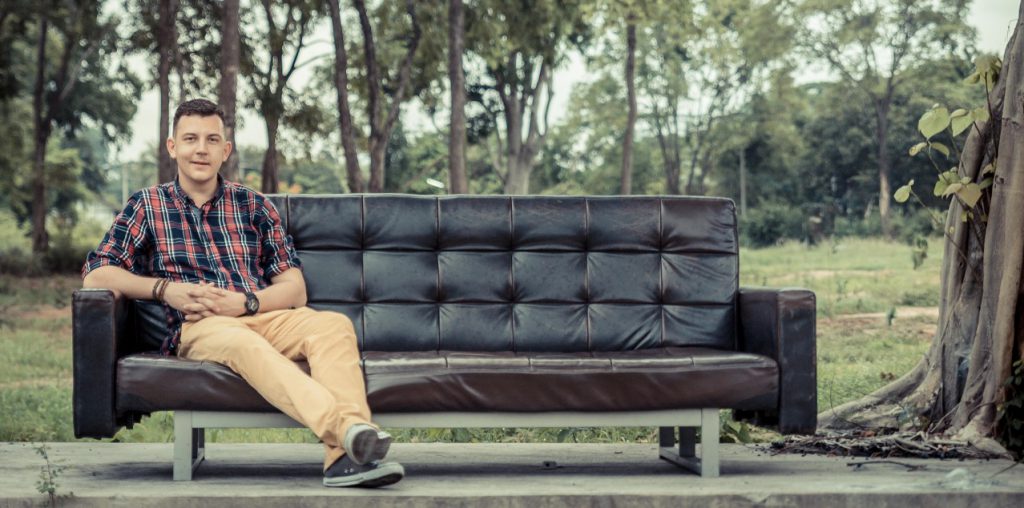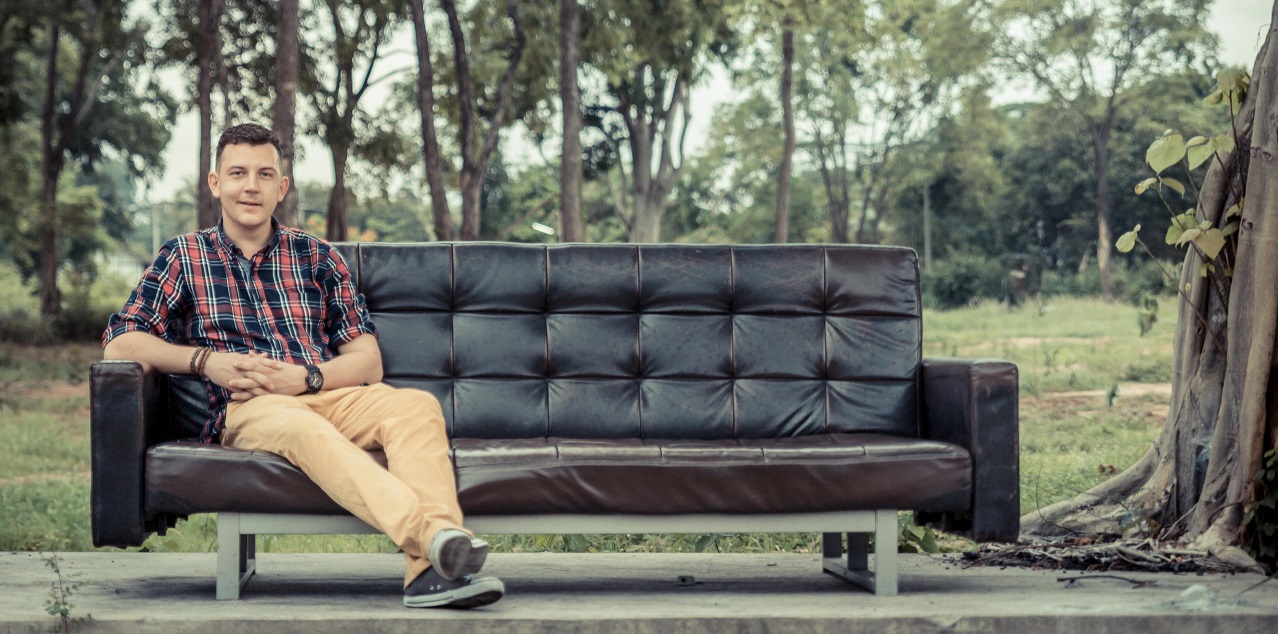 So if you're serious about building a thriving online business, click here for the exact step-by-step formula I follow.
Questions?
Do you think GPTs are a great use of your time? Share your thoughts and experiences with us, we'd love to hear it.
Simon Crowe is on a mission to help as many people as possible kiss their bosses goodbye.
Take the free Commission Academy course to discover how to smash your online income goals and make your dream business a reality.