Is someone trying to recruit you as a Vector Marketing representative? If so, you have to read this review before signing up for anything as we're going to expose some nasty truths about Vector Marketing.
When talking to a recruiter, a bubble of good things will be inflated right in front of you. It will only take one nasty needle of truth to blow up the bubble, so you'll see the whole truth of what you're going to get yourself into.
Personally, I didn't like what I've found out…
Vector Marketing Review At A Glance
About: Vector Marketing is an MLM recruiting college students to sell Cutco knives.
Price: Signing up is free but you have to provide security deposits for the demo knives they let you use.
Pros: Nothing.
Cons: Received several legal complaints, no clear compensation structure, no income disclosure presented.
Verdict: Vector Marketing is a highly suspicious MLM. It has received many complaints and is a borderline scam. 

What Is Vector Marketing?
Vector Marketing is a company founded back in 1981 in Pennsylvania. They work with Cutco Corporation to sell knives. Good quality knives, actually so it's pretty neat. Not the best one on the market though.
Cutco Corporation had a longer history than Vector Marketing yet sometime later they were bought out by Alcas Management.
Alcas adapted the Cutco brand and partnered with Vector Marketing to handle the marketing arm of the business.
Cutco actually had a good reputation prior to partnering with Vector Marketing, now they're better known as a company recruiting college students to sell their knives.
Here's more information on Vector Marketing:
How To Join Vector Marketing?
The good thing is, it's not a pay to play kind of business. You can join for free as their sales representative. Vector Marketing will even let you use a Cutco sample set for demonstrations as long as you remain active in selling the knives.
Vector Marketing's Notable Products
As with all MLM products, they aren't cheap. This is a pretty common move because this is where they get the members' commission.
The good thing is, the knife sets come with a lifetime guarantee, and they'll sharpen your knives for you anytime for free. (You won't have your knives for at least two weeks though)
They have 4 popular knife sets:
A 32-piece Ultimate Set
A 10-piece Homemaker Set
A 5-piece Space Saver Set
A 4-piece Studio Set
How Can You Earn From Vector Marketing
Vector Marketing started with advertising using word-of-mouth, newspapers, posted advertisements, and letters. Well, technology evolved so they "adapted" to the current trend.
I'm really not sure how they came up with this "modern" strategy, but it involves hiring college students from the US and Canada to become their sales reps.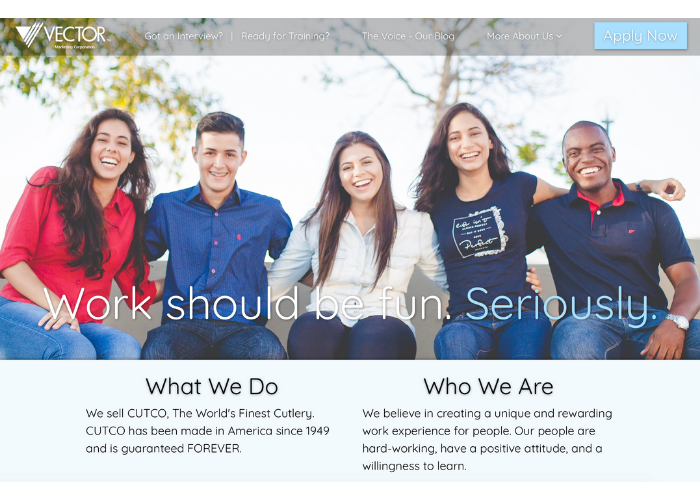 They post flyers on college bulletin boards to get the attention of kids wanting to earn some extra dough. The flyers are quite vague, it doesn't really explain what you have to do to make money. This is one red flag for me because in most cases when a business opportunity can't explain how they generate income, there's most likely something dirty up their sleeves.
After getting hired, a sales rep works as an independent contractor, meaning he has the cover the costs of going to friends and family for product demos. Plus, they'll also cover training costs.
Spending tons before you even earn? Yeah, right.
Not everybody was happy with the independent contractor set up so many pointed fingers at them for deceptive practices.
Because of the "misleading" practices, and an online group called SAVE (Students Against Vector Exploitation" filed a petition against them.
Earlier I said signing up is for free, true. But sometime before that, they've been blasted for requiring refundable security deposits to borrow sample knives. Pretty understandable to me so they can't get some kind of assurance that they'll have their knives back and in good shape later on.
However, because of being nitpicked for the security deposits, they stopped requiring it.
For selling knives, a sales rep gets commission.
Here's the kicker:
You'll be earning peanuts with Vector Marketing, you only get 10% commission! There's a little perk though, if you can sell more, they'll bump up your commission up to 35%. Still extremely low knowing most sales rep make 60% per product sold.
Making money online isn't complicated…
This video will show you exactly how to get started. Tap to watch now »
Think about it:
If college students sell knives, who do you think they'll market it to? Friends or classmates? These are people who'd rather buy food then cook it themselves.
Parents? They've already been paying your tuition, there's no way they'd spend more especially when on a tight budget and when they already had knives at home.
Professors? They'll just roll their eyes and look at you head to foot.
What's my point? A college student's circle is very limited, it's going to be hard to sell products especially knives. If peers will buy from you, they'd most likely do so only if you sell them gadgets.
There's more, finding clients won't be your only problem. You'll also have to think about organizing demos which roughly costs around $17.25 for the stuff you need to prepare. It takes time and money which by the way you'll top off to the already mountain-like projects and exams you'll have to think about too.
Here's how they'll get you interested:
They'll say you'll get paid $18 per hour! Sounds good at first glance but remember, you'll only earn $18 per hour when there's a conference going on. It's not like there's going to be one every week!
Overall, there's very low earning potential working with Vector Marketing. And oh I forgot to tell you, the management can get a little aggressive when you don't make money, so you'll be in for a whole new level of pressure.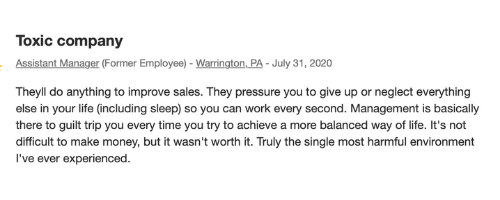 I really don't think the money you make and the whole work involved is worth your time. If you have some hours to spare before your next class, I think you'll be better off starting your online business slowly but surely.
7 Red Flags Of Vector Marketing
1. Sued by the Arizona Attorney General for deceptive practices.
2. Ordered by Wisconsin to stop their recruiting strategy.
3. Sued for not paying sales reps with the minimum wage.
4. Faced class-action lawsuits from California, Florida, Illinois, Michigan, Minnesota, Missouri, New York, and Ohio.
5. Sued for another wage violation.
6. Compensation Plan is not given in the website.
7. No income disclosure presented.
Here's what an ex-representative have to say: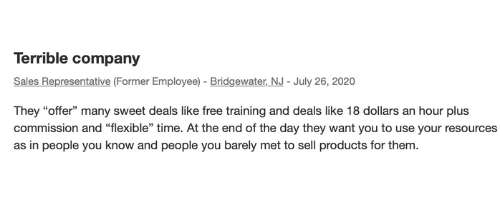 Is Vector Marketing A Scam?
I really want to say yes but there's no solid evidence they are. They've been sued a couple of times, but many large corporations have been too.
Personally, I think the products they sell are legit. Cutco has a good product reputation after all. I just don't like how Vector Marketing does business. It's quite dodgy and the earning potential is very low compared to the work involved.
If you're looking to earn some extra bucks, why not just do paid surveys in Swagbucks? It's easier to do and you won't have as much stress as when you'll do when you go on recruiting people and selling knives to everyone you know.
If you're looking to build your own business early in life, it's a great idea too, by the time you graduate, you'll be generating passive income aside from the career you want to pursue.
Vector Marketing Bottom Line
I personally don't like MLMs, not because they're all scams. There's actually a handful of legit ones out there.
Still, I'm not a fan of it because it involves recruiting people which puts you in danger of burning bridges with family and friends. The products cost an arm and a leg, and most college students don't have a budget for it.
Other than that, most MLMs also require a monthly quota, if you don't sell, you'll be forced to purchase them yourself so you can make a commission. Basically, you'll just be spending so you can earn a little trickle back. Really not worth it.
As for Vector Marketing, all you'll be selling are knives. I don't think a whole building of dormmates will even be interested in buying even one knife, let alone a set. Well unless they're culinary students of course.
Generally, though, college students have no interest in buying knives, you'll be forced to turn to your relatives to make a sale, I don't think it will work either.
If you really want to start making an income while still in college, why not start building your own online business, like affiliate marketing.
You'll get tons of products to choose from so you can pick what you think will interest people the most. You won't get stuck trying hard as you can to sell only one product.
Plus, there's no recruiting involved so your family and friends won't cross the road when you're around.
You can start slowly but surely; it will take a little bit of your time and money but it's better to spend it by building your own business than with MLMs.
Don't worry if you don't know how it works, Wealthy Affiliate will give you the training you need. If you have enough spare time to work on Vector Marketing, you will surely have time to learn the skills for your own online business.
The great thing about it is, you won't get the pressure unlike when you're working for Vector Marketing, plus, when you've established your website, you'll have your own income stream even before you step out of college.
You can earn from it month after month and you can even make it your main income stream instead of looking for a 9-5 job.
You don't have to take my word for it, you can check out the first 10 lessons for free.
How I Make A Living Online?
After years of working in call centres I finally figured out how to create a 5-figure monthly passive income stream and become financially free.
Thanks to the right training and a lot of hard work I kissed my old boss goodbye and booked a one way ticket to Thailand.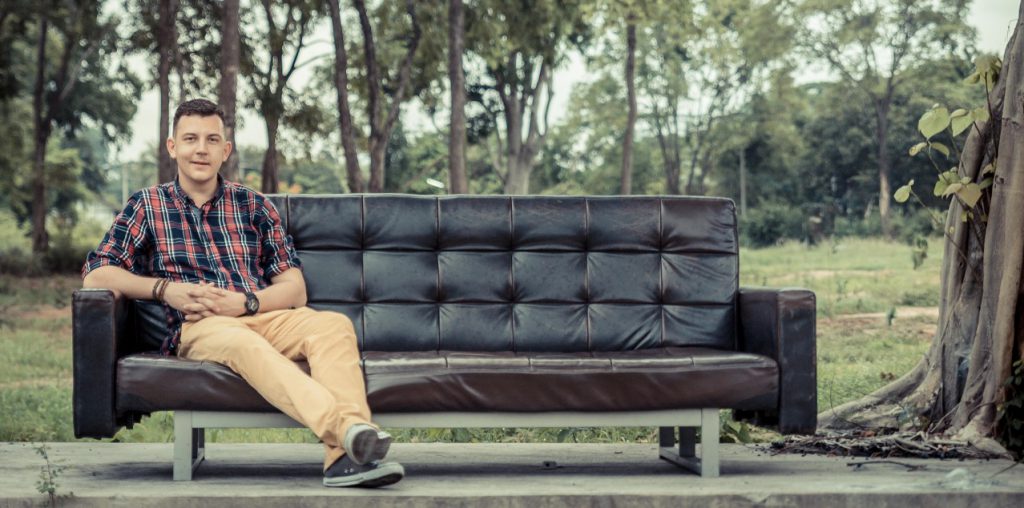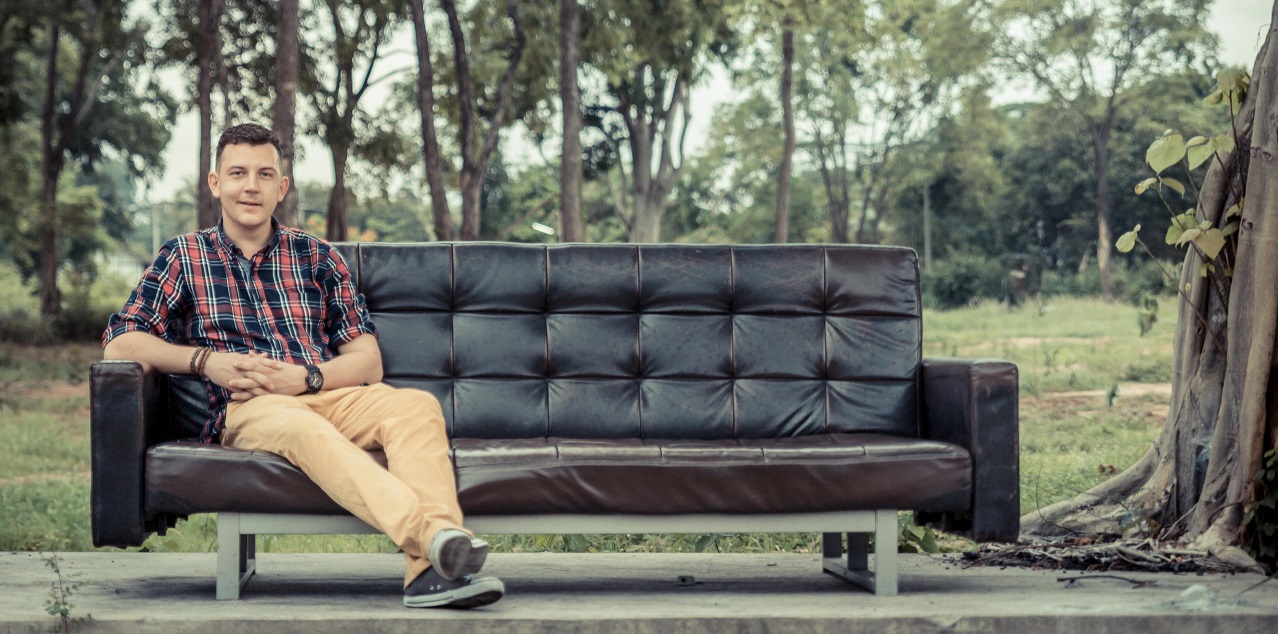 So if you're serious about building a thriving online business, click here for the exact step-by-step formula I follow.
Questions? Violent Reactions?
Did Vector Marketing work for you? How did it go? Do you think building your own business with products you personally chose will work better? Share your thoughts with us in the comments section below.
Simon Crowe is on a mission to help as many people as possible kiss their bosses goodbye.
Take the free Commission Academy course to discover how to smash your online income goals and make your dream business a reality.