SurveyBods.com offer you the chance to influence brands and earn cash and prizes.
In this SurveyBods review, I'll be signing up and taking an inside look at this lesser-known website to find out whether it's safe, legit and if taking their surveys are worth it.
I've been looking at a lot at survey sites lately like Pinecone Research, Google Opinion Rewards, Project Payday and VIP Voice and while they're not scams, they2 do end up taking up a heck of a lot of your time and leave you with nothing much to show for it.
That's why I stopped focusing so much on paid surveys and took this free beginner's training and learned how to build a real online business.
Oh, and just so you know, I'm not affiliated in any way with SurveyBods so I'm free to share my real thoughts and opinions. That said, let's get to the review!
SurveyBods Review At A Glance
About: ResearchBod's UK-based research community and survey app.
Price: Free to download.
Pros: Legit.
Cons: Limited surveys.
Verdict: SurveyBods is legit but you'll hardly find any surveys to make money from. Try Swagbucks instead.

What Is SurveyBods?
SurveyBods (formerly named Eduvoice) is a UK-based research community with the tagline:
"If you've got an opinion, why not get paid to give it!"
I was surprised to find out ResearchBods, the guys behind SurveyBods, are based in the city of Leeds where I was born and bred.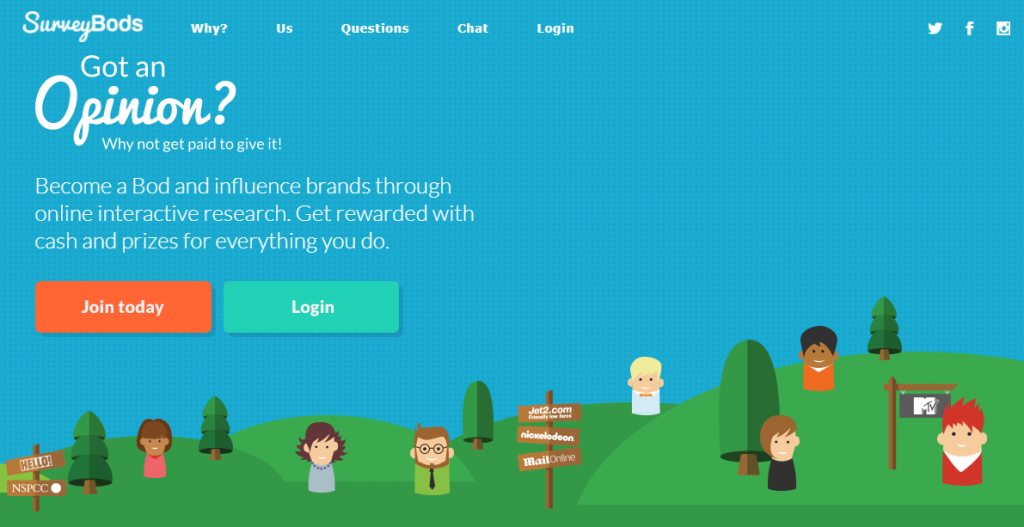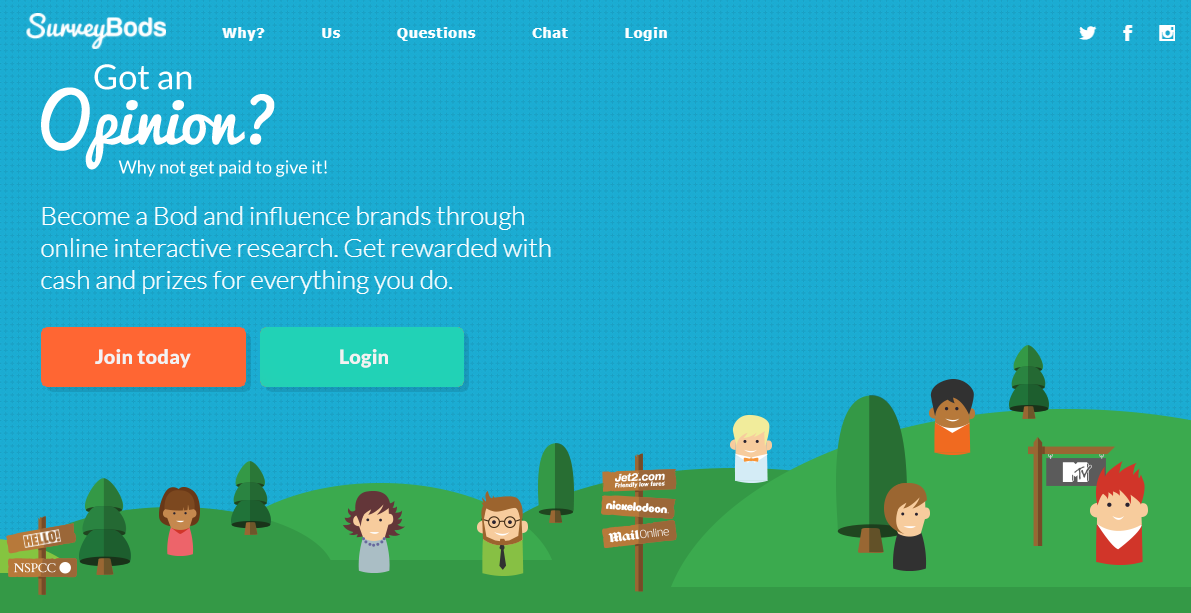 They have 4,000 likes on their Facebook page and 2,000 followers on Twitter.
You can become a member through SurveyBods.com or download the app for free from Google Play Store and Apple App Store.
Quick-fire stats:
The minimum payout is unusally high at £15 (1,500 points)
Surveys are open to UK residents only
You must be 16+ to join
The SurveyBods app has had between 5k-10k installs
You can get paid by cash in your PayPal account or Amazon gift card
2 Ways You Can Earn With SurveyBods:
1. Surveys
I know, shock right? It is a survey site after all. 😉
You can realistically expect to make between £0.50 and £3 per survey
There's no set number of questions and each survey can vary from length to payout to topic. You will be told how much a survey will pay out before you start though, with a roughly estimated completion time.
2. Monthly Prize Draws
Each time you successfully complete a survey you're automatically entered into monthly prize draws, though exactly how much you could win varies.
The Sign Up Process
As far as first impressions go, I really like the look of this site and it's well-laid out. Their homepage proudly boasts the fact they've partnered with huge brands like MailOnline, Jet2 and the NSPCC.
I clicked the "Join today" button to kick off the registration process.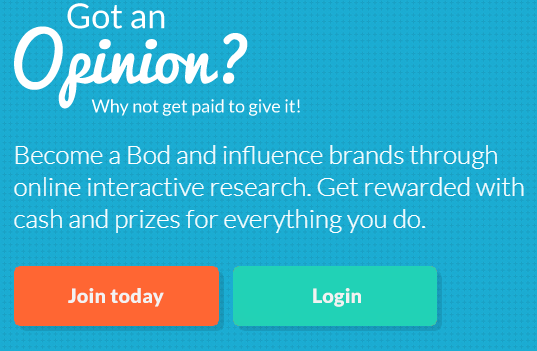 Then I'm given the option to sign up through Facebook which is a lot easier and took less than 10 seconds. This bought up a simple form to fill out my name, email address and date of birth.
I hit a minor website glitch though: for some reason, it kept asking me to fill out my first name even though I'd already done it.
I went back to the homepage, connected through Facebook and tried it again but the same issue kept coming up.
Eventually, I ditched the connecting through Facebook option and it went straight through.

Then you're asked to verify your email address which is pretty standard. Though I had to wait 12 minutes for the email to come, though I did get it eventually.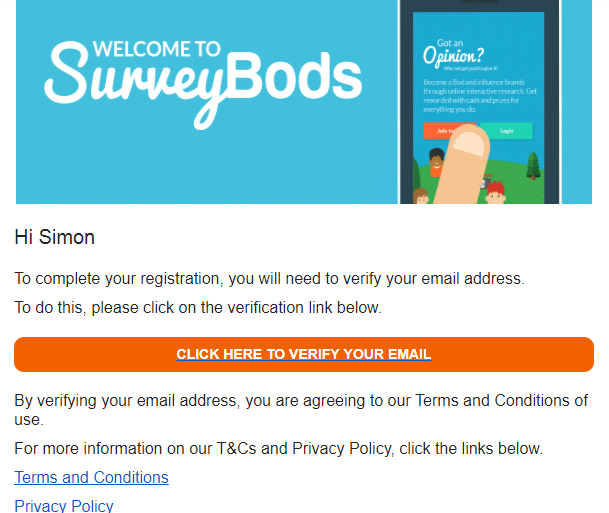 Clicking on the link took me back to the homepage and I logged in to find a qualifying survey I needed to fill out.
According to the SurveyBod FAQ's page, you need to fill out this profile survey that will ask you a few questions about you and your lifestyle. This information allows them to allocate qualifying surveys to you.
Plus for the 2-3 minutes it'll take to complete they'll give you 50 points or 50p which is always nice.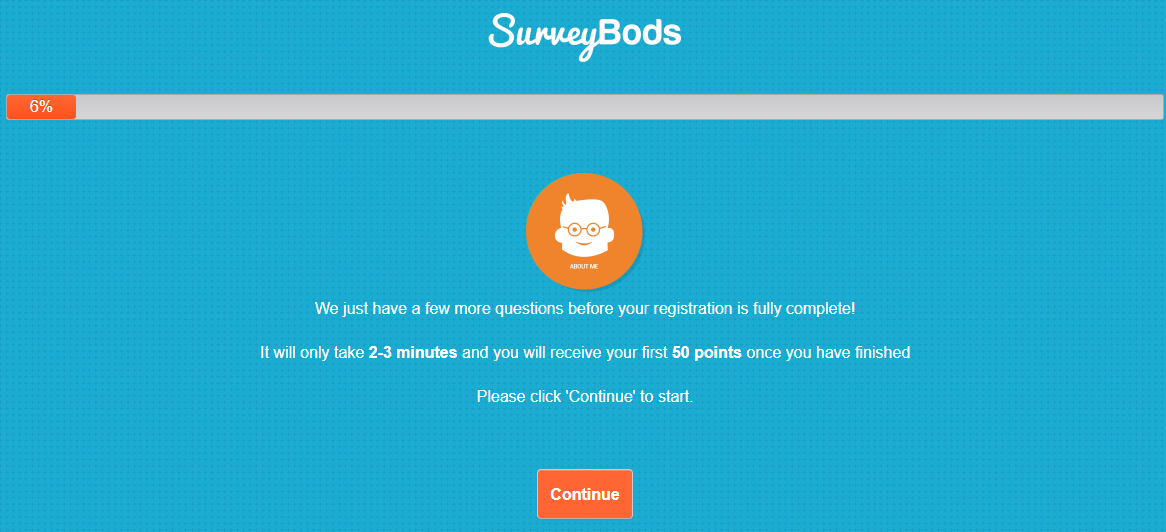 You're asked about your gender, which country you live in, what region, your mobile number, ethnicity, job type and whether or not you have children.
I'd say it took me just under a minute to answer the questions.
Then you're taken to the dashboard area and given 3 more profile surveys to complete. I want to see how many surveys are available here, so I went ahead and did all 3 to complete my profile.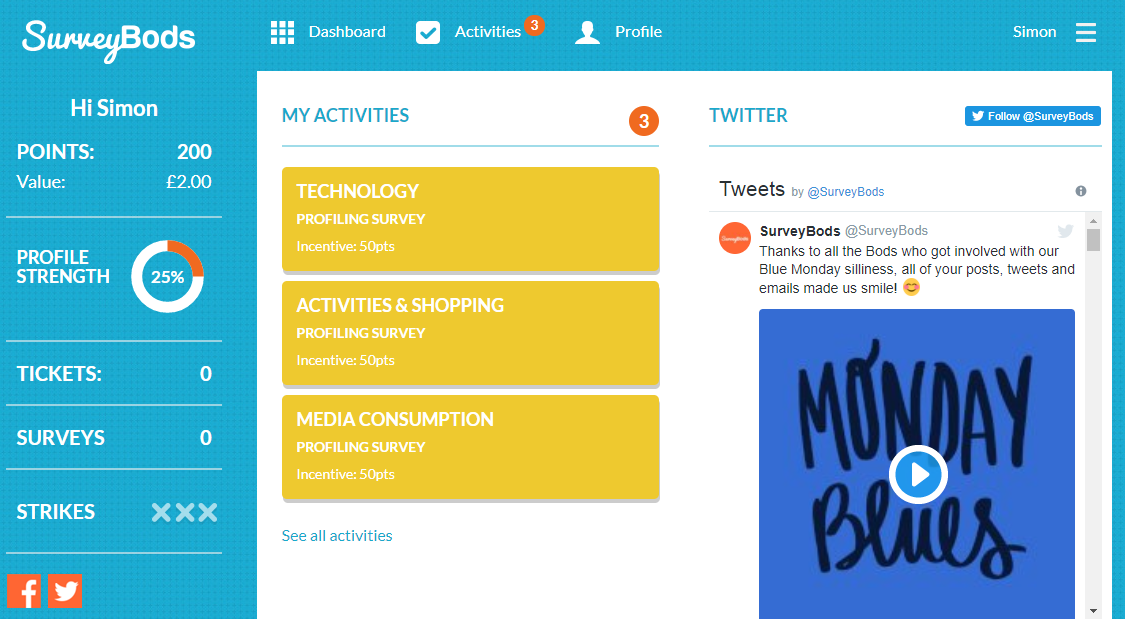 These included:
Technology – 50 points, took 40 seconds max
They ask about your digital TV provider, mobile phone sim card provider and whether you use a tablet or smartphone.
Activities and shopping – 50 points, no more than 30 seconds
Asked whether you shop online or in-store, who your energy supplier is and who your car insurance is with.
Media consumption – 50 points, about 30 seconds again
Questions about what newspapers you read and TV you watch.
Once these were done and my profile was complete, there were no surveys to take at all. Which, though not surprising, is a little disappointing.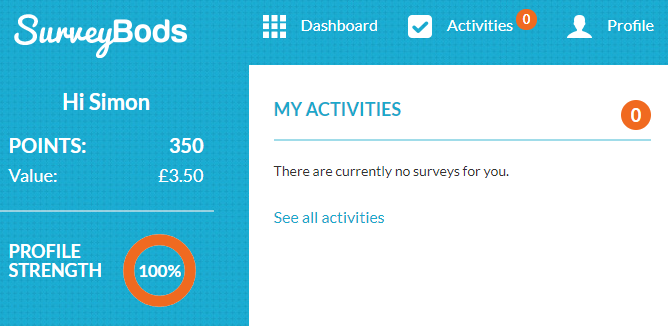 Looking around the dashboard area, I checked to see if there's a referral program or a chance to earn points by referring family and friends but there isn't.
As it stands right now there's no way to earn more points; there are no surveys to complete which means I can't be entered into the monthly draws and no referral program.
I have £3.50 balance with no way of reaching the minimum £15 cash out. I can't help but feel underwhelmed.
SurveyBod Reviews: What Others Say
The SurveyBod app is rated 3.2 stars out of a possible 5 with nearly as many negative reviews as positive ones. I know every app has some complaints, but this is a lot:

Reading through member's SurveyBod reviews, there's one issue that keeps coming up again and again…
"There's Just Not Enough Surveys!"
Read any reviews of SurveyBod and pretty much any online survey website out there and you'll read the same old story – there are not enough surveys and the number is going down.
The number of businesses using surveys as a way to get consumer feedback is dwindling rapidly as they turn to social media for free, fast and direct polls.
This means that even though they pay so little to start with, add to the mix you might just get a couple of surveys a month and anyone can see this isn't a real income earner.

Source: Survey Police

Source: Google Play
SurveyBods Review: Bottom Line
Surveybods might be legit but it's not worth your time.
It's not just there are no surveys available, it's the fact that they're low paying. Waiting 3 months for a 50p survey is going to take you months, if not years to make £15.
Whether you're looking for a bit of pocket change or to replace your day job, it's clear we're not on to a winner here…
Heck, you could even sign up to 20-30 sites like these, go through the whole registration process handing over your personal details to each one of them and then spend 10 hours a day filling out boring surveys, you're still not going to come close to anything resembling a part-time income.
That's why if you have the passion and energy to succeed, instead of wasting your time with silly online surveys, you're much better off investing your time into creating a real internet business for yourself.
This is exactly what I did in 2014 and I earn $7,000+ a month.
I followed this free beginners training course that I think you'll want to check out. It'll show you everything you need to know about making serious money online in a legitimate way.
Yes you need to put in the time and effort to make your business grow initially, but the amount you earn can replace your full-time income for years to come.
What's Been Your Experience With SurveyBods?
Let us know in the comments!
How much money have you made with survey sites overall?
Would you recommend surveys as the best way to make money online?
Let us know what you think, we'd love to hear from you!
Simon Crowe is on a mission to help as many people as possible kiss their bosses goodbye.
Take the free Commission Academy course to discover how to smash your online income goals and make your dream business a reality.