Welcome to today's review of Scribie where we will sift through the facts, pros and cons, and everything else you need to know before signing up as a transcriber.
A lot of people consider transcription as an easy way to make money online, but I beg to disagree. Why? You'll know if you read this review down to the end.
Scribie Review At A Glance
About: Scribie is a work-from-home transcription service with very low-income potential.
Price: Applying is free but you need to be good in English, can easily identify mistake, have a computer, headset, and stable internet connection.
Pros: Fast payout and no minimum requirement to withdraw earnings.
Cons: Unclear audio files, high output rejection, and low income potential.
Verdict: Scribie is a legit transcription platform. It's only good for those just starting out at online freelancing because of its low income potential.

What Is Scribie, Exactly?
Scribie is a transcription platform owned by Rajiv Poddar and put up back in 2008 in San Francisco, California. 12 years in the industry is a good sign they're legit. Not enough proof though, so let's dig deeper.
To put it briefly, a transcription platform like Scribie types down what is said in audio files. They hire people to do this for them, and this is where you can make money.
It's a work from home job so you get saved from the long hours of commute to work, plus you get the liberty to choose what time to work and how long. Aside from choosing when to work, you can also choose which files to work on.
To date, Scribie says they already have 32,302 home-based transcribers working for them and have paid more than $2,000,000 for the jobs they do.
If this was the case, on average, and with simple Math, each transcriber was only able to earn a little more than $60 in this platform. Not a really good income potential to me.
How To Join Scribie
Here's a list of the you should have to become a Scribie transcriber:
Good English language comprehension
Ability to interpret conversations, identify mistakes, and apply context
Computer, headphones, and internet connection
Verified Paypal account (linked to your bank)
If you have what is listed above, you can go and proceed to the application process.
1. Submit Application
Click the "Apply" tab and answer the form given after that you will be given an application number to track your application progress.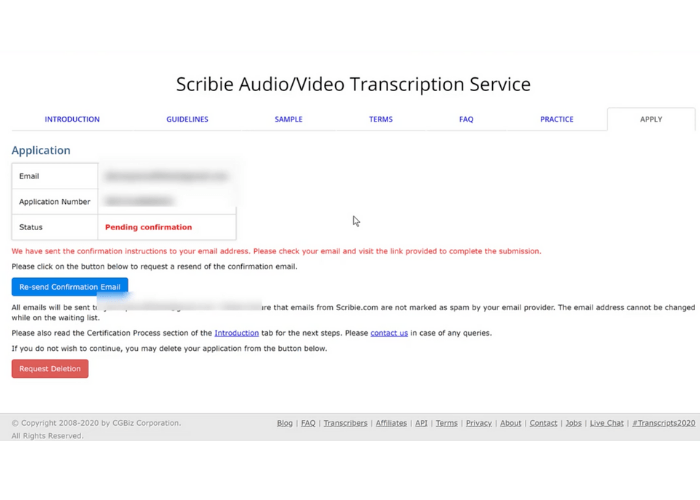 2. Confirm Your Email
After completing the first step, go back to your email inbox and confirm your email using the email they sent. If you did not receive the confirmation email, just request them to resend the email.
3. Wait While Review Is Going On
The application you sent will be reviewed within 1 business day, you'll know when it's done because they'll send you an email accepting your application or rejecting it. If it gets accepted you have to wait some more for the test you need to take, roughly, it's just another one business day.
4. Test Invitation
Once they're ready for your test, you'll receive another email inviting you to take the test. Just click the link provided and you'll be forwarded to a page where you'll make a Scribie account.
5. Submit A Test File
After creating a Scribie account, log in and you'll see a list of files to choose from. Select a file you'd like to transcribe and when done submit it.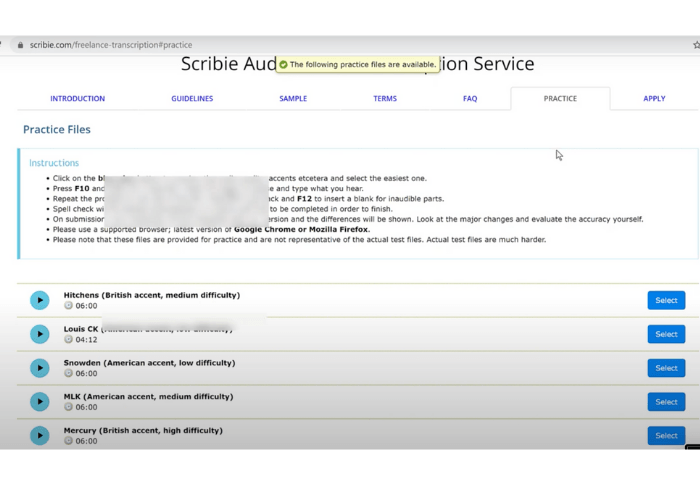 6. Wait For Certification
Once you submit your test file, it will be up for review. When approved, you will be paid for the test file and you can continue looking for files to transcribe. On the other hand, if it gets rejected you can compare your test file with the reviewed one and request a re-test. You can do as many as 10 re-tests.
Once certified, Scribie accredits you as an audio transcriber and starts listing your work experience with them. You can even use the certificate they'll provide as a reference if you ever need it.
How To Start Making Money With Scribie
After getting certified you can start making money from transcribing. You can choose what files you want to work on, just remember it's on a first-come, first-serve basis. You have to be the first one to choose the file so you can work on it.
You can choose as many files as you want but you can only do one audio at a time. You have to send back your output within 2 hours, so I suggest not taking too many files. If you don't finish within 2 hours, you can always request an extension of one hour.
If you can't finish transcribing the audio, you are allowed to cancel the assignment without penalties.
Once your output is reviewed, your payment will be credited into your account which you can, later on, submit for withdrawal request so it gets transferred to your Paypal account.
A bit of tip:
Don't withdraw unless you have $30 or more. If you do, you'll get a 2% charge.
How Much Money Can You Make With Scribie?
Scribie pays from $5 to $25 per audio hour. To make things clear, you get paid not by how much time you spent working on the file but on how long the audio file is. For a 6-minute file, you can earn from $0.5 to $2.00.
You have to type fast and listen sharply to finish a file fast and accurately. If not, you can end up spending 30 minutes to over an hour for a 6-minute audio file. This means your hour's pay is just a scanty $2.00 at best.
Making money online isn't complicated…
This video will show you exactly how to get started. Tap to watch now »
Transcribing for 8 hours with this speed can mean you'll only earn $16 for the whole day. I'd rather take surveys on Swagbucks if that's the case.
Another thing, Scribie requires a 98%-100% accuracy in your outputs. Pretty understandable to maintain their credibility and keep clients coming in.
They put a Grades and Promotions System in place to track performances. You have to be as accurate as possible or else you can get demoted to the point where they'll no longer allow you to accept jobs.
It can be a challenge though when you get audio files with background noise and difficult accents. Like I said earlier you have to interpret conversations, identify mistakes, and apply context so you can sort out the inaudible parts.
However, if you keep getting high grades, you can get promoted where you'll have a chance to earn better.
Here's how it works:
1.Promoted As A Reviewer
When you've submitted at least 1 hour of raw output submissions and an average grade of 3.
2. Promoted As A Self-Reviewer
You get promoted to Self-reviewer when you've reviewed 10 submissions and maintain an average grade of above 3. As a self-reviewer, you can review your own output and earn twice as much as when you just transcribe the file.
3. Promoted As A Proofreader
You get promoted to Proofreader when you get better grades as when you were just a Self-reviewer. The files you work on are longer though and the pay depends on how long the audio file is, the accent, and the difficulty level. There are also contract positions available when you become a Proofreader where you earn a fixed monthly income.
Still, even when you get promoted, the pay still wouldn't suffice to make ends meet.
Pros Of Scribie
Fast Payout
No minimum threshold to withdraw
Cons Of Scribie
Low-income potential– the money you make will depend on how fast you finish audio files.
Complaints on audio files – many transcribers complain about the audio files being unclear and inaudible which takes it to long to finish.
Complaints on outputs rejected – others complain about their outputs getting rejected instead of having a lower grade for its minimal errors. This means the time you spend working on it will is wasted.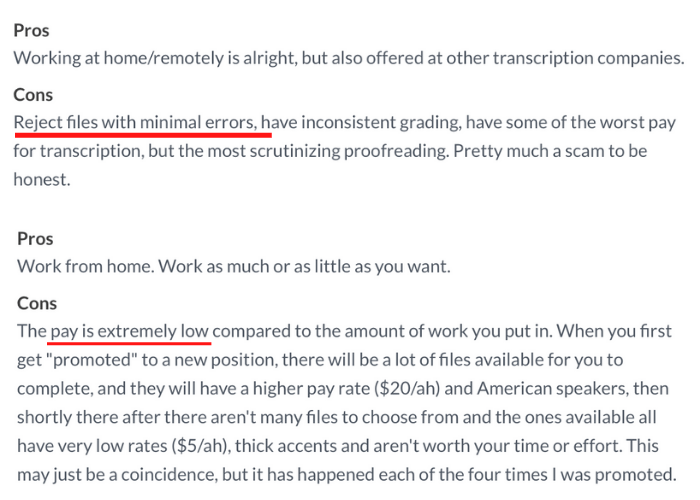 Is Scribie A Scam?
Scribie has a low-income potential and has several complaints against them. Still, to me, they're not complete deal-breakers and it's not enough to label them as a scam.
Plus, the owner of the platform is known, they have a physical address, they've been around since 2008, and they've been featured by reputable websites like PCMag as one of the best transcription services.
Scribie Review Closing Thoughts
Is it easy to make money with Scribie? No. You have to go through all the screening process and if you do get accepted you have to compete against other transcribers for the audio files you want to work on.
Other than that, most likely you'll be working on audio files which has background noises, difficult accents, and have multiple people speaking at the same time. It can get pretty challenging and it will make finishing one file longer.
Remember:
You'll only make money as long as you have an audio file to work on.
If you do get better at it: type faster and understand the audio better, you'll get to finish more files and earn more.
Usually though, unless you're really good at it, it will be quite a challenge to earn a decent income from it. Remember, a 6-minute audio file is only worth $2 at best.
With that rate, if you can finish 10 6-minute files within an hour, you can make as much as $20. Work at it for at least 5 hours a day, you can earn around $100 every day. However, it's very unlikely to happen because, in reality, you won't be able to finish 10 6-minute audio files within an hour.
Another thing, remember the Math we did earlier? On average one transcriber only earns $60 from Scribie. You can earn more, you can earn less, it really depends on how efficient you are.
If you think it's a good fit for you go and try it out. If not, you can always try other work from home opportunities like affiliate marketing.
Affiliate marketing lets you earn by promoting other people's products for a commission. It's actually a thriving industry and with it you can earn month after month even when you're away from your computer.
If you're interested in knowing more about affiliate marketing, check out this in-depth Wealthy Affiliate review.
You can make money either way, whatever floats your boat as they say. There's no harm in trying both of it though to see which will give more value to the time you put in.
How I Make A Living Online?
After years of working in call centres I finally figured out how to create a 5-figure monthly passive income stream and become financially free.
Thanks to the right training and a lot of hard work I kissed my old boss goodbye and booked a one way ticket to Thailand.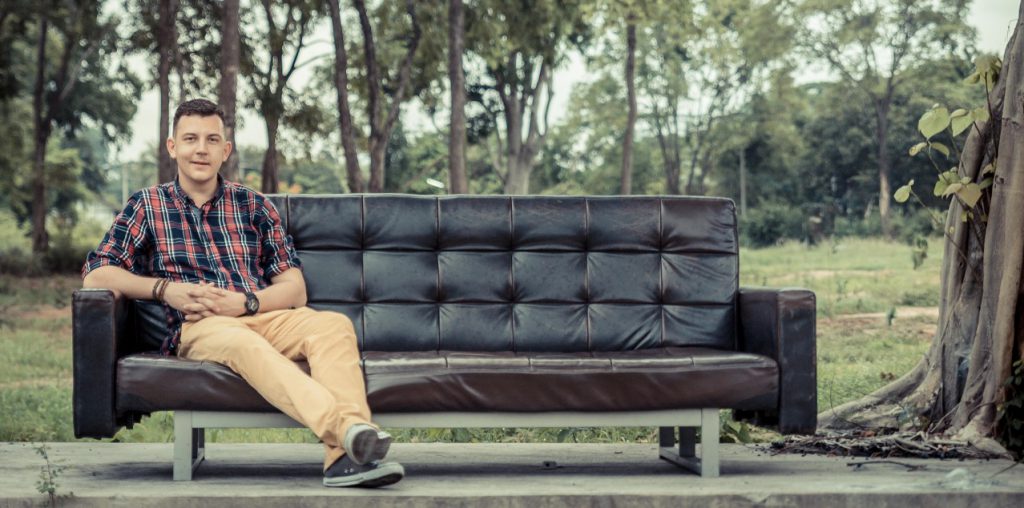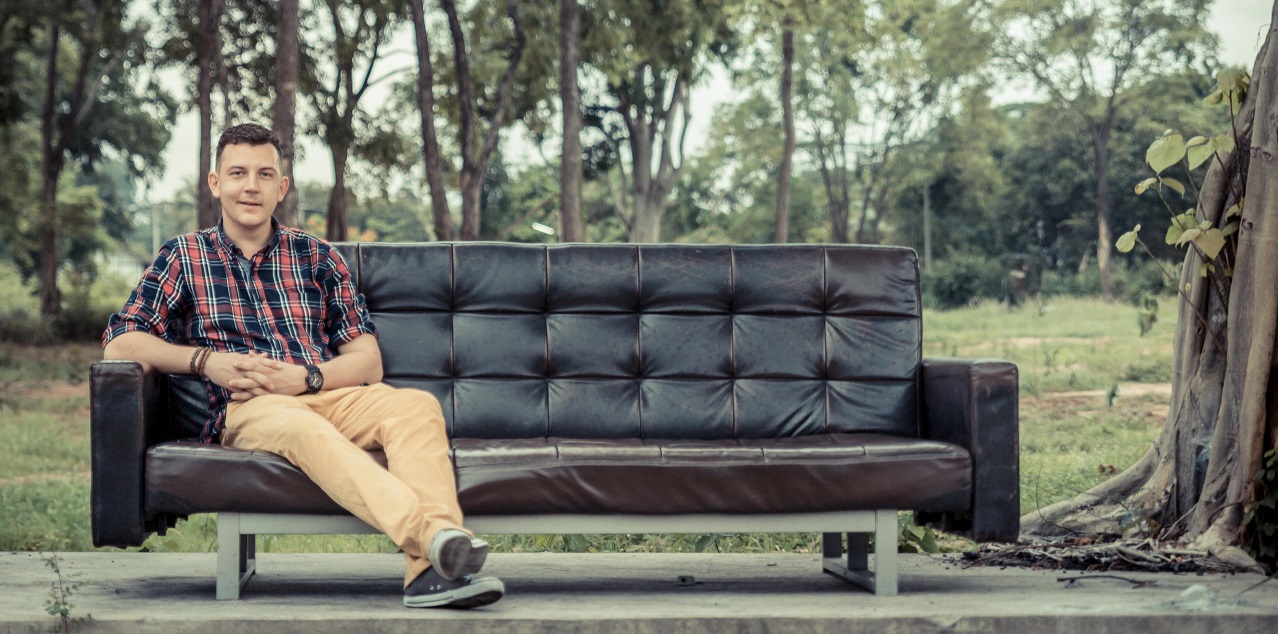 So if you're serious about building a thriving online business, click here for the exact step-by-step formula I follow.
Questions?
Did I miss something out? Is there something you want to ask or share? Please do, just scroll down to the comments section below.
Simon Crowe is on a mission to help as many people as possible kiss their bosses goodbye.
Take the free Commission Academy course to discover how to smash your online income goals and make your dream business a reality.