Want to make sure Profit Bank is a legit affiliate system you can earn from?
You've come to the right place.
Hi, my name is IG and I'm your resident make money online researcher and blogger. Today in this Profit Bank review I'll show you the truth behind the sales page claims of $1,099.20 per day.
Will you bank staggering profits with this system or is everything just all talk?
I'll reveal what Profit Bank really is, what you get when you buy it, tell you if it's a scam and finish off by showing you a better course of action.
With a sea of income systems claiming to be brand-new and unique offering unrealistic income without lifting a finger, most often than not you'll either end up with a lousy or scammy income system.
If you're ready to avoid the duped list, then let's get on with this review.
Profit Bank Review At A Glance
About: Profit Bank is an income system claiming to help you make $1000s per day with just a little work involved.
Price: $24.95 for the program's monthly cost plus another ongoing $37 for the eBooks on the members' area.
Pros: None.
Cons: The system is outdated and overly hyped but never delivers the promised results.
Verdict: Profit Bank is a bad way to do affiliate marketing. It gives you a lousy one-page website that never drives potential buyers.

What Is Profit Bank
Profit Bank is an affiliate income system promising outrageous income claims. It's a get-rich-quick scheme that's never good enough to generate profit.
How Profit Bank Is Portrayed
Thomas Black advertises Profit Bank as 1-click autopilot software that drives $1,000 per day. He describes it as a "one of a kind software" where you don't need to do the heavy lifting of investing money and time for ads to gain commissions.
Thomas claims all you ever need to do is download the software and you're already in line to gain staggering daily profits.
Like other scammy affiliate systems, Profit Bank says you won't need to create a website or do any marketing because the software does everything for you.
Unfortunately, this is not the real deal. You need to drive traffic yourself. More on this a bit later.
He's promising you pipe dreams just to get you to sign and pay up.
Essentially, you're given 3 websites to put your affiliate links in and these websites supposedly flood your account with $1000s of cash.
Good in theory…
But remains in theory.
How Much Is Profit Bank?
You have to pay $24.95 for a monthly membership. There's also an additional $37 to access the features in the members' area.
Profit Bank Has A Running Cost?!
Yes, you have to pay $24.95 for the membership every month. When you land into the members' area, you'll see features like the eBooks locked up which you can only access once you pay $37. Not a one-time-fee, also a monthly cost.
This means you'll need to shed $61.95 every single month if you want to make the best use of the members' area. In a year, you'll have to spend a staggering $743.
And what does Thomas' do to convince you to put more money into their pockets? He'll say "one tool just isn't enough".
The Lousy Things You Get In Profit Bank
Once you pay up for Profit Bank, you'll get to download 3 shabby looking affiliate websites where you put your affiliate link in. It already includes content, images, and the affiliate products you will sell.
After you get access to the software, you'll just have to input your ClickBank ID and connect your Aweber account if you have one to use for email marketing.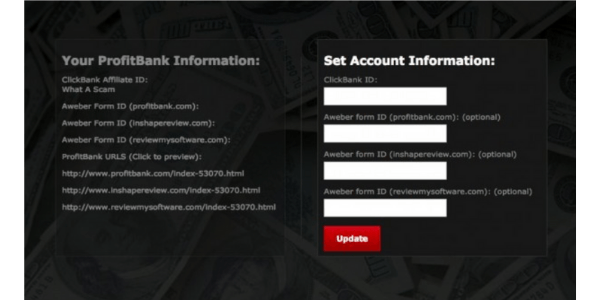 Supposedly, when a visitor reads the content of "your" website and buys the product, you'll get a commission which piles up to $1000s per day.
You'll get one website for business opportunities: www.profitbank.com
Another one for software products: www.reviewmysoftware.com
And one for weight loss products: www.inshapereview.com
Looks like a variety of niches for you to earn from, right?
The truth is, selling products from different niches won't make you an authority. Unless people view you as one, you won't convince them about what you're promoting.
Profit Bank Deal Breakers
1. The 3 Website Awfully Look The Same.
And I don't mean just for you, but for all the Profit Bank Subscribers.
Why is this a problem you ask?
It's a gigantic problem because it means you only get duplicate websites. With every member having the same-looking website, it would be hard for you to stand out. When you don't stand out no one will get interested. With no one interested, you won't have visitors.
The second problem, Google doesn't rank duplicates. They've cracked this down way back in 2012.
This makes it harder for people to know your website exists. When people don't know about it, again, you won't have visitors to check your offers. Ultimately, you won't get anyone to convert.
2. These Aren't Really YOUR Websites
The truth is, it's Profit Bank's websites.
You see, everybody gets the same domain as yours. Profit Bank only gives you the chance to earn commission on products with your affiliate links on them.
Think about it:
Let's say there are 50 Profit Bank members. This means 50 similar websites with 50 different links. What are the chances of people buying from your links?
A lousy 2%.
3. It's A One-Page Website
Let me ask you:
Do you think one-page websites are credible?
I thought so too.
In most cases, one-page websites are merely landing pages. They're not actual websites.
Honestly, for people to build trust in you, your website must prove your credibility. With affiliate marketing, many do blogs to show their expertise in the field.
One-page websites don't allow people to build trust in you. When you're not credible, there's no chance they'll trust your offers. In the end, you won't make them convert. No commission for you.
4. Everything In The Members' Area Are Locked Unless You Pay Up The Additional Cost
If you ask me, this tactic is quite unethical and misleading. Instead of being upfront about the monthly cost, they only reveal a portion of it to attract you with the supposed cheap cost.
Once you land in the members' area, you'll find out all the other features are inaccessible unless you fork out more cash.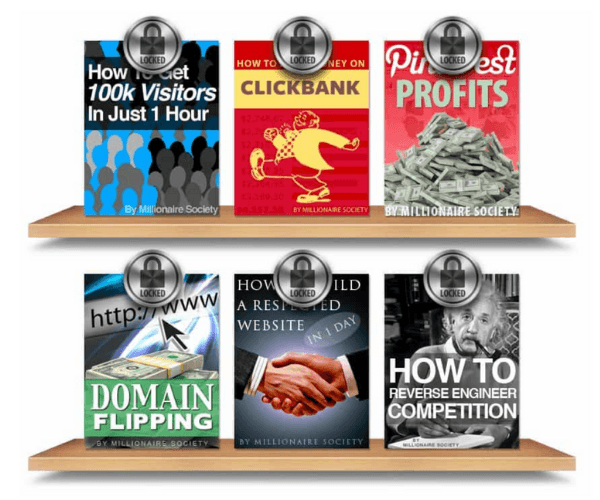 What's more annoying is finding sales videos saying "change your life" and "unlock this page" just to get you to pay up.
5. The Members' Area Is Outdated
It's already 2021 but the members' area looks like it's from decades ago. If they couldn't keep up with the interface trend, I highly doubt they can also keep up with the current methods of making money online.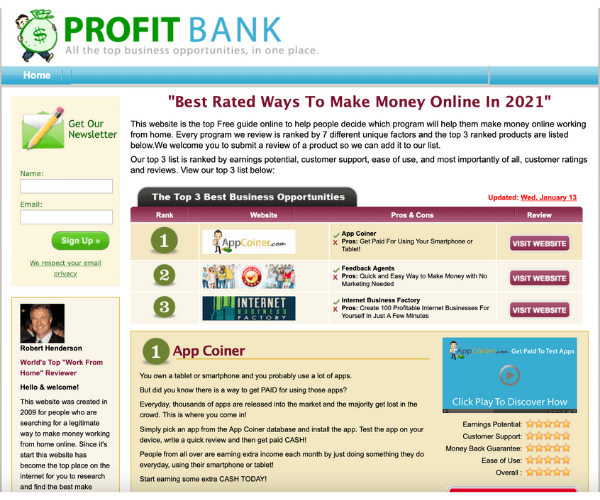 Is it worth $61.95? Hardly!
6. Selling You Millionaire Society
Millionaire Society is the sponsor and flagship product of Profit Bank.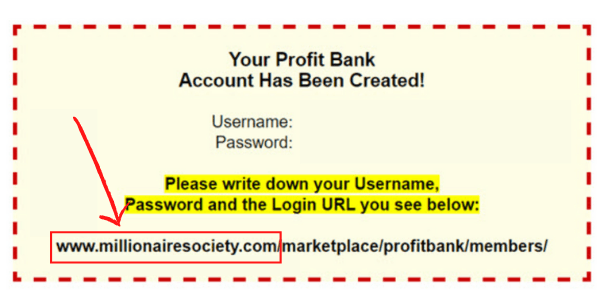 Does this guarantee you'll end a millionaire? Never.
We've done a review of Millionaire Society and if you check it out you'll realize it's never worth even a single cent.
How would you convince others to buy in when it's all too scammy to begin with?
7. Bad Traffic Support
If you think Profit Bank will advertise your links on auto-pilot, you got it all wrong. On the sales page, Thomas says he'll help you generate organic traffic.
But the truth is you have to do all the heavy lifting of driving people to your offers. How do you do it? They recommend you sharing your links on FaceBook, Twitter, YouTube and other social media networks?
Will it work?
Next to impossible.
One, you need a large following.
Two, the following you have must trust what you say.
Unless you have these, no one will dare to click on your links.
The reality is, creating your own niche website is the timeless way to drive targeted organic traffic. With your own website, you can build your credibility by showcasing your expertise in the niche.
When visitors see you know what you're talking about, they'll be more likely to trust your recommended products.
Is Profit Bank A Scam?
Profit Bank is definitely a scam. It drops outrageous income claims without really delivering the promised results. Plus, Thomas would make you think you only need to pay $25 but end up lumbered out of more money just to use the members' area features.
If an income is this deceptive, there's no doubt it's a scam.
Profit Bank vs Wealthy Affiliate
Truth be told, one-click systems promising outrageous incomes like Profit Bank are no more than shiny shortcuts heading for a dead end.
It just sounds too good to be true, and as with most things, it really is.
Concealing the reality of making money online saying there's no heavy lifting involve is just a tactic to get into your pockets faster.
What do you get in return?
A bad life experience.
Is there a way to avoid this experience in your journey to building an online empire?
Of course, there is.
While learning your way to success, investing time and energy seem to look like heavy lifting, it's not that weighty at all.
It actually makes life easier for you because you'll know how to take control of your business.
Wealthy Affiliate offers intensive affiliate marketing training that will get you from a complete newbie to an experienced marketer.
You won't only get lessons to learn from, you also get to apply what you learn.
Not just that, you also have access to other affiliate marketers to learn from.
Best of all, you can test the waters out for free. You're given access to the 1st 10 lessons (without hidden costs) to see if it's a good fit for you.
If you're interested in how Wealthy Affiliate can help you reach your online income dreams, read this comprehensive Wealthy Affiliate review to know how you can get started.
What's Your Take?
We're you dumbfounded about the Profit Bank's lousy package? Did you feel it's a no-brainer to avoid it? Tell us what you think in the comments below.
Simon Crowe is on a mission to help as many people as possible kiss their bosses goodbye.
Take the free Commission Academy course to discover how to smash your online income goals and make your dream business a reality.