Paid online surveys are often the go-to opportunities for beginners trying to make money online. So, in today's review, we're going to talk about My Digital Survey and see if it's a survey site worth signing up to.
We'll talk about what it is, how it works, if it's a scam, and if you can make good money from it.
Tons of survey opportunities can come your way so it's a waste of time to work on the ones which won't pay in the end. My main goal here is to help you get a good start in the online arena if it's where you want to make money from.
My Digital Survey Review At A Glance
About: My Digital Survey is a middleman website to real survey sites.
Price: Free to join. But needs to be at least 18 years old and a US resident to join.
Pros: Free sign up.
Cons: Spams email, will sell info to others, uses fake testimonials.
Verdict: My Digital Survey is a scam. They use fake people to vouch for them, lot of users complained about the site, and they'll sell your personal info. Avoid at all costs.

What Is My Digital Survey?
My Digital Survey is an aggregate website that links users to the real survey sites. It was made back in 2015 in Wheeling, Illinois. It claims to be a digital community showing people the best online opportunities to earn from.
Or so that's what they claim to be. If they define "best" as earning peanuts by the hour, I'm totally not going to agree with them.
The funny thing is:
They claim to give you access to high-paying surveys and also claim to be experts in looking for tricks to make money online. I actually believe it's you they're pulling the tricks on.
Why?
Because they use fake testimonials and stock images to make you believe there's good income potential by taking the surveys on the websites they point to.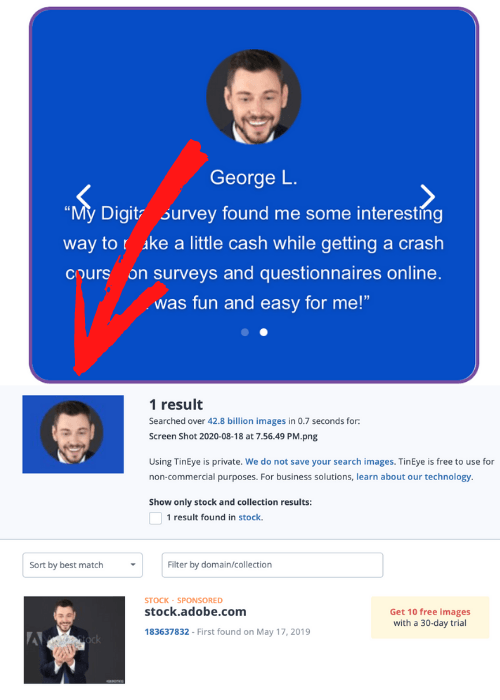 Honestly, if you don't read enough, you'll actually think you'll be taking the surveys in the My Digital Survey website itself. However, if you read enough, you'll realize there's no information on who runs it which is a bit off to me.
Here's why:
Most online opportunities that don't reveal who their makers are turning out to be scams. They'll usually hide who they are so they can jump ship anytime they feel like they're not earning enough anymore.
If I were you, I'd get suspicious. I'd also recommend the privacy policy first, basically here's what I found out when I read it.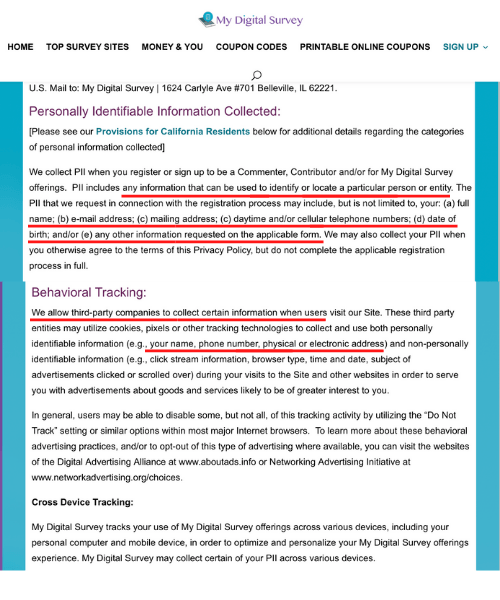 They'll track your behavior and take every information they can from you.
What's worse:
The website itself is not secure which means any information you give is unprotected and can easily be stolen. Think about it, most people use one password for all their online accounts. If they get your email and password information, they can stealthily use it to access your online bank accounts and take out what they can from there.
It's really risky, but if you still want to give it a shot, I suggest you use another password, something different from what you usually use so there's a lesser chance they can use it to access sensitive online accounts.
A better choice is, go directly to the paid survey sites they refer so you won't need to provide My Digital Survey any information.
How To Join My Digital Survey
To join My Digital Survey you have to be at least 18 years old and a US resident. Joining is free, you just have to give your name and email address and check the two tick boxes which say you are 18 years old and a US resident and the other is if you agree to receive daily emails from them.
I seriously hope you're not interested in this section. If you ask me why I included it, it's just simply to give you a complete overview of what you can expect from My Digital Survey.
After giving that information you'll simply see a thank you message on the screen and nothing else. What I actually mean is, there's no members' area to go to. They'll simply send you an email if a survey is available to take. It's more like a newsletter where you'll get promotional offers every day.
After all, why will they provide you with a members' area if they'll just point you to real survey sites right?
How Does My Digital Survey Works?
My Digital Survey is a mere aggregate website. After signing up for it, you'll only be linked to 5 paid survey sites. These sites are completely independent of My Digital Survey. This means you can't really make money from My Digital Survey itself.
Here's a video telling you more about My Digital Survey:
As you can see, you can really just skip signing up for My Digital Survey. Since it will just point you to other survey sites, I'll talk more on those sites and give you an overview of what you can expect from those 5 sites.
1. Opinion Outpost
Opinion Outpost is deemed to be a decent survey site. You can make an account for free and start taking surveys which are around 10-15 minutes long. After taking the surveys, they'll award you with points that you can use to cash out later on.
Each survey is worth 5-15 points and you can only take 5 surveys every 12 hours.
Each point is worth $0.10 so if you get 100 points you'll have $10 which is the minimum amount required to cash out via Paypal. If you don't have a Paypal account yet just click here.
At most, you can only make $15 a day with Opinion Outpost. If you want to know more about Opinion Outpost, check out this review.
2. Panel Bucks
Unfortunately, although Panel Bucks gives a $25 sign up bonus and an insane promise of earning $75 for every survey taken, it's no different from My Digital Survey, it's just another survey aggregate.
The actual amount you will earn will depend on whether the survey site they point to is legit or not and how much they offer for taking each survey.
3. Paid Viewpoint
Paid Viewpoint surveys pay around $0.03 to $0.10. However, as you Traitscore increases, you'll also be given access to more surveys. If you want to earn more from it, there's a referral program where you'll get $25 for every person you invite and participates. Plus, you'll also get 20% of the total earnings of the invite.
4. Survey Voices
Survey voices claim to give you as much as $300 for sharing your views, in reality, though you'll just earn a buck or two from their points system. You can then redeem these points for gift cards or cash through Paypal.
The bad news is, Survey Voices has tons of complaints about not paying users and is also described as a "virtual gold mine" for people wanting to steal your identity.
I think it's best if you just skip this site.
5. Paid Surveys
I hate to break it to you but it's just another survey aggregate site like Panel Bucks and My Digital Survey. It's kind of annoying signing up for one site then referring you to another which will also refer you to another one. I'll just end up wasting time on websites which does nothing for me.
Among the 5 survey sites mentioned, I think you'll have better chances with Opinion Outpost. Better yet, why not try out Swagbucks for more options is making a few bucks.
Still, survey sites, in general, can only give you a few cents to a dollar for doing surveys. That's all they can afford to pay you especially because companies now turn to social media for their market research.
With not much money coming in anymore, survey sites partner with brands or websites to earn commissions for sending you promotional emails.
If your inbox gets flooded with marketing pitch emails, now you know why.
Pro Of My Digital Survey
Cons Of My Digital Survey
They'll share your personal info to companies who'll flood your email inbox
They can and WILL sell your information except when you're a Californian
Survey sites it promotes to are also aggregate sites
Has the bad practice of using fake testimonials and images
Here's the form they allow Californians to fill so they can opt-out giving their information.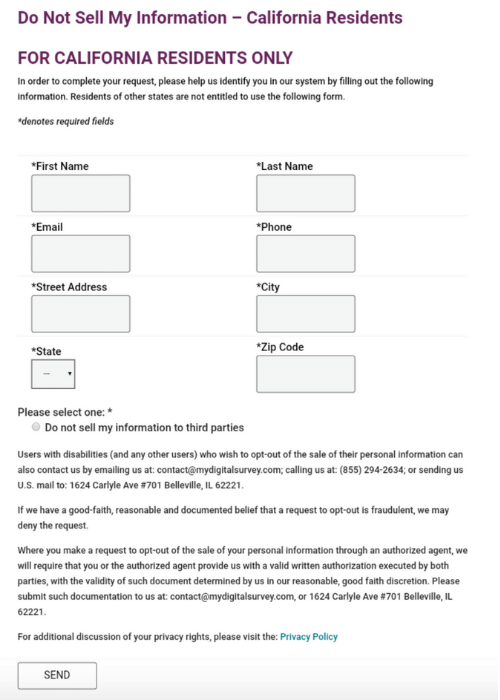 Is My Digital Survey A Scam?
Yes, My Digital Survey is a scam. They'll sell your information in exchange for pointing you to websites paying peanuts. Unless you read the privacy policy thoroughly, you won't realize you're authorizing them to sell your data so they can earn from it.
I actually think they're taking advantage of the fact that people never really read privacy policies in a whole page of tiny print.
Think about it:
Will legit survey sites resort to using fake testimonials and stock photos to convince people to sign up?
This is why My Digital Survey is not something I'll recommend to you. I don't want to put your information in danger, and I have no plan associating myself with a website trying to dupe people into making money using people's personal information.
What do you get in return? Just a useless suggestion of survey sites to go to. Here's what users have to say about My Digital Survey: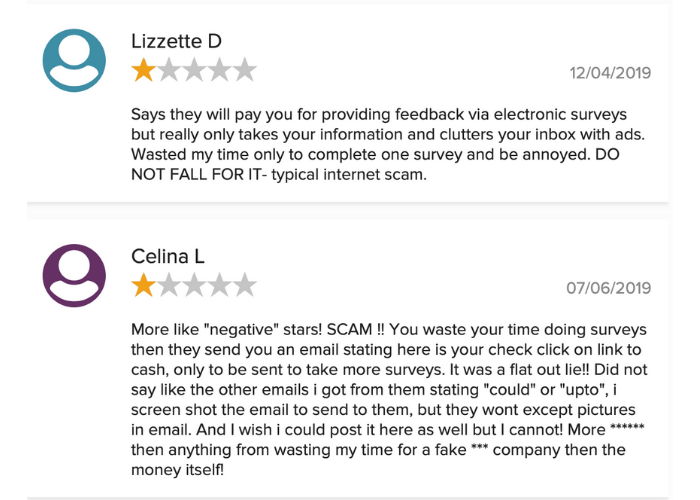 My Digital Survey Closing Thoughts
With survey sites, you'll be stuck earning peanuts. At best, you can only make a few dollars working at it the whole day. Plus, you'll be answering boring, mind-numbing questions for hours.
I'm sure your time is worth more than a few dollars a day. The worst part of My Digital Survey is, you'll also be jeopardizing your identity with the information you give to them. You can either lose your identity or even be jailed for somebody else's crime while using your identity.
If your goal is to make money online from the home month after month, it's way better to invest in your own online business, like affiliate marketing.
With affiliate marketing, you can make enough money to make ends meet and replace your 9-5 job. Sure, it requires some work, but every legit opportunity does anyway.
The great thing with affiliate marketing is you can choose to promote products you're personally interested in. Also, when you've established your website, you can earn from it even when you're not in front of the computer.
It also requires some cost of $49/month but if you want to test the waters first, you can check out the first 10 lessons of how it works for free. If you want to know more, check out this in-depth Wealthy Affiliate review.
What's Your Take On My Digital Survey?
Mad? Annoyed? Share with us what you feel in the comments sections below.
Simon Crowe is on a mission to help as many people as possible kiss their bosses goodbye.
Take the free Commission Academy course to discover how to smash your online income goals and make your dream business a reality.