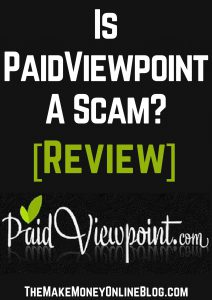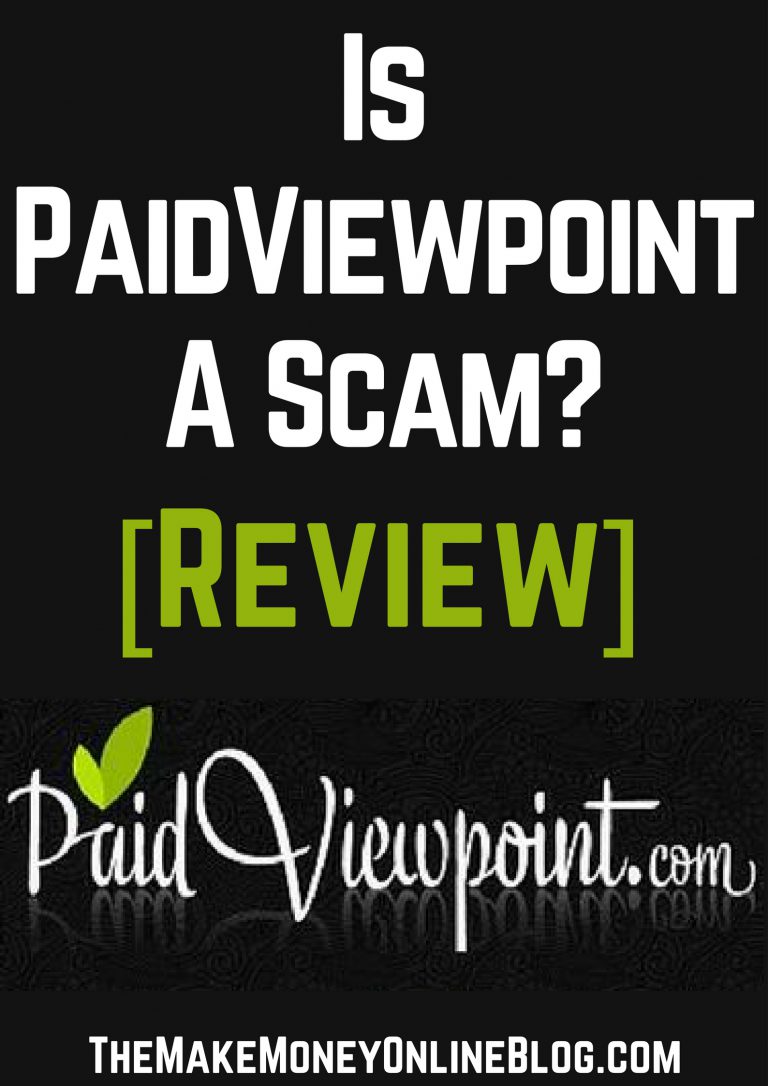 In my search for the best survey site I've come across this site called PaidViewpoint.com and so far I've heard good things about it so I'm excited to give it a try.
I'm always looking for new ways to earn an income online but so far online survey sites have left me feeling a little "Meh" because while answering easy multiple choice questions is easy and simple enough, the ultra low pay outs means it's usually not worth your while.
But will PaidViewpoint prove me wrong? Is PaidViewpoint a scam or legitimate way to earn some extra money online?
Let me just say right here: I'm not signed up to the referral scheme so unlike most other reviews out there, I'm not here to sugar coat it just so you'll sign up. I just say it how it is in an effort to help my readers get to where they want to be online.
What is PaidViewpoint.com?
From what I gather, Paidviewpoint.com has been around since 2009 but are still not very well-known.
Paidviewpoint accepts members from any country which is a big pro for sure.
They call themselves:
"The friendliest experience ever for survey takers…where answering surveys is always a fun and happy experience. Short questions, short answers, fast surveys."
The minimum cash out is $15, slightly higher than average but they don't mess around with a complicated points system and you can get the money into your bank account via PayPal.
Something I find interesting is that they say they will never screen you out of surveys. I know getting screened out half-way through a survey is on the biggest bugbears of online survey takers, so that's definitely a good thing.
They also don't ask you to give your real name and address which is unusual. Pretty much every site I've signed up to far asks me everything short of what my blood type is, so this should be interesting.
PaidViewpoint review
The website is very simple and straightforward. It gives me 3 options: Play demo, register or log in. Let's go ahead and register:
As they said, they're not asking me my name or address here so looking good so far. When I clicked on 'Next" it asked to confirm my email and there the confirmation was in my inbox right away – that's pretty cool.
On the next page I'm asked to confirm gender and date of birth but if you look you can see they show you exactly how much each question is worth. Now that's something I've never seen before! I like it!
In their promo they say they pay you for every single question you answer, I guess they meant it…
The questions are easy enough and you just have to select an option. I must say it was kind of fun answering the easy questions and watching my balance go up.
The last step in the registration process is confirming your mobile or landline number.
This is to protect themselves from users abusing the system and setting up multiple accounts. You'll need to do this every time you cash out.
Next I decided to take my first survey to get a feel for the types of questions I'll be answering. Here's an example:
As you can see this is really straightforward and I really like the fact they tell you how much time it's going to take.
After about an hour on the site I managed to earn myself $2.11, not bad right? Obviously this is not get a rich quick scheme, but they never claim to be that.
Most survey sites I've reviewed so far pay you $0.25 – $1.00 an hour so this is better than average.


3 Ways you can make money with PaidViewpoint
1. $1 sign up bonus
As you saw what happened when I signed up, you are rewarded for every question you answer, which I like.
2. Taking surveys
I know it's a survey site right? So what did you expect 🙂
You can log in daily to see if any surveys are available or opt in to receive notifications. You might get paid $0.10 for single question surveys or a bit more depending on the length.
For a full 30-minute survey you might earn $1.50 – $2.00 which for survey site isn't bad at all.
The more surveys you take, the more your 'trait score' goes up. This is your way of building a good reputation and getting more opportunities to take surveys.
So while there may not be too many surveys to begin with, if you stick with you should see a better consistency as time goes on.
3. Referring friends and family
Paidviewpoint has a referral program where you earn 20% of what they earn and there's no limit on the number of referrals you can have.
Just think, if you have 10 people who make $10 a month, that's an extra $20 a month for doing nothing. That's not bad, right?
Paidviewpoint complaints
As part of this Paidviewpoint review I want to go through some pros and cons of this site.
Sites like SurveyPolice and SiteJabber are a good source of reviews from real users and reading their complaints you can see there's a few issues which keep coming up.
Let's take a look at a few of them…
1. Only one survey a day?
Though the surveys are short and easy, I just wish there was more of them. Due to the lack of surveys available it really does limit the total amount you can earn.
Unfortunately this tends to be a trend with survey sites; the amount they pay you per survey is getting less and less with fewer surveys to take as business gradually move to social media to get feedback from consumers.
2. It can take months to reach the minimum $15 payout limit
A $2 hourly rate is very low, but when you factor in the shortage of surveys your ability to earn is much less than that.
Here's a review from someone who has been a PaidViewpoint member for 3 years. It took her 2 years to reach the $15 mark.
What I like
Easy sign up process – and you get $1 just for registering.
You don't get screened out – PaidViewpoint is the first site I've come across that doesn't have complaints about surveys screening out – nice one!
The surveys are quick and easy – On average they'll take you just 3 minutes to complete
The Trait Score system – This gives you the chance to build a good reputation and hopefully access more surveys
They DO pay out – and they pay through PayPal.
What I don't like so much…
Not many surveys available but this may improve in time…
It still works out at a very low hourly rate of $2 (at best)
Limited amount of surveys – which means it will take you months to reach $15
Is PaidViewpoint a scam or legit?
I don't think PaidViewpoint is a scam, they are a legitimate paid survey site which is free to join and they do pay out.
But can I recommend PaidViewpoint as a serious way to make money online? No not really.
These sites are just designed to help give you a bit of pocket change now and then but it's not really something I think you can do full-time.
$1 here and $2 there is just not enough to be considered a serious income and let's be honest, we all want to earn money online and we've all got bills to pay.
I think even if you joined 10 sites like this, you'd still not be making much of a difference to your bank account balance.
If you're ready to make real money online then the best way is to create an internet business for yourself. That way you're building an income stream that will grow each month.
The good news is sites like Wealthy Affiliate can guide you through how to do this step-by-step. I joined in 2014 and now I make more than $6,000 per month through my online businesses. If you follow the same training I did, you can get the same results.
Check out my honest Wealthy Affiliate review here to find out more and get started.
Yes it takes work and time, but trust me when I say it IS worth it.
I hope you found this PaidViewpoint review helpful. If you have any questions, comments or thoughts you'd like to share, be sure to leave your comments below and I'll get back to you as quick as I can. Here's to your online success!
Related reviews:
– Is Clear Voice Surveys A Scam? [Review]
Simon Crowe is on a mission to help as many people as possible kiss their bosses goodbye.
Take the free Commission Academy course to discover how to smash your online income goals and make your dream business a reality.