Hi and welcome to my Opinion Outpost review where we'll put this infamous survey site to the test to help you decide if you should sign up with them or not.
I'm always looking for new and fun ways to earn a bit of extra cash online and the best survey site I've come across so far is Swagbucks (link to my review), so when I heard about this I knew I just had to take a closer look.
I'm not an affiliate for Opinion Outpost. I'm just giving you my honest opinion in the hopes of helping you find legit ways to make money from home.
Opinion Outpost Review (Quick Overview)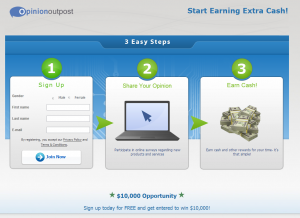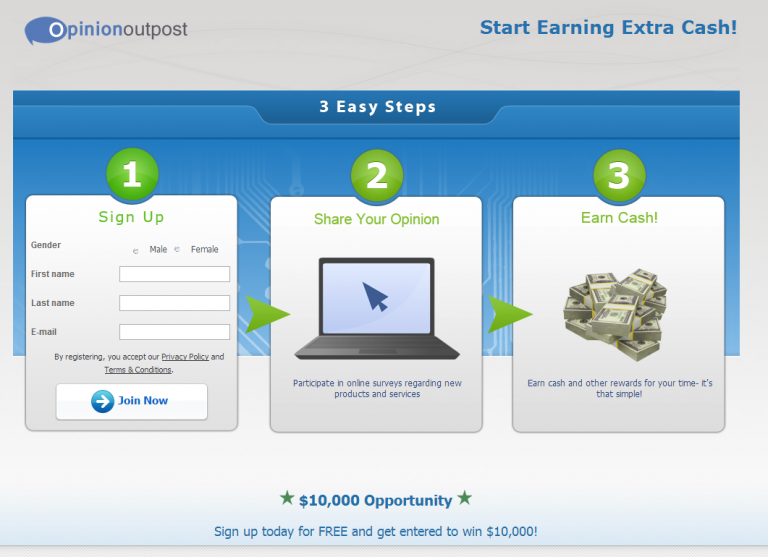 Overall Ranking: 30/100
Joining fee: Free
Minimum payout: $10
Website: www.opinionoutpost.com
As far as survey sites go, Opinion Outpost is one of the best; they've been around a long time and they definitely pay you so they're not a scam.
I can understand why the idea of making some extra cash online in your spare time by giving your opinion is exciting, but in reality, you're going to need to complete a lot of tedious surveys for hours at a time for $10 a day and it's boring as hell.
Maybe it's just me, but I can't get motivated to sit in front of a computer screen filling out surveys. My time is more valuable than that and life's too short.
I'd much rather spend my time and energy building out my affiliate websites which earn me $6,000+ a month and growing. Now, this I can get behind, not pouring my life into earning a few cents filling out pointless surveys.
If you want to make real money online, check out the free training that helped me get started 3 years ago and learn how to build a serious income for yourself.
Wanna Make Money Online But Sick Of Surveys?
What is Opinion Outpost, exactly?
Opinion Outpost is a free survey site where you get paid to give your opinion as a reward for valuable consumer feedback.
Take a look at their 30-second promo video:
The concept is a simple one:
Companies and brands want to get consumer feedback on their upcoming product releases and ad campaigns so they outsource to survey companies like Opinion Outpost who in turn, pay you for giving your opinion.
You could find yourself answering questions about where you like to go on holiday or what kind of birthday present you like to receive.
The surveys will be targeted to your gender, age bracket, marital status and whether you have children or not.
How does Opinion Outpost work?
You have to be from the United States, Canada or the UK to join and you have to walk around on this planet for at least 13 years to be eligible.
Signing up itself is pretty simple, here's a quick overview of the sign-up process:
1) Create your free account
Once I set up my Opinion Outpost account I had to answer a few questions about myself like gender, family background and spending habits (took about 5 mins).
I think this is because some companies who hire them want feedback from a particular group, maybe they only want feedback from men or women, parents etc.
2) Start taking surveys
Each survey is done online and takes about 10-15 minutes to complete but before you start each survey they'll tell you roughly how long it will take and how many points you'll earn.
After joining I've had a couple of emails every day with suggested surveys. You don't have to wait though, you can log in and complete surveys any time.
As you can see, the actual surveys themselves are simple and straightforward.
I'll be honest and say I did try and finish a survey but I kept getting bored. If nothing else, I've learned that spending my days filling out mind-numbing surveys is definitely not for me!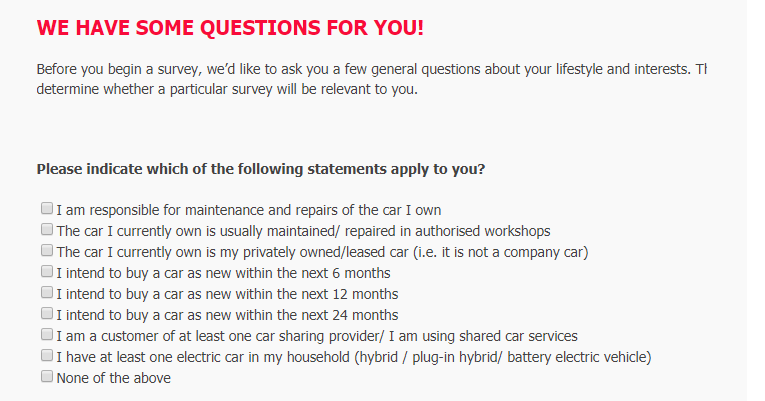 3) Cash Out
Once you get your account balance up to $10 you are able to cash out. They give you the option of getting paid via Amazon gift card or cash via PayPal.
Which leads us very smoothly onto another frequently asked question…
Does Opinion Outpost payout?
I can't think of anything worse – spending two hours of my life ticking boxes only to find out they don't even pay out!
So to put your mind at rest, yes Opinion Outpost are legit and yes there do pay out.
Exactly how much they pay you we'll get onto in a sec…

The one thing I do like about this survey site is that they pay you in cash and you get the funds into your account pretty quickly.
I've honestly never understood those survey sites who only pay you in vouchers or Amazon gift cards. If I'm getting paid I want to be able to spend it where on want, on what I want.
As soon as you submit a withdrawal request, the transfer is really fast. Here's a real-time example from a member who got paid into his PayPal account in under a minute:
How much does Opinion Outpost pay you?
The system calculates your payments by adding up the points you accrue as you go, here's what that looks like in real terms:
1 point = $0.10
10 points = $1
100 points = $10
I've got one more video for you and I found it really insightful. In this Opinion Outpost hacks video, the lady is encouraging people to sign up and start earning money with surveys, but what she said really put me off…
Check it out and you'll see what I mean:
Did you hear what she said?
The typical survey ranges from 5 to 15 points and you're limited to 5 surveys per 12 hour period.
Let's break it down. As an absolute maximum the most you're going to be able to earn in a day is:
15 points x 10 surveys= 150 points or $15
And this is for at least 3 hours of work at $5 per hour.
I guess the big question to ask yourself here is how much is your time worth to you??
Mixed Opinion Outpost reviews…
In researching my review of Opinion Outpost I've read lots of reviews and forum posts from existing members…
Most of them seem relatively happy when comparing OO to other survey sites like these: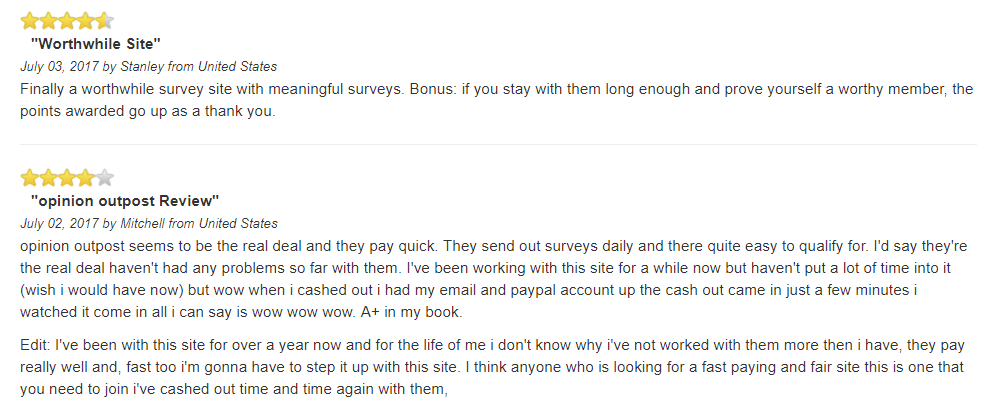 But there are recurring themes from disgruntled survey takers who feel they got robbed of their time, usually because their account got froze or
I'm gonna give Opinion Outpost the benefit of the doubt here and say these people were probably trying to play the system, but I could be wrong!
It may that they rushed through the surveys (and who can blame them), but I think their system is pretty good at spotting fake answers so a thing to keep in mind here is to try and be as honest as possible when you're giving answers otherwise this could happen to you too.

What I like
Unlike some of the more dodgy survey sites out there, here you have the option of getting paid directly into your PayPal account
A low $10 before you can cash out and it's fast
They've been around for a long time and have a good reputation overall.
What I don't like so much…
Maybe it's my A.D.D. kicking in, but I just found it soooooo boooooring!
You have to put a lot of time into it for little reward
Earnings are limited
Though it sounds easy, it's actually quite taxing on the brain.
Seems like a majority of the surveys are aimed at parents with young children, so teenagers and college students might struggle to find a consistent flow of surveys.
The bottom line
Opinion Outpost is legit and safe and it's definitely not a scam. They do pay out and you can choose how you get paid, but if you're expecting to earn a full-time income, this is not for you.
I just can't see how completing online surveys can be worth the time you need to put into it. There are so many better ways to make money online in your spare time.
If you're ready to earn more than a lousy $5 per hour and if you're willing to spend an hour or so a day building up a real online business you can call your own, you might like affiliate marketing.
I've actually been making more than a full-time income online for the last 3 years now and it's a lot more fun than getting paid to do silly surveys.
I learned how to do it online through WealthyAffiliate.com where they give you full training and community support.
And the best part?
It's 100% free to get started.
Have Your Say
Thanks for reading my review of the Opinion Outpost survey site, I hope you've found it helpful. If you've had any experience with taking surveys online with them, I'd love to hear from you!
If you have any questions at all, feel free to leave a comment below and I'll do my best to help you in any way I can.
Simon Crowe is on a mission to help as many people as possible kiss their bosses goodbye.
Take the free Commission Academy course to discover how to smash your online income goals and make your dream business a reality.