This TryMyUI review is for you're looking to make money online and you want to make sure TryMyUI is not a scam before you invest any time on it. 
We're going to talk about everything you need to know about TryMYUI before you start signing up so you know exactly what you can expect.
TryMyUI Review At A Glance
About: TryMyUI is a user-testing platform. Users get paid $10 for each app or website they test and give their opinions about.
Price: Becoming a tester is free but you have to be at least 18 years old and be a good English language speaker.
Pros: Free, easy to sign up, and payout is weekly.
Cons: Limited tests (3-4 per week) and you may not get paid even after starting a test.
Verdict: TryMyUI is legit but it's not a great choice for passive income. At best, you can only make $40/week. 

What Is TryMyUI, Exactly?
TryMyUI is a company based in California, USA. It's said to be connected with Survey Analytics, LLC and it's been in operation since 2010. 
What it basically does is connect website and app designers to common people like you and me to test their apps and websites to get feedback from real people on how their project is faring.
Getting feedback from real people will help them make their apps and websites better for common users. By telling them what's confusing or annoying in their apps and websites and tweak it to give people a better user experience.
I guess they're some of the very few people who'll love negative feedback. The great thing is, they'll even pay you for it!
So, if you like sharing your opinion on anything, you'll probably find this job very interesting. 
While doing my research I'm slowly seeing them as a credible platform to make money because I saw an article of Huffpost featuring them. 
How To Become A TyMyUI Tester
First off, you have to be at least 18 years old and a fluent English speaker. They need you to be one so they can understand your feedback and take note of what they can do to improve their apps and sites. 
What use is it anyway of they can't get what you're saying, right?
You can find the "Get Paid To Test" button right in the middle of the picture you'll immediately see when you head to their website.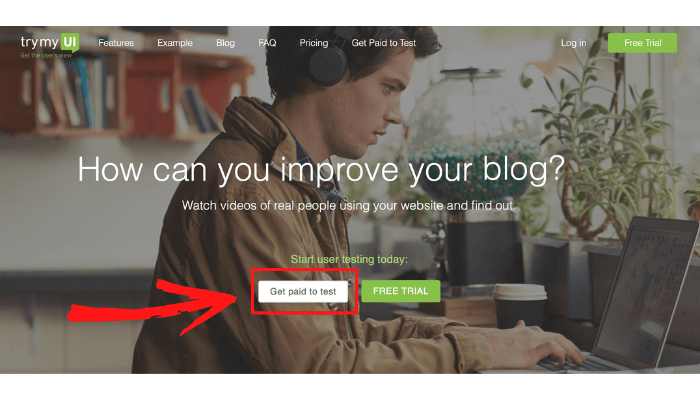 You'll then be led to a form where you'll provide your name, Paypal email, and password. After this stage, there's also a short demographic test so they can match you to appropriate tests you can take.
How TryMyUI Works
After taking the demographic test, you'll be given specific instructions you should do before you can do any test. You'll also have to download the TryMyUI recorder you will use to record your screes movements and voice as you assess the website. 
Next, you'll be led to the dashboard where you'll see a qualification test you'll need to pass so you can start testing. If you qualify for a test, you'll be notified via email.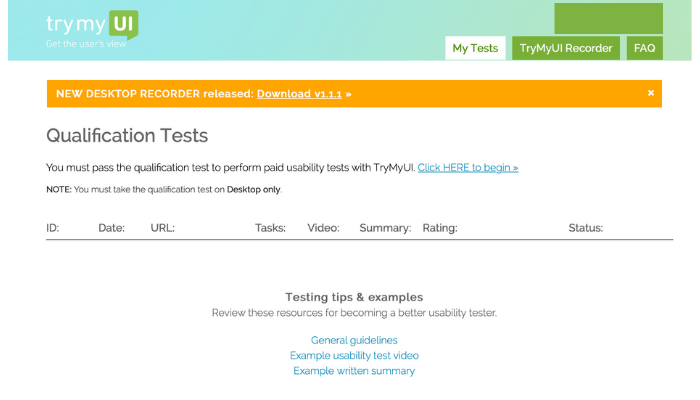 After all of these are done, you can then start downloading test files if there are any available tests for you to take. The test files have the instructions and tasks you'll need to finish to get paid for the test.
Now you can head on to the app or website you will test. The website says each test can take just up to 20 minutes but roughly you'll need more time than that because some tasks involve written reviews. There are 4 standards questions and another 4 given by the client. 
App and website developers usually need just 4-6 testers per product, pretty limited. To get better chances of getting the tests, you can set up alerts for test emails so you can take them as soon as they are available. 
Here's the tricky part:
You have to follow instructions to the dot and make quality reviews to get paid. Getting the test and doing it are not guarantees you'll get paid by the client. The client has to be satisfied with your review.
The bright side is:
If the client likes your review and you always get high ratings, you'll be offered more tests which means more chances to earn. 
You'll get paid $10 for each test, the common rate for user testing gigs. If your payment gets approved, you can get the payment every Friday in your Paypal account. 
According to TryMyUI, you can get around 3-4 tests per week, so doing a little Math:
4($10 for each test)= $40(4 weeks in a month)= $160/month
It's not actually something that can replace your full-time job but it's good if you want some extra cash each month. 
Check out this video to learn more.
How To Get Better Chances At Getting More Tests With TryMyUI
This is actually outlined when you sign up but I wanted to let you know ahead.
1. Read Instructions Out Loud
TryMyUI wants you to read every instruction aloud you'll come across within the test so they'll know you've read it fully and you understood it. Your review can actually get rejected if you don't do this. 
2. Put Yourself In The Right Frame Of Mind
TryMyUI wants you to adopt the target market of the app of the website. If they're a gym goods website, you have to think sporty. Think of what gym-goers usually look for in a store. 
The developers want to know what you will usually do in a relevant situation, getting into the right frame of mind will help them cater to their target market's needs better.  
3. Perform Tasks In Order
Don't go jumping to and from tasks, developers will not like the confusion. They'll like it better if you finish a task before moving on to the next one. 
They'll be ok if you go back to check and clarify or if you skip because you really can't figure it out but tell them why went back or skipped. 
4. Follow Instructions Closely
I talked about this earlier. You have to read the instruction carefully so you can do the tasks right and not forget anything in between. Taking the time to read the instructions will lessen the chances of your test getting rejected. 
5. Always Keep Talking
This is a very important thing to do. Developers want every bit of detail so they can give the best website or app. So always verbalize what you think, expect, or how you think it can be made better. 
They get irked when you just say: "the app is confusing", or "I don't like this part".
They'll like it better when you say: "I can't find where the blah blah button is", "The neon green font is distracting", or "The font is too tiny to read". 
After all, developers are running tests so they can know exactly where and what to improve. Your test can even get rejected if there's a long silence in your video.
6. Pay Attention To Details
Developers are paying you for your negative feedback so they can make the website better. Even small annoying things are worthy to mention.
7. Written Post-Test Survey Is Important
Be clear, concise, and give examples to support your comments. If you don't do this right, your test can get rejected too.
If you want to recap all the thing you need to keep in mind, there are parts that can help you:
General Guidelines
Sample Usability Test Video
Sample Written Summary
FAQS
Also, developers won't wait long for you to respond to so test invitations. There's a first come first serve policy so you better complete the test fast! 
What I Like About TryMyUI
Free and simple to sign up
Pay is weekly
What I Don't Like About TryMyUI
Limited tests
First come, first serve
Pay is not guaranteed even when you start doing the test
Not a good passive income option
Complaints of not getting paid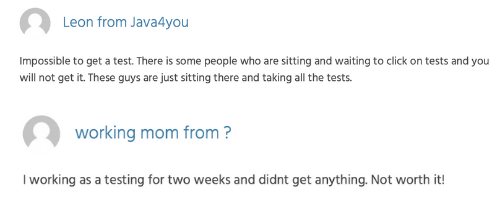 There are a few bad apples, but there are still others that say they got paid. 
Is TryMyUI A Scam?
I don't think TryMyUI is a scam. Many people say an opportunity is a scam when they don't get paid. It's mostly true. However, there are also instances where you just didn't give what they expected so your test ended up getting rejected and you don't get paid.
I just wish, they made a little effort to explain so they don't get judged as a scam. 
Still, if you're looking for legit ways to make money without any fee, TryMyUI won't be enough to pay the bills. You can always supplement it with paid surveys like Swagbucks but still, you'll just be earning peanuts. 
TryMyUI Review Bottom Line
There's another user-testing site you can check, it's called WhatUsersDo. 
It basically works the same, and pay is no different.
At best, you can earn a little bit more than $100 with user-testing every month. I think it's better as a supplementary source of income while doing other freelancing work. Better yet, build your own online business you can earn from month after month.
Affiliate marketing is one way you can do this. It has a little cost for training, but hey, you can use a little bit of what you make from user testing to pay for the training. It's just $49 per month.
The great thing with this is after building your business, you can have your own passive income stream enough to put food on the table and keep the light on. If you have some more time, you can continue doing user-testing gigs. 
If you want a solid income stream though, affiliate marketing is the way to go. If you want to know more, you can go to check this in-depth Wealthy Affiliate review.
How I Make A Living Online?
After years of working in call centres I finally figured out how to create a 5-figure monthly passive income stream and become financially free.
Thanks to the right training and a lot of hard work I kissed my old boss goodbye and booked a one way ticket to Thailand.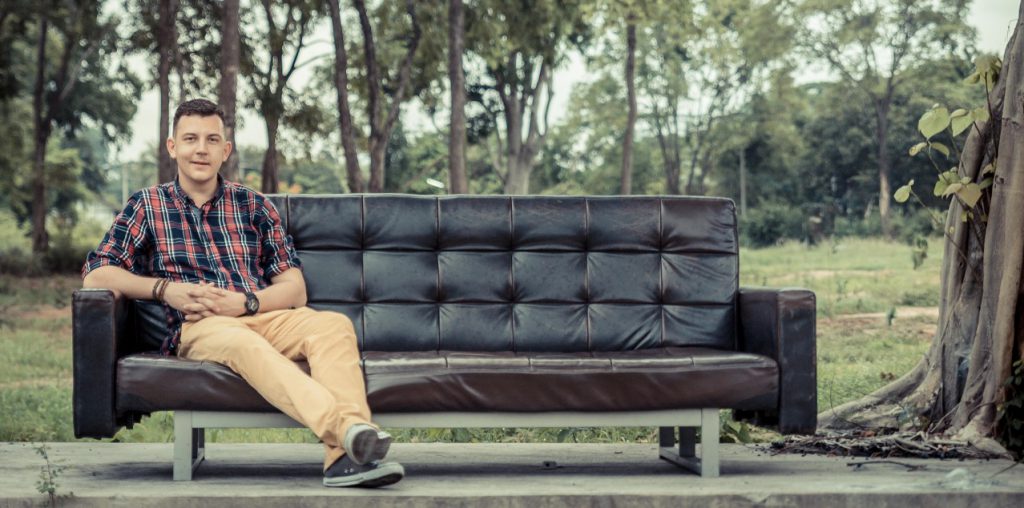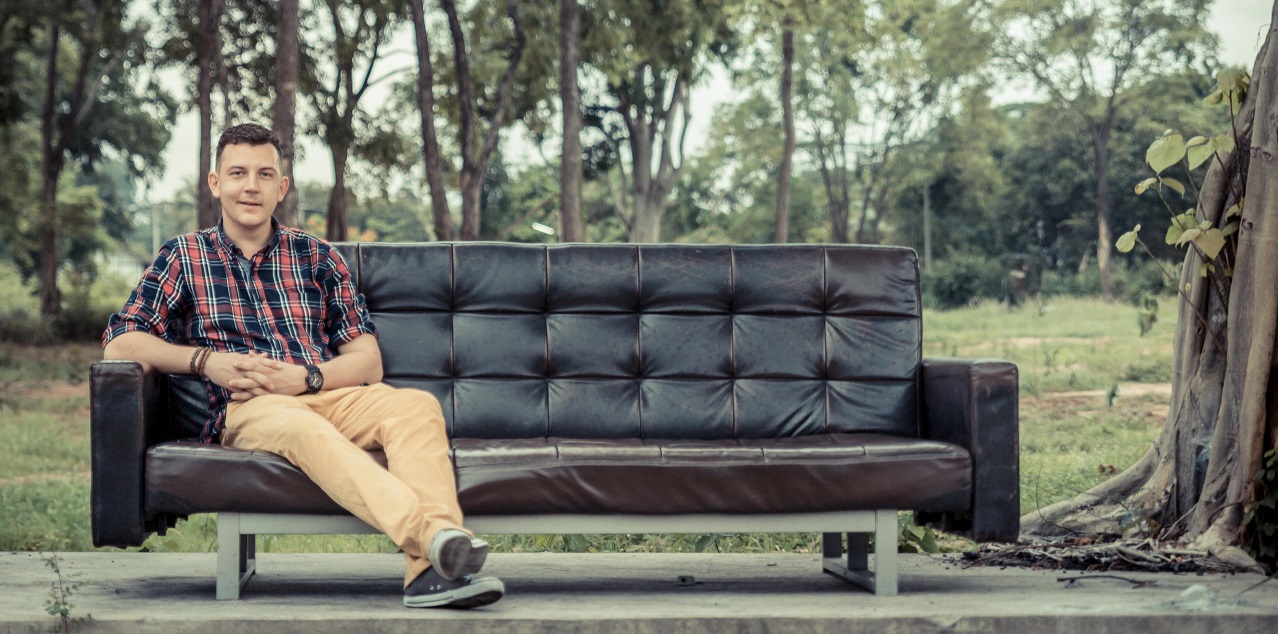 So if you're serious about building a thriving online business, click here for the exact step-by-step formula I follow.
What Are Your Thoughts?
If you have any questions, recommendations, or even suggestions on what product to review next feel free to share it in the comments below. 
Simon Crowe is the founder and editor of The Make Money Online Blog on a mission to help as many people as possible kiss their bosses goodbye.
Watch this video here to discover how to smash your online income goals and make your dream business a reality.