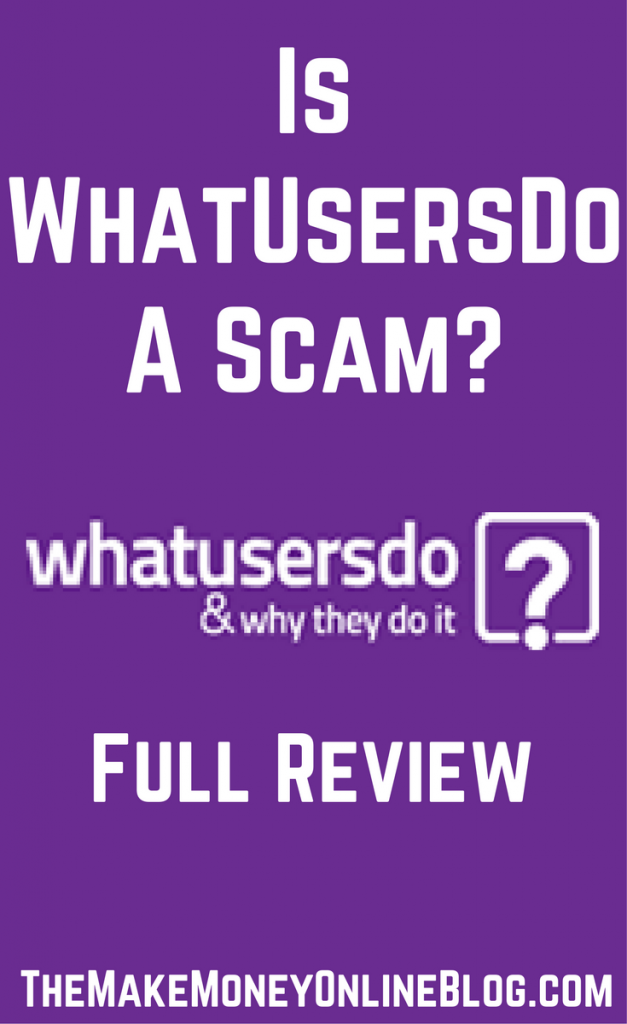 When it comes to making money from home, getting paid to browse websites and give your opinion is a great option.
In a nutshell, WhatUsersDo.com gives companies a way of getting consumer feedback on how user-friendly their websites are so they can improve them.
So they use normal people like me and you to visit these sites and give them live feedback. 
It's usually pretty easy, doesn't take too long to do and they pay you well for your time.
Becoming a WhatUsersDo tester is an interesting and rewarding way to earn a little extra online, but don't expect to make a full-time living doing this…
Is WhatUsersDo a scam?
No not at all and I think the hourly rate is excellent. My only issue is there's usually not that many tests available.
Of course there are pros and cons of any work from home opportunity and in this WhatUsersDo review I'm going to run through what I think are the biggest ones.
Just before we dive in here into the specifics of WhatUsersDo I just wanted to mention my top-rated training for making money online.
If you're wanting a step-by-step course on how to make more than enough money online to be able to kiss your boss goodbye forever they click the button to read my review to get all the info below.
The beginners course is completely free (no credit card details needed) so you can check it out for yourself with no risk. I joined 3 years ago and I'm now making $6,000+ per month and there's no reason you can't do the same.
I just wanted to put that out there because I know some of you are serious about earning a full-time income online and this is by far the best way of making money online I've come across.
Now let's get back to WhatUsersDo…
WhatUsersDo is a legit way of making a few extra dollars here and there could turn into a nice little side earner for you.
And let me just say:
I'm not affiliated with WhatUsersDo in any way so this is an unbiased WhatUsersDo review. I'm just here to give my honest opinion of what I think of this site as a way to make money.
The WhatUsersDo review
I'm going to be coming at this review from the angle of somone considering becoming a WhatUsersDo tester…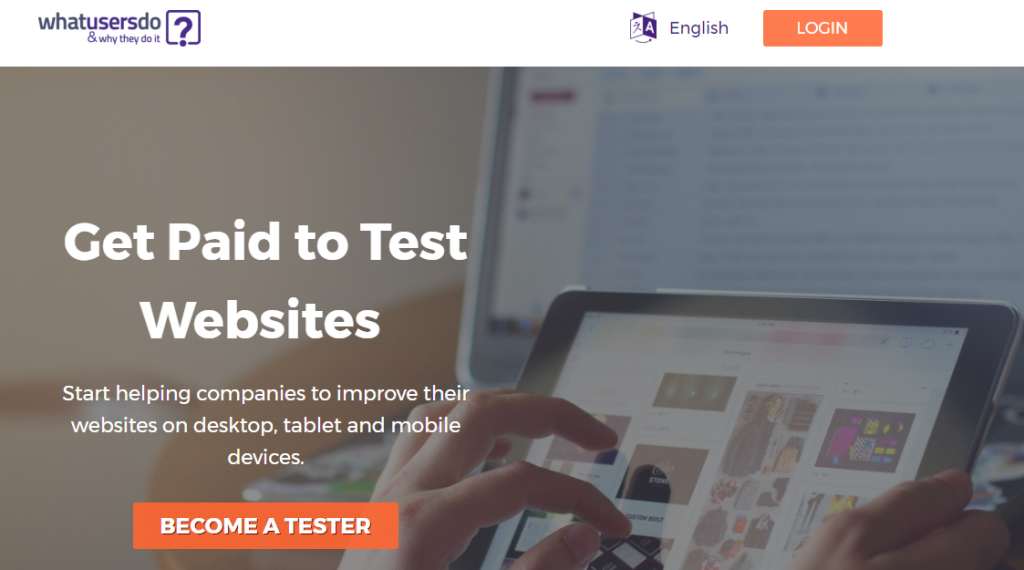 WhatUsersDo has been around since 2008 and they work with major companies like Tesco, Manchester University and Virgin Atlantic.
They've been featured in MoneySavingExpert.com and have over 16k followers on Twitter.
WhatUsersDo have 30,000+ people working for them as testers in the UK, US, France, Germany and the Netherlands.
These testers are just normal people giving their honest feedback about websites from the comfort of their own living room – and getting paid to do it.
How does WhatUserDo work?
Each test you take will be no longer than 20 minutes and depending on your currency you'll usually be paid £5, $5, or €5. This might vary but you'll always be shown how much you'll get paid and how long the test should take beforehand.
Each test comes with the website you're to browse on and what's called a 'brief' which will outline a few simple tasks you need to complete on the site.
You might be asked to act like you're going to book a hotel or cinema tickets for example and you need to record your screen, a video of you and audio.
To become a tester you must be able to speak English, be at least 18 years of age, have a working PayPal account, a good internet connection, computer and a good working webcam.
Signing up is quick and easy
It only took me a couple of minutes.
You'll first need to head over to the WhatUsersDo website and fill in the usual details like your name, age what country you're from.
Then you'll watch a quick how-to video to help you get your webcam and mic set up so you can complete a practice test.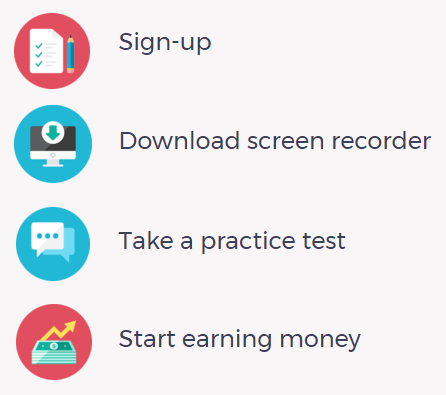 If you don't already have a way of recording your computer screen, you'll be shown how to download one for free.
Here's their video explaining the full sign up process:
3 ways you can get the most out of WhatUsersDo
Once you're all set up, you'll get email invites whenever new tests become available. Typically you'll get between 3-5 tests a month so don't expect to do this full-time.
There are a few things you can do though to make sure you at least get paid for every test you complete…
1. Talk… a lot!
Talk as much as possible when you're browsing the sites and completing the tasks – they're paying you quite well for your feedback of the site and they want to see real-time user experiences so give them your instant reactions.
For example:
"Where's the home button, how do i get back?"
"I have no idea what that is for."
"I don't know how to remove this item from my shopping cart."
"I find the site a little slow in loading"
"The text is easy to read" and so on.
Basically they're looking for you to be opinionated and speak your thoughts out loud.
2. Make recommendations if you can
Companies will really like you (and give you higher rating and send you more tests) if you can give them practical recommendations on how their site can be improved.
The reason their on user testing is because they want natural reactions. Make recommendations so they can make improvements and get their money's worth.
3. Have good video and audio recording set up
By far the biggest reason for tests not being approved is low video and audio quality. So make sure your video is high definition and your audio is clear. It might be worth investing in a high quality webcam like this one.
It might also be a good idea to find a nice quiet place where you can work in peace. Cut out any distractions.
The last thing you want when you're recording a test is to hear the dogs barking and children screaming in the background!
How much money can you (really) make?
If each test pays you $5 and takes you 20 minutes to complete, you're effectively making $15 per hour which isn't bad. That's quite good actually…
As a tester you'll get paid on the 25th of the month through a direct deposit into your PayPal account.
But the amount of money you can earn is limited to just 3-5 tests a month so at best, you'll earn $25 a month.
3 tests a month at $5 x 12 months = $180
5 tests a month at $5 x 12 months = $300
As you can see, there's no way of doing this full-time but an extra $180-$300 a year to put towards your daily living expenses is not bad at all.
I'd say WhatUsersDo is a great way to earn a little extra cash but it's not a serious money earner.
More WhatUsersDo reviews from testers:
Is WhatUsersDo a scam? I don't think so…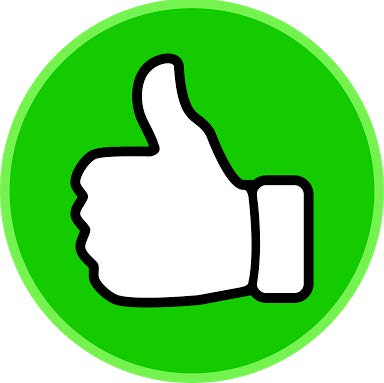 In my opinion, WhatUsersDo is a legitimate work from home job.
It's free to become a tester they are good at paying you for the work you do.
Aside from the limited supply of tests, they pay what works out to be a brilliant hourly rate.
Focus on doing a good job, be professional and respond quickly when new tests are emailed out and you can earn an extra $15 to $25 per month.
I think being a tester for WhatUsersDo to give you a bit of extra cash in the short-term while building up your online business is a great way to become financially independent.
If you haven't already, be sure to read my Wealthy Affiliate review here. You'll find out how I earn $6,000+ every month and get instant (and free) access to the beginners training course so you can get started.
What Are Your Thoughts?
This marks the end of my WhatUsersDo review, I hope you've found this useful. If you've ever used WhatUsersDo as a way to make a little extra money as a tester I'd love to hear from you.
If you have any questions please feel free to ask in the comments below and I'll always get back to you as soon as possible.
Related posts:
Simon Crowe is on a mission to help as many people as possible kiss their bosses goodbye.
Take the free Commission Academy course to discover how to smash your online income goals and make your dream business a reality.