Last Updated
Website: Human Proof Designs
Around Since: 2013
Owner: Dominic Wells
Types of websites: Pre-built, custom-built, aged
Other services offered: Keyword packs, article packs, link building
Human Proof Designs specialise in offering done-for-you Amazon affiliate websites for sale.
Each and every website is 100% unique, complete with beautiful designs, content and a plan of action to maximise your earnings.
There are a wide variety of affiliate niches to choose from, all with tied in products to promote  and a buying audience.
The best part?
You get training videos and tutorials, estimated earnings breakdowns, done-for-you social media accounts, Premier designs, one-on-one support… and so much more!
Find out more and browse done-for-you Amazon affiliate websites for sale here.
The problem with most pre-made affiliate website websites
More and more people are turning to the internet for investment opportunities; choosing to build a 'virtual property portfolio' instead of following the conventional real estate model.
Whether you're looking to become an affiliate marketer or are already a seasoned pro, you know a website is the cornerstone of any successful online business.
This leaves you with two choices: build a website yourself from scratch or buy one that's already done for you.
It makes perfect sense; rather than spend months learning how to get your first site set up on a niche you're not sure can be profitable or not and then waiting months for Google to acknowledge you in it's search results, you can fasttrack this whole process and buy a done-for-you Amazon affiliate website.
If you're time-poor and have the money to invest, outsourcing your website building part makes perfect sense, in fact, it's a very smart way to go.
The problem comes when most pre-made website websites try and make as much money as they can by selling the same website to hundreds of people, changing nothing but the domain and header logo.
Yes unfortunately this really does happen!
You'll read stories online where unsuspecting people spend $10,000 and upwards for a copy and paste job and never see a return.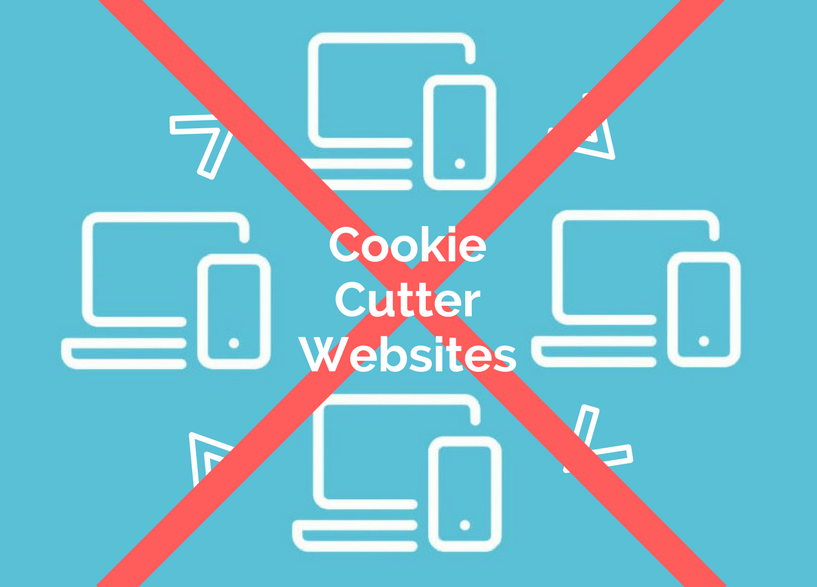 Can you imagine? You've invested thousands into a website that's already online x50, x100, x500? Identical content, all shooting for the same saturated niche.
You don't need me to tell you a site filled with duplicate content will never see the light of day as for as Google is concerned…!
High price tag, nil value.
Human Proof Designs saw this happening and decided to step in, shake it up and lead the way.
What makes Human Proof Designs so different?

The driving force behind Human Proof Designs is Dom Wells, a guy I've been following since I started my making money blogging journey 3 years ago.
Since 2012 he's been building out successful Amazon affiliate websites and making a full-time income through affiliate marketing.
Through trial and error he learned how to streamline the process, put in effective time-saving systems and outsourced to a solid team of staff.
Dom knew it wouldn't be too difficult to stand out in the pre-built website industry – all he had to do was use his expertise to build unique, high quality affiliate websites that he knew would make money and he would already be head and shoulders ahead of the competition.
Every website he and his team build is 100% unique. No two sites are the same. The beautifully designed affiliate websites are created around high traffic, low competition keywords and optimised to give website visitors a great user experience which results in more commissions for you.
"Human Proof Designs exists to make starting a niche website that much easier. With the training on the blog, the ready-made sites we'll sell, and the custom projects we'll do, you will find that getting started doesn't have to be as confusing as you first thought." – Dom Wells
Through his step-by-step training program and podcasts, he's taken hundreds of aspiring affiliate marketers from complete newbie to successful, profiting affiliate marketing pros.
As you can see in the video below, Dom has a down-to-earth style, cuts out of the fluff and only focuses on the important stuff that gets results. He knows the road to success can be confusing when you're first starting out, but with the right know-how, the right strategy and support, anyone can be successful online.
Today, Dom is well-known and well-respected industry leader in outsourcing and building ready made websites and has recently been featured in sites like NicheHacks.com, NichePersuits.com and Entrepreneur.com.
Already seen enough? Buy a HPD Ready-Made Site Today >>
The 3 types of HPD done-for-you websites
1. Ready-made sites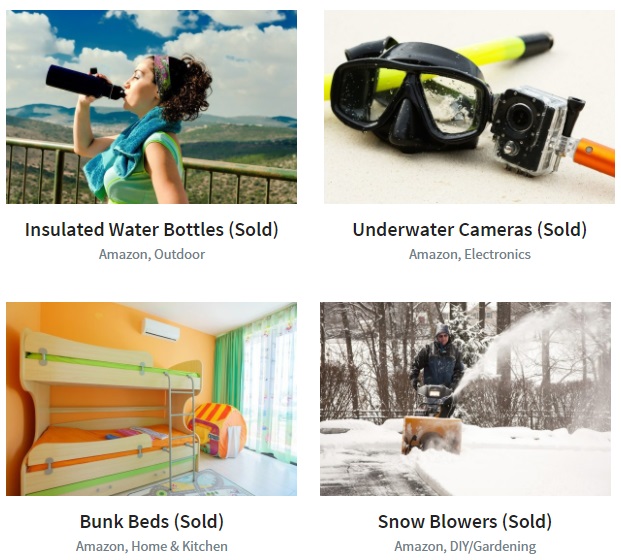 Definitely the most popular choice for Amazon affiliate website buyers, these ready-made sites are built only after a detailed analysis of the niche proves it has good profit potential.
Ideal for beginners because most of the research has already been done taking the guesswork out of it and giving you the very best chances of success.
Let me say again, no two websites are the same and every ready-made website is built around a website niche idea that has proven to be popular, untapped and profitable.
Pricing options
Every website comes with two pricing options; the Starter package at $998 and the Premium package at $1299 giving you the flexibility to choose the best option for you and your needs.
Quick look at what's included in the Starter package: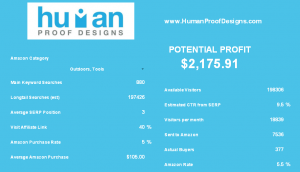 High Quality Content – 8,000 words
Professional, premium Theme
 Premium Plugins
 On-Page SEO
 Domain Name
Keyword Research
Logo
Social Media Setup
Free Tech Support
Email Support
Full Video Training Library
1 Month Free Access to the HPD Membership Forum
Quick look at what's included in the Premium package:
Everything that's bundled into the Starter package PLUS:
Twice as many words, 16,000 in total
Professional logo design
Ready-to-go social media accounts
A new batch of pre-made affiliate websites are released every two weeks, but if you want to be the first in the know, be sure to sign up to the Early Bird newsletter and get notified instantly when new websites become available.
I feel I should say at this point that it's easy to talk about 8,000 word here or 16,000 words there, but these are no spun, low quality articles. Every post is professionally written and edited salescopy designed to get the people landing on your site clicking your Amazon affiliate links.
> Discover available ready-made websites here <
2. Custom-built sites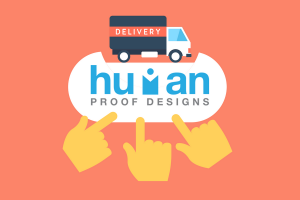 Do you already have that hidden gem of a website niche idea?
You can now save time and outsource your website building and content creation to Dom and his team of professional writers and designers.
You can choose from the Starter or Premium packages and submit your site request. You'll have full access to the training modules, community and expert technical support.
Human Proof Designs also offer a high qualty, affordable content creation service and keyword packages.
> Find out more about ordering a custom-built website here <
3. Aged sites
Perfect if you want to fast track your online earnings, aged sites are sites that are a little bit older, are already ranking in Google so you can check their track record before you decide to purchase.
I think these are a steal at $1,497 this represents the cream of the crop in terms of done-for-you, quality websites.
On top of what you get with Human Proof Design's Premium package,  you'll receive a detailed Google rankings report. Each website also comes with a unique eBook written specifically for your website which you can use as a lead magnet to start building your email subscription list.
> Find out more about aged websites here <
Quality design, useful content, relevant traffic – the foundation of any successful affiliate website. I know first-hand this is what you can expect when you buy a done-for-you Amazon affiliate website with Human Proof Designs.
Why buying a done-for-you affiliate website is better than trying to build it yourself
1. You can be confident you're in the right niche
It's so much more than just buying a beautifully put together website, you're investing into an online business with a proven business model.
90% of aspiring affiliate markters fail at their first website.
Why?
Because they chose the wrong niche. Either they start in a niche that's already saturated by big players so they've never got a chance, or they choose a niche with no relevant products to promote so they don't make any sales.
You can shortcut all of this and save yourself lots of time and energy by buying into a website that's been carefully thought-through.
2. You massively increase your chances of success
I spent hours and hours churning out content for my first site and wasting time occupied with unimportant things that made no difference to my bottom line. I was a newbie and didn't know what I was doing and it took a long time for me to find my way.
I had a site that was getting 1,500 readers a day but with no concept of 'buyer's intent' or proper product placement, I was barely making any money.
And this is where most people quit…
They work for 6 months, see no results and figure that 'this whole affiliate marketing thing' doesn't work and commit to spending the next 40 years of their lives stuck in the office cubicle.
But you don't have to go through all of that. By investing in and owning a done-for-you-website made by professionals, you'll get the right training and know-how that will point you in the right direction and get to you where you want to be a whole lot quicker.
3. You're not stuck trying to figure everything out for yourself
Starting from scratch is a tough way to learn. Affiliate marketing can be very confusing to the beginner trying to find his way. The internet's full of conflicting information and deceitful scammers who will tell you what you want to hear, get your hopes up but leave you high and dry every time. Trust me I've been there.
I always say this: if you're serious about becoming successful online, only take advice from people who a) truly want to see you succeed and b) know what they're talking about.
I know the people at Human Proof Designs genuinely want to help people and they're definitely professionals at what they do.
4. It gives you a blueprint to follow for future websites
For me, HPD really shines with their after-sales support. Dom has put together some brilliant affiliate marketing training, video walkthoughs and tutorials to make sure you get the most out of your new Amazon affiliate website.
Instead of wasting trying to figure out all of the small technical aspects that go into the buuilding of an affiliate site, you'll already have a working example to go from.
You'll already be see things like how they use affiliate links, what kind of keywords they go for and how to find the best ones for your website, what kind of things to write about, how a site is structured and all these kinds of things.
Again, this cuts your learning time, gives you a short cut to start making commissions and gives you a headstart.
Already seen enough? Buy a HPD Ready-Made Site Today >>
Let me be clear:
Human Proof Designs do not sell turnkey websites. By that I mean, yes the keywords are carefully researches and yes, the websites are built using Premium thems and plug ins and yes you'll already have content filling out your site, but you still need to work on them.
This is why the training exists, to guide you so you can take your website forward to the next level.
Making money online is 'make $$$ at a single click of a mouse' and simply owning a website does not automatically mean you'll be internet rich overnight.
You'll be adding more content based on the keywords HPD give you, or at the very least outsourcing it and managing it.
Customer reviews and testimonials
Since 2013, Human Proof Designs have created and sold more than 500 unique done-for-you Amazon affiliate websites to date. That's a lot of satisified online business owners.
Here's the deal:
You're not just buying an Amazon affiliate site here, you're buying into a well-research untapped and proftable niche. Buying the website is just the first step. With Dom's video training and tools, you can learn how to dominate the niche and cash in your website's affiliate earning potential.

Click here to read customer testimonials and reviews >>

Frequently Asked Questions
If you have a question about buying your first pre-built Amazon affiliate website and you can't find your answer to here, please be sure to share your comments below and I'll get right back to you!
[toggle title="Can I see some Amazon affiliate website examples?"]  
Sure! The eaiest way to to check the done-for-you Amazon affiliate websites for sale here.
For live example of successful websites already making money by the Human Proof Designs team check out electricscoots.com and  shavingsmooth.com.
[/toggle]
[toggle title="How much money can I make with an Amazon affiliate?"]
You can make good money as an Amazon affiliate, and buying a pre-made Amazon affiliate website is a great way to speed up the commission earning process.
Each pre-built website you buy from Human Proof Designs come with an earnings summary bases on the overall niche, keywords your website is already ranking, price point of the Amazon products the site is promoting and other key metrics.
You can few the potential earnings information by clicking on any done-for-you website here.
[/toggle]
[toggle title="Is hosting included with Human Proof Designs sites?"]
Although you get the domain, you'll to arrange your own web hosting before your chosen website can be transfered over to you.
Click here for Dom's top recommendation for low cost yet fast web hosting.
[/toggle]
[toggle title="How long does it take to make money with Amazon affiliate websites?"]
When you're starting from scratch you can expect to start earning your first commissions after the 6 month mark as you built out your content and increase in Google rankings.
Buying a pre-built or custom-made Amazon affiliate website does speed up this process but work is still required to increase your online earnings.
The fastest way to start earning Amazon commissions is to buy one of Human Proof Designs' aged websites as this means your website is at least 6 months old and already has good rankings and traffic.
How much money you can earn and how quickly you can earn depends a lot on the time and effort you put into your site once you've bought it, this is exactly why Dom places such an emphasis on providing you with effective affiliate marketing training with proven strategies and methods to maximise the earnings potential of your site.
Recommended reading:
[/toggle]
[toggle title="How much money can you earn each month from an Amazon affiliate website?"]
When you're browsing Human Proof Designs' Amazon affiliate website for sale, Dom gives you a detailed earnings and income estimate with each available website.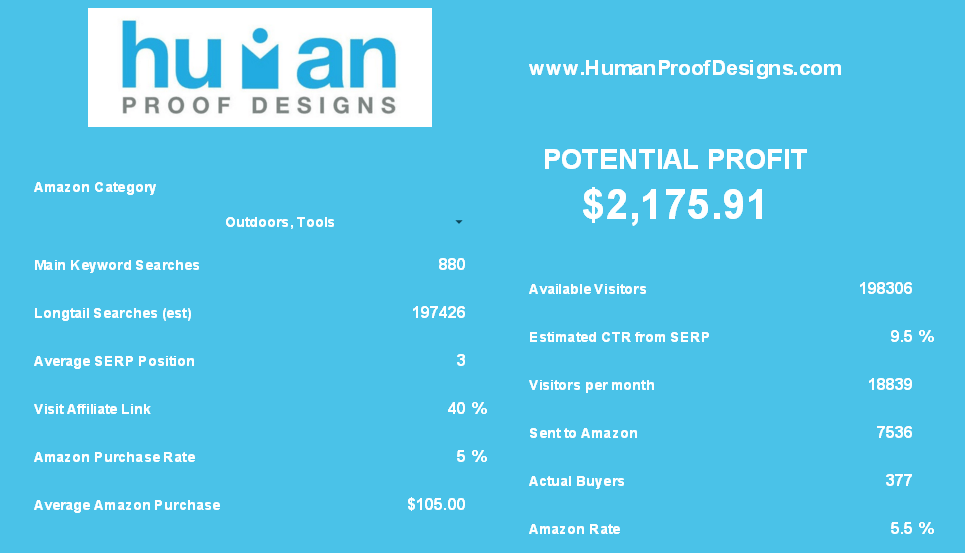 This is based on rankings, click through rate, total average order amount and of course, Amazon's commission rate.
As you may or may not know, Amazon's affiliate commission rates vary depending on the product category. This might be worth keeping in mind as you browse the Amazon affiliate websites for sale.
Here's a commission rate breakdown you might find useful: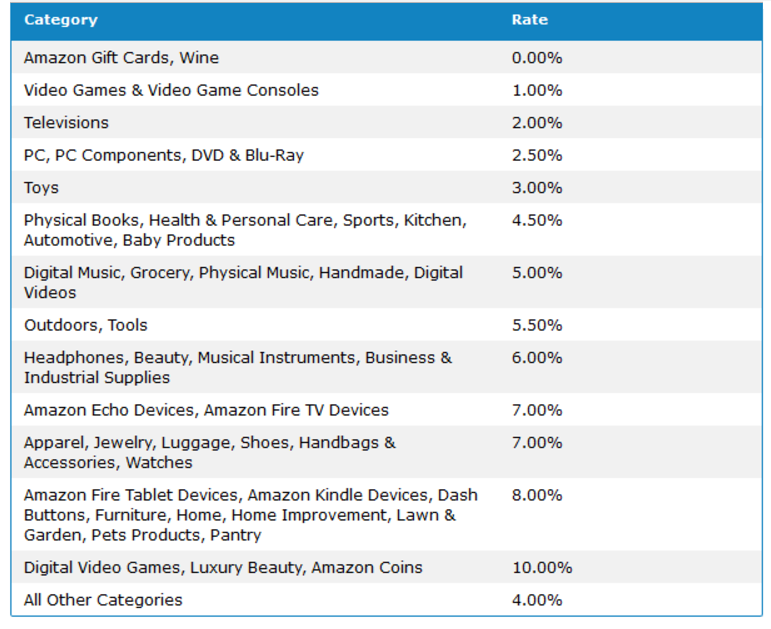 [/toggle]
[toggle title="How well are the done-for-you Amazon affiliate websites designed?"]
Each website is pre-built to maximise conversion rates. With this in mind, each website is clean, crisp and professionally put together with related Amazon images and a comparison chart on the homepage. (The Premium package also includes branding and logos.)
As the purpose of your site is to drive visitors to Amazon, the Human Proof Design team focus on what's important and cut out any unecessary distractions.
When it comes to online business, simple is effective. After building 500+ done-for-you websites already they've honed their skills in maximising conversions. The results people from others who have already bought websites (see their testimonials here) show that what they do works.
[/toggle]
[toggle title="Is a Human Proof Designs website right for you?"]
As I've said before, buying a done-for-you website is just the beginning on your making money online journey. You're given a solid platform to work on and all the help, support, advice and training you need to be successful, but you are the one who needs to add more content to rank for the suggested keywords Dom will give you.
Buying a site from Human Proof Designs is a great timesaver and will really speed up your journey and help you get started in the right direction. It helps you avoid the many mistakes most beginners make when starting out and start making money sooner.
Head over to HumanProofDesigns.com to find out more.
[/toggle]
Have any questions about buying done-for-you Amazon affiliate websites from Human Proof Designs you'd like me to answer for you? Scroll down and leave your comment below! I respond to all comments quickly and I'm happy to help any way that I can.