Welcome to my unbiased Cash For Apps review. At first glance, Cash For Apps seems to be a straightforward and easy way to make extra money downloading apps.
But is it really as simple and lucrative as it seems?
I'm an online entrepreneur here to help you focus on the real money-making programs to achieve your online income goals.
I have spent the past few years hunting for the best income-generating apps and in all honesty, I'd say the vast majority of them don't make enough money to justify the space they take up on your phone.
After a recent round of testing, I have landed on what I believe is the best money-making app for most people, even though it might not be the best money-making app for you…
It all depends on how much you're looking to make, how much time you have going spare and how much effort you're willing to put in.
All that said, the best money-making app for most people is Swagbucks.
Swagbucks gives you by far the most bang for your buck in terms of rewards for time and energy spent, which is why I've rated them so highly in my Swagbucks review.
Let's find out if the Cash For Apps app is a worthwhile alternative:
Cash For Apps Review At A Glance
About: The Cash For Apps app is owned by Mobvantage marketing where you earn points by downloading apps and convert the points into gift cards.
Price: Free to download.
Pros: None that we can think of.
Cons: Only pays in gift cards, received too many complaints.
Verdict: Cash For Apps is not a scam but neither is it a serious moneymaker. Sometimes you don't get the points you worked for and even when you do, it's rarely worthwhile.

What Is Cash For Apps And How Does It Work?
The Cash For Apps app was launched by Mobvantage Marketing in 2015 and is completely free to download, available on Google Play and the App Store.
They have 300 likes on their Facebook page and a whopping 230,000 followers on Twitter.
According to the website, Cash For Apps has one simple premise: you download apps in exchange for reward points.


Installing the app is really easy took me no longer than 60 seconds. Cash For Apps is super simple and easy to use.
Like most money-making apps I've seen, this one uses a points-based system to calculate your earnings and you see the total amount you've made so far in the top right whenever you're inside the app.
Go to the Apps page and you'll see a ton of different apps to choose from so you're never going to struggle to earn points. Before downloading any app you'll be told what the reward is, so that's handy as well: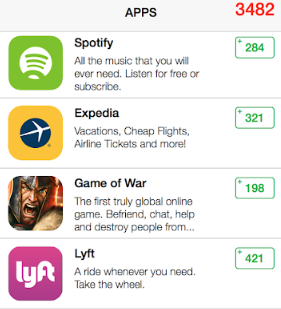 Once you've downloaded 4 apps you'll also be able to access the Tasks tab which gives you a few additional ways to earn points like watching videos and taking surveys.
I'd say 90% of the time 300 points works out to be worth $1, but this can vary depending on which gift card you choose.
Once you've collected 1,500 points or more then you can redeem gift cards for places like Starbucks, Walmart, Best Buy and GameStop to name just a few…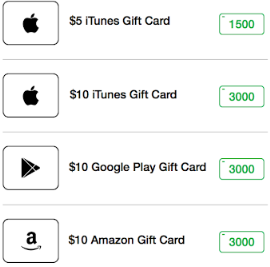 Points are rewarded within 24 hours. Some apps have required actions but nothing too taxing. If you're looking for a live demonstration of the app, here it is:
In terms of ease of use, I definitely like Cash For Apps. The idea behind it is simple and this is something you could do if you have a couple of minutes to spare while you're on your lunch break or sitting on the bus.
Can Cash For Apps Make You Money?
Despite calling themselves 'Cash For Apps' you can't get cash with this…!
Personally, this is a real letdown. Sure, they've got a wide range of gift cards but still, I would've liked to see a PayPal option. You know, so you get actual money in your bank you can put towards something useful like paying the bills…
Come on guys – if Swagbucks can do it, so can you! 🙂
Exactly how much you can earn with this will always depend on how many apps are available for download. If at any point you find there are no new offers available then the Cash For Apps team say it's worth checking again every 24 hours or so as they are adding new apps constantly.
The apps I saw paid out anywhere between 25 to 500 points.
At 300 points per dollar, you could make $7-$10 a week if you spend the few minutes it takes to download half a dozen apps each day. That works out at roughly $30-$40 per month in potential earnings if you stick at it – so definitely nothing to be sniffed at.
At the same time, it's clear this app is not a serious money maker. Expect more than a bit of extra money on the side and you're probably going to be disappointed.
Cash For Apps Reviews And Complaints
Let's take a quick look at what members are saying. Cash For Apps has been downloaded over 10,000,000 times with nearly 350,000 reviews.
With a 4.5/5 star rating on Google Play the vast majority of people are happy with the app:
There are however a handful of complaints which are important to look at to help you decide if this is a worthwhile app for you or not.
1. "Half The Time They Don't Even Give You The Points"
I don't know if this guy's account was flagged for foolishly trying any of the so-called 'Cash For Apps hacks' or whether they genuinely refused to pay out what he was owed, but this is an all-too-common complaint I see coming up time and time again…

Clearly the support staff pay out the majority of the time. I just hope on this occasion it as a good old fashioned mixup.
2. "It Doesn't Work"
I totally get that every app is going to experience glitches from time to time, but when your sole purpose of downloading the app is to make money, it's concerning to see if you do experience an issue you can't always rely on the support staff to help you out…

3. "This Is Just A Waste Of Time"
This guy suspects foul play and calls Cash For Apps a scam. Rightly or wrongly, I understand his frustration. You're never going to make a ton of money with apps like these, it's just not what they are designed for.

Is Cash For Apps A Scam Or Legit?
There are a few technical issues and the support team could do a better job at resolving user's complaints, but that doesn't mean Cash For Apps is an outright scammy app.
An overwhelming number of members do receive their gift cards and they are legit in my view, but the fact it takes too much time to earn enough points and the 'no cash' option just makes me think maybe this app is more hassle than it's worth.
Cash For Apps Review Final Thoughts
If you're looking at Cash For Apps as a viable way to supplement your income then this one isn't for you. Last time I checked you can't pay bills with gift cards.
As I said at the beginning of the review, Cash For Apps is by no means the worst app I've come across, but it's also not going to give you much back for the time and energy you put into it. As long as you're not expecting to make huge amounts of cash from it then I think you'll be fine, though I still think Swagbucks is a better alternative.
If you want to earn more serious money then try out this free beginner's course. This is the exact training I followed to generate $7,000+ per month.
Leave Your Questions/Comments Below!
If you have any questions you'd like me to answer about Cash For Apps or any other online money-making opportunities, feel free to leave a comment below! I'm happy to help in any way I can.
If you found this review useful, I'd greatly appreciate it if you could take a minute to scroll down and let me know. It really helps to make sure what I'm writing about is truly helpful to people and what to write about in the future.
Thanks for stopping by and stay safe out there!
Simon Crowe is on a mission to help as many people as possible kiss their bosses goodbye.
Take the free Commission Academy course to discover how to smash your online income goals and make your dream business a reality.