Take fun surveys, make money and help worthwhile causes – Zap Surveys claim to have it all going on, but is this the truth or just a smokescreen? Is Zap Surveys a scam to avoid or a legit moneymaker?
Welcome to this no holds barred Zap Surveys review where we separate the wheat from the chaff. Not all survey sites are created equal and some are better than others so let's see how this one does.
Just so you know: I don't work for Zap Surveys and this is NOT a sponsored review.
I'm just a regular guy who finally learned how to make real money online and spend my time helping people like you to stay away from scammy time-wasters and stick to what works.
Zap Surveys Review At A Glance
About: Zap Surveys is AppsThatPay's paid survey app. It rewards you for giving feedback.
Price: Free to download.
Pros: Has a good review rating, pays $6.25 on the first survey.
Cons: Minimum washout threshold is hard to reach.
Verdict: Zap Surveys is legit but saying it's worth your time is another story. The minimum threshold is just $25 but is hard to reach with the limited reviews available.

What Is Zap Surveys, Exactly?
Zap Surveys are the latest creation of a company called AppsThatPay and it's essentially a paid survey app that rewards you for giving feedback.
They claim to offer users high paying daily surveys and instant cash outs. The app is available in the iTunes store and Google Play for free download.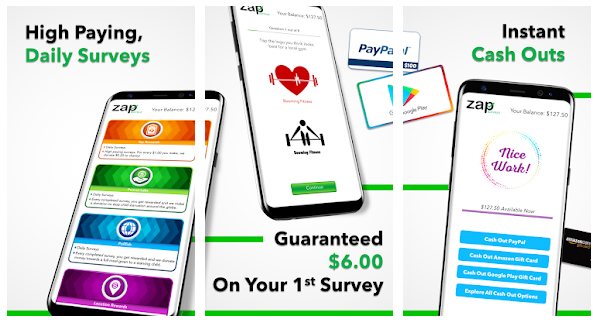 The biggest unique selling point about Zap Surveys is they promise to pay $6.25 for your first survey, but what they don't say right away is you're going to need to accumulate a $25 balance before you can cash out.
Watch this quick intro video for a quick run through of the Zap Surveys app.
Zap Survey Reviews
After over 100,000 installs and 18,000 reviews, this app has a 4.3-star rating on Google Play which is pretty good, though they are a few recurring complaints which I want to dig into a little here…

$6.25 For Your First Survey?!
You may have heard Zap Surveys guarantees to pay you at least $6.25 for your first survey, way more than your average survey site. So what's the catch?
The catch is you're very unlikely to convert that into cash in the bank.
There are tons of complaints online from members about how long it takes to reach the required $25 minimum balance required to cash out, with many experiencing technical glitches claiming this is an intentional sleight of hand by Zap Surveys to avoid paying out.


Daily Surveys, Really?
Zap Surveys promise a steady and consistent flow of daily surveys but in my experience, qualifying for those surveys is not as easy as it might at first seem.
Oftentimes survey sites work with companies who are looking for information from a specific group of people, so depending on your age, annual income, marital status, whether you have kids or not and where you live you may have issues qualifying for the surveys they offer.
You're probably looking to install the Zap Survey app because it seems like an easy, fun and portable way of making a few extra bucks here and there. In reality, most of the time you'll receive new survey alerts only yo start the pre-qualifier and find out you can't qualify for them anyway.
In a nutshell:
Most users say it's easy to fill in the initial survey to get a $.6.25 balance (just enough to keep people motivated to give out their private details) but it's very difficult to reach the ridiculously high $25.00 minimum withdrawal balance.
Is Zap Surveys A Scam?
Zap Surveys use the promise of a high paying first survey to draw people in but pay peanuts after that, making it a real uphill battle for anyone hoping to get any real money from this.
Does this mean Zap Surveys is a scam? I don't think so, but it's a little misleading.
They use the feel-good factor saying every time you fill out a survey they give to charities that help stop world hunger but do they actually? I found nothing after scouring their Twitter feeds and YouTube video listings.
At the end of the day, I don't think Zap Surveys are a scam, but neither are they a legit way to make money online. The surveys I clicked on took me to other sites like Project Payday, Dollar Surveys and Survey Squad which pay out no more than $0.50 per hour.
Is Zap Surveys Right For You?
Should you sign up and use it to make some extra money? I wouldn't if I were you.
With surveys paying out as little as $0.25 it's going to take you hundreds of surveys and months of solid work to reach the magical $25 amount to actually access your earnings.
Survey apps like this always take more of your time and information than you first expect. The high levels of disqualifications and extremely low payout rates make it a real slog for very little in return.
A Better Way To Earn Online?
Online survey sites like Zap Surveys promote themselves as a fun and easy side hustle to make some extra cash. In truth, you're filling out long and tedious surveys and giving away all your personal information for less than $0.50 an hour- it's just not worth it!
There are hundreds of ways to make a full-time income online but most people don't know where to start.
Well, as promised, I'm here to help. If you're looking to build a serious online income then why not start a real online business? This free beginners training will show you how.
Simon Crowe is on a mission to help as many people as possible kiss their bosses goodbye.
Take the free Commission Academy course to discover how to smash your online income goals and make your dream business a reality.