If you're interested in getting started with affiliate marketing, will Plex be the all-in-one solution you'll need for a great jumpstart?
Is it a scam? Or is it really the "never-before-seen software" for newbies with no tech skills?
Does it really "catapult" your affiliate links so 150 in just 30 seconds?
All these questions will be answered in today's review.
We'll cover what Plex is, how much it costs, what you get from the software if it's going to help you make money, and if it's a scam or not.
If you're ready for some shocking truth, then here we go!
Plex Review At A Glance
About: Plex is a landing page builder promising to catapult your affiliate offers to 150 buyer sources so you can make money fast.
Price: $22.78
Pros: Nothing.
Cons: It's a hyped-up page builder with social sites as the main traffic source.
Verdict: Getting buyer leads with Plex is next to impossible. It's not a fast, one-click traffic source as it claims to be.

What We'll Cover In This Post:
What Is Plex?
Plex is a landing page builder that automatically connects to affiliate offers and traffic sources. It's made by Billy Darr, Finn Goswami, and Justin Opay.
It's not related to Plex.tv the video streaming pplatform.
Plex claims to be the one-stop-shop for all the affiliate services you'll need to start making money. It promises:
150 traffic sources in 1 click
Help you attain financial freedom so you can quit your job and start traveling
You won't need tech skills to get started
Get you $500 when you don't see the results promised
I wouldn't bank on the last 3 promises and I'll explain why.
Other than the claims above they blow up the bubble by saying things like:
It took Billy, Finn, and Justin 13 months to build this
They spent more than $9,000 to build it
Newbies have seen results by now
It automates all the manual work
Does everything you need to succeed
And it's the missing piece
Just so they can't get you interested in buying it.
Before you become too absorbed in these claims, let me get you back to reality.
Popping The Bubble
I hate to break it to you, but Billy and his friends weren't able to prove beginners have started making money from this. There's just no evidence for it.
In fact, the income disclaimer written in barely readable text size at the bottom of the page says there's no guarantee you'll make money from it.

So, the claim of having people already making money from this is are empty words There is no proof from others, and you might not even prove it to yourself too.
Another thing about the disclaimer. I don't think they felt Plex would last for a long time because they didn't care enough about making it a credible software.
They were too lazy to make up their own disclaimer and copied the one from Commission Hero. If you read the disclaimer, it talks about Commission Hero and not Plex.
Second, it doesn't take automate stuff for you and it doesn't do all the heavy lifting.
Case and point: The traffic sources.
It's not really a 1 click type of traffic source. You have to go and make 150 accounts for the 150 social sites they provided and individually click on each of them to put up your links.
All they do is provide you with a link to social sites and the rest of the works is yours.
Well, they might be right about it being the missing piece. It's the kind of piece that should stay missing forever because no one really needs it.
How Much Is Plex?
Billy claimed Plex used to cost $197 but for a one-time offer, they'll be giving it to takers at $22.78.
What Do You Get From Plex?
Other than being a landing page builder, you can search for affiliate offers and get traffic sources for those offers. Plex also has other utilities like traffic analysis tools.
On the dashboard, you'll see a statistics table on visitors. But it's not connected to anything, so it doesn't make any sense. It's just some random graph that means nothing.
Why do I say that?
The visitor tally shows just 3 visitors. 1 each from 3 countries so it doesn't make sense why the top middle graph says there had been 46,000 visitors within the last 7 days.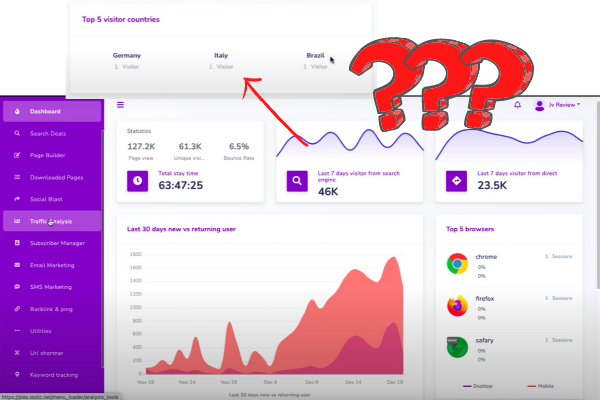 The numbers do not add up and you can see the heavy disconnect there.
Now let's take a look at the tools you'll get in Plex.
1. Search Deals
The search deals tool lets you find affiliate offers from WarriorPlus. But the list just gives you the name of the product and the date it was featured.
There is no information about how many people bought it and refund rates so there's you'll have no idea how to differentiate the bad products from the good ones.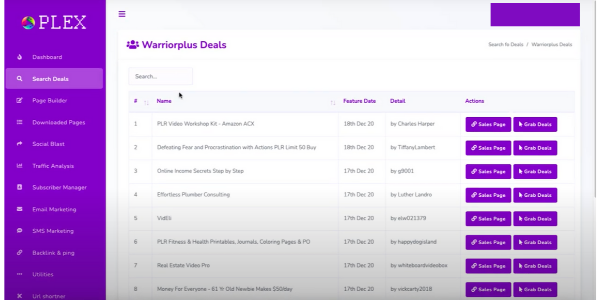 Basically, they just expect you to randomly pick an offer and just judge it's worth by how good the name sounds like.
Now when you choose a product you like and click on the "Grab This Deal" button, instead of directing you to the actual product to vendor approval, you'll be sent to the vendor's page on the marketplaces where the product is sold.
It's as automated as they made it seem. You'll have an awful lot of buttons to click and for a beginner, you might get stuck somewhere.
2. Page Builder
I must say, I was amazed with the built-in page templates. It looks way better than other page builders with scammy looking templates.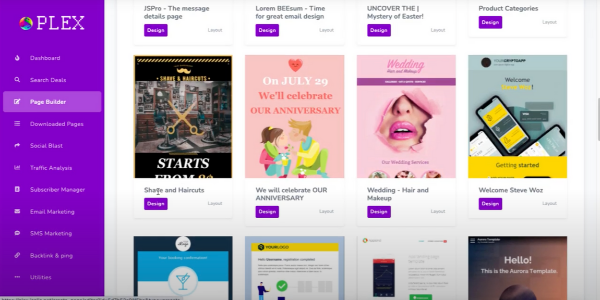 But here's the problem:
Although the editing part is quite straight-forward, the training video for it failed to connect the dots. There are huge gaps in building the page design and where and how you put your affiliate links to it.
There are 2 ways to use the finished templates.
First, you can download a zip file of the page and connect it to your WordPress.
But think about it:
While will you need this page builder when WordPress has a built-in function for it?
I've made a website using WordPress and the page builder they have is easy to use so there's no point paying Plex for it. If you have a budget for a page builder, better buy Elementor.
Still, you'd get stuck along the way because Plex doesn't cover this part in the videos.
The second way is letting Plex host your page instead of using WordPress.
You get a link to the page and share it on your traffic sources. But you'll get stuck along the way because again, you aren't taught where and how to put embed your affiliate links on the page.
The worst part is the web address – plexsolic.net/download/done-for-you. Not good for people to find you easily.
3. Traffic Source
Again, they let you use social media pages. Unless you have an established following, no one will notice or even take your shared links seriously. Essentially, you're just shoving random links to people and not giving any value along with it.
It's not even a real traffic source because many of the social sites in the list don't have an audience interested in make money products.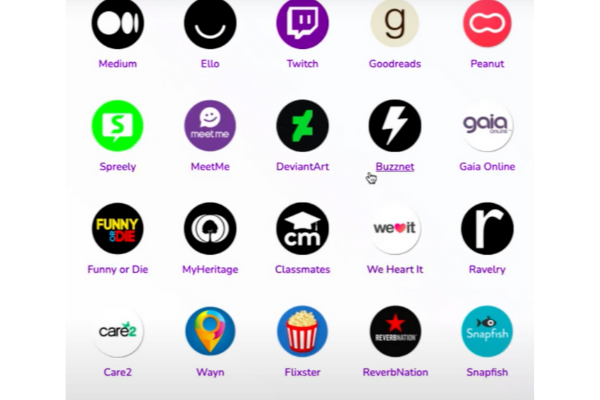 Another problem you'll have with this that people have become warier about clicking links. Hackers are using random links with enticing offers to steal personal data.
This means you'll have a way lesser chance of random people clicking on your link. Unless you have credibility, you won't have buyers. Ultimately, you won't make conversions.
4. Traffic Analysis
The tools you'll find here are things Billy and his friends put up just to beef up the software.
All these analysis tools will only be useful if you have a full-fledged website. If you just have the one-page landing page, this won't be useful for you. You can tweak so much stuff anyway.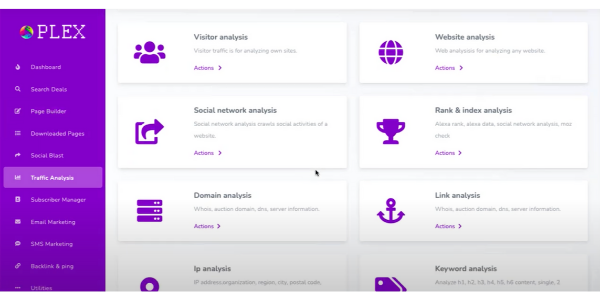 Think too about what I said earlier about the dashboard statistics. I'm not confident enough to use any of the analysis tools here since the dashboard stats are rubbish and I'm guessing these are too.
5. Email Marketing Tool
Apparently, Billy wants you to reach out to your visitors again. (If you'll ever have any) But he never teaches you what email marketing is and how to do it, so as a beginner, you'll be stuck here. You won't have any use for this tool.
6. Backlinks And Ping
Your one-page website doesn't allow for content pages so there's no use for this. Where will you put your backlinks?!
I've had training on SEO and I'll tell you to put effort into gaining backlinks is better than relying on a tool to do it for you.
It's even safer because you won't get in trouble with Google for unethical backlinks.
The bottom line is the utilities you get in Plex are rubbish. It's not worth your $23.
Is Plex A Scam?
Plex is definitely a scam. It utterly fails to live up to their sales page claims and being so misleading makes them a scam.
Billy and his friends are not even trustworthy enough. Other than Plex, their other software, Zing, is just as low-quality.
What Do You Do Now?
Ditch this useless software and learn how to do affiliate marketing yourself.
Relying on quick fixes only gets you in more trouble. On the other hand, if you know how to operate the business yourself, you'll be in better control of improving and scaling it.
Plus, you'll get rid of the anxiety over your business getting shutdown one day.
Wealthy Affiliate offers a comprehensive affiliate marketing training every beginner will need.
It teaches you everything from scratch. From how to choose a niche, to how you build your site, until how you drive buyers to your affiliate offers to make commissions.
Other than the training, you'll also get to know other marketers and learn from their experiences.
To get to know Wealthy Affiliate better, check out this tell-all Wealthy Affiliate review. It will show you the things you should know before signing up.
What Do You Think?
Did you get convinced Plex is rubbish? Do you feel learning things for yourself will make your chances in a sustainable income better? Tell us what you think down in the comments.
Simon Crowe is on a mission to help as many people as possible kiss their bosses goodbye.
Take the free Commission Academy course to discover how to smash your online income goals and make your dream business a reality.