Is Zing really a brand-new solution to your traffic needs? Is "the world's first robotic YouTube software" a scam? We'll look behind the "unlimited traffic and sales in 60 seconds" hype and find out the shocking truth behind Zing.
But I've got to tell you right off the bat the way Zing uses YouTube to get traffic is absolutely absurd. The same goes with many of the major functions of the software, you'll realize you don't need it at all.
But before explaining how Zing works, I'll first tell you what it is and who it is for. After going around the members' area I'll then summarize all the reasons why this is a total waste of your money and finish off by telling you of a better course to take. 
Zing Review At A Glance
About: Zing is a traffic solution using YouTube to supposedly draw people to your offers and earn $100s.
Price: Its front-end system is sold at $48.84. Billy Darr then pushes you to buy the 5 upsells totaling to $511.
Pros: There are none. 
Cons: The built-in videos are low-quality, and all the other functions can freely be done on YouTube.
Verdict: Zing is a low-quality traffic software. The videos you get from it won't get ranked and you'll basically be spamming to get traffic. 

What Is Zing?
Zing is a YouTube-based traffic solution brought forth by Billy Darr, Justin Opay, and Dipanjan Goswami using the WarriorPlus platform.
This might kill Zing's chances of getting bought, but I see no reason why I should save it for later. (There are more surprises anyway)
So, here's the thing:
When I checked the sales page today, it says Zing is "brand new for November 26, 2020". No problem about it, IF I didn't see the same "brand new" hype a few months ago.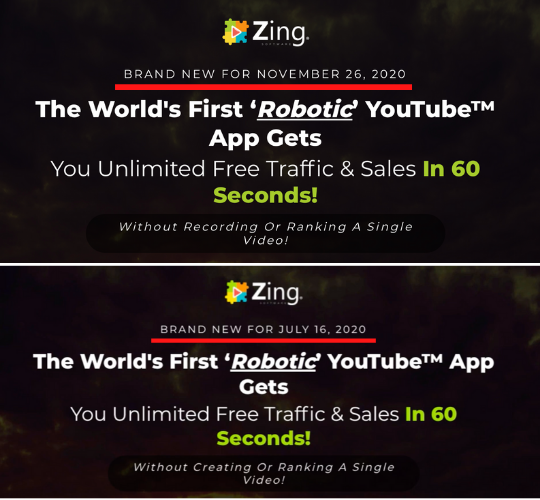 So, it's brand new every day? As if!
I'll keep the ball rolling.
On the sales page, they say there's "no video creation needed". Quite strange because it's one of the main features of the members' area.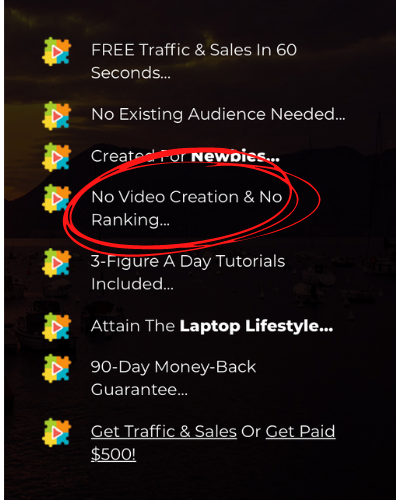 Zing is basically banking on the fact that YouTube has millions of daily visitors which means a good audience source. Billy then offers to utilize this source and pair it up with an offer to supposedly monetize the video content you upload.
Here's how he puts it:
Something to sell + an audience to sell to = non-stop sales!
Easier said than done.
True, YouTube can be ripe for profits, only if you get behind all the quick fix hype you hear. Driving buyer traffic doesn't happen in just 1 click and a few drags and drops. I'll explain this further later on.
Just before moving on to the next section, I'd just like to debunk 1 last sales page gimmick.
Billy and his friends feature Bill Gates and Warren Buffet making it seem you'll get the same results they had with their business if you buy Zing.
Don't get fooled. Those 2 business icons made it all the way to the top without using a shiny shortcut like Zing.
If you went over the sales page, cleanse your head of all the hype. This way you'll be in a better position to make a wise choice.
Who Is Zing For?
Billy, Justin, and Dipanjan make it seem Zing is for those who want to drive traffic to their affiliate products, email lists, and eCom stores.
Frankly, though, Zing is just for those who want an easy way out of everything, it's not for those who want to build a sustainable online income. Nothing lasts with Zing, you'll even realize later on you actually have nothing to start with if you use it.
Aside from Gates and Buffet, the trio features 3 other successful people, this time YouTube content creators Ryan Kaji, PewDiePie, and Logan Paul.
Again, don't fall for it, none of these YouTubers use or even heard of Zing.
An Inside Look On Zing
On the Feature page, before you get inside the dashboard, you'll see the list of functions you can expect inside. As you can see, all of the functions featured here can be easily done on YouTube, from searching for videos down to replying to comments.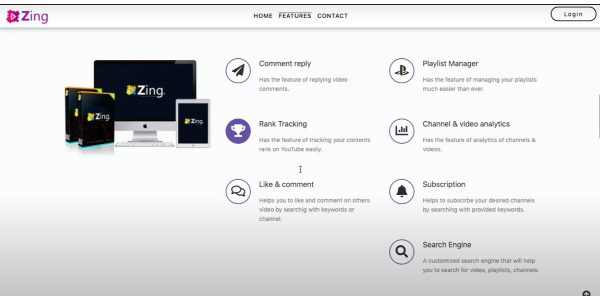 So, I'm not quite sure why you have to pay almost $50 for something you can do for free directly on YouTube. Knowing those alone gives me an idea of how low-quality this software is.
Now let's go inside the dashboard.
Immediately when you log in, you'll see stat tables on how many videos, subscribers, comments, and subscriptions you made with your YouTube channel.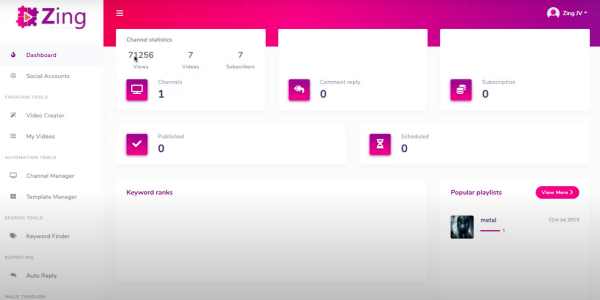 Just look at the number of views, it's way over the top. You'll agree with me even more when you see the quality of videos Zing helps you make.
Here are some of them: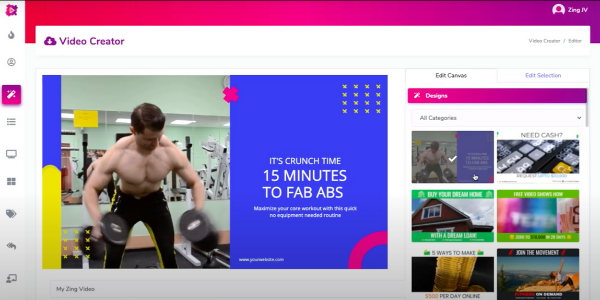 To me it looks too click-baitey and so simple to make, you can even do something like this in Powerpoint. Add the fact everybody who has access to this software gets the exact same videos you get.
Duplicate won't get you ranked In YouTube, you can even get penalized.
Zing Automation Tools
The automation tools are what you saw listed on the Feature page. All 5 of those functions, you can directly do on YouTube.
Let's try one function out, the Like/Comment Campaign.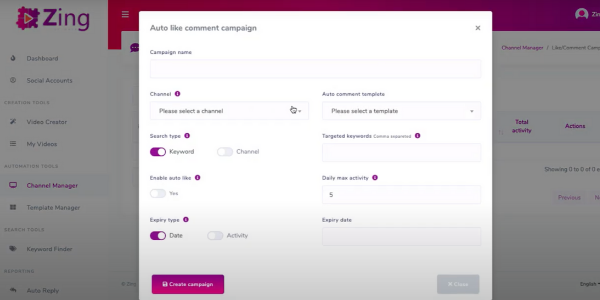 What it basically does is allow you to post pre-made comments on a channel. It somehow "finds" the keywords you target and when a video mentions it, it makes an auto like and comment.
Zing allows you to do the same thing IF (totally hypothetical) someone does end up leaving comments on your videos. Zing allows you to pre-make replies to those comments.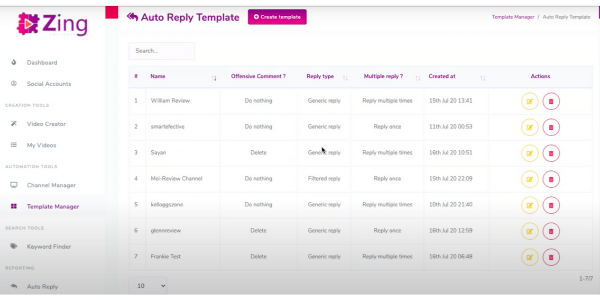 I find this method unethical. The point of making comments and likes on other people's channels is to show appreciation for them a build a relationship in the long run.
By applying this method, you don't actually give any YouTube content creator something of value. It's just cold hard spamming. There's no substance and value of any sort.
If you hope some random comments and replies you make will drive traffic back to your channel, it will next to impossible.
There's also the Subscription Campaign function where you can subscribe to as many channels hoping they'll subscribe back. But think about it:
Can you possibly expect, blindly subscribing to other channels can make other people subscribe back and take the effort to check your offers and buy something from you?
If they do check your channel out, they'll most likely watch a couple of your videos to see if subscribing to your channel is worth it. You know for a fact how poor the videos on Zing are.
And remember, the sales page says there's no need for video creation, but you actually have to make videos (more of doing some clicks and a few drags and drops, but in essence still video creation).
Here are the 3 basic problems you'll have with Zing's videos:
1. You can get penalized
2. You can't get them ranked and monetized
3. You won't get others interested enough with them to make them subscribe to your channel
Here's the most outrageous part:
In the training videos, they'll want you to not use the auto-replies and comments more than 50 times a day because it can get you banned. Why? Because it's a through and through spamming!
You're not guaranteed traffic using this method and Zing agrees with me.

3 Surefire Reasons Why Zing Is A Total Waste Of Money
1. All its functions can be done freely and directly on YouTube.
2. The videos they'll make you use are too shabby, it won't get monetized.
3. The traffic method they make you apply can get you penalized.
Is Zing A Scam?
No, Zing is not a scam because you get the software with traffic functions in it. However, it's not as promising as how they make it seem on the sales page and the methods taught are quite unethical so using this won't help you generate traffic for your offers.
The bottom line, it's not the traffic source which will bring conversion to your offers.
If you're doing affiliate marketing, Simon has a better solution for you.
Where Do You Go From Here?
Shiny shortcuts are tempting, I know. However, if you put your trust in them, you'll end up totally dashed with pockets empty.
It still pays to learn the sustainable way to drive targeted traffic to your offers.
YouTube is actually a great audience base but utilizing its subscribers to drive traffic to your offers isn't done the way Zing makes you believe.
Personally, I prefer creating a niche-based website for a guaranteed free targeted traffic. It's guaranteed to be more sustainable than all the hyped-up traffic hullabaloos you find online.
Wealthy Affiliate is great at teaching you about traffic step-by-step. It actually comes as a package when you learn about affiliate marketing. When you pay for this training, you don't only learn about a traffic source, you also know about sustainable online business from scratch.
If you're interested to learn about all the benefits you get with Wealthy Affiliate, you can go on and check this in-depth Wealthy Affiliate review.
What's Your Take?
Were you dumbfounded to know you don't actually need Zing? Were you shocked to see how absurd their traffic method is? Tell us what you think, the comments section is ready for you.
Simon Crowe is on a mission to help as many people as possible kiss their bosses goodbye.
Take the free Commission Academy course to discover how to smash your online income goals and make your dream business a reality.