Chances are you are looking at this Commission Hero review to find out if this is the right program for you or not. Give me a couple of minutes here and I'll run you through the entire list of pros and cons to help you decide if it's worth it.
Robby Blanchard claims if you follow his training you'll be generating affiliate sales 24/7. He even says he will show you a 3-step method for making $1,000 per day.
Is Robby full of hype but no substance? Is Commission Hero a scam or legit?
Here's what I found out:
Commission Hero Review At A Glance
About: Commission Hero is Robby Blanchard's affiliate marketing course that teaches you to use Facebook ads to sell Clickbank products.
Price: $997 or $597 for 2 payments.
Pros: Robby is a successful entrepreneur, affiliate marketing is a sustainable business and it comes with a 12-month money-back guarantee.
Cons: It's a little pricey.
Verdict: Commission Hero is a legit course and a good way to learn how to generate leads for the products you promote, though it's not for everyone.

What Is Commission Hero?
Commission Hero is an affiliate marketing course taught by Robby Blanchard, the top-selling ClickBank affiliate in the world, that teaches you how to use paid Facebook ads to make money promoting ClickBank products.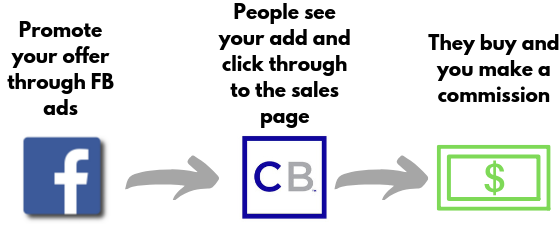 And in case you're wondering if Robby really is the number one ClickBank affiliate worldwide, check this out from ClickBank.com: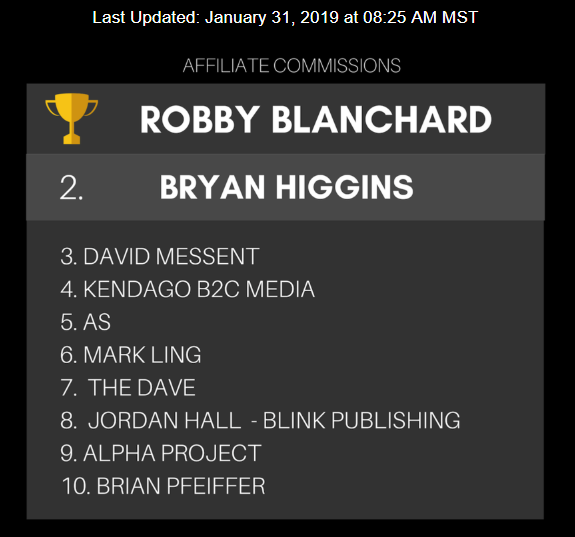 So right off the bat, we know that Robby knows what he's talking about and what he does gets results. Commission Hero gives you the opportunity to learn directly from someone who has made millions with ClickBank, promoting other people's products as well as his own.
Robby has had success in the make money online, weight loss and relationship niches but what you'll learn in the course will apply to whatever niche you're in.
Watch this video to watch Robby in action talking about how he makes $1,600 per day selling other people's products on ClickBank for up to 75% commissions:
Some quick Commission Hero stats:
The Commission Hero program comes with a 12-month money-back guarantee.
Robby was once interviewed on the News9 network to talk about how to make money with Facebook ads.
Commission Hero comes under Robby's Blanchard Media company.
Based in Acton, Massachusetts.
What You'll Learn
Before signing up to the core training modules, Robby will invite you to register for the free Commission Hero webinar where he'll run you through exactly how affiliate marketing works, how he earned more than $1 million in ClickBank commissions in January 2019 and how you can get results by following his step-by-step program.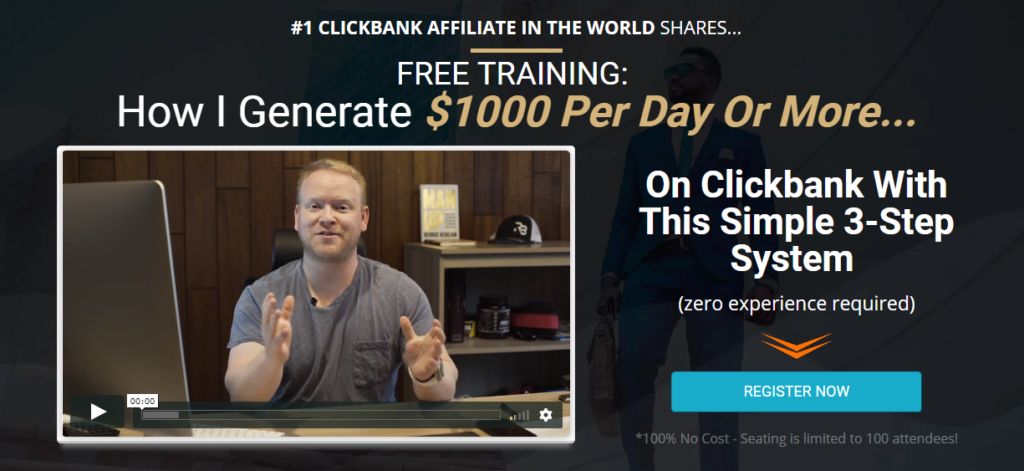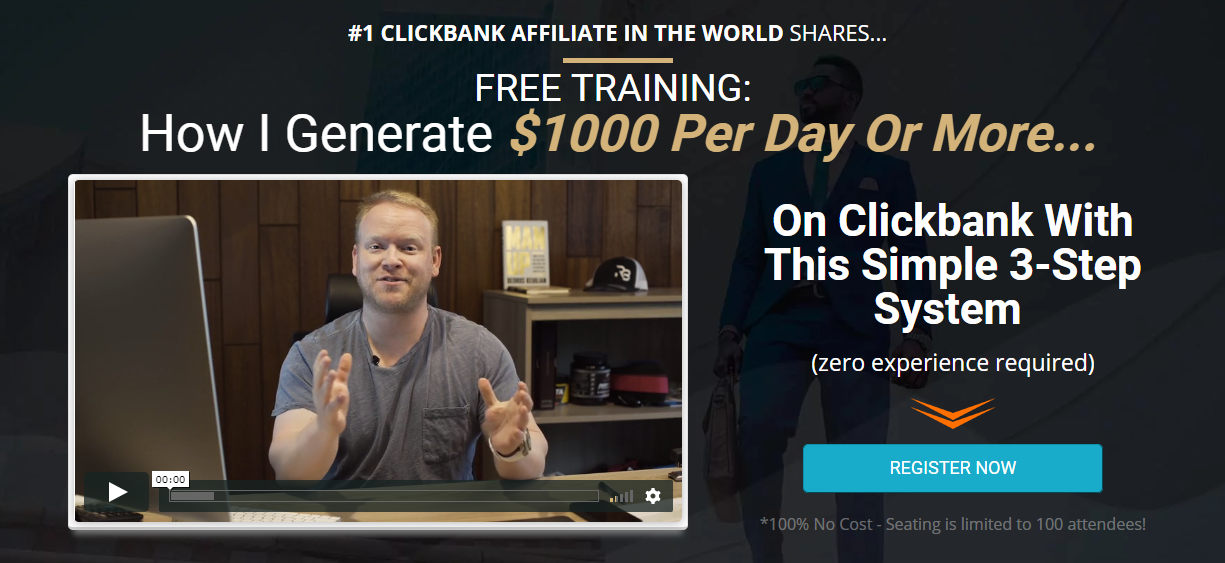 Once inside the member's area, you'll find an 11-module video course where Robby takes you through everything in a structured and easy to follow way.
I really like Robby's no-nonsense teaching style because everything he's saying comes from experience. Being the number one ClickBank seller in the world obviously means he knows exactly what works and what doesn't.
Over the years he's learned how to choose the best products to promote, how to target his audience and refine his ad campaigns process, now here he is sharing his top techniques and strategies with us.
I honestly believe that anyone (yes, even complete beginners) who watch the videos and apply what they're learning can be successful at this.
By leveraging Robby's knowledge and years of experience, you're effectively shaving years off your road to success because you can avoid the common newbie mistakes, all the fumbling around trying to figure it all out on your own and just get to the how-to practical stuff that works.
Here's a full breakdown of the lessons: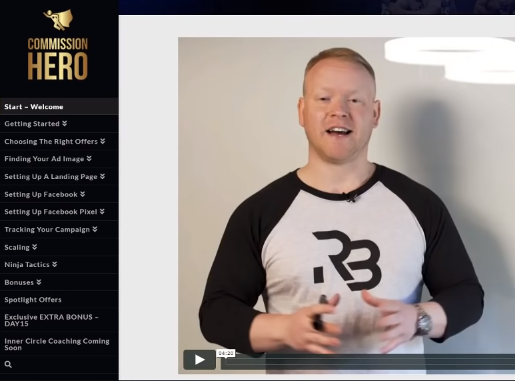 Module 1: Welcome
In this quick welcome video, Robby gives you a general overview of what's to come.
Module 2: Getting Started
Robby links to the tools you need to be able to implement the training.
Module 3: Choosing The Right Offers
Now he gets into the meaty stuff, starting with how to find the highest converting ClickBank offers that are going to give you highest commission rates.
ClickBank have 1,000's of different products and services available; from dating advice courses to losing belly fat guides, so you'll have no issue finding relevant offers that match the needs and wants of your target audience.
Module 4: Finding Your Ad Image
Having the right attention-grabbing image for your ad is vital to your success. In this 4 video module, Robby gives you his highest-performing the images to ensure you get the most click-throughs.
Module 5: Setting Up A Landing Page
You want people not just to click, but to buy, so the next step is optimising your landing pages.
Robby does an excellent job in this module of explaining how to get your landing pages set up and exactly what elements to include to maximise conversions.
Module 6: Setting Up Facebook
This is the module where Robby's experience really shines through; he shows you how to set up your first Facebook ad campaign, how to target specific buying audiences and demographics.
He really goes in-depth with a live case study to give you practical, over-the-shoulder training on exactly how to drill down and specify who will see your ads to ensure you run successful and profitable ad campaigns.
Module 7: Setting Up Facebook Pixel
Not all traffic will act first time around and here's how to leverage Facebook Pixel to retarget those who have already shown an interest, but haven't quite got to the 'add to cart' stage yet.
Module 8: Tracking Your Campaign
Robby walks you through how to optimise your Facebook ad campaigns to ensure you're always making a profit.
By tracking your ads it takes the guesswork out – you'll learn how to tweak the ads that aren't working and scale the ones that are.
Module 9: Scaling
This module covers how once you've found the winning ad formula, it's time to take your income up to the next level.
Module 10: Ninja Tactics
In this module, Robby covers topics like how to get the edge over your competitors and how to deal with Facebook shutdowns.
Module 11: Bonuses
The best thing about this training is how Robby gives you his winning landing pages and images you can use. In this module, he gives you his done-for-you ad campaigns that he's already done the split testing for in the weight loss, internet marketing and relationship niches.
He also has some videos on having the right kind of success mindset.
Can You Really Make $1K/Day?
Potentially yes, though it will take time to build up to that.
As with anything in life, success takes time and effort and this is not some get-rich-quick scheme.
Maybe you start small with a $100 ad budget then reinvest the profits into your second ad campaign and build up that way.
It's important to keep in mind that any income you generate needs to be offset by any expenses…
You can get full access to Robby Blanchard's course for either a one-off payment of $997 or two monthly instalments of $597.


As Commission Hero is teaching you how to generate sales and commission through paid ads, you're going to have additional running costs too.
Some of the tools you'll need to buy to be able to implement the training are:
Then there's your advertising budget, though exactly how much you set aside for this is completely up to you.
The key to success here is tweaking and optimising your ad campaigns as you go to ensure you're making more than your ad spend. Once you've got a good campaign going you can focus your energy on that to increase your income exponentially.
4 Good Reasons To Join Commission Hero
1. Epic Coaching From A Successful Entrepreneur
There's no doubt Robby Blanchard has invested quite a lot of time and money into making Commission Hero a valuable resource for wannabe affiliate marketers looking for a hype-free practical way to leverage Facebook ads as a lucrative traffic source.
The training, the campaign examples, the done-for-you images and landing pages give you everything you need to do it right and do it well the first time around.
I also like the fact that on top of the training there's a private Facebook group where you can get inspiration, support and bounce ideas around with fellow Commission Hero members.
2. Affiliate Marketing Is A Great Way To Make Money Selling Other People's Products
I highly recommend becoming an affiliate marketer to anyone looking to build an online income stream for themselves and achieve financial freedom. Affiliate marketing is by far my favourite way to make money online and for good reason:
You're promoting other people's products so there's no need to worry about storage and shipping costs, creating products yourself and the fact it's all done online means your affiliate marketing business can reach any of the 4 billion+ people who are online every day.
Check out: What Is Affiliate Marketing And How Does It Work (The Beginner's Guide)
Although you need to put the work in upfront, once you've found a profitable Facebook campaign, earning an income can be pretty passive. Robby makes over $1,000 a day and says he only works about an hour or two per day tweaking his campaigns.
Watch this interview Robby did with ClickBank recently to get an insight into how he got into affiliate marketing and what makes him so successful:
3. Real People Are Getting Real Results
Quite quickly too. Check out this story from Peter's first day applying the Commission Hero method: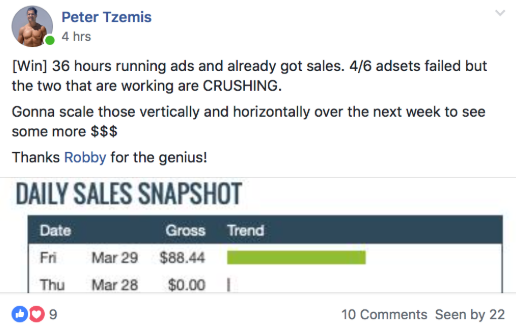 And this testimonial just goes to show that what the course teaches works even if you're promoting your own products or services. Here's Matt, one of Robby's students celebrating his first $1,000 day: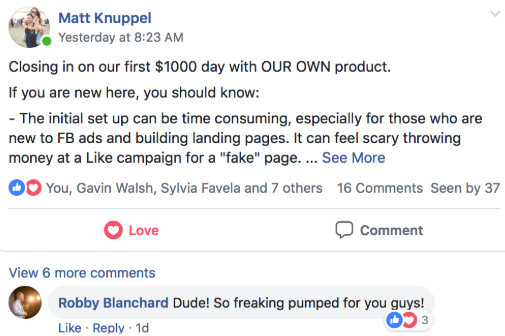 4. You Get A Full 12 Month Money-Back Guarantee
That's right, I kid you not, Commission Hero comes with a full 12-month money-back guarantee.
I've reviewed over 400 make money programs and this is the first time I've ever seen one with a money-back guarantee that lasts as long as this.
Check out the comments from our amazing readers below this most – it turns out even I can get wrong from time to time (It's a real shocker I know! 😉 )

The official line is you have to wait 12 months before asking for your money back but I assure you this is a Clickbank product and so it is automatically covered by their 60-day refund policy – just be sure to request your refund through Clickbank and not Robby.
Check out: How To Get A Clickbank Refund In 7 Simple Steps
Is Commission Hero A Scam Or Legit?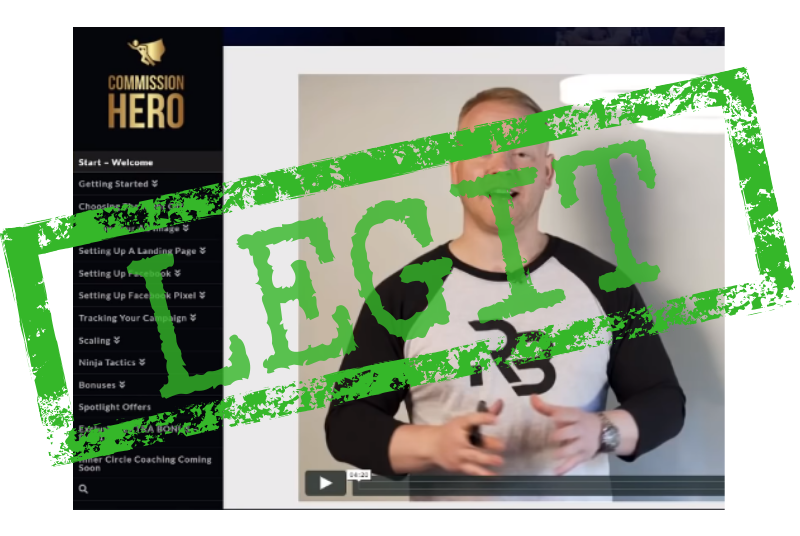 Commission Hero is a legit training course and a great opportunity to learn from Robby Blanchard – one of the most successful affiliate marketers out there right now who's killing it with Facebook ads.
I'd say, at the very least, it's worth checking out Robby's free webinar.
Of course, you need to carefully consider the other costs we've talked about before diving in headfirst and you should probably set an ad budget of around $1,000 to start out with.
If you're a beginner with the start-up capital to invest, or an experienced marketer looking for a step-by-step guide on leveraging Facebook as a lucrative traffic source then you should definitely enrol in Commission Hero here and have no second thoughts about it.
However, if you're interested in learning how to generate affiliate commissions without the paid advertising costs then there are a lot of great alternatives for you out there.
So far, the best affiliate marketing course I've come is Wealthy Affiliate. I've written a complete hands-on review of Wealthy Affiliate where I outline how you can get started with affiliate marketing for free.
Here's a quick rundown of what you get as a free Starter member:
10 comprehensive video lessons specifically designed for beginners
2 free websites to play with (hosting included)
Access to the helpful and friendly Wealthy Affiliate community including live chat support
Live weekly webinars on topics like SEO, YouTube and email marketing, building niche sites, social media and so much more
Option to upgrade to the full Premium membership price for just $49/month with a 60% discount for your first month
Personal support from me (a full-time online entrepreneur)
Wealthy Affiliate is where I got my start back in 2014 and they're still my top-rated affiliate marketing course of all time. Check out my review here to find out more.
What Do You Think?
Now you've read this review in full, what do you think about Commission Hero? Is it worth the $997 price tag?
If you have any questions at all, just scroll down and ask in the comments below and I'll do my best to help any way I can.
Simon Crowe is on a mission to help as many people as possible kiss their bosses goodbye.
Take the free Commission Academy course to discover how to smash your online income goals and make your dream business a reality.