Get Weekly Paychecks promises to help get fat commission checks sent to your door and show you how to make money step-by-step so you can live the life you want.
If you've found yourself on their website recently or had a friend trying to recruit you then you're at the right place!
By the end of this honest and frank review, you're going to know if Get Weekly Paychecks is a scam or a legit work from home opportunity.
Get Weekly Paychecks Review At A Glance
About: GetWeeklyPaychecks.com is a $25 per month training course designed to help you promote the Motor Club Of America MLM. 
Price: $25 per month plus $19.95 per month for MCA membership.
Pros: Some of the selling and recruiting is done digitally.
Cons: MLMs have a 99% failure rate.
Verdict: Get Weekly Paychecks isn't a scam but with a strong emphasis on recruiting they are a borderline pyramid scheme. I recommend you avoid this one.

As they're a multi-level marketing company (MLM), you can only begin to make money once you've recruited other recruiters into your downline.
As the main source of income comes from recruiting rather than selling a product or service, some accuse them of being a pyramid scheme.
Whether it is or not, you're going to have to get comfortable selling face to face and recruiting your family and friends. That's a lot easier said than done!
Personally, I think this is the old way of doing business and it isn't for everyone. That's why I started an online business that generates more than $7,000 per month.
I followed proven step-by-step training and got results.
Check out this SUPER in-depth Invincible Marketer review and get started.
What Is Get Weekly Paychecks?
The Get Weekly Paychecks website really doesn't tell you how you make money with this. All you're presented with is a signup form with social sign up options: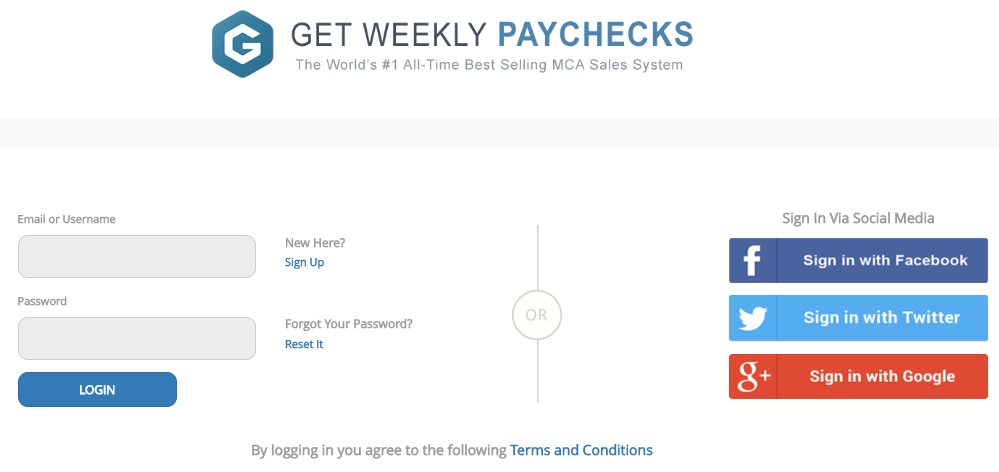 The only clue we're given is in the Get Weekly Paychecks' slogan:
"The World's #1 All-Time Best Selling MCA Sales System"
MCA? After a bit of digging, I found out MCA stands for Motor Club of America; a direct sales company that sells roadside assistance.
To find out more I decided to go ahead and sign up. Unfortunately, I came up against a couple of glitches right from the get-go… the connecting with Facebook button redirects you to a blank page. It just never loads.
I signed up using the email option and straight away I was taken to a payments page where I learned that this is a monthly payment plan for $25.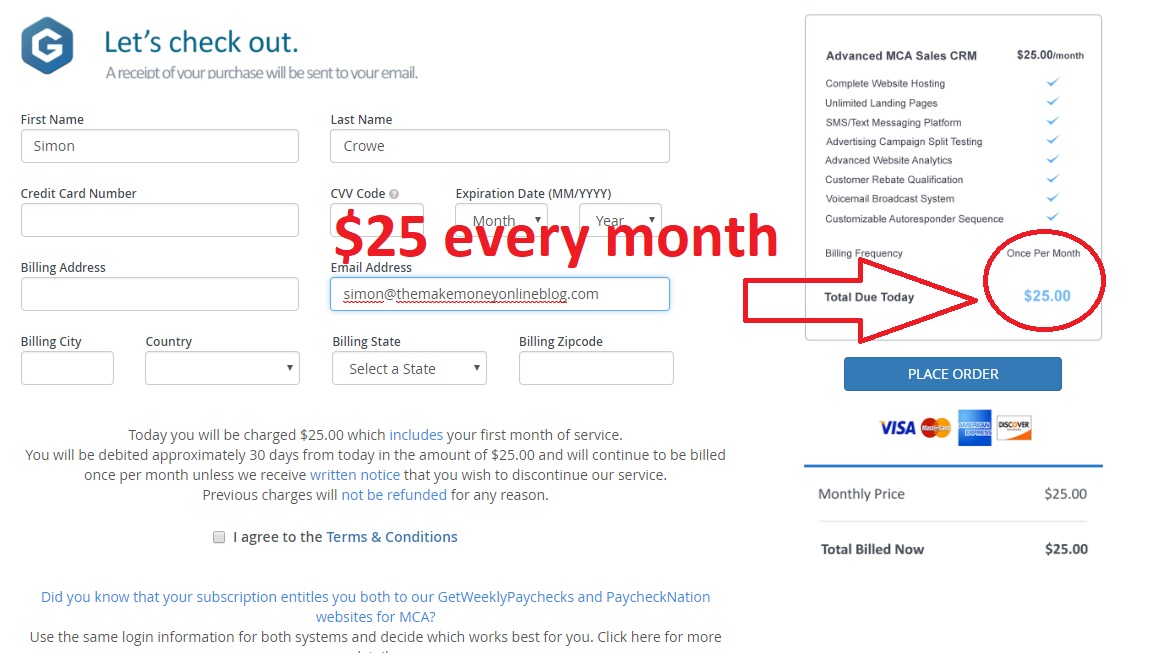 Well, I don't know about you, but I'm not going to sign up for something I know nothing about! After browsing the site a little I found two different landing pages.
Here's a screenshot of Landing page 1: just a simple video with a signup form encouraging you to sign up as an independent referral agent to earn up to $2,000 a week.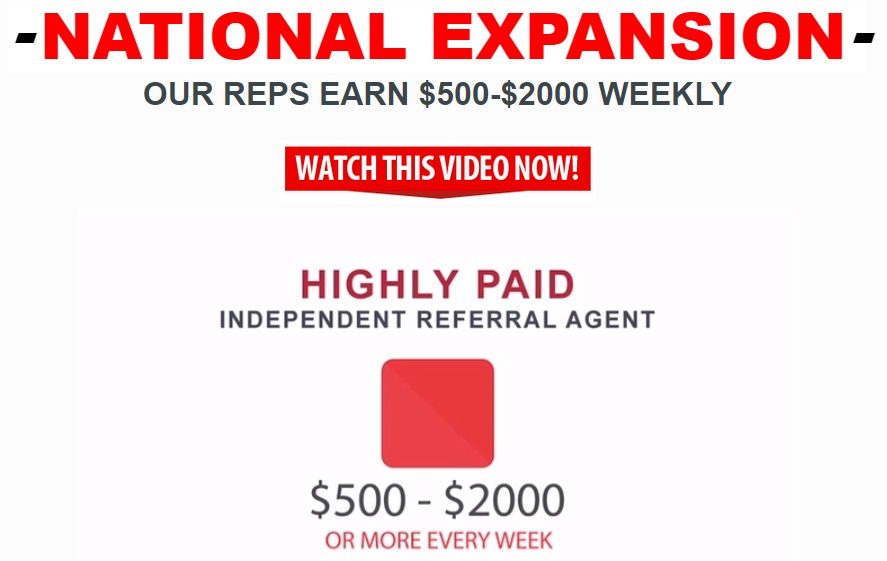 Landing page 2 explains making money with this system is as easy as creating an account, signing in and setting up your Get Weekly Paychecks "marketing system":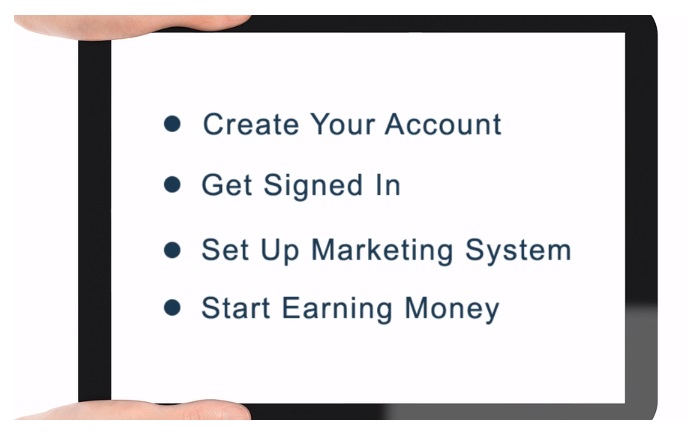 This is dubious, to say the least. I earn a full-time income online but only after putting in a lot of time and effort. After reviewing hundreds of scams I know a red flag when I see one.
Anyone promising fast and easy cash is only trying to dupe you or sell you something!
Get Weekly Paychecks' REAL Monthly Bill
The monthly bill for Get Weekly Paychecks is $25 per month. For that, you'll get help with website hosting, creating landing pages and setting up SMS texting campaigns.

But here's the thing:
Since the only way you're ever going to make any money is by promoting Motor Club of America, you're also going to have to sign up as a paid member with them.
The cost?
You're required to pay an additional $39.90 for your first month and $19.95 per month afterwards, on top of your $25 per month GWP fee.
So in reality, you're paying $64.90 the first month and $44.95 every month thereafter.
What do you have to do to make money?
Take a look at MotorClubAmerica.net and you'll see the full compensation plan, but here it is in a nutshell:
There are two ways you can earn commissions with this pyramid style structure:
Sell roadside cover to your family and friends
Recruit those same family and friends as independent referral agents and earn a commission of their sales.
This is how all direct sales marketing companies work. If this isn't something you can see yourself doing then you'd better look for another opportunity.
I'm not saying you can't be successful with this, just that it takes a certain type of personality to go out there and get those all-important sales and recruits.
Making money online isn't complicated…
This video will show you exactly how to get started. Tap to watch now »
Is Get Weekly Paychecks A Scam?
While I think the monthly fee is expensive for the mediocre services they offer, they're not a scam. They're upfront about what they are; a sales program for Motor Club of America.
Get Weekly Paychecks could be a legitimate work from home opportunity for those with the right personality, drive and skillset to make it happen.
I just find for me, learning how to create websites that generate sales around the clock a much more effective way to achieve financial freedom.
Is Get Weekly Paychecks Right For You?
To help people just like you find the best ways to make real money online I've reviewed dozens of direct sales marketing companies like Motor Club of America such as:
And honestly, my verdict is always the same:
The products are almost always overpriced, becoming a sales agent is definitely not for everyone and they often have unfair and overly complex binary commission structures.
Face to face selling is such an old-fashioned, pre-internet way of doing business…
I get paid monthly by my online businesses.
How did I do it?
I joined Invincible Marketer worked my way through the training.
They have a thriving community of entrepreneurs and top-notch training to get you to where you want to be.
Read my full Invincible Marketer review to find out how they can help you achieve your online income goals!
Simon Crowe is on a mission to help as many people as possible kiss their bosses goodbye.
Take the free Commission Academy course to discover how to smash your online income goals and make your dream business a reality.