Hi and welcome! Right now I'm going to show you 10 reputable and real work from home opportunities that are not scams.
Not having fun in your 9-5 office job? I don't blame you.
Before I started making money online I worked in call centres for years.
I hated it.
I hated having to get up before daylight to take my place in the traffic queue. I resented having to ask my arrogant boss for a measly couple of days off.
I was frustrated with spending my days working for somebody else, doing something I had no interest in.
But what can you do?
I mean, you have to earn a living right?
Unless you are a 'freegan' and have found a way to live entirely off the grid, you probably need some sort of steady income coming in.
So let's make a plan – once you've decided you definitely want to work from home it's time to get it done. Here's to telling your boss where to stick it.
Why Working From Home Is The Best Thing I've Ever Done
Learning how to start a blog and build it into a money making cash cow is the best thing I've ever done.
It's not just about working from home in pajamas (though that's cool!), choosing the right work from home opportunity means you can take control of your life.
It means freedom to do what you want.
It means living the life you have created, being empowered to make the decision you want to in life without having to answer to someone else.
It means your level of income is not dictated to you by the HR department. The online work from home opportunities have limitless earning potential.
Working from the comfort of your home has never been easier. Depending on which work from home opportunity you decide to take advantage of, most need little or no investments and all you need is a laptop, WiFi and a can-do attitude.
With the Internet being an ever-changing arena for the businesses, some people have found several ways to earn money by working online.
As of 2015, 3.2 billion people are online everyday – the internet represents a huge opportunity for those brave enough to take action.
"If you are looking for the freedom and flexibility that comes from remote working, then a home-working job might be the right fit for you.

Both employers and employees benefit from home-based employment; with employers experiencing savings on overhead costs and employees being able to save on commuting and experiencing more flexible working conditions."

– WorkingMums.co.uk
So let's get started… here's a list of ten work from home opportunities that have the potential to earn you a full-time online income.
10 Real Work From Home Opportunities
1. Make Money Blogging
Okay, this is the first in my list for a reason – today it's all I do to earn more than $6,000 a month online.
Starting a free blog is easy and beginner-friendly, deciding what to blog about takes some thought and learning how to make money with your blog takes a little (free) affiliate marketing training.
What topic really gets you going? What passion, interest or hobby do you have? What's your area of expertise?
Making money by blogging could be a good option for you.
Sure, it takes time to get ranked in the search engines but you can learn everything you need to know about attracting lots of traffic to your site and monetising your blog with the 'Online Entrepreneur Certification Course' at Wealthy Affiliate.
I give more info in my Wealthy Affiliate review.
It's where I got my start and you'll love the friendly and helpful community of like-minded bloggers who will push you to success on your online earning goals.
The key to becoming a full-time blogger is to offer high value content that helps solve people's problems and answer their questions. Be super helpful and you'll quickly gain a loyal readership and make money.
Here's a look inside the Wealthy Affiliate online community:
2. Sell Stuff on eBay
What work from home opportunities list wouldn't be complete without at least mentioning eBay at least once?
Most people use eBay all the time to get rid of clutter and make some fast cash in the process.
But what if you could take this a step further?
I mean, go pro with it.
You could source new or used items at super low-prices at auctions or online wholesalers and sell them on eBay for a handsome profit.
This work from home opportunity may require a little investment, so check out what's in your garden shed, get it listed and use the money you earned to invest in stock. Use your newly cleared shed as your eBay storage space.
Your seller rating is obviously crucial so keep an eye on your inbox and answer buyer's questions. It's also a good idea to set reasonable minimum bids to make sure you get a decent return.
3. Write As A Freelancer
If you've got a natural flair for writing, this third work from home opportunity could be for you.
Sites like iWriter.com and these iWriter alternatives are always looking for good writers to join their teams. The beauty of this is you get to choose what topics you want to write about and when you do it.
Website owners and online businesses are always looking to outsource their blog posts, eBooks and other content creation. This is where freelancing writing comes in!
4. Customer Service
If you've ever worked in any customer service role, whether face to face, over the telephone or online, working from home as a customer service adviser could be an option.
Instead of using call centres, more businesses are now using work from home customer representatives. In most cases, this means individuals answer calls, answer emails or man a live chat website window.
If this interests you, check out your local job vacancies for work from home customer service jobs.
Before starting my blogging businesses I did this for a while with Enterprise Rent-A-Car. It was pretty cool and easy to do. After an initial interview I had a 6 week online training course. All I needed was the right experience, a laptop and internet connection and a quiet room.
It's nice to be able to work in your pajamas…
5. Design and Sell T-Shirts
Random I know, but websites like SpreadShirt.com and CafePress.com have opened up new work from home opportunities for budding online entrepreneurs.
Take a walk around most college and high school campuses and you are likely to come in contact with a lot of words. I'm not talking about term papers or library books, but T-shirts!
We live in an age where people like to wear customised, unique T-Shirts with simple logos or ironic phrases. Usually, the more offbeat and unique the design is, then the more desirable the T-shirt.
With SpreadShirt.com and CafePress.com and even Etsy.com you can launch your own online store boasting of your unique T-Shirt designs.
A strong online brand combined with your one of a kind, bespoke designs will make you stand out from the crowd. If you're ready to get creative, this could be the work from home opportunity for you.
6. Offer Financial Services
This work from home opportunity is for the more fiscal-minded. If you have any bookkeeping or accounting experience then why not set up shop for yourself? This could be a great way to work from home and choose your own hours.
Businesses need people who can provide freelance financial services like tax preparation, accounting, payroll processing and bookkeeping.
Simple promote your services via your website or local press and start building a client list.
7. Teach Kids Online
With every passing year, there always seems to be an increasing pressure for middle, elementary and high school students to get good grades so as to prepare for a good path to getting higher education.
What's your specialty? Maths? English? Biology? Music?
For some students, this usually means getting the help from a tutor so as to bridge any gaps that might exist in understanding certain subjects.
Replacing the traditional way of tutoring, internet-based tutoring services have become really popular.
When you decide apply for these jobs, you normally have to take certain tests in your subject areas and then submit to the background checks.
Even though you can start your own online tutoring services, sites like VIPKid allow you to set your own availability and can pay you up to $22 per hour.
8. SEO Consultancy
This is easier than it sounds. Search engine optimisation (SEO) is a big and growing area of online employment. Companies hire SEo consultants to evaluate and improve their search engine rankings.
With no experience needed, as a self-employed search engine optimisation reviewer working in a company such as Leapforce, you could work the hours you want, when you want, all from the comfort of your own home.
Leapforce give you all the training you need so all you need to do is hand in your notice.
9. Flip Domains
Based on luck, business savvy and strategy, domain name flipping can turn out to be one of the most lucrative ways for earning a living online.
This term comes from the real estate trick which involves buying old and undervalued houses before fixing them up so as to make them more modern-looking and attractive so as to sell them for a higher prices.
In this case, we're talking about website domain names.
Hundreds if not thousands of domains expire everyday. It could be because the owner choses not to renew, they forget or have simply tranferred their website over to a new domain.
This is where domain name flipping comes in. What the domain registrars want to do is cash in on the domain that someone forgot to renew, so they offer that domain to sites like Namejet.com and offer it up to the highest bigger.
This can be a great way to buy really valuable domains at dirt cheap prices.
Domain names are the new commodity. By buying low and selling high – domain name flipping could make you a nice not-so-little profit.
10. Sell Your Handmade Goods
Earlier, we considered using websites like eBay to sell stuff you don't need. We've also discussed how you can offer varous freelancing services to work from home.
The 10th work from home opportunity involves selling your original handcrafted creations online – turning your craft or hubby into a full-time online business.
Sites like ArtFire.com and Etsy.com are full of already successful online entrepreneurs who sell their handmade good to well-matched customers who appreciate the quality of work they do and re willing to pay a premium price.
There's hundreds of different products you could potentially sell depending on what your skill area is.
Here's a few ideas: knitting, crochet, quilting, painting, needlework and sculpting, glasswork, metalwork, woodworking, greetings cards and anything else that you can make at home.
If you enjoy getting creative, this work from home opportunity's perfect for you.
Choose Any One Of These And Start Today
There you have it!
Well done – you made it through the top ten list of work from home opportunities.
Now it's time to stop dreaming about what your life could be and take action. 🙂
As I say, I've been working from home since I joined Wealthy Affiliate in 2014 and went through the free step by step make money online training.
If it's possible for me, it's possible for you too!
The most important step is the first – so don't wait until tomorrow to start taking action to make your dreams a reality.
Pick any one of these work from home opportunities and start today.
Got any questions about how to get started or have an idea of your own you'd like to share with us? Scroll down and let us know in the comments!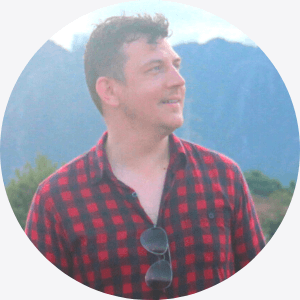 About Simon Crowe
Simon launched The Make Money Online Blog on a mission to help aspiring entrepreneurs kiss their bosses goodbye.
Get his free Affiliate Marketing Guide For Newbies to learn exactly how to make your dream business a reality.