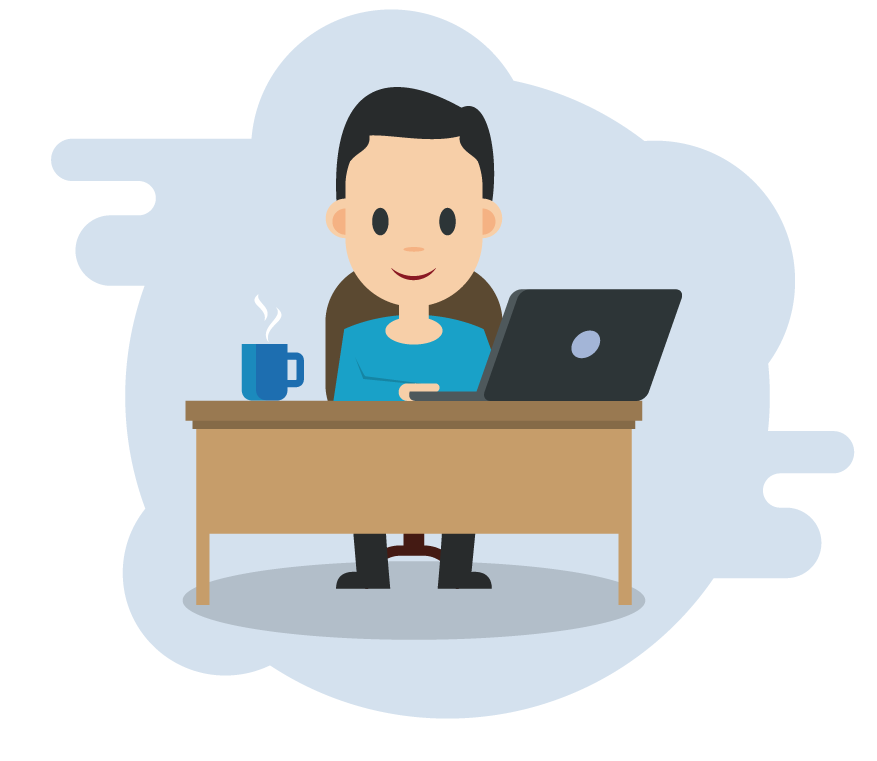 Last Update 10th May, 2017.
Welcome to the 7 step guide on how to start a WordPress blog from scratch!
Deciding to start my first blog was one of the smartest choices I ever took.
That decision to start a blog is why I'm now earning a full-time income that enables me to live the dream here in Thailand working as a volunteer.
My blogs are also the place where I have a voice to talk about stuff I love.
And best of all… I get to help people improve their lives. It doesn't get better than this!
If you've been playing with the idea of starting a WordPress blog as a way to express yourself and interact with the wonderful and growing online community but are not quite sure where or how to start then this post is for you.
Sound about right?
Good, that's exactly I was once – clueless, confused and complexed. I made this starting a WordPress blog guide with you in mind, because I've been there.
Since starting out on my blogging journey in 2014 with my first blog, I've managed to replace my regular 9-5 income, get 2,000 unique visits a day and gained a lot of skills and knowledge as I've gone on.
I think probably the most important step I ever took in the success of my blogs was making the decision to start.
This was a biggie for me, I'm an idealist at heart which means if I'm not careful I'll wait for the perfect moment, the perfect circumstances before I'll take action.
"You don't have to be great to start, but you have to start to be great". – Zig Ziglar [Tweet this]
The days of having to be a programming expert and needing to know html code before starting a blog are long gone and WordPress has opened up the playing field to anyone, even people like you and me. (Thanks WordPress!)
Because so many people ask how I set up this blog, I decided, once and for all, to give my readers a full step by step rundown of the same process I follow to create all of my blogs.
You don't need much money – as a Make Money Online Blog reader can get your domain for free and host your site for just a few bucks a month.
And you don't need to spend a ton of time on it either – follow this guide and in less than 30 minutes your blog'll be live.
So whether you're starting a blog on fashion, beauty, food, fitness or a social cause you believe in – the purpose of this how-to tutorial is to guide you through the practical steps of starting a WordPress blog from scratch.
How To Start A WordPress Blog From Scratch – Your Step-by-Step
Two things you'll need to get started
A credit or debit card (to pay for hosting)
30 minutes get everything in place
If you're ready, let's get to it and create your blog.
Step 1. Choose between a free hosting domain or a self-hosting domain
While you can start a blog on free blogging platforms like SiteRubix.com, I always recommend starting your WordPress site on your own paid-for domain. For me it's a no-brainer
If you're starting a blog on a shoestring budget then check out this tutorial: How to start a WordPress blog for free.
Here's what a free sub-domain looks like: yournewblog.siterubix.com
Here's what your self-hosted WordPress domain will look like: yournewblog.com
You can still be successful and make money online with a free hosting domain but it will take you longer without the initial upfront investment.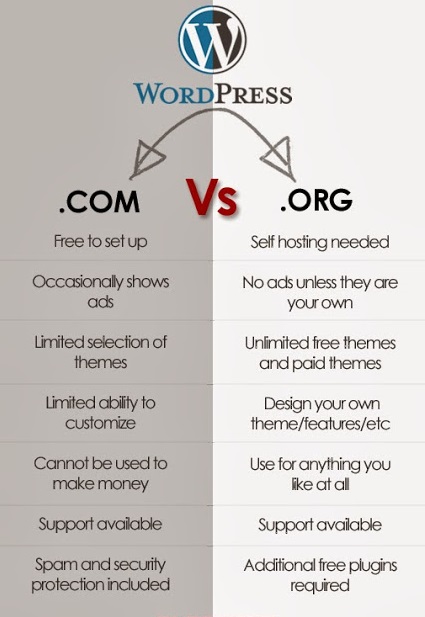 If you're starting your blog as an online business then a self-hosted WordPress blog is more professional and it means you actually own it. If you're blogging for a special cause or as a hobby, a self-hosted WordPress blog gives you full creative control over how your site looks and feels.
I built The Make Money Online Blog with a self-hosted WordPress site because it gives me full flexibility and freedom over how my site looks and gets more respect and authority in the eyes of the search engines.
Bloggers who start out on a free sub-domain often need to transfer their website to a domain of their own at a later date and this can sometimes cause problems.
For the sake of $3.95 a month for hosting, you give your blog the best possible start by giving your readers a credible first impression.
Step 2. Set up your domain and web hosting
Your domain name is what ttpe into the address bar to get to that website and is your very own piece of real estate in the virtual world. The domain for this website is www.themakemoneyonlineblog.com.
If your blog is the house you'll be building, your hosting is the land you're building it on and your domain is your online address.
So before you go ahead and buy a domain name, you'll need to set up hosting.
I recommend Bluehost as they offer free domain registrations for the first year.
A few more reasons BlueHost is the best place for web hosting…
Bluehost's support is top-notch. Expert technical support is on hand to help 24/7 via phone, live chat, or by raising a support ticket, and it's all US based with people who know what they're doing. This means if you ask a question you can expect a good and quick answer.
Bluehost's pricing is unbeatable. The Make Money Online readers can access a Bluehost discount: just $3.49 a month. That's a great price.
The web hosting is the most reliable. They've been around since 1996 and are always innovating. Bluehost host more than 2 million websites making them the most popular web hosting service provider out there.
30 day risk-free guarantee. So if for whatever reason you're not happy or no longer want to host your blog, you get all your money back.
Please note that this post contains affiliate links. If you sign up to BlueHost I will receive a small commission at no extra cost to you.
To get started, simply head over to Bluehost and you'll get to this page: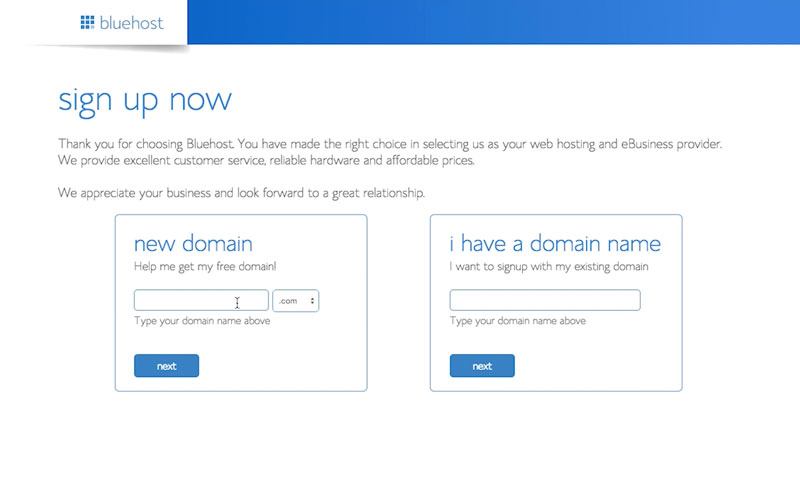 You can check the availability and register your desired domain for your new blog. I always recommend a .com domain extension if at all possible – Google just likes it and you'll find it easier to rank in the search engines going forward.
If you've already got a domain, BlueHost can host it for you and it's easy to transfer over. You can still install WordPress and have your website looking beautiful, so don't worry.
The next step is fill out the form with your contact info and choose the best plan for you: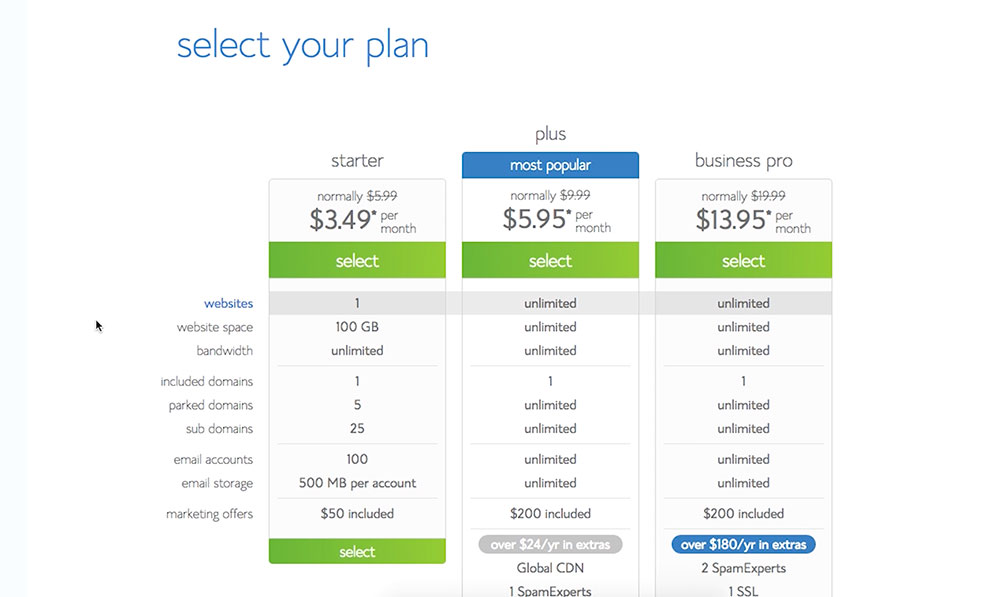 You'll see Bluehost's web hosting packages rage from $5 to $7 per month and change according to how long you want to register your domain for. You can register for one, two or three years – basically it's cheaper the longer the time period.
Worth remembering: Bluehost offers a discount for The Make Money Online Blog readers: just $3.49 a month.
Once you've gone ahead and registered your unique and new blog domain, you'll just need to confirm your email.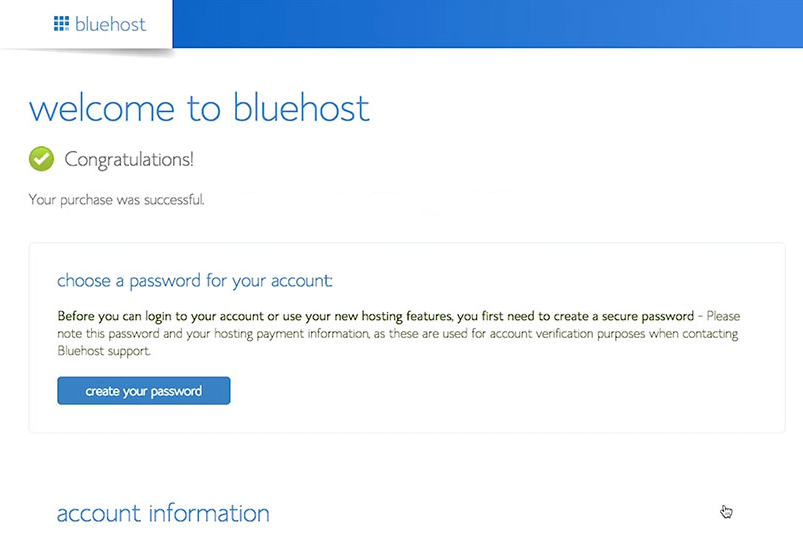 Step 3. Getting WordPress set up on your new blog
So, once you've launched your Bluehost account, you're just a few clicks away installing WordPress on your blog.
Although "install" might sound like a scary word, really it just means "click a few buttons". Plus I'm going to walk you through every step so we'll get this done in the next 20 seconds.
Ready? Go to my.bluehost.com and log in, Then once you're on the page shown below, select "website" under "hosting":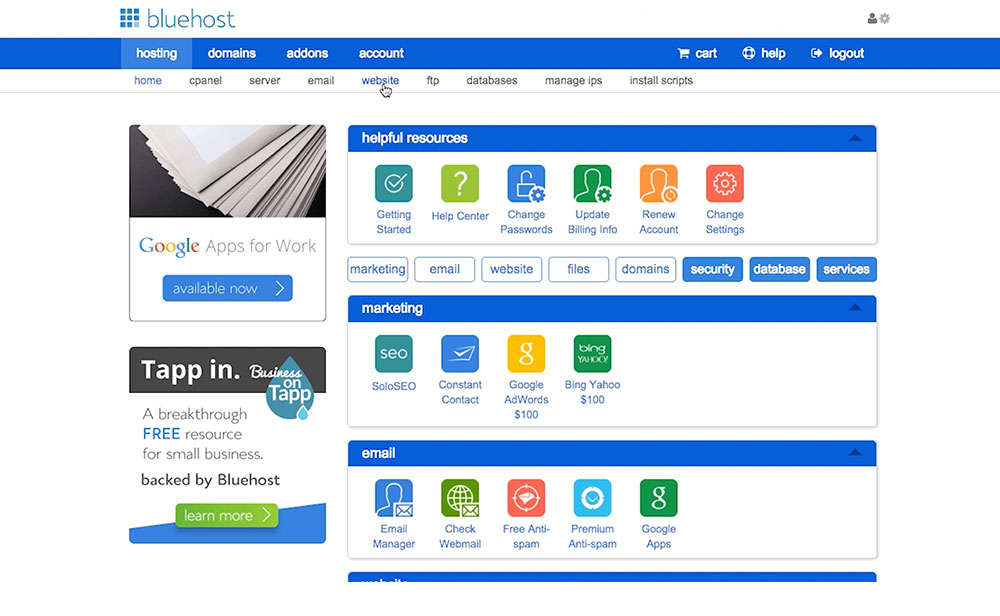 Then simply click the "Install now" link under "WordPress":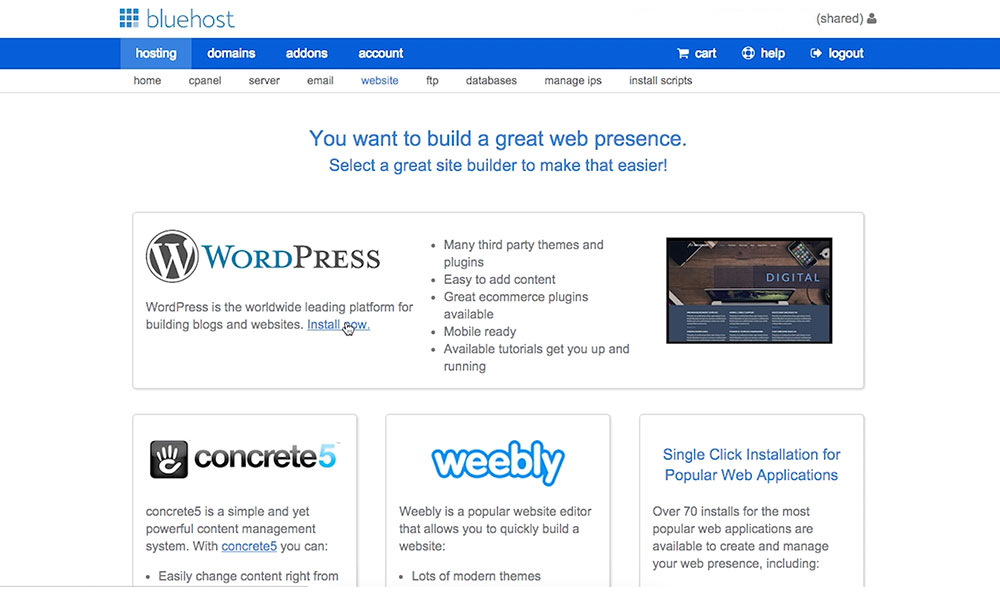 Welcome to the "One Click Install" page. Because you're awesome and we're going through this together, under "do it yourself (FREE)" you can go ahead and click "Install":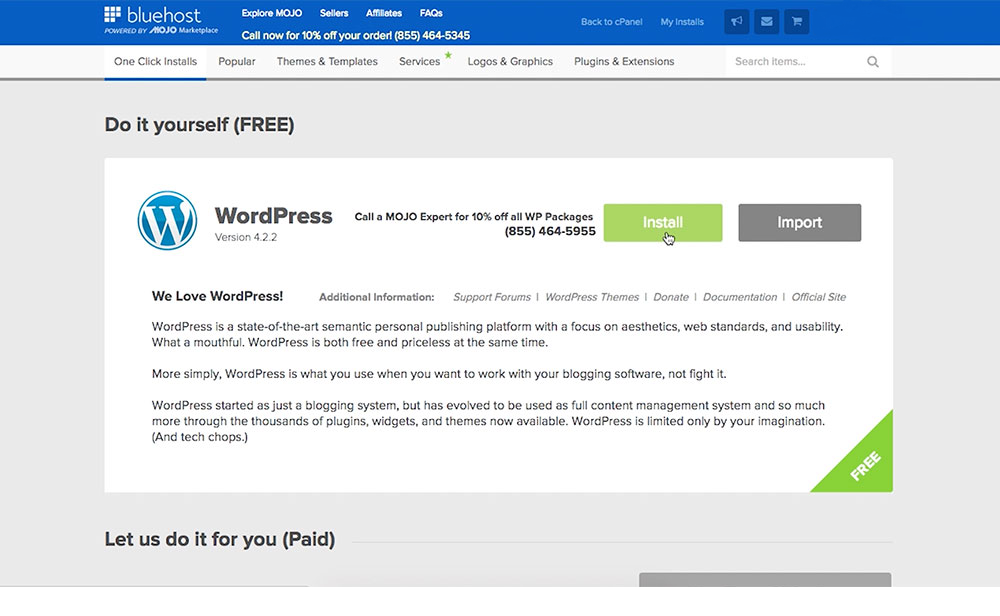 Here you just select the new domain you've just registered: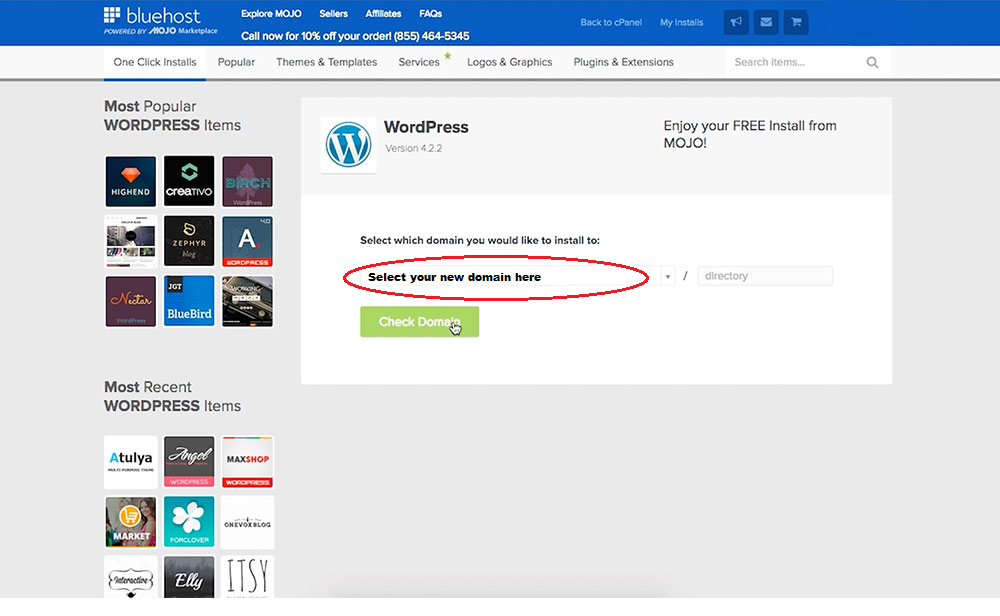 Next, I recommend you don't skip this step but take time to read and accept the terms and conditions. Click "Install Now":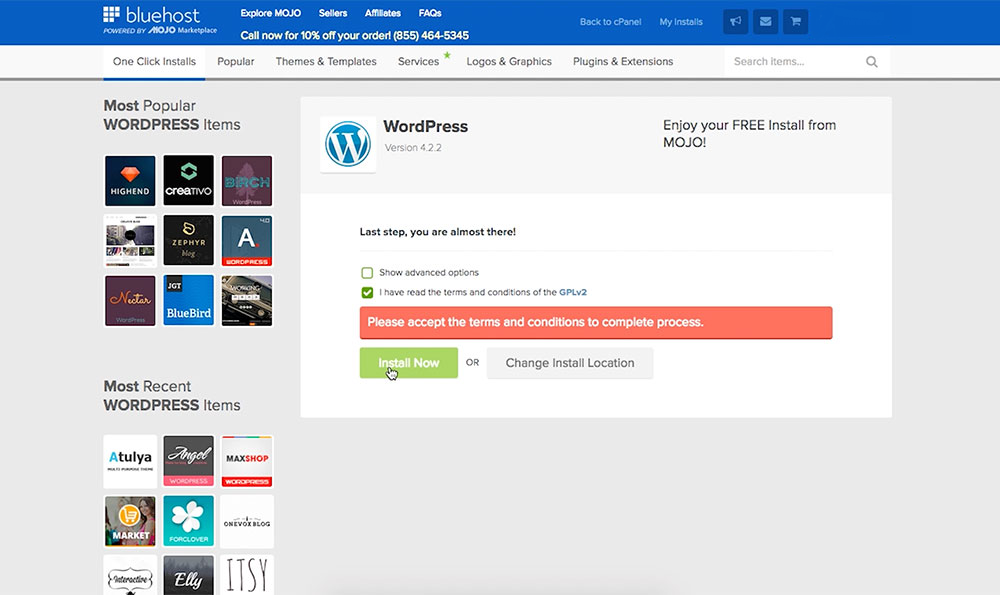 Give it a sec and…. wait for it….. you've done it! Congratulations! See, that wasn't as bad as you thought was it? : )
Now onto the next step… making your website look beautiful!
Step 4. Designing your blog (HINT: No HTML coding required)
This is the fun bit – choosing your theme! The theme you choose will determine what your website will look like but don't worry – with WordPress you've literally got hundreds of free themes to choose from.
When deciding which theme to go with moving forward, you'll want to pick a theme that's crisp, clean professional.
Most importantly, you'll want a theme that gives you the freedom and flexibility, options and complete control over the look and appearance of your blog.
There's a lot of different premium WordPress themes available, but I personally use the Schema theme because it's easy to use and also the fastest theme out there.
Here's my full Schema theme review.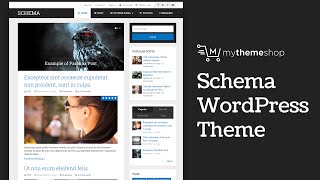 Step 5. Installing your new WordPress theme
Don;t worry – if you can install WordPress you can definitely install your theme! 🙂 But first, you're going to need to log into the WordPress to get the WordPress dashboard: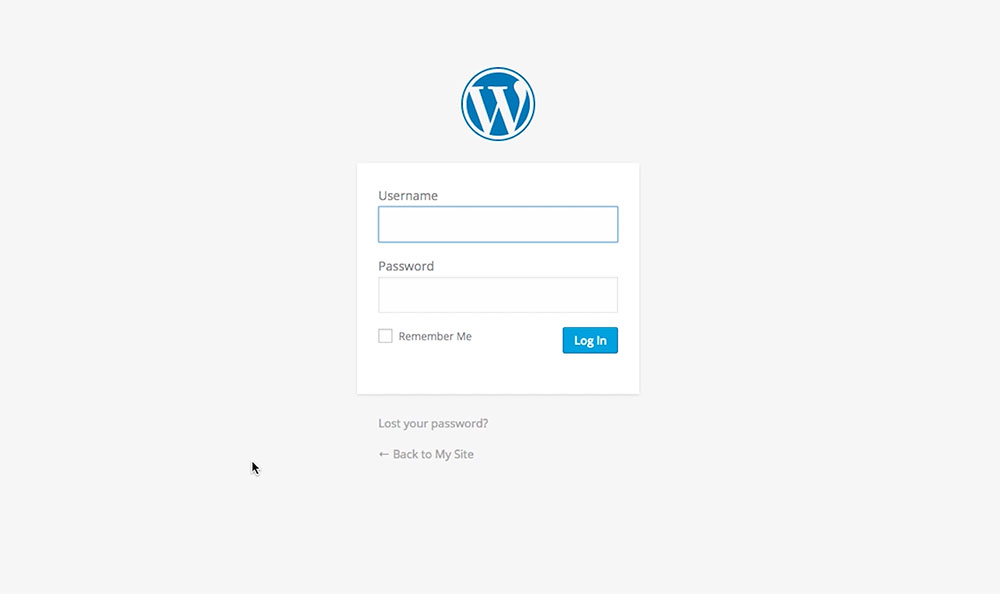 Once you're in the dashboard area, on the left hand side select Appearance > Themes and click the "Install Themes" and then click on the "Upload" link. Then, click "Choose File," select your schema.zip file (which you downloaded when you purchased Schema in the 4th step) and then click on "Install Now."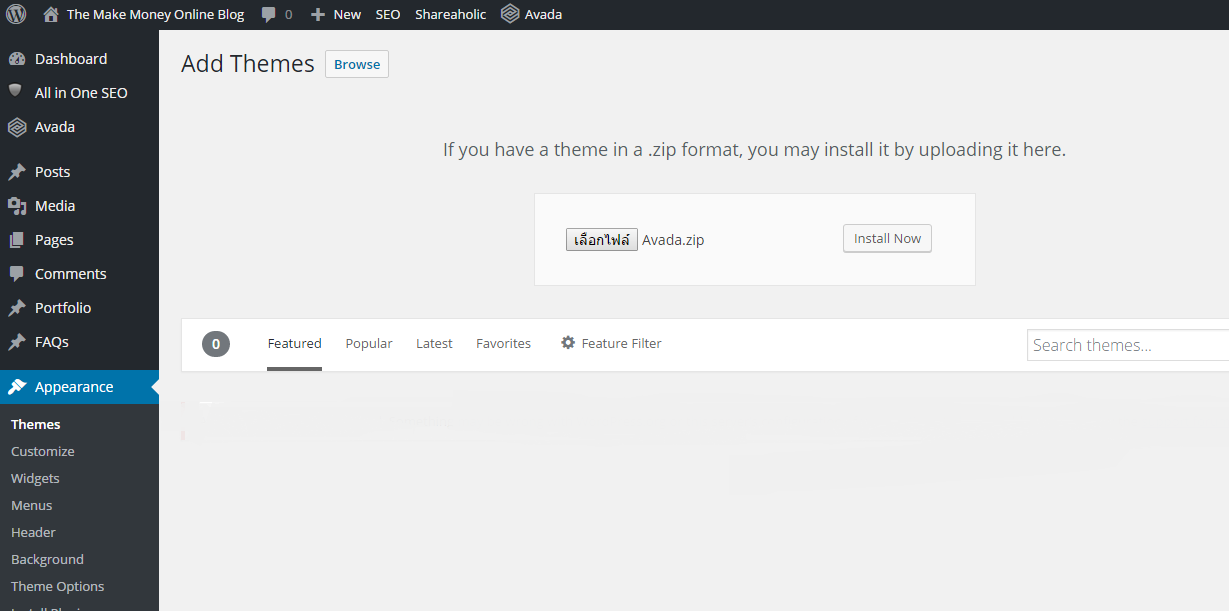 Once it's installed, your theme is ready to activate! Simply click activate and you're all set.
Your blog is LIVE!
Go ahead, type in your new domain into the address bar. Can you see it?
Sure, there's tweaks and personalisations you'll make as you go and you'll want to flesh out your site by adding content and blog posts – but your foundation is firmly in place.
The next two steps are crafted to help you just that…
Step 6. Decide what plug ins you want
A plugin is basically a way of adding to the functionality of your site. With Avada, there's only a few plugins you're goig to need.
If you can think it, there's probably a WordPress plug in for it. There are literally tens of thousands of plugins within the WordPress network and you can definitely use any of these.
Plugins are free to download and install all you have to do is click on Plugins on the left-hand side menu, then go to Add New, search for the plug in you want ad simply go ahead and install.
I recommend the following plug ins:
Akismet has a funny name but serves a great purpose in preventing your blog from getting comment spam (which is pretty prevelant). It's like a spam filter that blocks comments that are coming into your website through automated bots and spammers. (Highly recommended)
All-in-One SEO Pack gets your site ready for ranking in the search engines such as enabling you to as adding meta tags and geenrating an XML sitemap you can upload to Google webmaster tools. This helps Google find your site and rank it. (Highly recommended)
Shareaholic Share Buttons make it easy for your readers to share your content. See the nice floating share buttons on the left? They're free from Shareaholic.
If you're looking to build an email list of subscribers (highly recommended) so you can keep in touch with your readers AWeber is a solid option, it's what I use.
(Psssst…. if you haven't already, you can subscribe to The Make Money Online Blog email list and grab your free 10 day make money blogging course here.)
That's it!
Well done on setting up your first WordPress blog from scratch! You've done it! Think of how much you've accomplished already!
If you're starting a blog to make money from it take a look at Wealthy Affiliate – it's the place I learned everything about running several successful online businesses and making money from blogging.
I'm excited for you and the blogging journey that lies ahead of you – it's going to be a lot of learning but a lot of fun!
Recommended reading:
5 Ways To Drive Targeted Traffic To Your Blog
How To Make Money Online With Niche Websites
The Best Affiliate Marketing Course for Beginners
What else do you need to know to start and run a successful blog?
I'd really like to hear what you think about starting (or running) a blog this year. Do you think there will be any big changes? Do you disagree with any of the points I've made above?
Simon Crowe is on a mission to help as many people as possible kiss their bosses goodbye.
Take the free Commission Academy course to discover how to smash your online income goals and make your dream business a reality.