Creating a "unique viral income system" like DiddlyPay has become a commonplace in the make money online niche. I've noticed how product creators like Bryan Winters are constantly finding new ways to get traffic and leads to make money online.
In today's review, we're going to talk about how DiddlyPay works, if you can really make money from it, and why it's not a scam. 
DiddlyPay Review At A Glance
What Is DiddlyPay?
DiddlyPay launched just March of 2020, is cloud-based software, posed as an online marketplace where you can pay in leads instead of real money to get a product. It's formerly known as ZippoPay and is owned by Bryan Winters and Tom E Mcting.
These are the same guys behind 5 Figure Day Full Throttle, another list-building income system that fails to live up to the hype they've created. They release a new product almost every week leaving me to think their systems don't really work for them to keep on creating other sources of income. 
We're told Diddly Pay is a "viral" referral system that generates "unlimited" leads on autopilot to drive your tons of revenue. 
I've heard the words "viral", "unlimited", and "autopilot" is one sentence so many times I couldn't keep count. It would've been great if I have a good memory of those words mentioned together. Sadly, all the products having those descriptions turn out to be low-quality or a complete scam where you can't really make a sustainable income from. 
DiddlyPay Patent
Bryan says DiddlyPay has a pending patent. I've checked through the United States Patent And Trademarks Office database and Google Patents there's no mention of DiddlyPay or Bryan anywhere. 
This is always not a good sign unless they've at least provided a patent application number as proof. But nada. Unless they provide a proof, this pending patent will remain a fake claim. 
How Much Is DiddlyPay?
You can create a free DiddlyPay account by generating the number of leads required from any of the products found in the marketplace. However, to become a DiddlyPay vendor or a DiddlyPay PRO member, you have to pay $20 MONTHLY after 5 days from when paid $1 for the frontend system.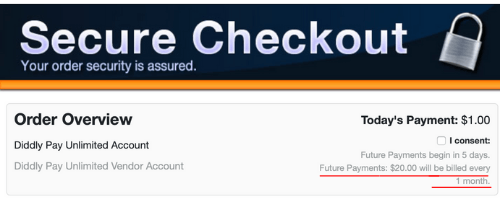 The difference is, the latter will give you the opportunity to build your own list and earn while the former will just get you the product you want. 
Paying $20 for the PRO version is just the start of the cost. There are 5 upsells costing $245 you also HAVE to pay to use the full feature of DiddlyPay. 
Upsell 1: DFY Money Accelarator ($37)
This upsell supposedly gets you 5 DFY "viral" online businesses complete with built-in products where you get 100% of the commission. Each product will have a DiddlyPay Viral Money Button where leads are generated from. 
The problem is, you'll only get leads once people click the button. Prior to that, you have to work on generating traffic yourself. Unless you know how to, your websites will be buried deep in search engines where no one can find them. 
Upsell 2: Autopilot Commission Booster ($37)
This upgrade allows a DiddlyPay vendor to earn autopilot affiliate commissions when a lead pays to become a vendor.
Again, this can only happen once people notice your website. You have to work on the traffic first before getting the advantage of this upgrade. 
Upsell 3: $500-A-Pop Machine ($67)
This upgrade will get you $500 in commissions from an auto-embedded backend webinar in your referrals' customer center. I'm just not sure if you get $500 if the referral signs up for the webinar or if it's automatically charged once they see it on the customer center. 
But seriously, who would pay for a $500 webinar you barely are interested in?
Upsell 4: 2nd Income Stream ($37)
This upsell integrates a DiddlyPay button on ShopMonopoly, another product by Bryan dubbed as 6-figure eCom software. This will then allow you to create an email list from your ShopMonopoly pages. 
But this will only work if people visit your pages, no one will see it unless you drive traffic into it. 
Upsell 5: Autopilot Traffic Rotator ($67)
This upsell is present in almost all of Bryan's products only named differently to go with the product. It supposedly features your offer in the marketplace to get traffic. 
Like what I've said on the 1st upsell of both Stuff My Inbox and Monster Mode 700k, this upgrade is useless unless you get a great campaign in place to entice people to convert. 
The Pain You Go Through When Requesting A Refund
If you plan to try this out for yourself and request for a refund, just know processing refunds from WarriorPlus is very taxing.
They promise a 30-day money-back guarantee but you have to request it from them directly.  When you process a request they come back offering different products, various free upgrades, and seems like they really don't want to give you a refund.  
How DiddlyPay Works
DiddlyPay works by setting a number of leads (email addresses) for a product as payment and building a list out of those leads to use for an email sales pitch. Once a visitor is interested in any product found in the marketplace, he can either pay in cash or pay through email addresses using your DiddlyPay button to get the product.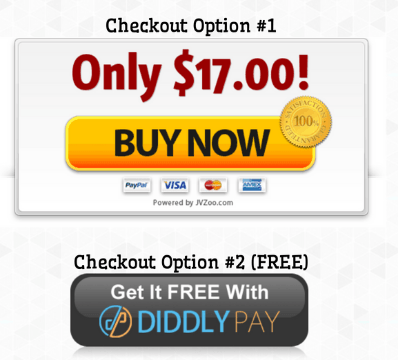 The problem is:
Like ClickBank, it doesn't filter the digital products it promotes. This means you won't know which ones are good or not because there's no rating to tell you about its quality. 
Some products posted in the marketplace are even unavailable when you click on them.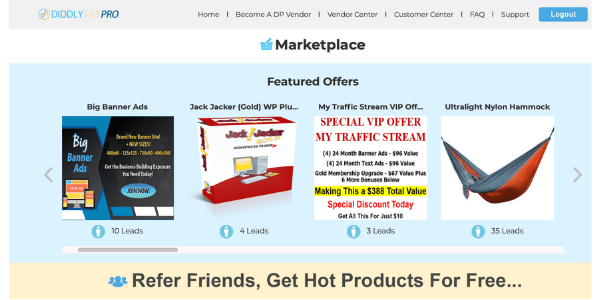 Anyway, any referrals you get will automatically be included in your list. If they buy the product instead of referring others, you also get the commission. 
The idea is you get unlimited autopilot leads using this method. 
BUT there's a missing element in the process. 
INITIAL TRAFFIC. 
For people to notice your page, you need traffic. You can always share referral links on social media but unless you have a large following, you'll only get a trickle of visitors looking at your website. 
How about paid traffic? Also, not a good choice if you're just starting out. Getting the right campaign can take time and a lot of trial and error. If you do this without experience, you'll just be flushing money down the toilet more than you could ever earn. 
Having a good head start will be your biggest obstacle in this case. 
4 Problems With DiddlyPay's Methods
Now suppose, theoretically, you were able to generate enough initial traffic to get noticed. Again, emphasis on theoretically because I don't want to get your hopes up for nothing. 
Let's just say people start noticing your page and clicks on your DiddlyPay button. What kind of traffic are you generating?
As remarkable as this system looks on paper, here are some problems you will be facing. 
1st Problem: Untargetted Traffic
Because of the email addresses as payment, people will exploit whatever they can to force people to sign up. This can mean spamming everybody they get in touch with which can result unfavorably on your business. 
Since you'll most likely resort to spamming to generate the needed leads so you can get the product, you'll end up with untargeted traffic, or people who are less likely interested in what you offer. If this happens, you're basically giving your product without getting anything profitable out of it. 
2nd Problem: More Cost
You can end up spending more money if your email list keeps getting uninterested leads. Why? Because you'll be forced to upgrade your autoresponder to keep up with increasing leads. Again, money flushed down the toilet for you. 
3rd Problem: Prone To Fraudulent Email Addresses
Since the leads you're getting are unregulated, visitors can simply trick your system with bogus emails. They can just make a couple of new emails to use in getting the products through leads. They can even do it over and over again to get as many products as they like!
4th Problem: More Is Involved Than Just Gathering Leads
If you do get targeted traffic, what will you do with your list? Do you even know how email marketing works? 
So, you see, the whole system only sounds good in theory, once you execute it, you'll realize how far off the claims are from how things really work. 
DiddlyPay promises handsome pay just by employing SOME elements needed in making money online. Some are not enough; you need to know every element for it to work. You can't make money just by building a list, you have to know what to do with that list. 
Basically, DiddlyPay is just spurting internet marketing techniques without really training you about it. 
Is DiddlyPay A Scam?
DiddlyPay is not a scam because you do get the software to generate leads. However, it's not something I'd recommend because there are a lot of loopholes on the methods they use on making money. 
As I've explained earlier, the problem doesn't just stop with traffic. Leads will just be leads unless you can move people to action using compelling campaigns. DiddlyPay doesn't teach you about it, let alone tell you the need for it. 
Don't even believe in any claims about earning tons of dollars from DiddlyPay because they themselves say it's not real. 

A Better Alternative
DiddlyPay to me employs less action than a white crayon. It won't help you skyrocket traffic much less your income. 
Stay away from this easy income-generating system that doesn't really deliver and learn how to generate a full-time income with affiliate marketing instead.
It's a proven and tested way to reach your online income goals. Wealthy Affiliate even provides the training on how you can really make money online. 
How affiliate marketing works can be summarized in 4 steps:


You don't have to take my word for it, you can see how everything works by checking the 1st 10 lessons in Wealthy Affiliate for free. 
To know why Wealthy Affiliate is my best pick in learning the nooks and crannies in making money online, here's a tell-all Wealthy Affiliate review that can explain everything you need to know. 
What's Your Take?
Do you think DiddlyPay's methods are overpromised? Were you surprised about them not telling you the important things you should know? Share your thoughts, the comments section is waiting for you. 
Hi I'm IG, nope not a kin of the social media; I've been IG since '93. I'm 1 part writer, 2 parts reader and 3 parts puzzle nerd.