My hope is you're reading this Home Profit System review before giving these guys your credit card info because I'm going to show you what it is, how it works and expose the many red flags.
I always try to point out the good and the bad about any program, but sign up to Home Profit System and you're guaranteed to lose money.
Potentially A LOT of money.
Then I'll show you how to start making money from home without paying a penny.
Sound good? Let's dive in!
Home Profit System Review At A Glance
About: Home Profit System is a work from home website promising to show you how to make $1,300 a day by investing in cryptocurrency.
Price: Minimum $250 deposit but people have lost $10,000s.
Pros: There are no pros.
Cons: Empty promises, fake testimonials, false scarcity and aggressive sales calls.
Verdict: No real work from home jobs here. You're hounded by unlicensed brokers to deposit cash you'll never see again. Home Profit System is definitely a scam to avoid.

What Is The Home Profit System?
Home Profit System is part of a bigger network of get-rich-quick scams trying to disguise itself as a legitimate work-from-home opportunities page but every link takes you to third-party investing scams.
HomeProfitSystem.org has an article talking about affiliate marketing; a popular and profitable way to start an online business that's completely legit.
There's also a video in the sidebar giving an overview of what affiliate marketing is and how it works.
Keep scrolling and they invite you to click any of the buttons on the page to "Take charge of your life!" and create your special Home Profit System login.
But hit the button and you're taken to Bitcoin Evolution, a site with the heading "Crypto can make you rich", where they try to get you to invest in Bitcoin.
It should immediately strike you as odd that the Home Profit System website talks about affiliate marketing before telling you to invest in Bitcoin. Clearly, there was a time when they were sending people something else…
From there you're asked to fill out your details to register. I did that and was redirected again to the eXcentral brokers – an unlicensed broker based in Cyprus and asked to make a minimum $250 deposit.
I politely declined the opportunity and would strongly urge anyone to put their wallet away too. As these brokers are completely unregulated, you have zero recourse for getting your money back.
How Home Profit System Really Works
HomeProfitSystem.org is one of the countless cloned websites across the web that all work in the same way:
They show celebrities like Bill Gates and Richard Branson talking about investing in cryptocurrency and sell you on the idea of making a ton of easy cash online is as easy as following these 3 steps:
Step 1: Register
Give them your name, email address and phone number and almost instantly you'll start getting annoying sales calls from agents on a commission trying to bully you to invest.
Step 2: Fund Your Account
You're told you need to invest a minimum $250 amount to start making money.
Step 3: Start Profiting
This is supposedly where their "proprietary bitcoin trading software" kicks in and does all the hard work for you so you don't have to lift a finger. If only this were true!
Is Home Profit System A Scam?
Yes, Home Profit System is a sinister scam deliberately designed to dupe you into depositing $250 with Bitcoin Evolution. You'll be bombarded with calls, text messages and emails urging you to max out your credit cards to invest ever-increasing amounts.
When it comes to making money online you've got well-known and respected affiliate marketing platforms like Wealthy Affiliate who have helped over 1.5 million budding entrepreneurs in the last 15 years to make their dream business a reality.
Then you've got the borderline scams like Click Wealth System, Cash Formula, Profits Passport and Cash Sniper that make big and bold promises about making $1,000 in 20 minutes before dumping you with a few crappy and worthless PDFs.
And finally, you've got the most dangerous and malicious type of get-rich-quick scam that milk you for all you're worth without giving it a second's thought. Home Profit System falls firmly under this category.
Today they're linking to Bitcoin Evolution but tomorrow it'll be something else you'll want to avoid. Don't even think about transferring money to them because you'll never see it again.
5 Dirty Home Profit System Secrets Exposed!
1. They Say You'll Make Crazy Cash In No Time
Nothing says "Scam!" like empty promises of fast and easy money.
Check out Home Profit System's FAQs section and they say you can't lose money by investing with them thanks to their super-duper software that "wins trades with 99.4% accuracy."
They go on to say an average member makes $1,300 per day with some making their first million in just 61 days.
Nobody, not even Warren Buffet himself can make these kinds of claims.
2. Fake Time Limit
Across the top of the website is a red banner with a fake countdown timer that says:
"WARNING: Due to extremely high media demand, we will close registration as of [insert today's date] – HURRY!"
Don't believe a word of it, it's just a ruse to get you to panic buy. Home Profit System has never and never will be mentioned in the media. The countdown resets every time you refresh the page.
3. Fake Member Testimonials
Scroll down the Bitcoin Evolution page and there's a section with success stories from members who we're told rely on the trading software to fund their luxury lifestyles.
But do a quick Google image search and you'll see these are nothing more than random stock images that have been pulled from the web:
Here's the takeaway:
With lies and deception at every level, nothing (and I mean NOTHING!) you see or hear on the Home Profit System and Bitcoin Evolution websites can be trusted.
4. You'll Get Hounded By Sales Agents To Deposit More
These guys are not satisfied with stealing $250 out of your account. They want as much as they can get.
Not a single person has ever made money investing with these guys. Worse than that, you can't even get your money back because these scumbag brokers are completely unlicensed, unregulated and hiding away in places like Ukraine and Bulgaria.
These money-hungry scum will get angry and rude, berate and insult you should you have the audacity not to instantly transfer more cash on demand. Take a look at these typical reviews and complaints from TrustPilot: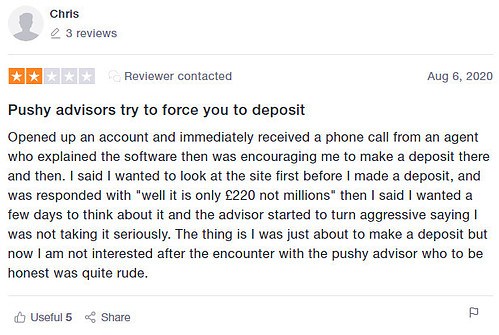 Where does it end?
Trust me, it's best not to find out!
Learn How To Make Money Online For Real
It's clear by now that putting your faith in the Home Profit System (and whatever scam they happen to be promoting) is a surefire way to lose your life savings.
But don't give up on making money online just yet because as I promised at the beginning of this review, you really CAN build a thriving internet business and I'm going to show you how.
Wealthy Affiliate is the best place to start.
Read more in my Wealthy Affiliate review here.
You'll be in good hands with their comprehensive training specifically designed to walk newbies through the entire process of making money online from beginning to end and a whole community cheering you on every step of the way.
More Home Profit System Reviews
Your Home Profit System Review
Have you bought Home Profit System?
Leave us your review below.
Good or bad, it'll be really useful to hear your experience!
Simon Crowe is on a mission to help as many people as possible kiss their bosses goodbye.
Take the free Commission Academy course to discover how to smash your online income goals and make your dream business a reality.