A make money online scam will say and do almost anything to get your money.
But is 20 Minute Cash System one of them?
In this full and frank 20 Minute Cash System review I'll cover:
How 20 Minute Cash System works
Whether you can make money with it or not
How it compares to other affiliate marketing courses
If 20 Minute Cash System is a scam or legit
Let's get started.
20 Minute Cash System Review At A Glance
About: Claims to teach how to make $1,000s in YouTube ad revenue within 20 minutes.
Price: $49.95 discounted to $4.95.
Pros: There aren't any (seriously, it's that bad)
Cons: Everything about this is fake; the owner, the testimonials, the scarcity tactics and limited pricing.
Verdict: A bogus cash-making system and most definitely a scam.

Without even turning your scam radar on full alert, you'll realize how scammy this system is. It's an online money-making system that claims to rake out $100-$273 for you.
That promise alone drives me off the edge. I'll tell you more in a bit. For now, I can tell you this system is just a fantasy-based opportunity driving your imagination to stratospheric levels but ultimately leading to a mere fizz making you crash and burn.
What Is 20 Minute Cash System?
It's basically a money-making sham hosted by ClickBetter. It's supposed to be a system that drives income-inducing traffic or visitors to you affiliate offers.
The hype here is:
With just a few clicks in 20 minutes, you can expect an avalanche of people from Youtube ad networks to see and buy your offers.
It was supposed to be made by Susan Gates or Darryl Dibetetto. It doesn't really matter. Those are just fake names used to hide the owner's true identity.
Now just think:
Will a legit system have any reason to hide its owner's true identity? I thought so too.
Looking at how the system works, the pattern is pretty similar to Website ATM, Explode My Payday, Millionaire Biz Pro and Bulletproof Profits in its claims to manipulate online traffic so you can use your affiliate link to earn a commission.
How To Start Using 20 Minute Cash System
Just head on to the website and you won't have a hard time looking for it. The scammer behind this cunningly designed the website to direct you to the sales form.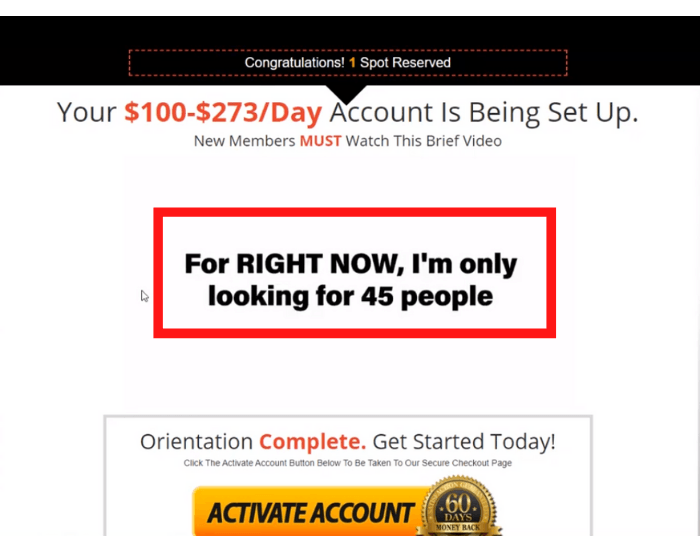 You'll see a landing page video pressing your emotional buttons by telling you how limited the offer is.
When you try to leave the page, a window pops up with a sudden price drop you can't resist. From $49.95, it crazily plummets to just $4.95!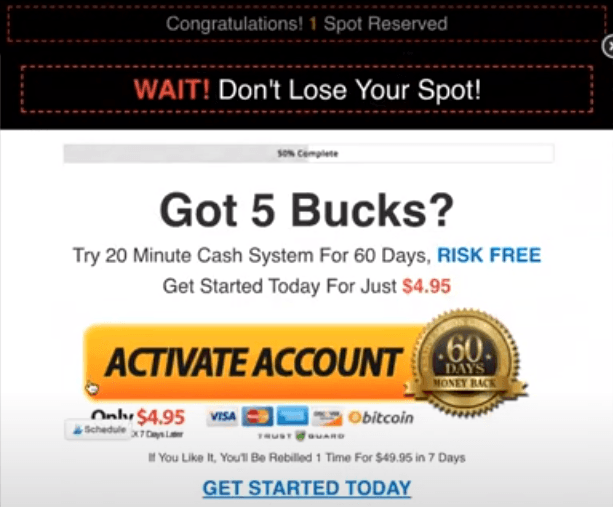 Plus he'll try to gain your trust by showing you a fake trust banner promising your information will be kept private and secure. He's trying to win you over aggressively.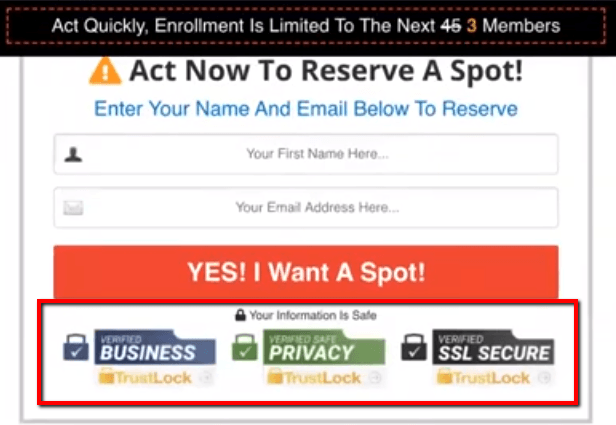 Now if you go ahead and take this bait you'll be led off to the check-out form.
Here's the kicker:
Before you complete the process you'll be taken aback by the $97 upsell! (Actually, you won't anymore because I already told you about it)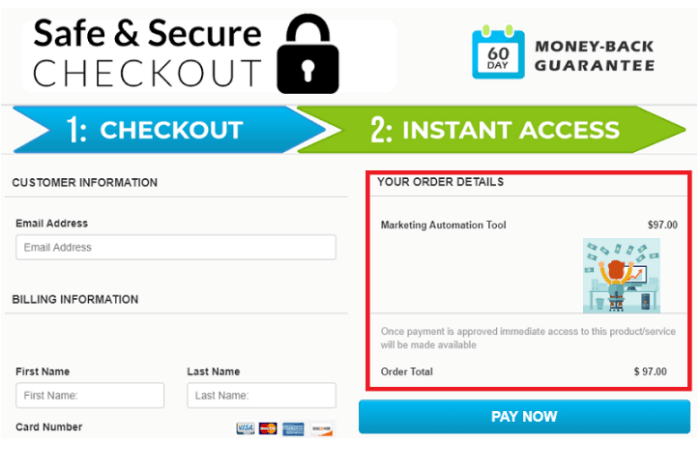 This is an old and worn-out tactic by scammers to squeeze out all the cash from you. By now they should have thought of better ways you know.
Here's something worse:
After you pay up for everything (which I hope you will never do) you'll end up with no access to the supposed "money-making machine" he's so proud of.
Have I told you enough why it's a waste of money? If not just continue reading.
Making money online isn't complicated…
This video will show you exactly how to get started. Tap to watch now »
How 20 Minute Cash System Works
20 Minute Cash System takes advantage of Youtube's Creative Commons license.
This license allows you to use other people's Youtube content and tweak it to make it your own. The scammer basically says these videos are golden nuggets just sitting around unexploited.
Here are the basic steps the scammer wants you to do:
1. Follow his 10-step training guide. (Quite a useless training guide)
2. Open a free Youtube account where you'll paste your affiliate link.
3. Repeat the process every day for 20 minutes.
But here's the thing:
Making money using this system is not as easy as what he makes you believe.
Earning from Youtube's ad network requires you to post tons of videos. It will take some time for you to start making money from this, not as near as 20 minutes per day.
Youtube's Partner Programme requires you to create content with a total of 4,000 public watching hours within a year plus at least a thousand subscribers.
Here's more:
Pasting affiliate links to these videos doesn't guarantee you'll land a sale. If you want to know more about this, you can read my Commission Trooper Review. It also works very similarly to the 20 Minutes Cash System.
Here's the gist of my point:
You can only earn with affiliate links when your traffic converts to sales because that's the only time you'll earn a commission.
You can only turn traffic into a sale if you gain the trust of your visitors by making quality content not by tweaking other's people's content.
Think about it:
Youtube content creators do not earn from reusing other's people's content. They put the effort to make their own and that's how they gain trust. When they gained people's trust traffic will start pouring in, they'll be able to establish their own brand and be an authority on the niche they are working on.
Rehashed videos won't make you authority so people won't trust your copied content.
20 Minute Cash System Red Flags
1. Uses ClickBetter
ClickBetter is quite infamous for being a payment clearance for money-making scams. So if you see a ClickBetter logo in any money-making opportunity you come across with, find the nearest exit.
2. Focuses On Hype
Instead of explaining to you how money is generated from following their given steps, they'll focus on how you'll live a phony wealthy life: all vacation and no bills. If this was a legit system it will all be too easy to explain where the money comes from so they can draw people than to entice them using their dream lifestyle.
3. Fake Owner
Other than being mentioned from the website and some reviews, you won't hear more about Susan Gates or Darryl Dibetetto. There's no way to know for sure who they are and if they really are money-making experts.
I don't know about you but I don't fancy handing out my credit card details to people who are not even honest enough to introduce who they really are.
4. Fake Testimonials
Almost all of the time, when an opportunity has no owner behind it, they resort to fake testimonials to build trust. I actually find it funny why they think it will work. After all, we'll eventually find out the testimonials come from actors hired to make fake statements.
Want proof? Sure!

Another thing, instead of explaining how the money is generated, these actors are fed with scripts that says "I've made thousands in just a few hours" or "This product has given me the life I wanted".
If they were legit, they won't need a script to explain why the product is useful and how money was actually made.
5. Fake Scarcity Tactics
This is another red flag convincing me 20 Minutes Cash System is a fraud.

The owner tells you this system is limited to 45 people and only 3 slots are left. But even if someone signs up for this there will still be 3 slots left. It's actually insulting how they believe people won't be wise enough to fall for this.
6. Fake Price Downsize
Not interested to fork out $49.95? There's a 90% discount popping up before you can leave the page. There's going down this low just so they can make some money out from you but in the end, you'll be faced with an upsell almost twice the regular price. After that, you won't even get the system they promised.
Is 20 Minute Cash System A Scam?
It absolutely is! I don't have a thin strand of doubt about that. I won't even lose sleep saying it's a scam. All the usual red flags for scams are ticked off in 20 Minutes Cash System.
Even if it's legit. I still won't give it a little bit of chance. You can't really make decent money from reusing other people's video content. This opportunity is a very lazy way to make a living.
A legit opportunity online or offline requires time and effort, get-rich-quick schemes won't get you anywhere.
20 Minute Cash System Closing Thoughts
Making money online through an affiliate system requires good quality work. It requires you to become an authority in a niche so people can trust you and in what you promote.
An authority can only be built if you take the time and effort to build quality content. There's no shortcut and that's the truth. You can keep looking for that shiny easy-access but I tell you it's a waste of time. If you used that time to build a legit website with quality content, you'll be earning by now.
Remember this:
Visitors only buy something with value even if they have all the money in the world to waste. But most people don't have that luxury so they'll always want the best value for their hard-earned cash. So they'll always buy something that will give them satisfaction.
If you want to know the best way around affiliate marketing, check out this in-depth Wealthy Affiliate review.
There are great opportunities in making money online, but only if you're ready to do your share. This I can assure you though, the work you put in will be worth it.
Questions? Comments?
Share your thoughts in the comment section below, we'd love to hear what you have to say.
Simon Crowe is on a mission to help as many people as possible kiss their bosses goodbye.
Take the free Commission Academy course to discover how to smash your online income goals and make your dream business a reality.