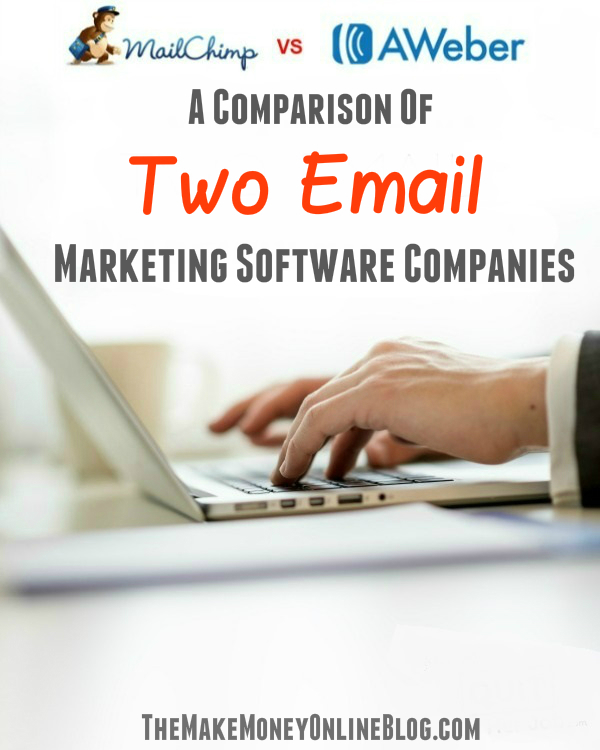 Last Update 20th September, 2016.
As most of my regular readers are aware, I recently switched my email marketing software from Mailchimp over to AWeber and I thought that it would be interesting to compare my experiences with these two email marketing software companies.
If you're not already using email marketing your blog or website I highly recommend you do so. Building an email list is one of the best ways to make money with your blog.
Building a list of email addresses is a powerful way to build your website brand and online presence within your niche. When someone gives you their email address they are giving you permission to contact them.
You can then send specific information to your targeted audience about the services and products you offer. Email marketing is the number way, in my view, for bloggers to build personal connections and trust with their readers.
Any good online entrepreneur recognises the enormous potential that email marketing can open up in terms of turning casual readers into loyal subscribers who value your opinion within your chosen area and are ready to purchase something you recommend.
It's easy to start building an email list – simply offer something of value in return for their email address. After that, just make your emails super useful so that they want to click open every time an email pops into their inbox.
Using the right email marketing software, you're able to create a series of emails that are sent out automatically to every new subscriber.
Whether you want to promote your latest blog posts and recommend certain products or services that will seriously help your readers – building a list of email subscribers is the best way to do this.
So now let's take a look at a comparison of the two biggies in the world of email marketing software companies: AWeber and MailChimp.
There's a constant debate amongst blogger and website owners about which email marketing software company to use.
So, for what it's worth, let me wade in with what I think, based on my own experiences of the two.
A Brief Overview

AWeber
AWeber has over 120,000 small business owners, entrepreneurs and bloggers from every country in the world who use their email marketing software.
AWeber launched sixteen years ago branding itself as the 'Original Autoresponder Provider' with industry-leading deliverability.
It has everything that you need to build an email list: an easy to design web sign up form, the ability to collect and manage subscribers, autoresponder follow ups, and of course, the email sending software.
You can also track the percentage of subscribers opening your emails and clicks on links. AWeber has fantastic customer support with it's 24 hour live chat.
One standout feature of AWeber is the free 30-day trial, with a more than reasonable pricing plan after that, (see below for pricing) making it easy and risk-free to build an email list.

MailChimp
MailChimp boasts over 7 million users and sends over 500 million email a day.
MailChimp has all of the features that AWeber has for email campaigns: custom forms, email creator and sender, an autoresponder and analytics. MailChimp promotes its mobile campaigns too if you're considering SMS direct mail.
The pricing structure is really clear, based on your numbers of subscribers. MailChimp has a free option if you have less than 2,000 email subscribers.
Okay, so both sound great so far. But still, which should you choose? Let's break down their pros and cons.
Pricing
Pricing a big factor when choosing which email marketing software company to use so let's break it down.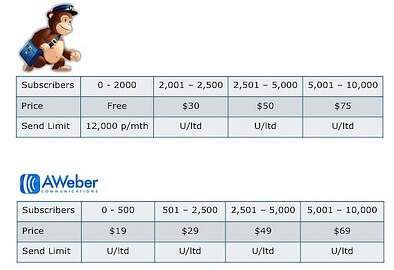 If you're a beginner to email marketing and just starting to build an emaiI list the with MailChimp sending up to 12,000 emails to 2,000 subscribers is completely free.
You don't have to give any credit card details and there's no minimum contract. Of course, a free email marketing service won't come with bells and whistles like the upgraded options, so you'll miss out on automation, email chat and support, and delivery by time zone.
AWeber offers your first month for free as its free 30-day trial, followed by $10 a month for up to 2,500 subscribers. What's the difference in the service offered?
With AWeber you get excellent customer service and autoresponders, just like MailChimp, but you also have access to over 700 email templates and 6,000 stock images.
Designing Your Email and Signup Forms
Both AWeber and MailChimp have simple email and sign up form templates you can use. You don't need to know any coding for both so they're user friendly and customisable.
With MailChimp you can select sections and insert into your emails, add images, text, links and social buttons. You can send test emails to yourself and edit anytime.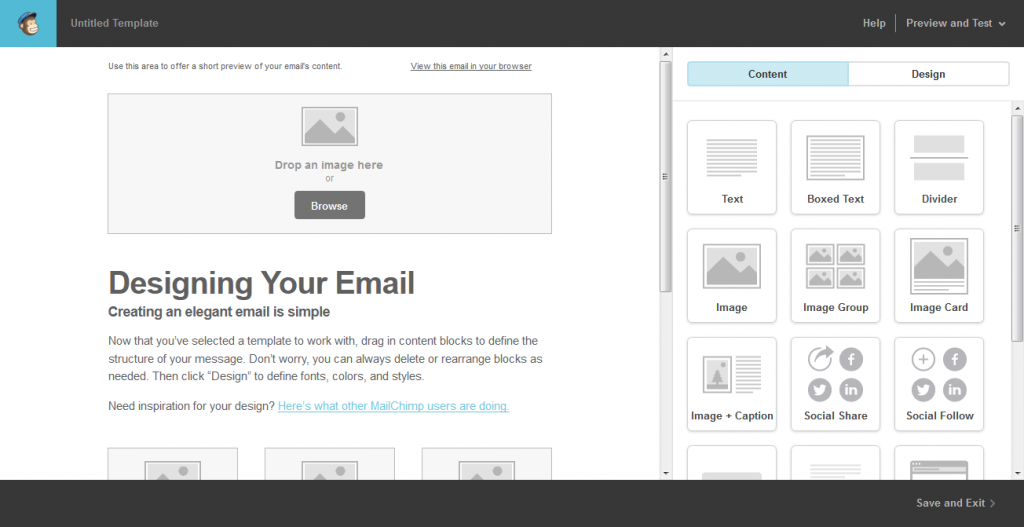 AWeber is even easier for beginners as you simply need to choose a drag and drop template (mobile responsive) and input your content.
There are hundreds of templates to choose from – over 700 in fact – or if you want to go pro then you have a have a template specifically designed for you and your online business.
It's easy to customise your emails and web forms, simply adjust the layout, font, colour, images as you wish.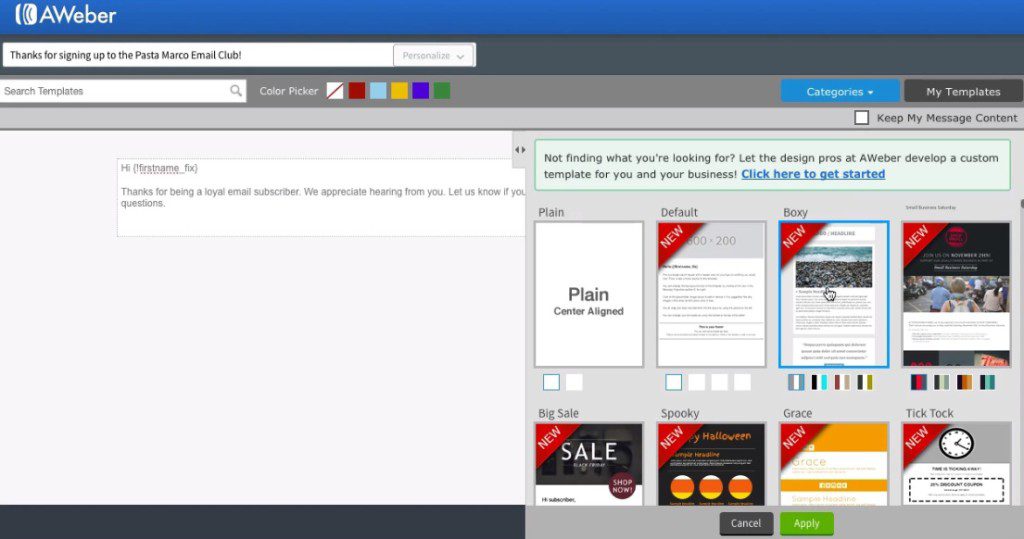 When I choose to switch from MailChimp to Aweber, cost was of course a factor, but I also wanted more control, more flexibility over the design of my emails and web forms.
Overall, I feel AWeber gives me more options, it's user-friendly and easy to use.
Autoresponders
Every emailing marketing software company will offer an autoresponder service – an automated list of emails which are sent out to your email subscribers once they sign up.
You can choose the time intervals of when you want your emails to be sent out and you can send a spontaneous email (broadcast email) at any time you like if you have a special promotion or important news update you need to send to your readers.
When a customer opts in via your web form and decides they want to receive your emails – you'll want to send an initial thank you email and follow them up with a list of emails that offer useful and high value content.
Exactly what you send out will, of course, depend on what niche you are in and what your website is about.
At TheMakeMoneyOnlineBlog.com I offer a free 7 Day Email Course on how to make money online where I go through the steps to building an online business.
Many bloggers use their email lists to keep people up to date with their recent blog posts.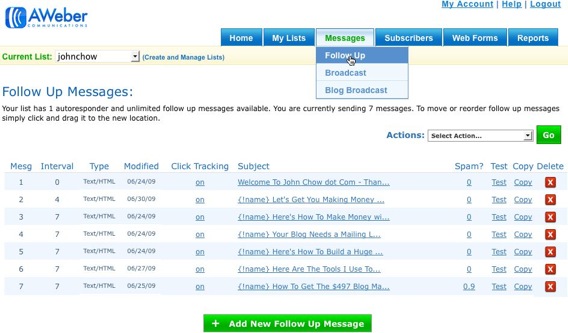 The good news is that both AWeber and MailChimp offer autoresponders that are easy to use and do what they're supposed to do.
Both allow you to see email opening statistics and clicks on links to monitor your email marketing performance.
Both allow you to schedule the days and times that the emails should be delivered and any new signups will receive them in a sequential order.
It's worth nothing that MailChimp's email autoresponder software isn't available for free customers so you'll need to upgrade before having access to this feature.
Deliverability
Of course, the whole purpose of an email marketing compaign is you want your customers to open and click through your email. To state the obvious, for this to happen, you want to be confident that your email will arrive in their email inbox in the first place.
Email marketing software companies like AWeber and MailChimp have reputations with the main email providers like Gmail and Hotmail.
Put simply, if the two don't get along, there's a higher chance your emails will bounce into the SPAM folder.
Email providers work hard to try and combat SPAM to give their customers a better experience by receiving more of the emails they want, and less of the ones they don't.
That's why it's important to know that both AWeber and MailChimp have a good track record with email providers.
A quick search online tells us the general consensus is that AWeber has the best deliverability rates in the industry and they themselves promise a 99% deliverability rate.
That's reassuring!
Analytics
Both AWeber and MailChimp have extensive tracking capabilities.
Both allow you to really understand your customers so that you can learn who they are, such as what country they view your email in and what email provider they use; and what type of content they like and build that into future campaigns.
You can also split them off into lists and send them different communications based on their activity history and preferences. This information i vital if you're looking to maximise sales.
You can track your sales through AWeber so you can see what email has made you money and therefore is most successful.
The analytics dashboard gives you a clear overview of opens and clicks with clear charts. You can see exactly where they've clicked so you can build up a picture of what content is interesting for them.
It's also really easy to see who has unsubscribed and via which email so you can adjust your autoresponder series accordingly.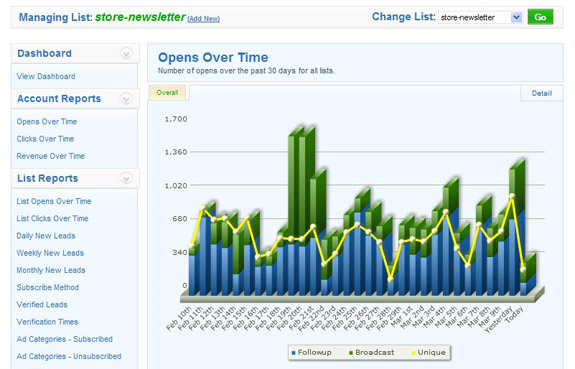 MailChimp makes it easier to do A/B testing than AWeber.
A/B testing is useful because it allows you to split test your emails and forms, find out which one performs better and improve your click through rate.
Support
Whether you're an email marketing pro of you've never used email marketing software before, the chances are you'll have some questions along the way and will need support.
You might be struggling with a certain email template, want to know how to optimise your emails, they may be an issue you need immediate help with. Whatever it is, an email marketing software company like AWeber or MailChimp has to provide support.
This is where AWeber blows MailChimp out of the water by some distance. AWeber provides support via telephone, email, and web chat every day of the week. Their support stops at 8pm during the week and 5pm on weekends.
This is compared to MailChimp's support which is nothing more than a contact form.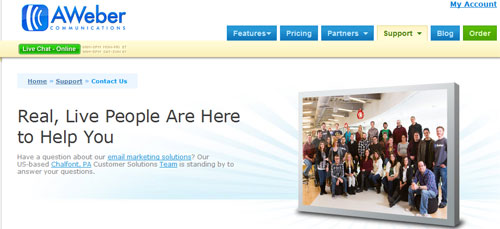 For me and my online businesses, when I need help I need it now. Waiting around for a response isn't really an option, especially if it's an urgent issue.
In fact, on the 10th March, 2016 AWeber was presented with a Gold Stevie® award for best Business Service Industry – Contact Center of the Year, in the tenth annual Stevie Awards for Sales & Customer Service.
I can't say I'm surprised – every contact I've had with them has been quick and superb. Any technical query or issue has been resolved immediately.
Where both email marketing software companies excel is with their helpful resources and how-to guides.
Whether it's techniques on the strategic email marketing side or questions about the practical use of the email marketing tools, both AWeber and MailChimp have ideas blogs for you to take inspiration from and keep up with the latest trends.
AWeber also provides clear information on switching from other email providers.


Using Your Email Marketing With Affiliate Marketing
If you're wanting to use email marketing to support your affiliate marketing efforts, the chances are your emails will contain link to your own website or blog or be referral links to third parties. MailChimp doesn't really like them.
It doesn't outright ban affiliate links, but if you seem to be adding to many links to your emails, or if MailChimp doesn't like some of the content you're promoting – they will come down hard on you.
You risk being shut down completely and they can do this without warning.
Linking Your Email Marketing With Social Media
Both AWeber and MailChimp keep up to date with industry trends and tailor their marketing software to meet their customers' needs.
They've both developed integration with social media, which is a great option for those who incorporate it into their marketing strategy.
You can send your Twitter and Facebook followers a link to your latest email and see the reports on who clicked on it. As with all things social media, this link has a chance of being shared to a wider audience, further spreading your message.
Both MailChimp and AWeber have recognised that their customers might want to quickly edit something or view their campaign's performance while on the go. That's why they've both developed mobile apps so you can manage your email compaigns and view reports directly from your mobile.
You can even design emails on the app and keep up to date with your team.
I especially like the AWeber app feature which allows you to use your mobile to send texts to your subscribers as another way to communicate with them.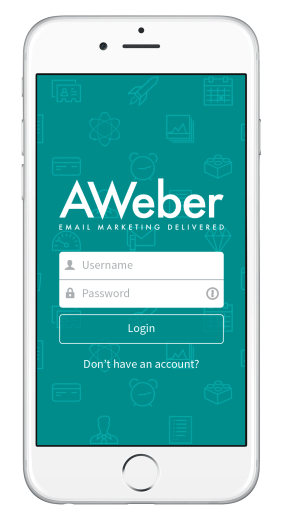 The Email Marketing Software Comparison – The Final Verdict
When choosing which email marketing company to sign up to, it's important to think about your needs, not just now but into the near future.
While you maybe be a newbie to making money online and while may only have a few email subscribers now and could perhaps get away with using the basic, free service from MailChimp, I'm not sure that you'd be happy with their prices and service as you grow.
This is ultimately why I decided to switch from MailChimp  and take AWeber up on their 30 day free trial.
It's very easy to set up an account and an email campaign using either email marketing software company, but less easy to switch later down the line (although not impossible).
So if I were to start from scratch, which provider would I choose?
Taking into account the harsh restrictions MailChimp put on the use of affiliate links and the lack of support it offers – the winner of this comparison would have to be AWeber.
Try AWeber free for 30 days! – AWeber Communicati
Ever used MailChimp or AWeber? Which email marketing software company would you choose?
Share your own experiences in the comments below.