Traffic Cloud poses to be a hands-free traffic-generating system "unleashing the power of social media". But it's always easier said than proven. In this review, you'll get to know why Traffic Cloud won't get you the traffic you need to monetize your website offers.
Traffic Cloud works a lot like Traffic Unleashed, only the latter uses quotes and memes. But just like Traffic Unleashed, the traffic method promoted is less likely to work.
I'll go through what Traffic Cloud really is, how it works, and its cons so you can convince yourself of turning away from this product.
I won't leave you hanging though, I'll cap everything off by telling you of a better alternative you should try.
Traffic Cloud Review At A Glance
About: Traffic Cloud is a GIF and image-generating software to be shared on social media supposedly helping you drive traffic to your online business.
Price: The front-end costs from $27-$37 while the 2 upsells total to $134.
Pros: The software does generate the content you can use on social media sites.
Cons: Using this traffic method won't get you huge traffic especially if you don't have a large following on social sites.
Verdict: Traffic Cloud is a low-quality traffic solution. Driving people to your website with this method will result in few clicks and even fewer sales.

An Overview Of Traffic Cloud
Traffic Cloud is said to be a "brand new" traffic software that creates clickable posts you can share on Twitter, LinkedIn, and Blogger to drive traffic to your offers. It is created by Eric Holmlund with his colleagues in Firelaunchers.com and launched in May 2020.
We're told it allows you to create unlimited compelling content for social sites to siphon "100% free traffic in just a few clicks". Using Traffic Cloud supposedly eliminates your need for paid ads or manual labor to get traffic and in turn commissions.
The sales page says it's newbie-friendly but as I've said earlier since you already have to have your own established online income source, it's not really good for beginners.
The whole hype of Traffic Cloud is about providing you with a massive collection of lead magnets, in this case, images and GIFS, you can embed your website or offers on so you can get free traffic minus the tedious work.
The kicker is:
There's a huge setback with the traffic method used and the initial traffic source which I'll explain to you as I go through the members' area in a bit.
Who is Traffic Cloud For?
Traffic Cloud is for internet marketers or bloggers who want fast unreliable traffic solutions.
Frankly, the most reliable free traffic sources need time and effort to cultivate. Even paying for solo ads need time and effort because you have to go through the trial and error of crafting the right campaign for the right audience.
Now if you want a reliable and sustainable traffic solution especially for affiliate marketing, Simon can tell you about it.
If you'd like in-depth and step-by-step training on traffic, Wealthy Affiliate will be able to teach you how.
How Much Is Traffic Cloud?
Traffic Cloud has 2 front-end versions. The Personal Use version is sold at $27 while the Agency Rights version, which allows you to earn from selling the content generated, is sold at $37.
There are also 2 upsells you can buy. The first upsell, sold at $37, offers to get you more traffic sources by adding Tumblr, Pinterest, and Imgur to the list. It's also said to get you an additional 2 Billion images you can share as content. (I'll explain later why you don't actually need to pay for it)
The 2nd upsell is a Reseller Rights priced at $97. Obviously, it allows you to sell the software and keep all the commissions. I hardly believe anybody is interested in buying this for you so don't waste your $97.
Traffic Cloud's Members' Area
Inside Traffic Cloud's members' area, you'll get the main feature which is a campaign creator using GIFs and images, analytic reports on the campaigns, and training.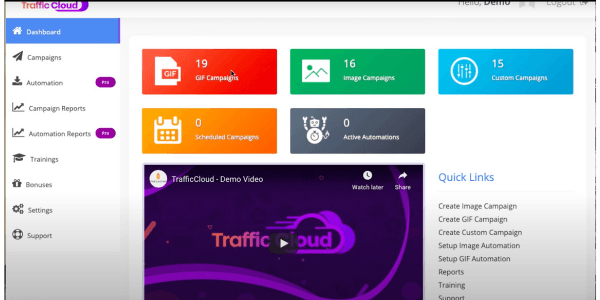 Here's how you make a GIF campaign: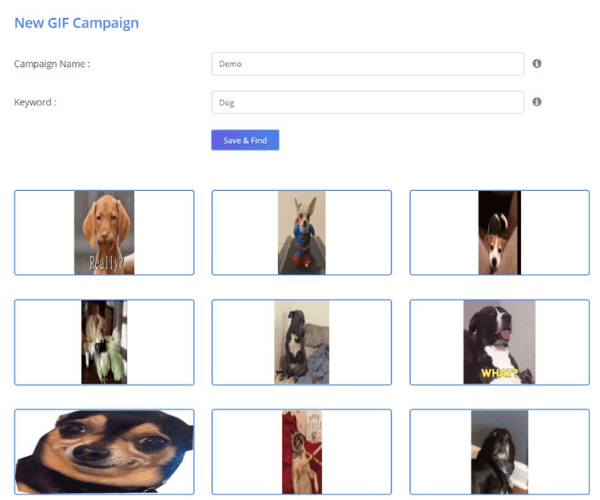 You simply assign a name, link, and keyword then choose which GIF to use. As you can see, although there are 1000s of GIFs available, you won't be able to utilize everything, just those related to your niche.
There's no sense sharing a dog GIF if it redirects to an offer about health and wellness.
Creating an image campaign is quite similar. You also need to name the campaign, embed your offer link, and choose an image to use.
Now here's the kicker about the images: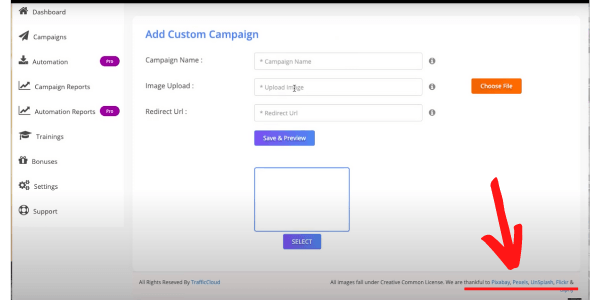 Traffic Cloud proudly says it offers to get you billions of images to use. Again, you can only use those related to your niche. But here's what I really want to tell you about: the images you get are from free stock photos on Pixabay, Pexels, Unsplash, and more!
You don't actually have to pay Traffic Cloud to use those images, you can simply go to each stock photo site. Absurdly, the sales page puts a $192,865 value on those stock images when in reality, you can access them without cost!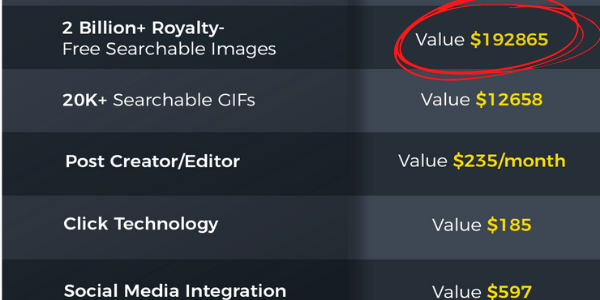 Traffic Cloud Training
If you expect in-depth traffic training, you'll end up totally frustrated. Each video is barely 10 minutes long and only talks about how you can create campaigns and integrate GIFs and images on various social sites.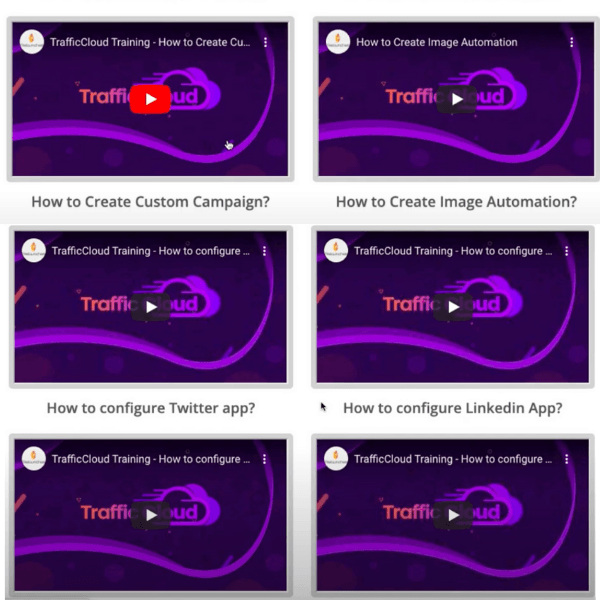 You really have a takeaway in the training which you can use outside Traffic Cloud. It's all technically about Traffic Cloud.
If Eric decides to shut Traffic Cloud down, you won't be left with anything of value to start something else with.
On the other hand, if you opt for real in-depth training like Wealthy Affiliate. Although it's mainly about affiliate marketing, you'll still be able to learn other skills like choosing a niche, putting up a website, and establishing a traffic source you can use with other online businesses.
Campaign And Automation Reports
I honestly think this is the only good feature in Traffic Cloud. You'll get to know which campaigns work and what doesn't.
The problem is:
This will be pointless if the campaigns you make aren't compelling enough right from the start and the traffic source, you're given will never give you the visitors you expect.
What will it analyze when there's no traffic activity, right?
Traffic Source
I don't really rely on social sites to get initial traffic.
First, you should have a large established following if you want people to notice your content.
Second, your network is not targeted traffic. In most cases this will be friends and family with different interests, only a handful will click on it and fewer will actually be moved to convert.
Among the 6 social networks provided, only Twitter and Pinterest have a huge audience. LinkedIn too but because it's more of a business network, you'll hardly get anyone interested in your GIFs. People are there either to look for a job or find someone to do a job.
Eric basically wants you to think that by posting GIFs you'll get tons of traffic from everywhere. The reality is, that's not the case. Only a trickle of people in your network will lay eyes on it and anyone will hardly click on it.
The bottom line is, social networks won't get you the traffic you need for your offers to convert.
Cons Of Traffic Cloud
1. Uses Recycled Statistics
In the sales page you'll see a seeming proof of stats about an increase in sales by using the method taught in Traffic cloud. However, it's the same one you'll see on another product peddling PLRs launched by Firelaunchers, Time Management Expertise.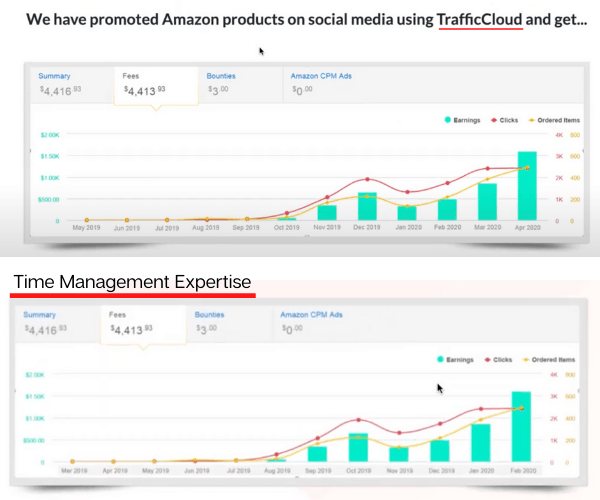 2. The FAQ Doesn't Jibe With The Disclaimer
Answering the question of how much money you can make with Traffic Cloud, the FAQ section says there's no limit. But if you head on to the disclaimer page, you'll feel they're telling a different story. This time, they won't guarantee you anything.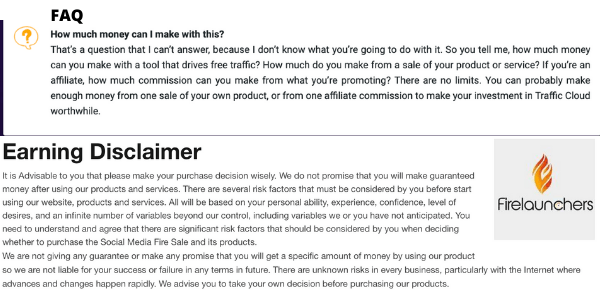 While it's good they didn't make blatant income claims, it also implies investing in this might be a bad idea because you'll not earn anything at all.
The main purpose of you wanting to drive traffic is to earn commissions from your offers. If the traffic is not guaranteed, what's the use of paying for this software?
3. Inadequate Training
There's no real value to the training videos provided.
4. The Image Source Is Misleading
While the sales page tells you Traffic Cloud provides you with billions of images you can use as content, the reality is these are free stock images from other sources.
Is Traffic Cloud A Scam?
No, Traffic Cloud is not a scam because you can really use it to make posts for social sites. However, the overall method won't get you the traffic you expect so paying for this is useless.
A Better Alternative
True, traffic is the lifeblood of online businesses. But using Traffic Cloud won't get the blood flowing.
Instead of relying on this quick fix, it's better to invest in learning about sustainable traffic methods.
Wealthy Affiliate doesn't just teach traffic, it mainly teaches you how to make money with affiliate marketing using the traffic method you're taught.
If you want to learn more about how it works, head on to this Wealthy Affiliate review.
What's Your Take?
Were you disappointed with how Traffic Cloud really works? Did you think it's a bad software to invest on? Share your thoughts, the comments section is ready for you.
Simon Crowe is on a mission to help as many people as possible kiss their bosses goodbye.
Take the free Commission Academy course to discover how to smash your online income goals and make your dream business a reality.