If you are looking for legitimate ways to make money online then chances are you've come across TimeBucks – the rewards site that pays cash for watching videos, installing apps, playing games and even taking selfies…
But with a 1 out of a possible 5-star rating on PissedConsumer and negative reviews complaining of foul play across the web, is TimeBucks a scam or a legit site worth signing up to and if so, how much money can you really make?
Here's what I found out after trying TimeBucks for a week:
TimeBucks Review At A Glance
About: TimeBucks is a survey platform owned by the Australian Clearing House.
Price: Signing up is free.
Pros: Lots of money-making choices. They pay out and pay in cash.
Cons: Low income potential.
Verdict: TimeBucks is legit but opportunities like this are only good if you have a lot of time to spare. How much you do make won't be enough to cover expenses.

What Is TimeBucks Exactly?
TimeBucks is not your typical survey site. I mean, yes TimeBucks members make money taking surveys but there are at least half a dozen extra money-making methods you can choose from.
Rather, TimeBucks is a rewards site similar to other get-paid-to sites I've reviewed here on the blog like:
They all run on the idea you can make easy cash completing short and simple tasks but as you're about to see, the reality is you'll never make a ton of money doing this.
Quick-fire stats:
According to their about page, TimeBucks was launched in 2014 and owned by Australian Clearing House.
You can join from any country and there's no approval process.
You must be 18+ to join
Timebucks is definitely one of the many legit rewards sites out there, but the truth is they can never give you big enough monthly earnings to make it worth your time and effort.
If you are looking to replace your full-time income then check out this program. It's what I followed to make more than $7,000 per month (including a few $1,000+ days.)
How Does TimeBucks Work?
First, you sign up for a free TimeBucks account via email or Facebook. Once a member, you can earn money when you take short surveys, play games, watch videos and shop online.
Cash out your TimeBucks earnings to get money sent directly to PayPal, Payeer or Bitcoin. You'll need a minimum balance of $10 and payouts are every Thursday.
So exactly what do you have to do to get your first payout?
Let's look at the many ways you can earn:
6 Ways To Make Money With TimeBucks
It's great they've got so many different options because it means if what you're doing starts to get too tedious, you can always just switch tabs and do something else.
To get started click the 'Earn' tab in the main menu and you'll see TimeBucks members can earn rewards in 6 different ways: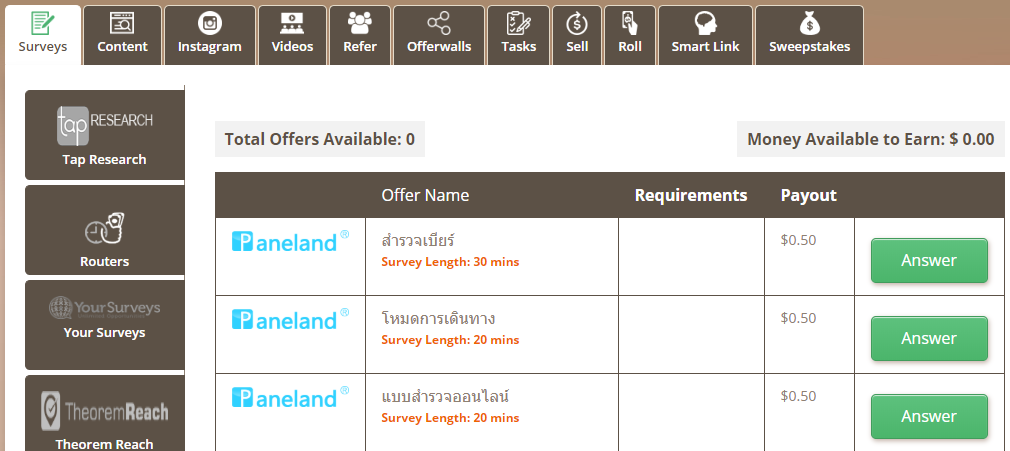 Method #1: Take Online Surveys
Depending on your home country, you should be able to see a lot of different surveys listed in the members' area, from both well-known survey sites like Inbox Dollars and Speak Up Surveys and lesser-known ones too like Peanut Labs and SurveySay.
You'll have to click through and register with each site separately but all the sites I saw do actually payout.
How much exactly?
Well, that depends on the site. Some pay in points and have their own minimum withdrawal limits in place…
That being said, you can expect to earn about $0.50 for a 20-30 minute survey so this is no get-rich-scheme. You're essentially working for a $1.00 – $1.50 hourly rate.
Method #2: Watch Videos
Hit the Contents tab and you'll be given a list of advertiser's videos you can watch to earn a few cents a time. Click on the view button and you'll usually be redirected to a promo video on a sales page or a YouTube video.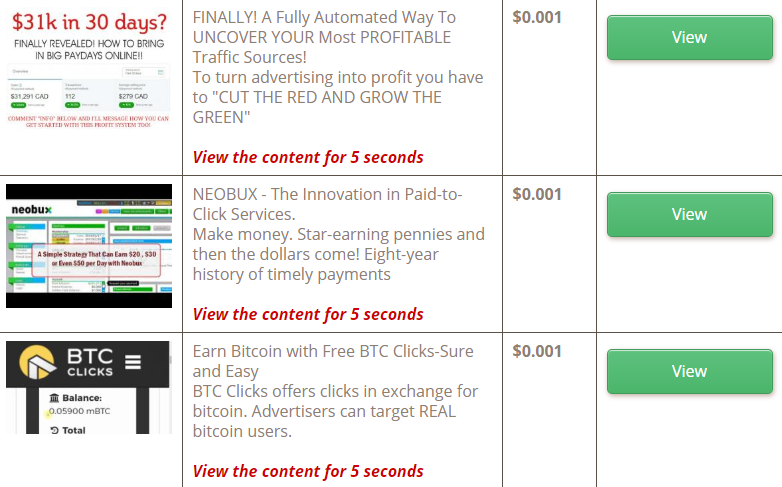 Again, this is not a high-earning strategy as you can only view one video at a time and you have to watch it for at least 5 seconds…
Broken down, paid at $0.001 for 5 seconds, the most you're ever going to be able to earn with this is $0.012 a minute or 72 cents an hour.
Method #3: Complete Tasks
Under the Offerwalls section you can get rewarded for completing simple tasks like taking a quiz, signing up with an online casino, getting to a certain level of a game and so on.
Here's a sample of the types of tasks you can expect, along with the rewards given: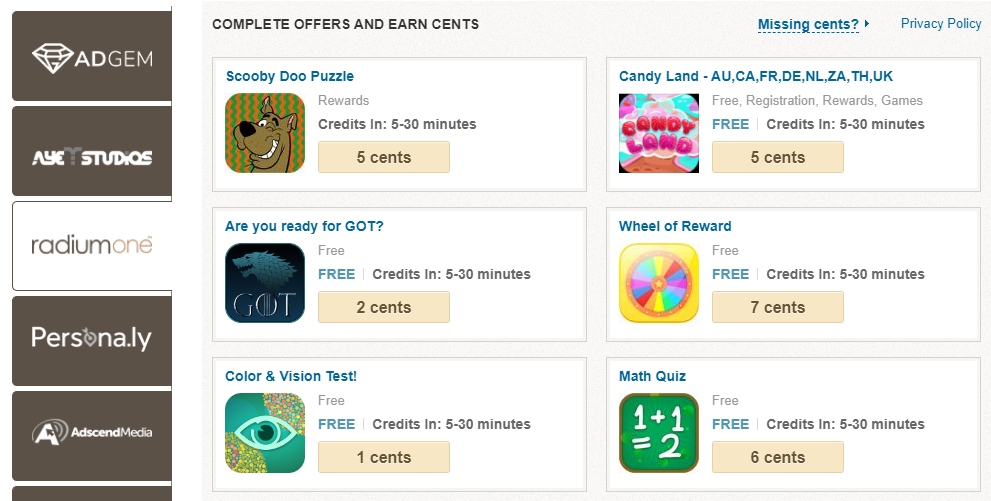 It's hard to pinpoint exactly what the earning potential is with these as the amount you can earn really does depend on which the company you choose from the left-side menu and what specific task you go for.
For example, you could finish a quiz in a few minutes to earn a cent or install and register an app on your phone which takes you 10 minutes for 5 cents. Either way, I'd say the maximum hourly rate would be around the $0.50 mark.
Method #4: Get Cashback On Purchases
TimeBucks has partnered with leading brands to give members the chance of earning cashback.
As I'm currently in Thailand the only option I'm given is to earn 7% cashback on anything bought through AliExpress, but if you're in the U.S. then you should be able to see a lot more offers from the likes of Booking.com.

Of course, spending money to make money isn't going to be a winning strategy going forward, but if you're already shopping or booking flights online then you might as well get a nice little kickback for doing what you are already doing.
Method #5: The Free Money Draw
Successfully complete 10 tasks within any 24 hour period and you can enter a free competition with payouts starting out at $0.002 and going all the way up to $100.
That's pretty neat, right?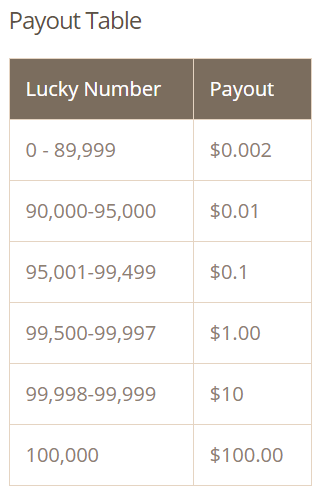 So what are your chances of hitting the top $100 prize? Honestly, I think highly unlikely…
After half a dozen rolls I never made more than $0.002 a time and it seems like I'm not the only one. Look at the last 50 winners and you'll never see anyone win over $0.10.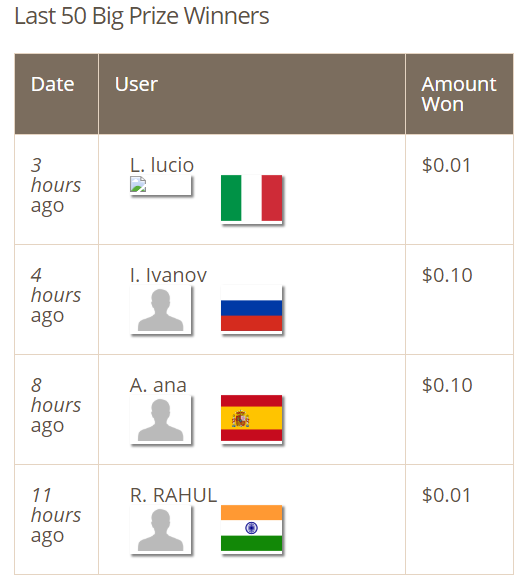 Method #6: Recommend TimeBucks To Others
Invite your friends and family to join TimeBucks and you'll make 15% of all the income your referrals make.
Inside the refer tab you'll be given a unique link you can share via email, WhatsApp or any of the major social media sites to generate recurring revenue.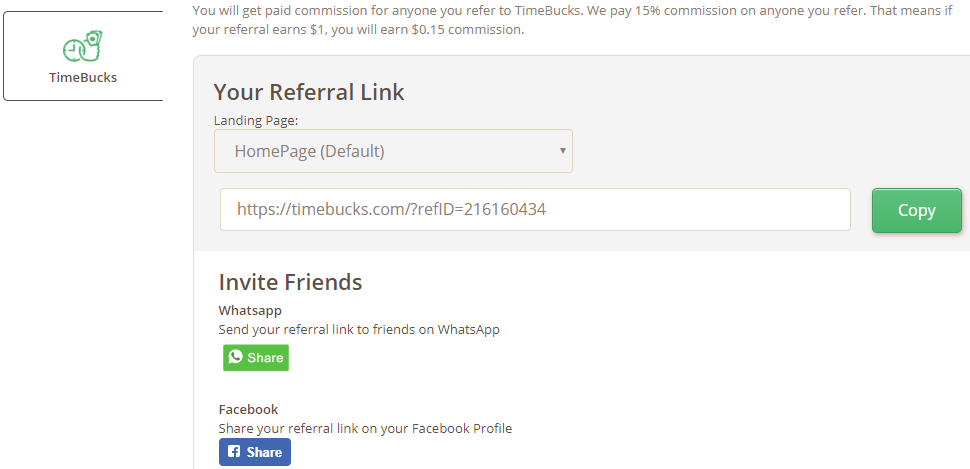 Of all the TimeBucks money-making methods I think this is the one with the most potential as it's not dependent on how much time and energy you put in yourself.
Refer 10 people or 100 – there's no limit and over time, this could turn into a respectable amount of money each month.
3 Things I Like About TimeBucks
1. Lots Of Money-Making Options
TimeBucks is more than just your typical survey site where you spend hours filling out mindnumbing questionnaires.
As you've seen, there are at least 6 different ways to earn money (with new ways being added all the time) so you never have to get bored.
It's true – you're only ever going to earn a few cents a time with reward sites like this, so if you're looking for a more consistent way to earn money online and quit your day job then check this out.
2. They Pay In Cash
I can't tell you how many survey sites I've reviewed where you work your butt off to accumulate points you can then only use to redeem lousy gift cards!
The only reason I'm going join a site like TimeBucks is because I want a side hustle that's going to give me cash in the bank I can actually use towards paying the bills.
So the fact I can withdraw cash into my PayPal every time I hit the $10 mark is a biggie!
3. Yes, They Do Actually Pay Out
TimeBucks pay on a weekly basis. If you have a balance of $10 or more you will get paid every Thursday unless you choose to accumulate your money and withdraw in a lump sum further down the line.
And if you're looking for some Timebucks payment proof then here's a quick video showing you inside TimeBucks' payment processor:
2 Things I Don't Like So Much…
1. It Takes A Heck Of A Long Time To Make $10
At first sight, $10 seems like a nice and easy low minimum amount to aim for, but as this TimeBucks review from SiteJabber shows, it can take a long time to get there…

Unfortunately, this is not an uncommon complaint. Lots of members quit after realising how time-consuming and labour-intensive making money on sites like this is and at a maximum hourly rate of $1.50 I can't say I blame them!
2. LOW Income Potential: Don't Quit Your Day Job!
To be fair, TimeBucks never claim to be a get-rich-quick scheme but at the same time, you want to be putting your time and energy into a program that's worthwhile.
Is TimeBucks seriously worth your time?
With 30-minute surveys coming in at just 50¢ and videos paying a measly $0.001 a pop, I hardly think so.
How many hours do you think it'll really take you to get to the $10 payout?
And that's assuming you can find surveys you actually qualify for and not taking into account the time and hassle of having to sign up and register for each of these sites before you can even start.
So, Is Timebucks A Scam Or Legit?
After trying it out I can tell you TimeBucks is definitely a legit rewards site.
TimeBucks isn't a program that's going to make you rich overnight or enable you to earn a consistent income over time. It's just not designed for that.
BUT it is free to join, easy to do and you will get paid in cash.
TimeBucks Final Review Rating: 55/100
Should you sign up and try it out to see if you can earn some extra money?
I'd say TimeBucks is best for anyone who's looking to make a bit of extra side income, has a lot of spare time and doesn't mind repetitive tasks. But honestly, I won't be logging in to TimeBucks again anytime soon – it's just not worth my time.
For sure I've seen worse, but expect to make any more than $30-$40 per month with this site and you'll be left feeling disappointed.
You simply cannot rely on this for a serious income.
If you want to finally quit your job, kiss your boss goodbye and achieve true financial freedom online then follow this step-by-step formula, be ready to learn and work hard and the sky is the limit in terms of how much you can earn.
Leave Your Questions And Comments Below
Have you made any money with TimeBucks? How much time did you spend on it and is it worth it? Have your say in the comments below!
Also, if you have any questions you'd like me to answer about TimeBucks or any other online money-making opportunities then feel free to scroll down and ask away. I'll be more than happy to help you any way that I can.
Thanks for stopping by and remember: stay safe out there!
Simon Crowe is on a mission to help as many people as possible kiss their bosses goodbye.
Take the free Commission Academy course to discover how to smash your online income goals and make your dream business a reality.