Ready to start a running blog that motivates others and generates income? This guide will get you over the finish line in record time.
What do you need to create a running blog?
A domain name idea (this will be the name of your blog i.e lazygirlrunning.com)
Web hosting (this is where your website lives on the internet)
Your undivided attention for 30 minutes.
Thanks to beginner-friendly website builders, starting a running blog in 2021 is as easy as clicking a few buttons.
You ready?
On your marks, get set, let's do this!
How To Start A Running Blog In 7 Easy Steps
I have blogs that get 100,000s of readers and generate $10,000s a month.
Follow these 7 simple steps and you can do it too:
The only other thing you need is commitment, as starting a blog is easy but building it out into a powerful and profitable blog is a marathon, not a sprint.
Step 1: Pick Your Running Lane
I know, if you're anything like me then you just want to skip to the fun bit of creating your blog but let me ask:
What's your reason for starting a running blog?
What kind of person is it going to help?
A running blog aimed at long-distance triathletes is going to be very different to one aimed at casual joggers.
Your running blog could be for:
Beginners
Older runners
Experienced runners looking to increase their mileage
People looking to train for a marathon
Social runners looking to join a running group
Office workers looking to get more active and slim down
Trust me, take time to figure out your target audience now and it'll keep you on track and save you A LOT of time later on.
Step 2: Set Up Your Hosting
Your running blog needs web hosting and a domain name to go live.
What is hosting and domain names?
Hosting is when you store your files and make them available through the internet.
A domain is the address of your site, like www.themakemoneyonlineblog.com for example.
Wealthy Affiliate is the most reliable web hosting I've used. With WordPress already installed and more than 1,000 designs to choose from, they make everything so simple!
Why Wealthy Affiliate?
Wealthy Affiliate has been showing people how to create and successful and profitable blogs since 2005 and has over 2.2 million users.
Wealthy Affiliate gives you everything you need to grow your blog and make a success of it all in one place. You get:
Fast website speed
Reliable hosting and easy set up
24/7 technical support – expert help when you need it
Free SSL certificate – your blog is safe at all times
Jaaxy keyword tool – use this to get your content ranked in Google
In-depth video training on how to make money from your blog
An amazing and friendly community like-minded bloggers
Great pricing means you can get started without breaking the bank
How To Get Started With Wealthy Affiliate
Go to WealthyAffiliate.com and enter your email address: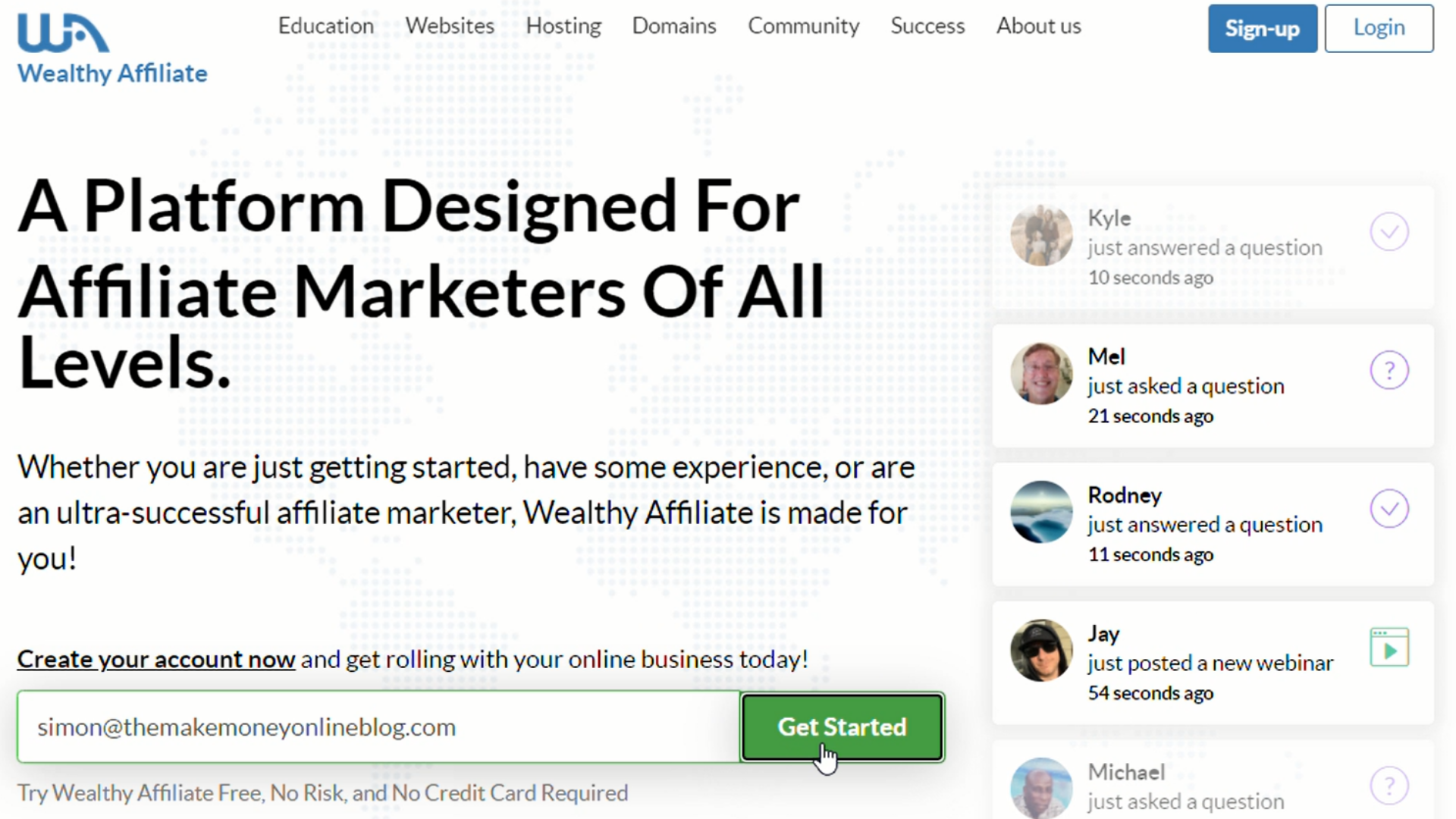 Once your account's created you'll find yourself on the welcome page.
Click on Websites and then Build a Website:

Click the Register a Domain option:

Then you'll be taken to a page where you can pick a Premium pricing plan. Choose the one that best fits your needs.
Monthly is $19 the first month then $49 a month, or if you want the best value, go Yearly for $495 and get a .com domain included, $50 community credits and two months free.
Once you've done that, you're ready to register your domain name!
Step 3: Register Your Domain Name
Your domain is going to be the name of your running blog and your brand going forward so we want to get this part right.
Stuck for domain name ideas?
What are you about?
What does your audience want?
What are you going to give them?
Answering these questions can help you come up with a great name.
Include words like "run" or "jog" so it's clear what your blog is about. Avoid hyphens and misspellings and try not to go over 3-4 words.
Here are a few running blog domain ideas to help get the ball rolling:
Joggingfuel.com
Runningthroughboston.com
Ibelieveicanrun.com
Type in your domain idea to see if it's available and click Add to Cart:

Step 4: Build Your Website
Congratulations! You've officially registered your very own domain and now it's time to create your running blog!
Hit the Build a New Website button, enter a title for your website and now you're ready to pick a WordPress theme.
Different themes give you different layouts, designs and customization options. There are a ton of free themes to choose from, so find one you like and remember you can always change it later.
I love the GeneratePress theme and use it for all my blogs. It's free to start with and you can upgrade to unlock even more features as your blog grows.

Once you've chosen a theme, click Select and hit the green Build My Website button. Wealthy Affiliate will take care of the rest and your site will be live in less than 30 seconds!

As soon as it's done you'll be able to see your website under the Website tab and keep track of how your blog is doing under SiteHealth.
You'll also get an email confirmation with your log in details so you can access your blog's WordPress dashboard.
And that is it, you have successfully launched your very own running blog! 🙂
Step 5: Customise Your Blog's Design
And here's what the WordPress dashboard looks like, where you'll be adding your personality and making it your own: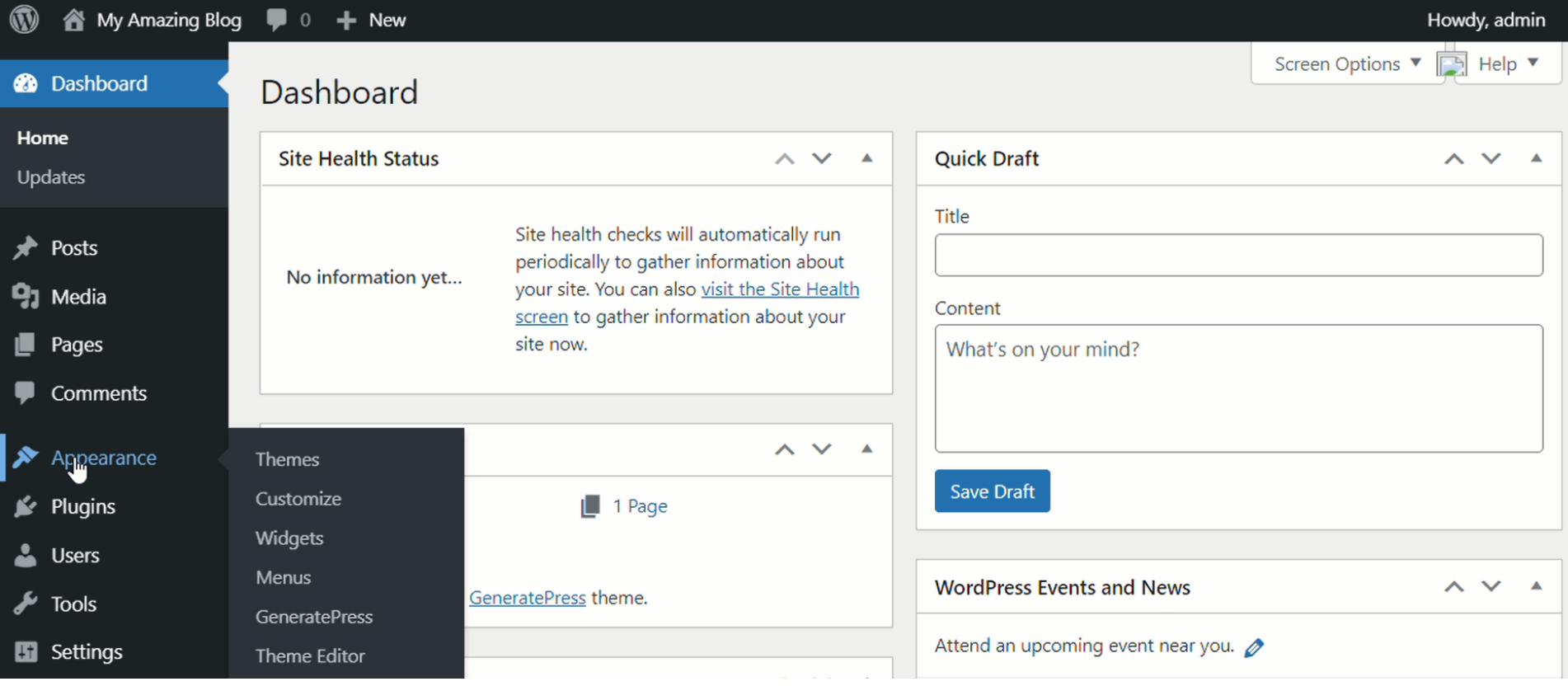 Take some time to go through the back end of your website and play around with the design options. You can do this easily by going to Appearance and Customise.
You can change the colours, fonts and layout. You can build a logo completely for free with Canva or go to Fiverr and find a freelancer there who will do it for you.
Step 6: Create Content Consistently
Now your blog is online and looking good, you're ready to start publishing.
So what should you write about?
Write about what your target audience is interested in. Answer the questions they're asking and offer the solutions they're looking for.
But how do you know what they're looking for?
That's easy.
Hit the Research tab inside Wealthy Affiliate and that'll take you to Jaaxy – the keyword tool that shows you how many times a phrase gets googled each month.
Search the phrase "best running shoes", and you'll get a long list of ideas like: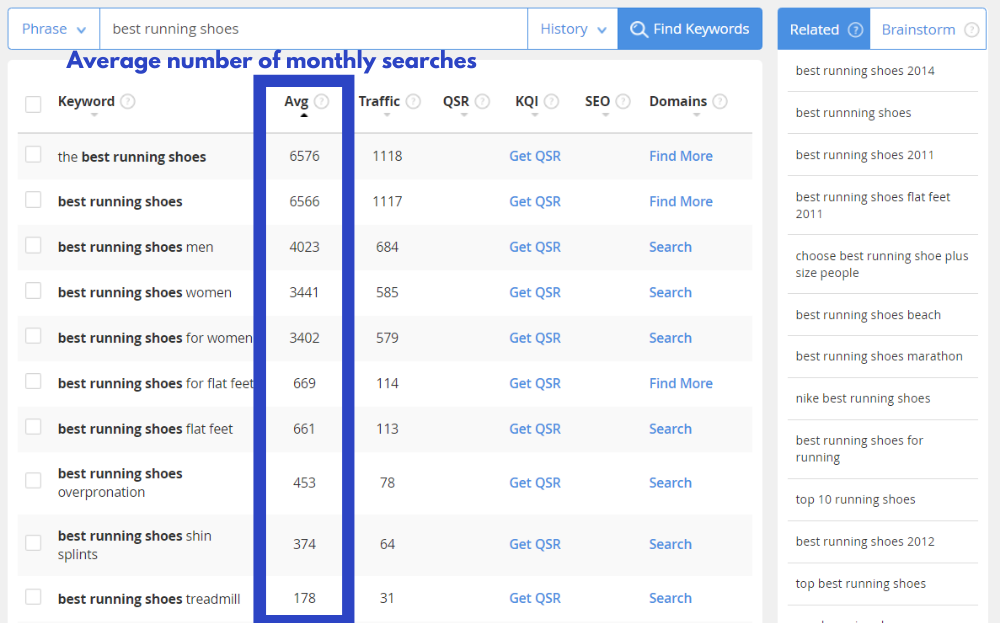 These would make great top 10 lists you could publish on your blog like:
Top 10 Best Running Shoes

For Men
For Women
For Beginners
For Flat Feet
Top 10 Best Running Earphones

Under $50
That Don't Fall Out
For Small Ears
Then you could write how-to posts like:
How To Train For A Half Marathon
How To Train For A 10k
How To Train For A Sprint Triathlon
How To Run And Lose Weight
How To Run Faster And Longer
I just came up with a ton of blog post ideas in 5 minutes using Jaaxy, and you can too.
It's all about putting yourself in your reader's running shoes, figuring out what they're searching for, then creating the best possible content around that to make sure your blog shows up on Google and sends 10,000s of daily readers your way.
So come up with a list of 20 ideas for your next blog posts, schedule them in a publishing calendar like TeuxDeux or Trello and never be stuck for what to blog about.
Step 7: Recommend Relevant Products & Get Paid
You've worked your way through steps 1 to 6 and now you deserve a payout! If you've followed along with me so far you're going to do very well for yourself.
What's the best way to make money as a running blogger?
2 words: affiliate marketing.
Bloggers earn commissions when they mention a company's products and send customers their way. So if you're writing a super helpful how-to post and happen to bring up your favourite FlipBelt running belt, you can link to it and make 10% on every sale: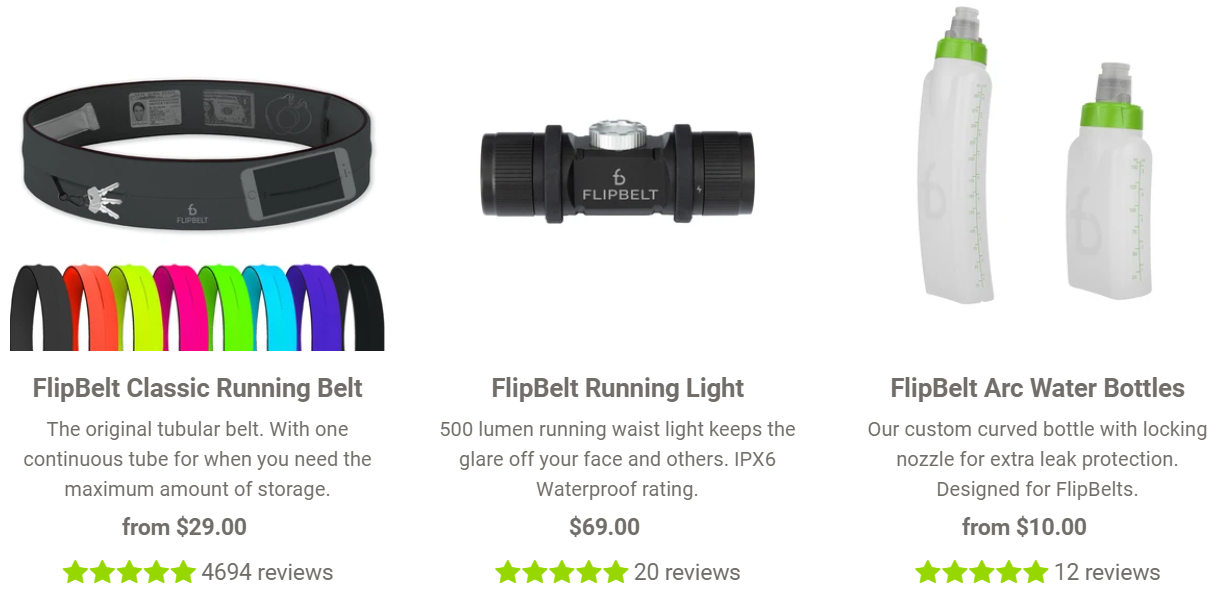 Or maybe you want to become an affiliate for Kinetic Revolution's training programs and earn 75% for every new student enrolled through your unique link.
Here are 10 more running affiliate program ideas and this is just the tip of the iceberg!
Running shoes, Fitbit trackers, water bottles and nutritional supplements – there's a lot of gear you can recommend to generate revenue.
If you really want to maximise your blog's income-generating potential my best advice is to go through Wealthy Affiliate's blogging training.
With 5 courses and 50 video lessons that break down exactly how to make money with your blog in an easy-to-understand way, you'll be equipped with the knowledge and skills you need to take your blog as far as you want to.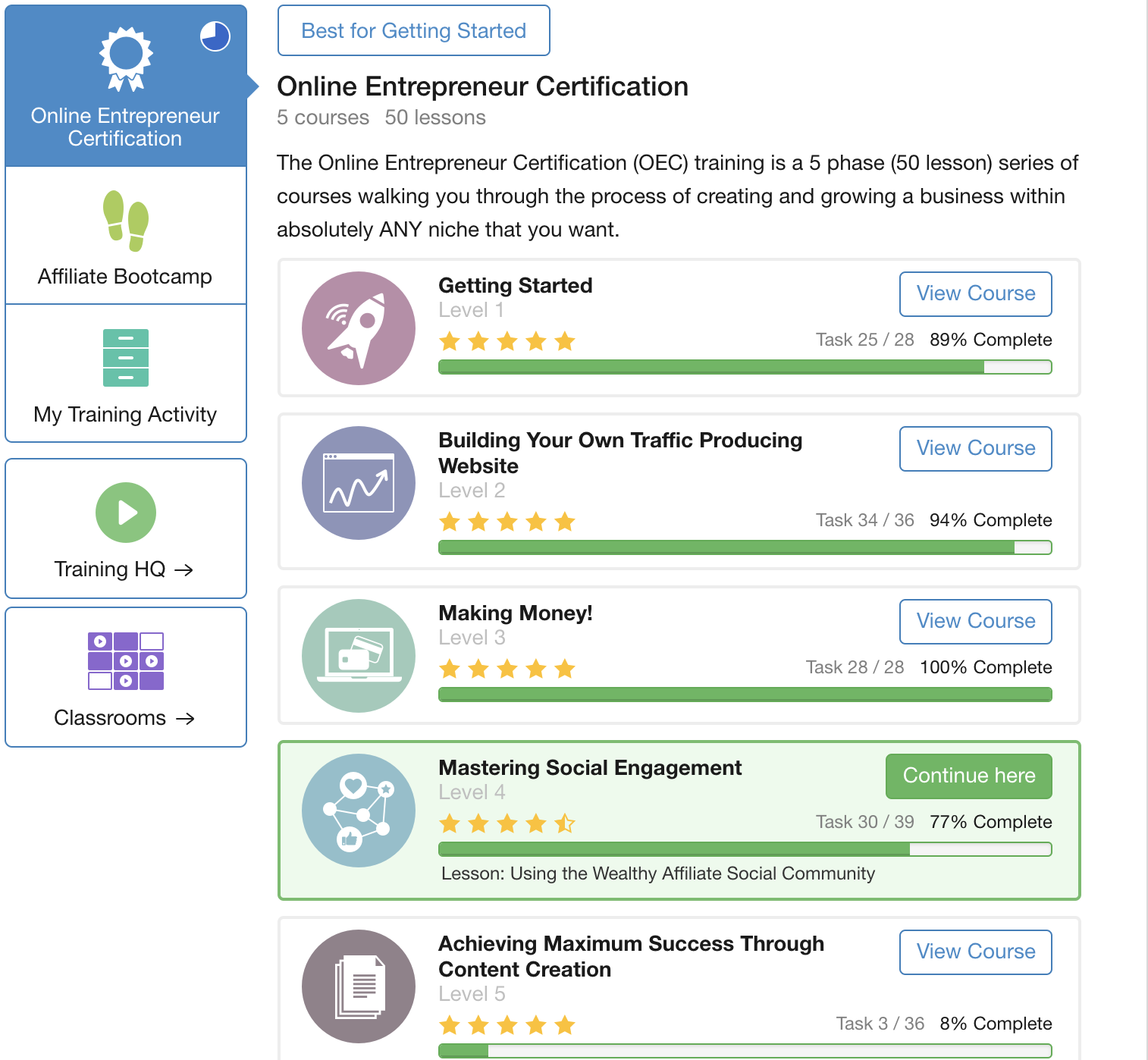 Starting A Running Blog FAQs
Is Starting A Running Blog Worth It In 2021?
Yes, yes, and yes! There are so many reasons to start a blog. You get to:
Inspire millions to smash their fitness goals and live healthier lifestyles
Take your passion for running and create a full-time income for yourself
Become an authority in the running niche and build an online brand.
Without a doubt, blogging is very much alive and kicking and worthwhile, even in 2021.
How To Start A Running Blog For Free?
If you're looking to start a running blog for free then SiteRubix is your best option. They'll give you a completely free domain and hosting so you don't have to pay a penny.
How Do Running Bloggers Get Paid?
Though the simple act of writing and publishing a blog post won't get you paid, running bloggers make money in a variety of ways.
Follow the Wealthy Affiliate core training and you'll learn how to:
Earn affiliate commissions by promoting relevant products to your readers
Place ads on your blog through ad networks like Ezoic
Promote your own products or services
Make money through sponsorship deals with major brands
Spend some time browsing sites like HungryRunningGirl and RunningShoesGuru and see how they monetise. The earning possibilities really are endless!
Now You're A Blogger! How Does It Feel? 😉
You've gone through our step-by-step guide on how to start a running blog in the BEST way, from setting it up, to growing it and making money from it. You now have everything you need to become a successful, full-time running blogger.
Have any other questions? Let me know and I'll do whatever I can to help.
Keep running. Keep blogging. The finish line isn't the goal. The journey is!
Simon Crowe is on a mission to help as many people as possible kiss their bosses goodbye.
Take the free Commission Academy course to discover how to smash your online income goals and make your dream business a reality.