When writing a review, I always try to look at the pros and cons of potential work from home opportunity but when it comes to the Pay Each Month scam there's literally nothing good to say.
You can't believe a single word you read on the PayEachMonth.com website because all you're fed is fabricated lies and deception at every turn. I'm not exaggerating when I say nobody (and I mean nobody!) is making money with this.
The site has one purpose and one purpose alone which is to generate cash for the anonymous owner while leaving people like you and me out to dry.
And just so you know: I am not a Pay Each Month affiliate.
This honest and unbiased review is just me telling what happened when I signed up and dug a little deeper into this program so you can avoid time-wasting scams and find real programs that actually work.
Pay Each Month Review At A Glance
About: Pay Each Month is an online make money online opportunity where you supposedly share the website's link on social media to make $5-$10 from each click.
Price: Free to join.
Pros: Nothing whatsoever.
Cons: Identity fraud risk, doesn't pay, endangers others that opens your links.
Verdict: Pay Each Month is a scam. It's not the "fastest way" to make money for you, it's the fastest way to make money for scammers.  

Pay Each Month's Fake Ass Promises
Just like Influencer Cash, Referral Pay and Viral Market, The Pay Each Month Scammers lure you in by waving a golden carrot of 'quick and easy money' in front of you. Since the site is free to join, people erroneously believe they have nothing to lose which couldn't be further from the truth.


Desperate for your personal details, this internet con artist tells you making money online within minutes is as easy as signing up and completing simple tasks from the comfort of your own home.
Except once you register, you'll only find one 'job' listed on the job dashboard – spamming PayEachMonth.com links on Facebook and Twitter. They tell you you'll earn $5-$10 each time someone simply clicks on that link.
Why?
They tell you it's because they earn money from advertising, except there is no advertising – this is just another bare-faced lie.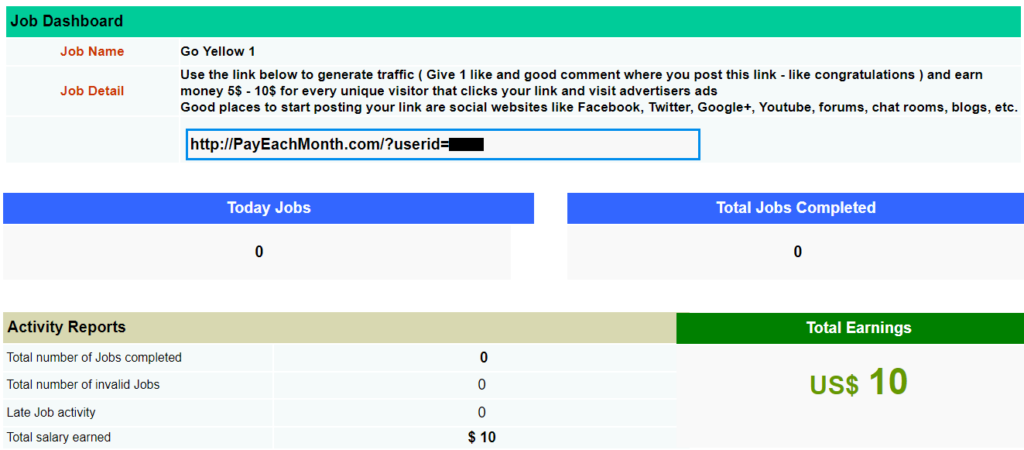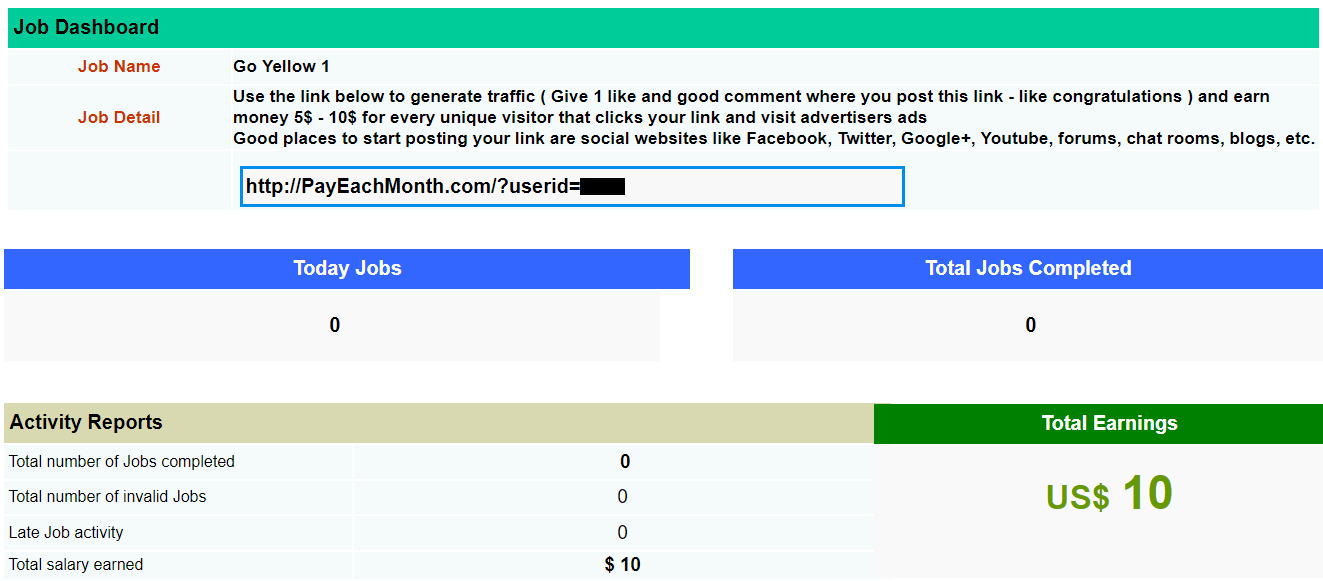 You are promised a payout when you reach the $300 threshold and yet nobody in the history of this site has ever been paid out.
Reasons To Join Pay Each Month
There are zero reasons to join. Like seriously, there's absolutely nothing to be gained by signing up to this.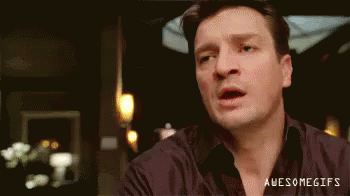 Those who do join only waste their time and energy thinking they're getting paid $10 for spamming the web with links until they realise it doesn't work.
Why PayEachMonth.com Should Be Shut Down
1. This Scam Artist Sells Your Info For Quick Cash
Why is this guy so keen to get you to sign up?
Why does he ask you for your email, home address and telephone number?
Why is it he asks anyone trying to get a payout to give him their social security number, PayPal and bank account information?
Because there are so many ways he can generate revenue with this valuable information. A list of say, 1,000 email addresses can be sold to internet spammers for a pretty penny and that's what's really going on here.
Everything else is smoke and mirrors. This guy wants one thing and one thing alone – as many personal contact details as possible so he can rake in the cash for himself.
2. You Open Yourself Up To Identity Fraud
Technically speaking, Pay Each Month is what's known as a phishing scam, where people fill out their usernames, passwords and credit card information under false pretences.
This, of course, opens you up to all kinds of risk with the real potential of becoming a victim of identity fraud.
3. Welcome To SPAM City
As a direct result of filling out Pay Each month's registration form, your information will be sold again and again and this means you can expect an avalanche of spam hitting your inbox on a daily basis for many years to come.
4. Scam Victims Become Scam Promoters
For me, this is the most insidious part of this whole thing. The people duped into thinking this is a real money making system start spamming the heck out of social media sites, copying and pasting their link on blog comments, YouTube comments, in forums, on Twitter feeds – wherever they can.
Meanwhile, the Pay Each Month scammers rub their hands watching the new sign-ups roll in as their unknowing scam promoters get the word out so more and more land on the site and hand over their personal information.
Don't fall for this crap. Don't give this guy the satisfaction. Don't become the spammer promoting scams – you deserve better than this!
Is Pay Each Month A Scam? You'd Better Believe It!
Pay Each Month is one of the scummiest post linking scams around and I guarantee the website will not be up for long…
I've exposed dozens of cloned sites that look and work exactly like PayEachMonth.com over the past few months and as soon as one gets exposed, another just pops up in its place under a new name.
The Pay Each month scammer will lie to you, steal your private details, defraud you, sell your information to countless others and bombard you with spam.
One thing he won't do though is pay you.
If you see anyone sharing links to this site boasting about how much money they're making, steer clear. They'll soon realise when they try to make the first withdrawal that they've been conned.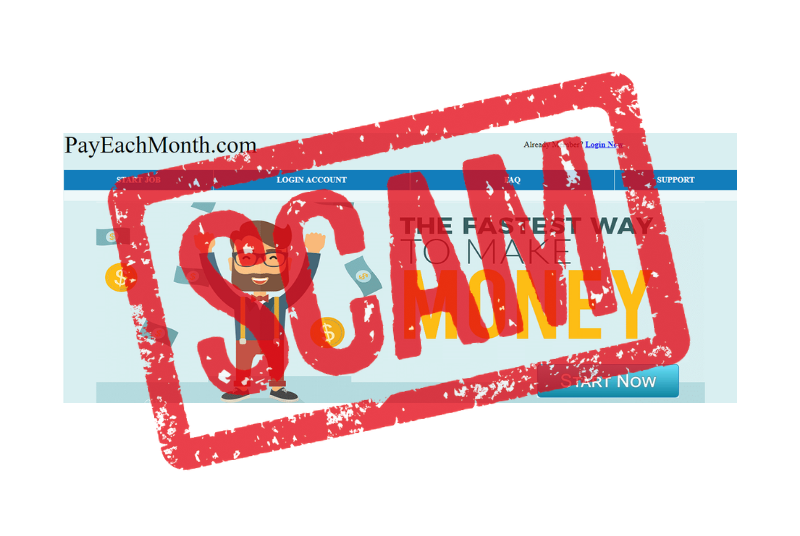 Don't lose hope! Though you're never going to get anywhere with this website, there are literally hundreds of ways to make money online from the comfort of your own home and excellent training platforms out there that will show you exactly how.
Check out my hands-on Wealthy Affiliate review where I outline why their comprehensive video lessons and extremely helpful community is my all-time highest rated training for beginners.
So forget all the get rich quick crap that never gets you anywhere and instead, focus your time and energy into building a legitimate online business for yourself.
Create your free account, dive into the training modules, put the hard work and effort in and you WILL achieve the financial breakthrough you've been looking for.
What Do You Think?
Now you've read this review in full, have I done enough to convince you to stay away from the Pay Each Month scam?
Do you have any thoughts, comments or questions? Be sure to scroll down and get in touch below and I'll do my best to help any way I can. Stay safe out there!
Simon Crowe is on a mission to help as many people as possible kiss their bosses goodbye.
Take the free Commission Academy course to discover how to smash your online income goals and make your dream business a reality.