There are a ton of legitimate ways to make money online ranging from starting an internet business to teaching English as a 2nd language via Skype.
One of the most popular routes people go down is taking online paid surveys in their spare time.
But while some survey sites like Swagbucks are legit, while others like Survey Momma are outright scams and most just don't give you enough to make it worthwhile.
What about YouGov Surveys? Are YouGov Surveys a scam or legit?
Let's find out!
YouGov Surveys Review At A Glance
About: YouGov is a UK-based survey app who partner with large institutions and government organisations to pay you for your opinions with the possibility of getting featured in the news.
Price: Free to join.
Pros: Straightforward sign up process.
Cons: Low-income potential, high payment threshold, takes a few weeks to get paid, no PayPal or bank transfer option.
Verdict: It's a legit survey app but it's probably not going to be worth your time.  

What is YouGov Surveys about?
YouGov.com have been around since the year 2000 and are based in the UK, though they're open to new members joining from any country and boast a rather impressive 4 million members worldwide.
There's the YouGov app available for free download in the Google Play Store and the Apple App Store.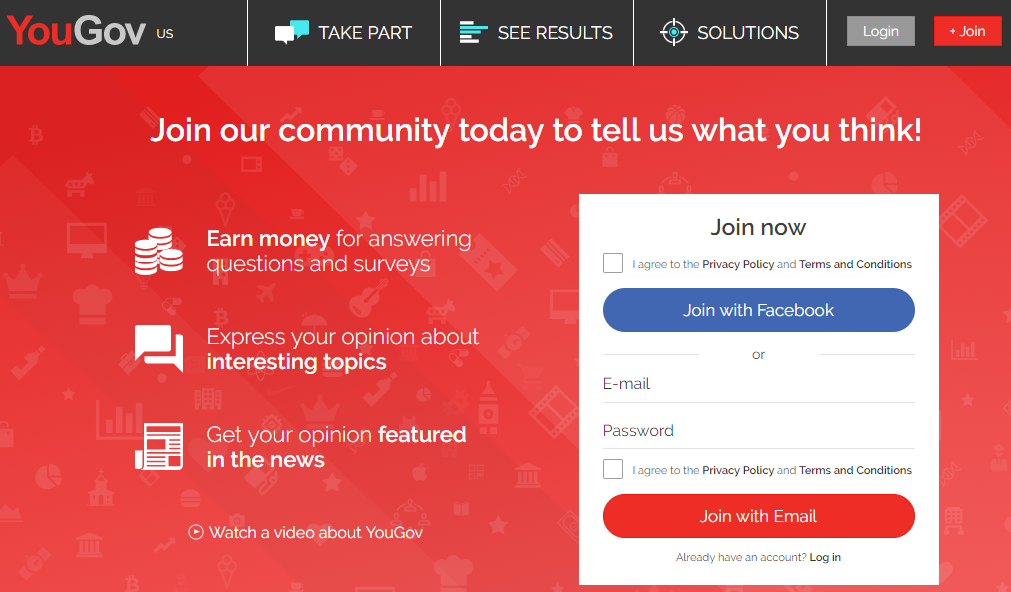 The site and app work by joining up with large companies and government organisations to poll the general public on their behalf to help them keep an eye of the pulse of public opinion.
Like most online survey websites, once a member you'll receive email invites asking you to take an opinion poll on a wide range of topics. YouGov Surveys tends to focus more on asking for your opinions on political issues and current day affairs.
Here's a quick video breakdown showing you how YouGov works:
Signing up with YouGov
YouGov is pretty easy to join with an option of either creating an account through your Facebook account or email address.
I found this suprisingly straightforward compared to websites like Peanut Labs and PanelPolls which require email verification and a good hour or so filling out profile questionnaires.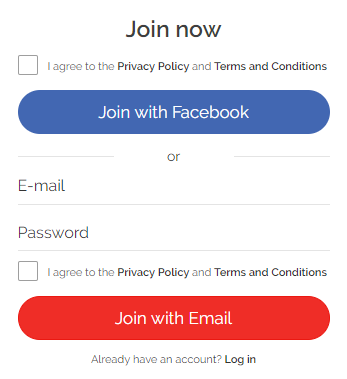 YouGov Rewards
YouGov Surveys work on a points-based system where 1,400 points is equal to $1 and the typical survey pays out just 500 – 1000 ($0.40 – $0.80) for 20-30 minutes of your time.
The minimum cashout limit is very high for this kind of rewards site. In the UK, you need a £50 minimum account balance before you can request a gift to be sent in the mail.
There's no PayPal or bank transfer option as far as I know and you should expect delays of up to 3-4 weeks.

How much money can you expect to make?
While there's a small few of you out there who love to give their opinion for the sake of it, the vast majority of people who sign up to sites like YouGov do so because they're looking to make some extra cash, but look at how much you can actually make and you'll be bitterly disappointed…
At $0.40 for a 30 minute survey, at most you can make $0.80 an hour as a YouGov member – far less than $7.25 an hour national minimum wage in the U.S.
This is my biggest issue with YouGov. When you look at the time vs. money ratio you can hardly call this a worthwhile money making endeavour.
While you might be able to make an extra $5 – $10 a month, you're certainly not going to be able to make enough to help pay your bills or quit your day job.
YouGov survey reviews: what others say
The YouGov app is rated an unimpressive 2.7 out of 5 stars in the Apple App Store and a 3,9 out of 5 stars on Google Play.

While YouGov reviews are generally positive, there are a considerable amount of negative complaints too. These tend to be around a small handful of issues which could affect your potential earnings.
Reaching the cashout minimum will take months, if not years
With the cashout limit being so high and the surveys being both time-consuming and very low paying, it could take you a long time before you can request that giftcard you've had to work so hard for.
This article in The Guardian reports a YouGov panelist who has yet to reach the 5000 threshold even after 4 years. She says:
"Surveys used to come in every week, then they slowed down. Now I get one every two weeks and every second or third is a prize draw, so a waste of my time. The surveys take about 15 minutes but can take less if the questions are too silly!
My total points are now 3,175 – still a long way from the 5,000 needed to earn that elusive £50. This is beginning to feel a bit of a sham and not ethical."
And she's not the only one. Take a look at Caroline's review on TrustPilot. Rightly or wrongly, she accuses YouGov of being a scam that deliberately slows down the number of available surveys to make it nigh on impossible for you to ever request a pay out.

YouGov not paying out?
On the whole I believe YouGov to be a legit survey company who do pay out, but there are a few complaints from users who have worked tirelessly accumulating points only to find in the end they can't redeem their points.
In situations like this you'd expect the customer support team to step in and help resolve the issue but in the case of their reviewer, he was sent a copy and paste response then left high and dry…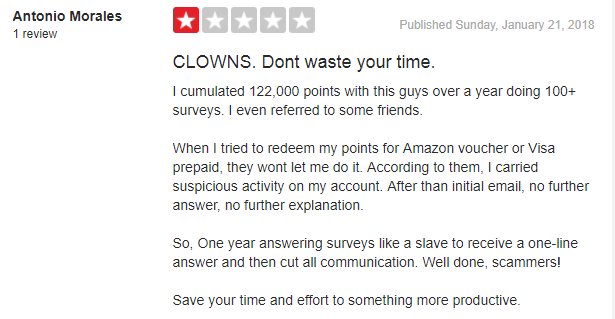 Is YouGov Surveys right for you?
Is YouGov a scam? Despite the low payouts, high cashout limit and the long, tedious surveys I do not think YouGov are a scam, but I can hardly rate them as a legitimate and worthwhile online money maker either…
Maybe if you find yourself waiting an hour a day for a bus and have a lot of spare time to kill, then joining YouGov could be a good way to earn $10 or so extra each month, but don't expect more than that.
If you're looking to make money than this then why not consider creating an online business for yourself? It's a way more profitable way to spend your time online and could eventually replace your full-time income.
I followed this free beginners training course as a complete newbie 4 years ago and I earn more than $6,000 a month as a direct result.
Simon Crowe is on a mission to help as many people as possible kiss their bosses goodbye.
Take the free Commission Academy course to discover how to smash your online income goals and make your dream business a reality.