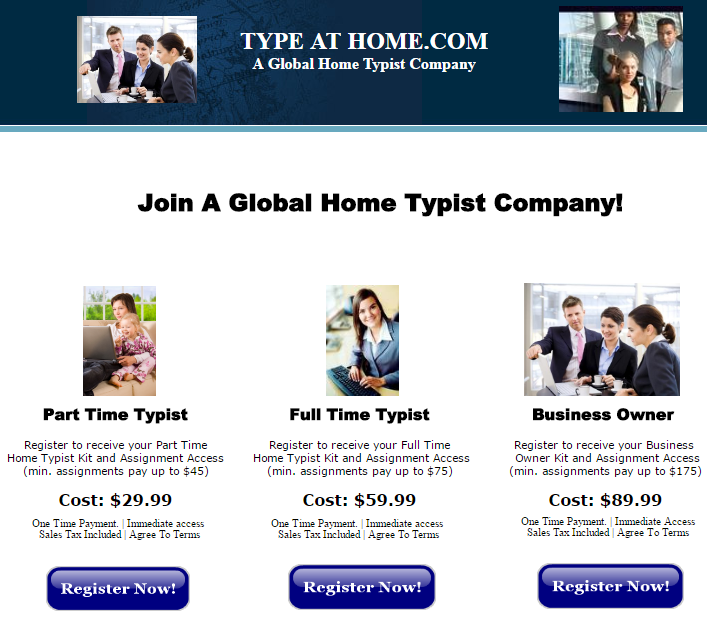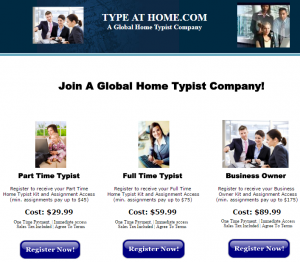 TypeAtHome.com claims you can make up to $175 for each typing job but there's a catch…
To get access to these jobs you first have to pay them for their 'typing training' kits!
But is Type At Home a scam you should stay away from?
Your sneaking suspicion is right – Type At Home is yet another typing job scam and I'm going to show you why:
First, why there's so many fake Type At Home reviews out there…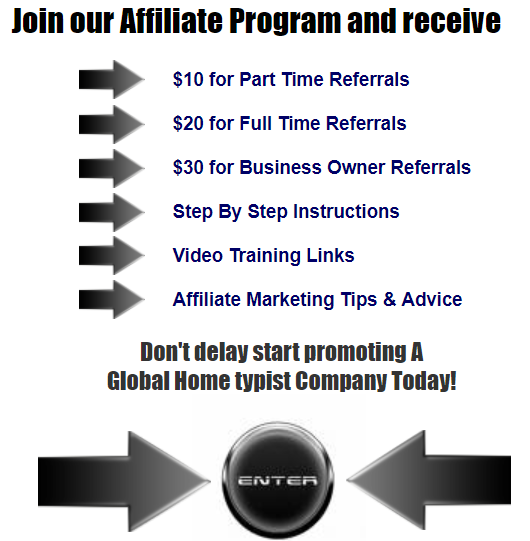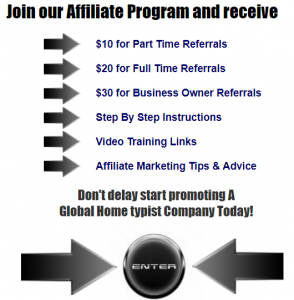 Let me be straight with you:
I am not getting paid to review Type At Home (TAH) and unlike many of the fake reviews out there for this program, I am not affiliated in any way with this work from home scam.
But there's a reason there's so many fake reviews out there exist…
Some people are more than happy to sell you a lie in return for a reward. I am not one of those.
I'm just a successful online entrepreneur giving you my honest opinion and what works and what doesn't in an effort to help you on your road to making money online.
Type At Home Review
Claiming to be the world's number one typist company and the leading provider of typist jobs, many people are duped into thinking by paying the $29 – $89 training and registration fee that you'll be well on your way to making a full-time income from home.
According to their terrible YouTube video, you can get paid up to $45 per assignment as a part-time typist, $50 per assignment for a full-time typist and a completely fabricated $100-$175 as a business owner.
If we're to follow what this scam is saying, there are just 3 steps to becoming a professional typist:
Step 1: Register for a position with them
Step 2: Complete a basic 30-minute typing course
Step 3: Finish you first work assignment and get paid
People think you just sign up, hand your money over, go through the training and sign up for readily-available jobs where you type up documents for well-known and respected companies.
This couldn't be further from the truth.
In reality, you're paying for a random set of videos and articles that have been thrown together at random and you get access to a web page with outdated so-called job offers that don't pay out.
The only person making money with Type At Home is the website owner. By promising you big sums of money for easy work he can persuade you to go ahead and hand over your cash for the worthless typist kits.
Just some Type At Home complaints
Browsing through the many Type At Home complaints online, I see the same story again and again. Nowhere will you find anyone thanking TAH for their success in becoming a full-time typist.
Here's what people who fell for scum have to say…
1. There are no real typing jobs here
Type at Home's Facebook page has just 2 reviews – both reviewers give this work from home the lowest possible rating.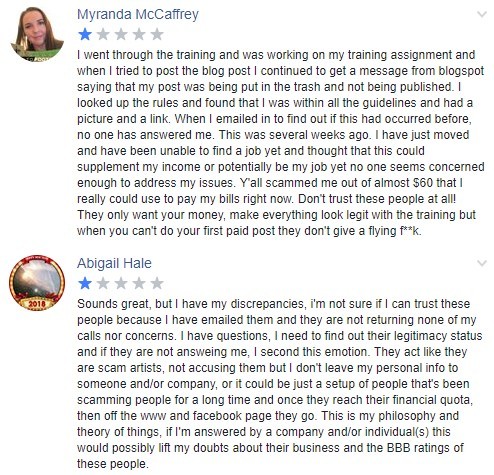 2. It's impossible to get a refund
Take this complaint from the Better Business Bureau for example. As you can see, once you've paid the fee, you can wave goodbye to your money forever.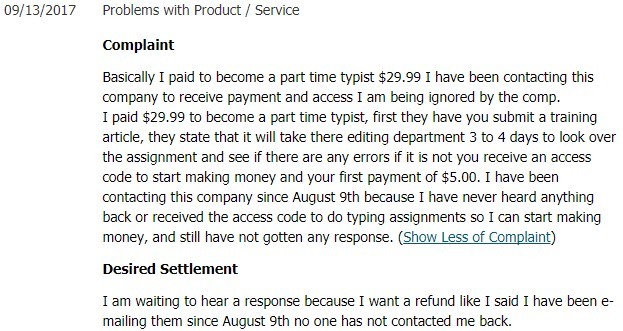 Is Type At Home a scam?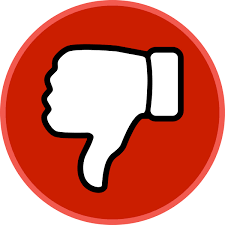 Yes it is. The whole site is designed specifically to convince you this is a legit opportunity worth paying the fee for.
Every review I've read from genuine people who tried this program are about them trying to get their money back. Don't fall for this common typing home jobs scam.
In my 13 ways to avoid work from home scams online post I warn readers to stay clear of 'opportunities' that require an upfront payment from you.
Any legitimate work from home opportunity or job will give you the tools and information you need to do your job.
The best advice I can give you
If you're serious about finding a way to work from home full-time then the training program I've had the most success with so far is Wealthy Affiliate.
Through this program, the superb training and my hard work and dedication, I now earn more than $6,000 per month online.
To find out how you can get started earning real money online check out the full Wealthy Affiliate review.
The beginner's course is free and you can always get direct help and support from me.
What are your thoughts?
I hope you've found this Type At Home review helpful. If you have any questions about getting started online leave your questions below.
If you've had any experience with Type At Home then share your experience with us in the comments.
Simon Crowe is the founder of The Make Money Online Blog and is on a mission to help as many people as possible kiss their bosses goodbye.
Get his free Affiliate Marketing Guide For Newbies to learn exactly how to build a real income online and make your dream business a reality.