We'll be reviewing Writers.Work today, whose Facebook ads tell you writers with zero experience can start earning up to $65/hour in less than 30 minutes.
Is it possible to make a full-time income as a writer?
Absolutely.
Is Writers Work your best option for getting started?
I'm afraid not.
I am not affiliated with Writers Work. I am however going to show you how you can become a writer and find writing jobs for free. I'll also show you where you can access top-notch training and writing tools without handing over your credit card details.
Writers Work Review At A Glance
About: Writers Work is a writing job platform claiming to help you make $1000s in freelancing.
Price: $47 plus $227 for 3 upsells.
Pros: Nothing.
Cons: Fake advertising, poor support and no contact information.
Verdict: Writers Work is not an outright scam but it's something you don't need to pay for. Rather than help you find jobs, it'll keep squeezing you for more cash.

Writers Work Review: Did I Say Review? I Meant Scam
What immediately struck me as odd when I landed on the Writers Work website is there's no 'About Me' page or any contact information whatsoever.
After doing a bit of digging, it turns out there's a very good reason the owners choose to hide their true identity behind a cloak of anonymity:
This is the same group of people responsible for the notorious Master Writing Jobs scam: another writing membership site that used outrageous earnings claims and misleading marketing, saying things like:
"QUICKLY Become a Freelance Writer TODAY and Earn Your First Paycheck in Just 30 MINUTES"
"We have members making anywhere from $2,000 to beyond $10,000 a month."
"Make thousands of dollars per month, up to $65,000 per year."
Of course, it didn't take long for the refund requests and complaints to start rolling in. In January of 2017, the Better Business Bureau stepped in after receiving 60+ complaints to try and get a response out of them.
They never got one and neither did all the people asking for their money back…
Instead, the group of scammers decided to launch Writers Work. According to CorporationWiki.com, Writers Work LLC was set up on the 8th September 2017, around the same time Master Writing Jobs closed its doors to new members.
Have the Writers Work scammers learned from the past and turned over a new leaf?
Not at all. Just like the creators of Paid Online Writing Jobs, they're just after getting as much money from you as possible.
Let me show you what you get as a member and why this is a scam you're better off avoiding altogether.
It's clear you're not going to get very far with Writers Work, BUT… if you can write then you CAN build a full-time online business around writing over the coming months – as long as you're willing to take the necessary action to make it happen.
That's exactly what this step-by-step training will show you.
What On Earth Are You Paying $47 For?
By far my biggest issue with Writers Work (I mean, aside from the deceptive marketing and anonymous owners with shady track records) is the fact they're asking you to pay a one-time fee of $47 or a $15/month subscription to find the information you can already access online for free.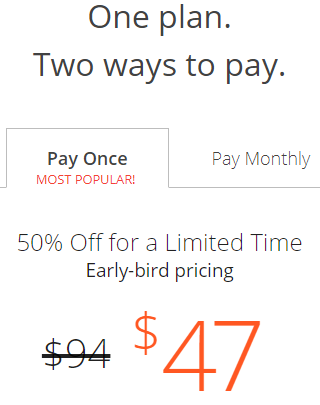 The Writers Work Job Listings
Let's take a look at their main membership feature as an example and you'll see what I mean. Here's a screenshot of the main Writers Work job listings page: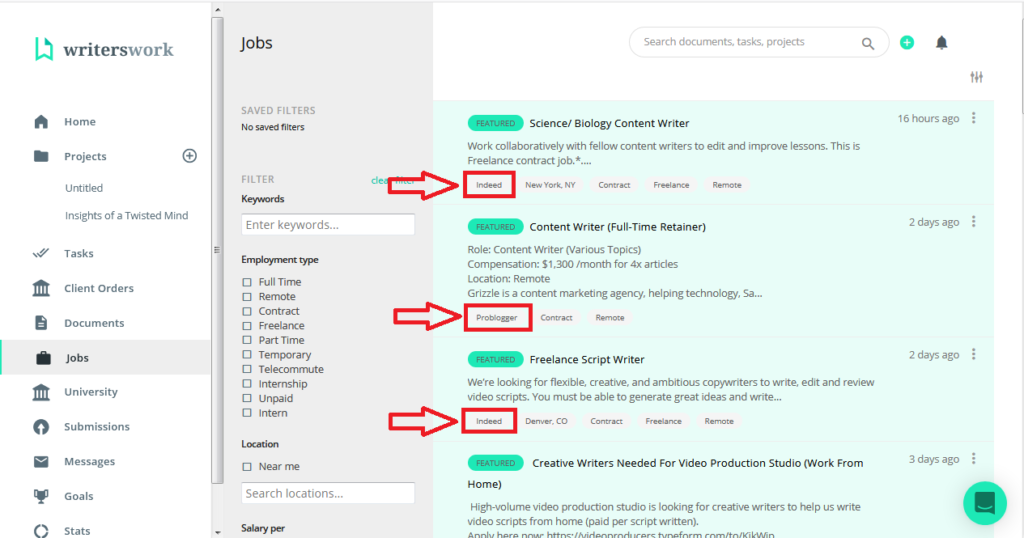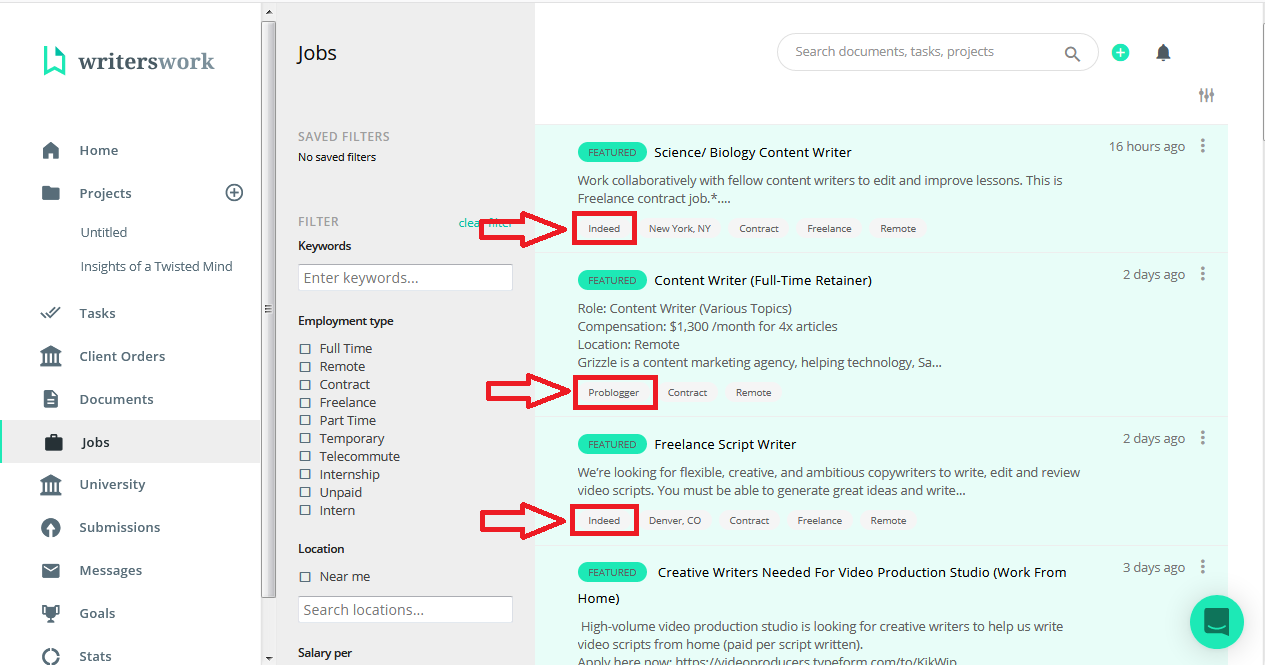 You see that?
All the writing jobs are taken from free, publically available sites like Indeed and ProBlogger. You're literally not getting anything here you couldn't find in 5 seconds or less with a quick Google search.
You can easily find freelance writing work on sites like MediaBistro, iWriter or these 12 iWriter alternatives for freelancers.
If that's not enough then check out this super helpful YouTube video that gives you the 32 highest paying websites for writers:
All the sites I've just given you are completely free to join. In most cases, you can fill out a quick profile, confirm your email and start browsing and applying for jobs in less than a minute.
There's absolutely no reason to pay a $47 membership fee to be able to do this.
Never pay anyone to find freelance writing jobs. End of.
The Writers Work Text Editor
The second nonsensical selling point of becoming a member is you get to use the Writers Work text editor, which looks a little something like this: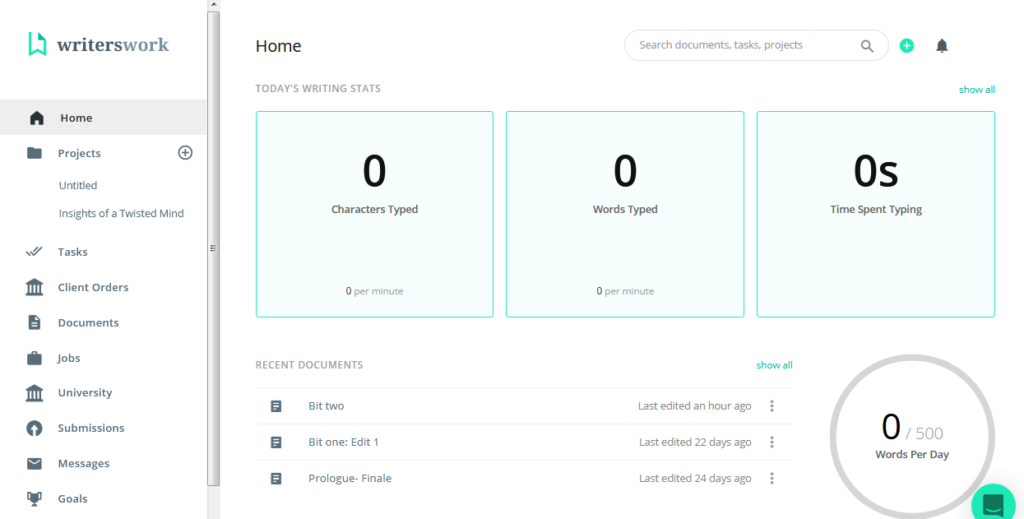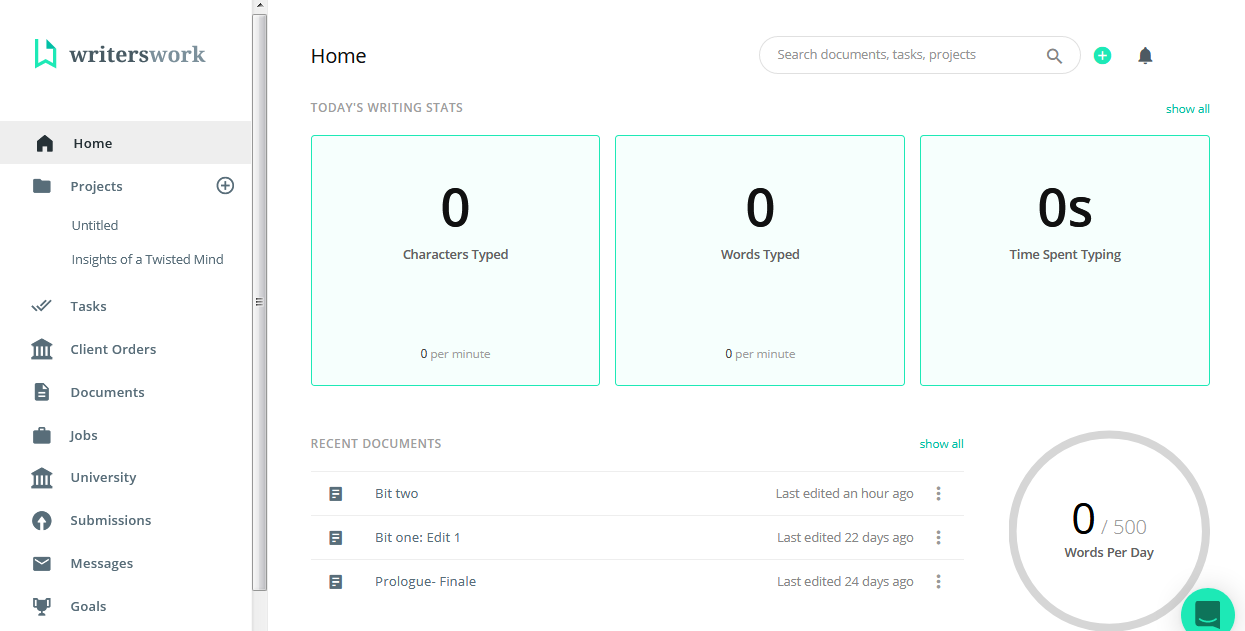 What's so special about this text editor vs. the likes of Google Docs or Microsoft Word? Well, as you're writing your article you'll be able to see a live word count and overall readability score.
There's also a spelling and grammar checker which could be useful, though you could always install the free Grammarly extension that does pretty much the same thing.
The Writers Work University Library
What about the training?
Before you sign up, Writers Work promise you full and in-depth training to help you launch your freelance writing career, though I think a lot of people logging into the members' area for the first time are going to feel short-changed and cheated…
While there are some okayish lessons included in the University Library of the site, the modules are just far too short there's nothing you can't learn here for free.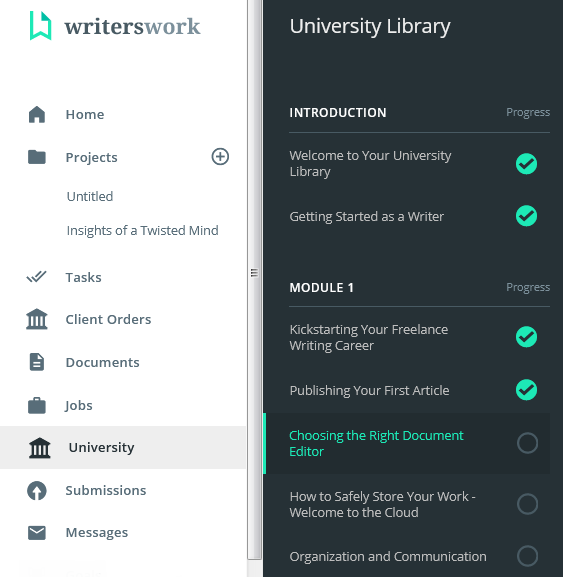 The truth is you're going to have to pay out more if you want to get the meaty training. Up to $99 more. That's right, Writers Work comes with upsells, 3 in total. Let's quickly go through each one:
Upsell 1: Freelance Writer's Toolkit – $29
A downloadable PDF file with done-for-you resume templates, sample client contracts and tax guides.
Upsell 2: Freelance Writer's Toolkit + Coaching Session Bundle – $99
The toolkit we just talked about and a 30-minute chat with an experienced freelancer.
Upsell 3: Premium Courses Bundle – $99
This third and final upsell has 2 courses:
Jumpstarting Your Freelance Writing Career
A Beginner's Guide to Writing for the Web
While there might be some value here, I think it's just cheeky (if not downright dishonest) for Writers Work to market themselves as a one-time-fee membership site with everything included before daring to ask members to shell out more of their hard-earned money.
If Writers Work was a legit platform they'd simply include these resources inside the members' area to help their writers as much as possible like they promised. Instead, they just try to squeeze as much cash out of you as they can.
Writers Work Final Review Rating: 5/100
If you're looking to create an online income as a writer then there's absolutely no reason to sign up to the Writers Work scam.
For me, the final nail in the coffin is the sheer number of negative Writers.Work reviews you'll see on sites like TrustPilot, Better Business Bureau and Reddit.
The vast majority of complaints seem to revolve around Writers Work's fake advertising, total lack of support and contact information, not being able to get help if you do manage to get hold of them and despite offering a 30-day money-back guarantee, these scammers are completely unwilling to stand by it.



Want my honest advice?
Don't put yourself through the hassle of chasing these guys for a refund and try out this training course instead. You'll get a proven step-by-step formula you can follow to turn your natural flair for writing into a thriving and profitable online income.
Write only about topics you care passionately about
Create the exact life you want right now as a writer
Build a growing writing business with unlimited income potential
Let Us Know What You Think
Are you serious about becoming a full-time writer? You now have a ton of great bunch of resources you can take and run with. Be consistent, be ready to put in the work and you WILL achieve success!
Now you've read this Writers Work review, do you think this is a product worthy of its $47 price tag, even if it only gives you jobs and tools you can find online for free?
Have you seen other scams like Writers Work you'd like us to review? Scroll down and add your voice to the conversation below. We'd love to hear from you!
Simon Crowe is on a mission to help as many people as possible kiss their bosses goodbye.
Take the free Commission Academy course to discover how to smash your online income goals and make your dream business a reality.