In this Pay It Forward System review we're going to be asking two critical questions:
First, can you make money with this?
Second, is the Pay It Forward System a scam?
But you're probably wondering:
"Who are you and why should I trust what you have to say?"
Here's the deal:
When it comes to the murky underworld of making money online you should trust no-one. Seriously, it's the wild west out there and it seems like everyone is out to swindle you out of your hard-earned cash.
I'm not an affiliate of Danielle Rose's Pay It Forward System.
I only write this unbiased review to help people like you avoid scams so you can invest your time in legitimate income earners that actually work.
Pay It Forward Review At A Glance
About: Danielle Rose's money making website she "generously shares" to others so you can make money like her as well.
Price: $1 for a trial then $18.95 afterwards.
Pros: Nothing.
Cons: Nobody makes money, hires fake actors for testimonials, owner is a scammer.
Verdict: Avoid at all cost, Pay It Forward is a scam. This is just a scammer's way of poking emotions to get into your wallet.

What We'll Cover In This Post:
What Is The Pay It Forward System?
Watch the sales video and you're hit with an onslaught of image after image showing 'earnings proof', dollar bills falling from the sky and people working from home in their PJs – all with dramatic background music and tension-building countdowns.
I think it's fair to say the Pay It Forward System creators (whoever they are) aren't shy about using hyped-up sales tactics to lure punters in.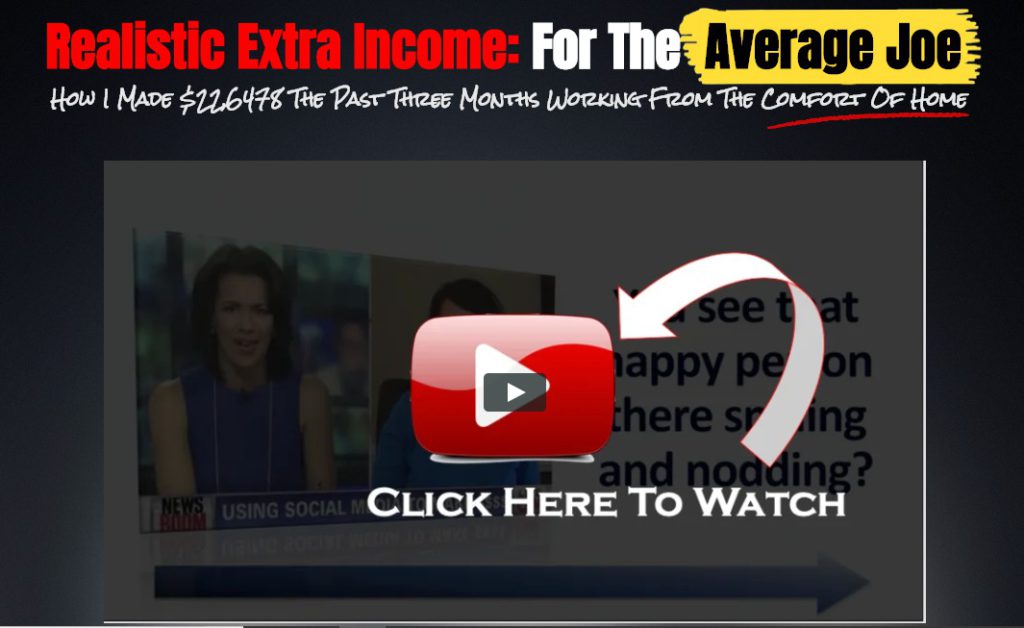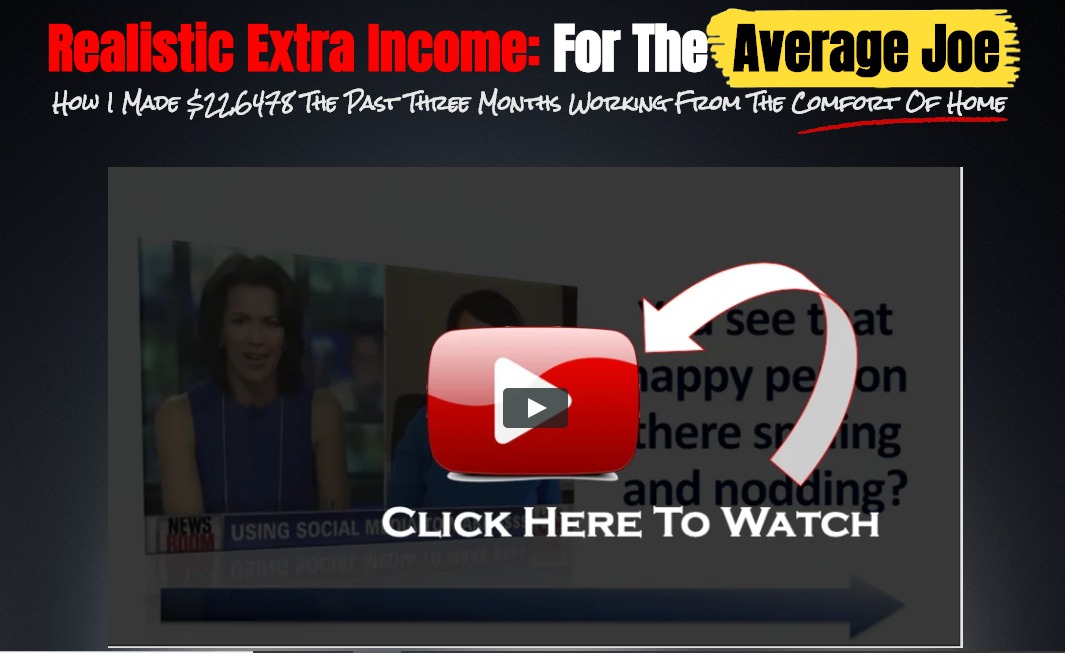 The video shows Danielle Rose, apparently a mum of three and an internet millionaire who's looking to 'pay it forward' by giving away her money-generating websites to the first 35 lucky people who claim their spot.
We're told this kind-hearted saint will give us her income producing websites for free so we can earn $1,000's per day for less than 20 minutes' work.

But go through to the payments page and you're asked to pay $1…
You may be thinking:
What's $1? It's worth it compared to the $1,000's you're going to be earning, right?
It's only when you dig around in the small print of the terms and conditions that you find out you'll be charged an additional $18.95 just five days after signing up.
Danielle Rose is giving away nothing and this is the first red flag!
Why not just be upfront and tell people what the real price is outright?
Once inside you'll find links to various make money online schemes and membership sites you can sign up for to accrue more monthly fees.
Danielle Rose is not paying it forward, she's not genuinely trying to help people and this sensationalised get-rich-quick scheme is not going to give you a real way of achieving your online income goals.
Pay It Forward's Dirty Secrets Exposed!
1. "Nobody Makes Money With This System"
Their words not mine.
Here is it at the bottom of their website:


At least they are honest about that.
People who believe the hyped-up claims and hand over their hard-earned cash to learn Danielle's 'money making secrets' end up making… zero, zilch, nada, nothing.
2. Fake Ass Testimonials From Paid Actors
Remember the members' success story videos?
Yep, they're 100% fake.
Whoever created the Pay It Forward System has simply gone to Fiverr.com and hired a video spokesperson to read from a script. Not one of the video testimonials is real.
Here's a supposed member overcome with tears of gratitude because of the cash pouring into her bank account…
"I can't believe this, thank you so much Danielle for paying it forward!"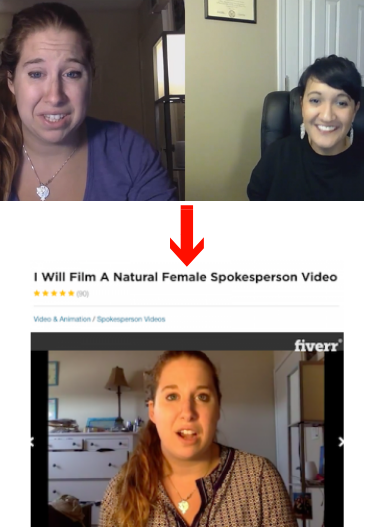 I've got to say, bravo!
This girl deserves an oscar for that stellar performance!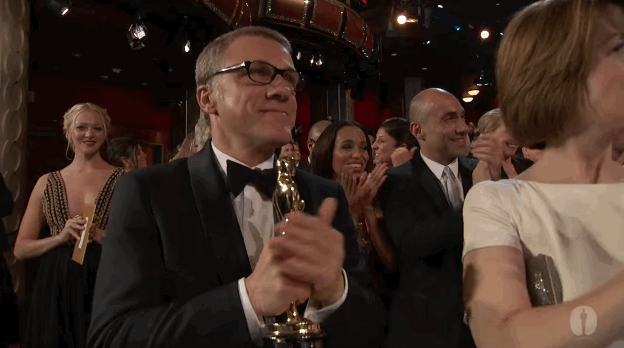 I've seen this video spokesperson for hire promoting other scams like Ecom Cash Crusher, Explode My Payday and Greedy Mentor.
You might be wondering:
Why use fake testimonials at all if your money-making system is foolproof?
Here's why:
Because there's only one person actually making money with the Pay It Forward System and that's the person selling it!
3. PayItForwardSystemNow.com Is Still Online…
Yep, that's right – despite Danielle telling us this 'once in a lifetime opportunity' is available for "today only!", the website has been up for months.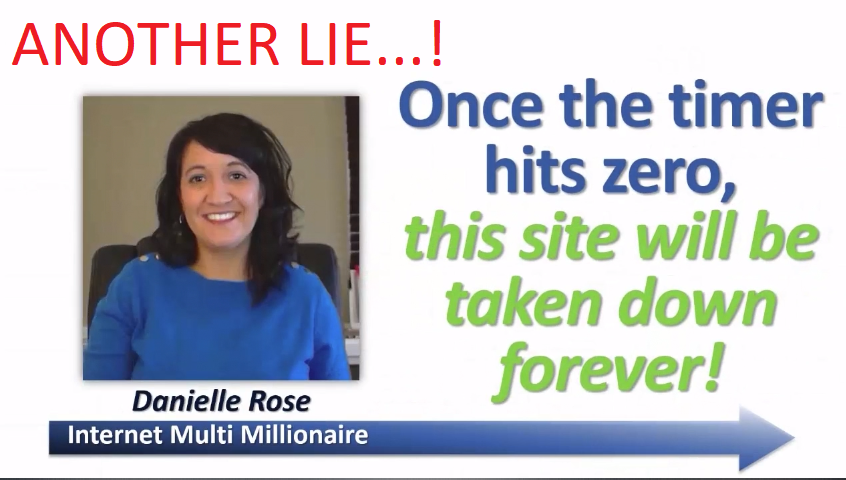 We're told once the coundown hits zero, the site's going to get shut down forever.
But guess what?
It's still there.
This so-called work from home opportunity is NOT going to appear on CNN next month – this is nothing but fake news.
Clearly you can not believe a single word she says!
4. Danielle Rose: The Lying Scammer (Who Doesn't Exist)
Do you know who Danielle Rose is? This internet milionaire making us all these big promises?
She doesn't exist. This is a fake name used to front a fake program.
The anonymous owners are the same con artists responsible for other make money online scams like Income Engine Lite, EZ Money Team and Million Dollar Replicator.
Serial scammers like this prefer to hide their true identity so when the complaints and refund requests start coming in, they can quickly shut up shop without fear of consequence and start all over again under a new website with a new name.
Is The Pay It Forward System A Scam?
When we're asking is the Pay It Forward System a scam what we really want to know is:
Will Pay It Forward System live up to its claims?
Will this get you the financial results it's promising?
The answer to both of those questions is a resounding 'NO!'
There's no chance you're going to make what they say you will and at no point do they even give you the smallest clue what the money making process actually is.
I definitely do not recommend this program and I will lose no sleep tonight for calling Danielle Rose's Pay It Forward System a total scam.
These guys are the worst of the worst and you want to stay well away from this system and anyone promoting it.
Sadly, the make money online space is full of get-rich-quick schemes like Pay It Forward System that promise the earth but end up leaving you high and dry with nothing to show for the time and money you've wasted. They are here today and gone tomorrow.
If you're serious about earning a real income then check out this beginner's training that's been showing people how to build profitable and successful online businesses since 2005.
The best part?
They'll show you how to get started for free so you don't need to get your wallet out.
Questions Or Thoughts?
Are you sick of being scammed, or almost being scammed by hyped-up products like Pay It Forward System?
Have you tried so-called make money online programs and ended up disappointed or even worse off than when you started?
Scroll down and send me a message in the comments. I'll be more than happy to help anyway I can.
Simon Crowe is the founder and editor of The Make Money Online Blog on a mission to help as many people as possible kiss their bosses goodbye.
Watch this video here to discover how to smash your online income goals and make your dream business a reality.