If you think signing up to Greedy Mentor is your one way ticket to earning $1000 a day I am so glad you're checking out this review!
Doing your due diligence and researching any product claiming to be able to make you cash fast is the best way to avoid make money scams and find legit ways to earn an income online.
On the surface Greedy Mentor looks like the perfect opportunity…
Meaghan Harper says you'll be earning a lot of money in a very short space of time and on their sales page you'll even hear success stories from members telling you the amazing results they've had as a result of following this system.
But in this Greedy Mentor review we'll be digging a little deeper to push past the salesly hype and get to the truth.
Is Greedy Mentor a scam to avoid or a legit solution to all of your financial worries? Let's find out!
Greedy Mentor review (quick overview)

Product Name: Greedy Mentor
Website: GreedyMentor.co
Created by: "Meaghan Harper"
Price: $67
Summary:
The tactics they use to market Greedy Mentor are highly deceptive and manipulative and their claims of making easy money are not backed up by their legal disclaimers.
With bogus claims, fake names and fake video testimonials it's clear nothing on their site can be trusted. They admit they will sell your email address to the highest bidder and even tell you outright that nobody makes money with their system.
It's time to start starving the Greedy Mentor: do not give them any of your personal information and do not waste your time and money on this bogus program.
Rating: 1/100
Recommended: No

What is Greedy Mentor exactly?
That's a great question!
The videos and sales pages tell us you'll be making at least $477.23 per day for just 15-20 minutes or work, but then don't go on togive us any indication whatsoever about what the work involves.
All we know is a woman going by the name Meaghan Harper says she's looking for 45 new members to join her team.
We're led to believe this is a 'top-secret', 'highly confidential' video that we shouldn't share with anyone.
Any legitimate training program would at least give you a brief overview of how the money making process works, but here all we get are huge earnings claims not backed any real proof or evidence.
5 big fat Greedy Mentor untold truths
1. They WILL sell your personal information!
Before you go ahead and enter your email address and hit that big orange button, you really should check out the disclaimer at the bottom of the page…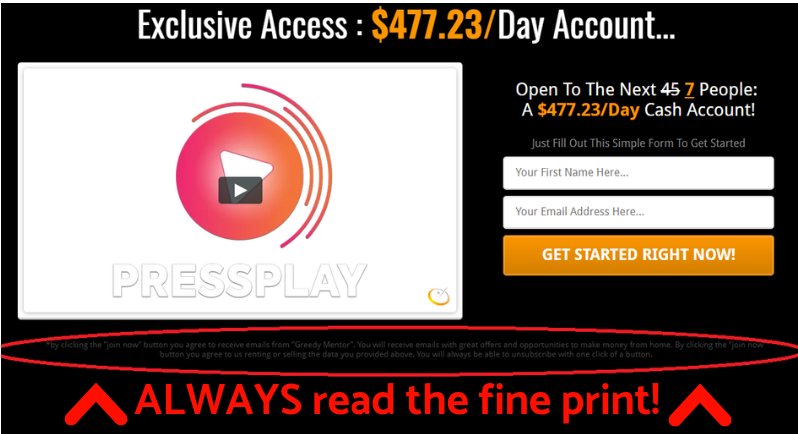 I was shocked to read they they tell you outright that they're going to rent or sell your personal contact information!
Let's zoom in and take a closer look…


I guarantee you this:
If you give them your email it's going to be put into a list and sold or rented out to the highest bidder, usually spammers who will try to lure you in with all kinds of get rich quick schemes and fake make money online programs.
Sure, you can unsubscribe from Greedy Mentor, but your email may already be in the hands of serial spammers and it's too late.
Sign up to this program if you want, but know your inbox will be inundated with spam.
2. Meaghan Harper is a fake
Who is the person behind Greedy Mentor? Who's the one that promises to show you exactly how to make $477 a day?
Whenever I'm reviewing any kinds of program or training I like to do a bit of research into the person behind it, look at their track record and see how credible they are.
So who is Meaghan Harper?
Let me tell you – she's a non-person, a made -up name, a fake identity and should not be trusted.
The photo of Meaghan Harper in the video? Nothing but a stock image…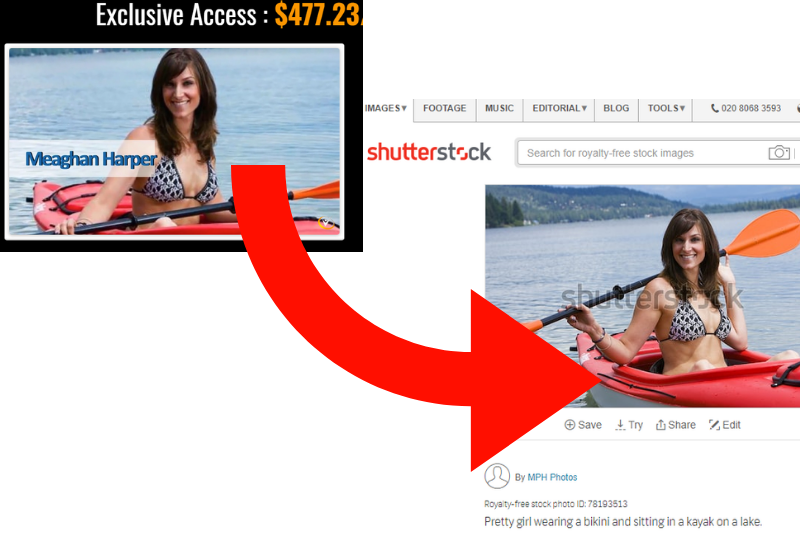 This is a huge red flag! Why would someone hide their real identity unless they were trying to scam you?!
3. Fake success stories
Did you see all those video testimonials from people telling you how great Greedy Mentor was and bragging about how much money they've made using this amazing system?
If your gut told you something wasn't quite right about these, you'd be right.
As we've already seen, everything on the Greedy Mentor website is completely bogus and fake, including the video testimonials.
Quite often you'll see scammers going to sites like Fiverr.com where you can pay someone to give you fake testimonials.
Just pay them $5, give them your script and you're done.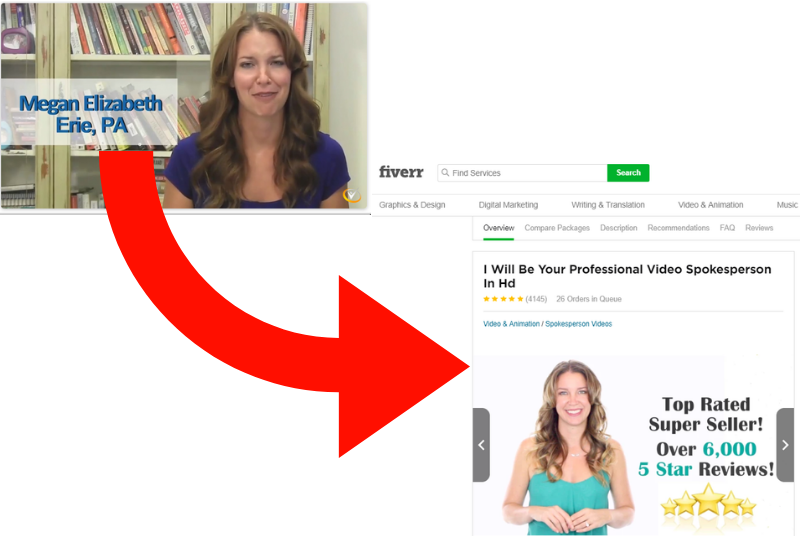 Not one single testimonial in the promo video is real.
Why?
Because as I'll show you in #5, nobody makes any money with Greedy Mentor – so how can they show you real success stories from real people?
Watch the video again and you'll notice that they never mention The Greedy Mentor by name. That's because the serial scammer behind this program uses these same fake testimonials videos across multiple sites for whatever scam they're pushing next.
Don't believe me? Check out his Vimeo channel.
4. Fake scarcity tactics
In the video you'll hear the narrator say:
"If this 5 minute video stops half way through, it's because I've taken it down. I'm only looking for a handful of people to join my program before midnight of the date shown above."
Why can't she tell us the specific date? Because of course it changes automatically to give you today's date.
The site will also try and convince you this is a rare one in a lifetime opportunity but you'd better act fast because there's only 7 places left.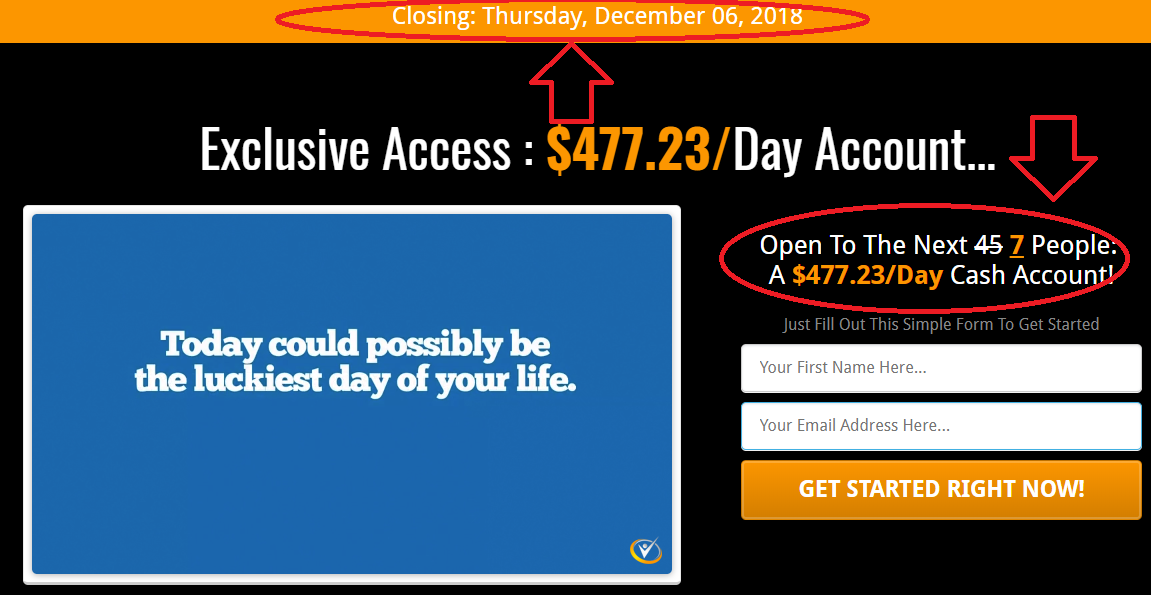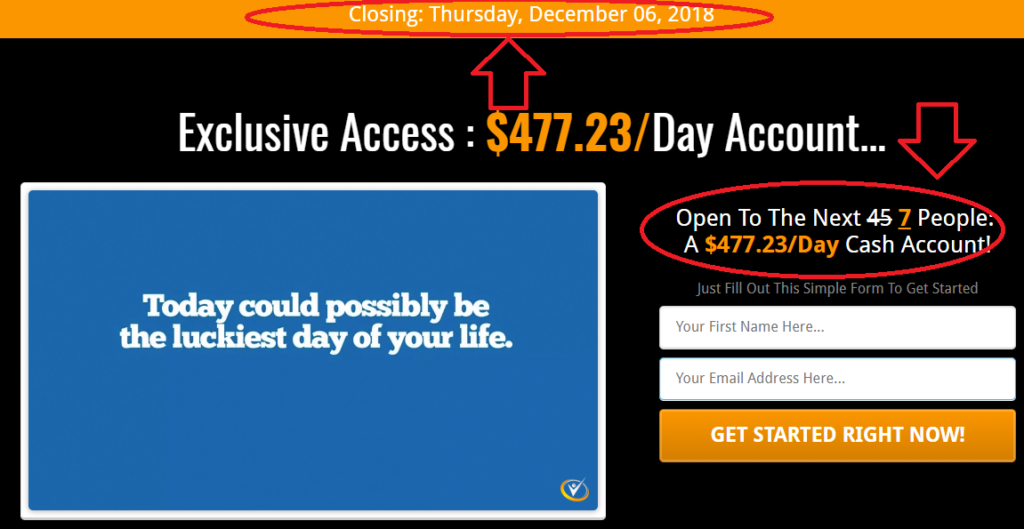 They will try manipulate you into believing you've only got a few minutes or there's only a few limited places left to pressure you into parting with your cash before your common-sense kicks in.
This is one of the oldest tricks in the book and I've come across it in a few other scams I've reviewed like Secret Income Club, 5 Minute Profit Sites and Profit Robot.
Don't fall for it!
One of the first questions you should ask yourself before going into any so-called make money program is, are you actually going to make money with it, right?
Try and leave the site and this pops up as a last minute effort to get you to part with your cash: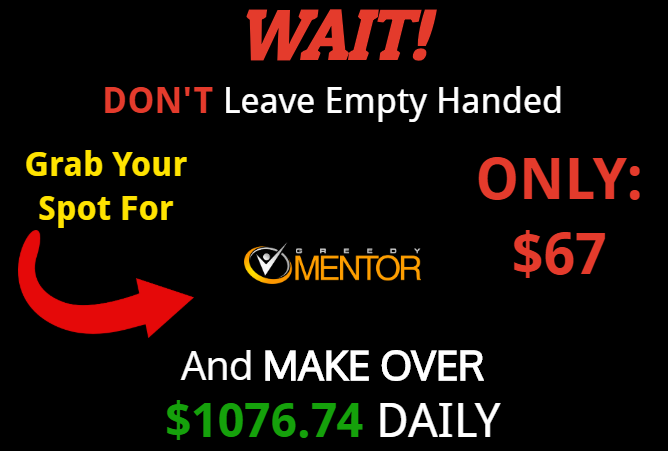 See that? It says you can make $1076.74 a day.
That's well over $30,000 a month and $365,000 a year!
Wow!
That's a pretty bold claim but guess what, it's not backed up by their disclaimer…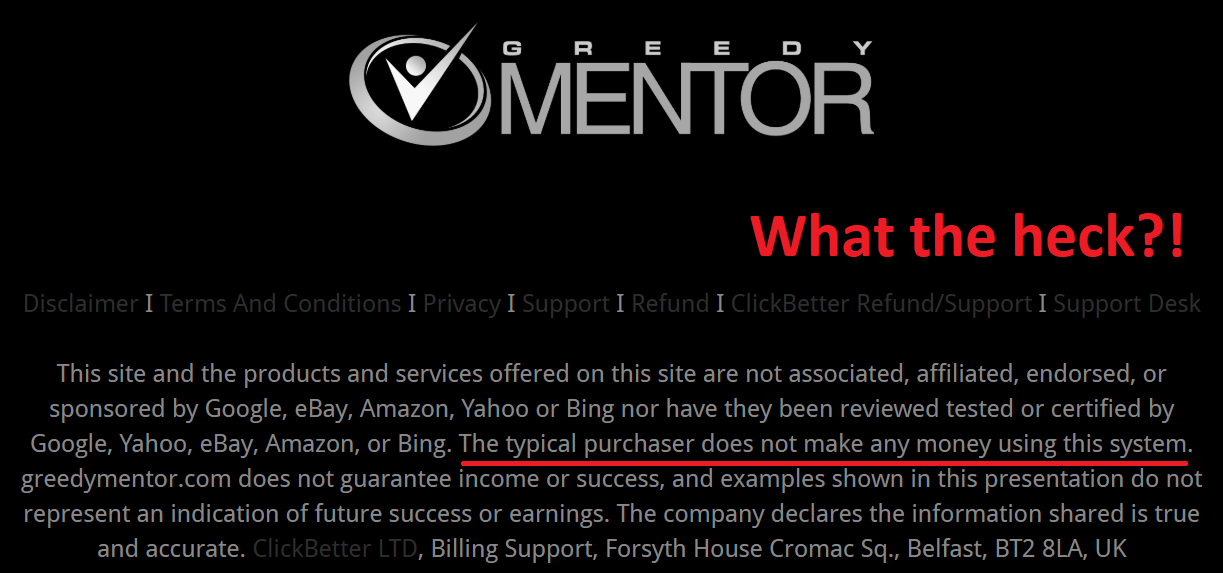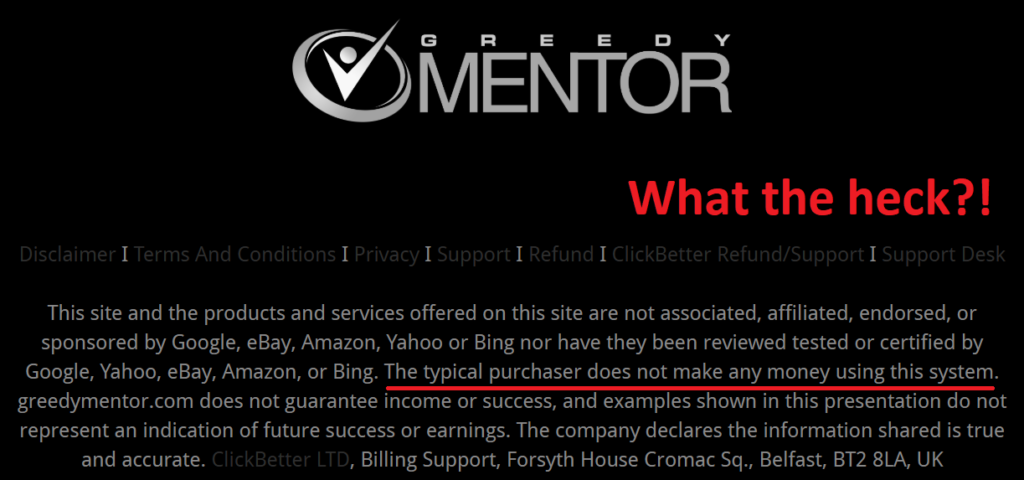 Can you believe that?!
People buying Greedy Mentor don't normally make ANY money at all. Zero, nada, zilch, nothing.
That's the exact opposite of what the promo video tells you. Scam or not, it's clear here you're not going to make any money with Greedy mentor!
Do you really want to pin your financial future on this? I know I don't.
Is Greedy Mentor a scam?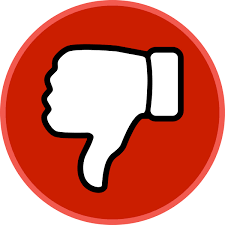 I hope I've done enough to convince you Greedy Mentor is definitely a scam.
After reviewing hundreds of so-called make money online programs it gets easier to identify the red flags and in this case there's a whole bunch…
They lie about how much money you can make, they lie about how long the opportunity is open for and they lie about who is behind the program, we have absolutely no idea.
And if you're STILL thinking Greedy Mentor might be legit, at the very least it's clear you won't make any money with this program (their words, not mine!)
A REAL way to earn an income online
If you feel like you've been hitting your head against a brick wall, searching for an actual online business model that works and gets results but finding yourself coming up against scam after scam, I have good news.
There are literlly hundreds of ways to earn more than a full-time income working from home on your laptop.
I know because that's what I do.
I make $6,000+ every month following this free beginner's training.
It will show you exactly how the process of making money online works and give you a practical, step-by-step course on how to start your own online business from scratch – without all the hype and crazy upsells.
I'll also be on hand to support and guide you through the training process personally.
The best part?
This is a completely FREE beginner's course so you can put your wallet away – you don't need it!
So stop wasting time with dodgy internet scams that leave your bank accounts empty and start building a real financial future for yourself starting today!
Simon Crowe is the founder of The Make Money Online Blog and is on a mission to help as many people as possible kiss their bosses goodbye.
Get his free Affiliate Marketing Guide For Newbies to learn exactly how to build a real income online and make your dream business a reality.