Mark Barrett and James Fawcett's affiliate training promises $1,000 in daily income, but is Phoenix your golden ticket to online success or a scam designed to rip you off?
In this Phoenix review, I'm going to tell you what you need to know about this course to see if it can really help you make money online.
Because let's face it:
99% of make money online courses out there claiming to be THE answer to all your money-making worries only end in disappointment.
Phoenix Review At A Glance
About: Phoenix is an affiliate marketing training course that says it'll help you earn $1000s daily if you follow the "proven" methods they teach.
Price: $12.95 for the training, $545 in upsells, $27 for a rotator tool, $19 for an autoresponder, $97 for funnel creation software and $100 for solo ads.
Pros: There's a 30-day money-back guarantee.
Cons: Solo ads are the main traffic method taught which isn't ideal for beginners as it can be risky and expensive.
Verdict: Phoenix isn't a scam. They do offer semi-decent training on email marketing but prior experience is necessary. Not exactly newbie-friendly.

What Is Phoenix?
Phoenix is a training course sold on WarriorPlus by Mark Barret and James Fawcett, launched September 13, 2020. It teaches you how to generate affiliate commissions using their "click rotator system".
They'll teach you to drive traffic to a squeeze page that rotates 5 offers instead of 1 to increase your chances of landing a sale.
Mark and James are serial product creators. Some of their other products are:
Instant Cash Explosions
Geared For Profits
7 Dollar Tsunami
60 Minute Paydays
30 Minute Mogul
Perfect Affiliate Storm
Infusion
As you can notice, the product names sound a lot like get-rich-quick schemes.
Phoenix is no different, it claims you can make money from it in half an hour and it's so easy even a 10 year old can do it!
Phoenix's sales page also states they've been profiting from the Phoenix method for over 10 years. If that's true then why did it take them 10 years to share it with other people?
Here's what I think:
Maybe hoarding the "secret method" didn't make them enough money so they shifted their focus on selling the method to make money from it instead.
They also say things like they've "cracked the code" to earning online which is funny because they used the same gimmick for 10x Profit Sites, a product I reviewed just yesterday.
Like many creators, Mark included the all-too-common rags to riches sob story:
He was laid off and left with a mountain of bills to pay until the "Phoenix method" solved all his problems.
You're promised there's no need to pay out for expensive ads and chatbots or become a social media spammer, but follow the training and that's exactly what you'll end up doing.
I'll disprove all these claims and more in the Inside The Phoenix Training section, so stick around.
The Real Costs Of Following The Phoenix Method
Training costs $12.95 with 5 upsells totalling $545. You'll also need tools like a funnel creator at $97/month, a rotator tool at $27/month and $19/month for email marketing software plus at least $100 for solo ads.
All in all, you can end up spending a whopping $800 in a single month!
This completely debunks the claim you won't need to spend on expensive traffic methods!
Here's a quick breakdown of the 5 upsells:
Upsell 1: Profit Automator ($37)
Buy this upsell for pre-made email swipes you can use to build your email list.
I don't find these things useful because they always sound impersonal and salesy. The best email campaigns need to be personalized and offer a ton of value.
Pre-made email swipes just don't cut it.
Upsell 2: DFY Package ($197)
Other than saying they've packaged something very special and unique that's sure to get the money flowing, we don't actually know what this upsell is.
Maybe they're trying to build curiosity but I don't really think you'll fancy buying something so expensive without knowing exactly what you're going to get.
Upsell 3: 10x Profit Box ($47)
This upsell is supposed to empower you to earn up to 10x more money, but this is all the info they give so there's no telling HOW it's supposed to work.
Upsell 4: Unlimited Traffic ($197)
This upsells installs a tracking pixel on your squeeze pages so you can retarget your visitors with other campaigns but unless you have traffic to begin with, this upsell will be pointless.
Upsell 5: License Rights ($67)
Buy the license rights and you can sell the training yourself and keep 100% of the commissions.
Making money online isn't complicated…
This video will show you exactly how to get started. Tap to watch now »
Inside The Phoenix Training
Once inside the members' area, you'll see a list of videos ranging from 2-11 minutes long divided into 4 modules: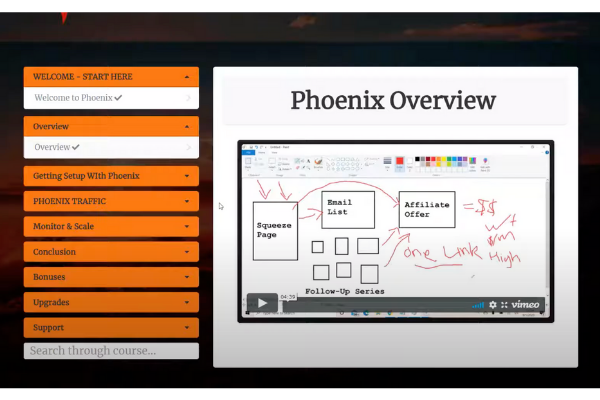 Module 1 is a short and sweet welcome video.
Module 2 gives you a general idea of how you can earn income from the methods they use, aside from the "rotator system" there's nothing unique with the setup.
Module 3 includes 6 videos explaining:
How to find top converting offers
Build Rotator- tells you to spend $27 for the ClickMagick rotator.
Build Funnel- tells you to spend $97 for ClickFunnels
Integrate Autoresponder- tells you to spend $19 for Aweber
Set Up Follow-Ups
Test Funnel
ClickMagick, ClickFunnels, and Aweber are just some of the choices they've given, I just picked those 3 to show you the potential cost, roughly all other options cost the same anyway.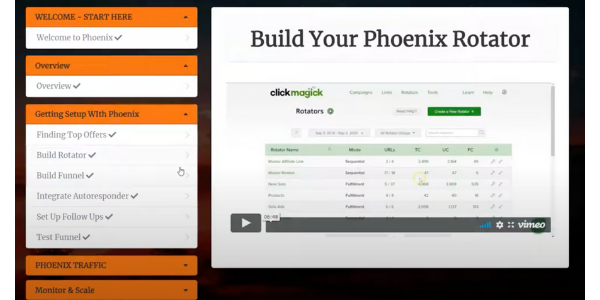 Module 4 reveals another money-sucking tool you'll need to spend on to do solo ads.
In theory, you can get boatloads of traffic just by paying marketers to send you campaign to their own email lists.
Here's the thing:
The email list from solo ads are worn out from all the sales pitches they're flooded with almost every day. Your campaign will most likely land on the spam folder making the chances of it getting read next to zero.
Here's a video showing you what you can expect inside the members' area:
Another thing, you won't be guaranteed to get targeted traffic, so you can end up spending on people who will never convert.
Honestly, paying for solo ads requires skills and experience. You have to concoct the right campaign to move people to action.
This is not for newbies because it's a trial and error process, you'll potentially spend more than you'll ever make if you don't have enough experience with what works and what doesn't.
So, you see, doing the methods they teach will cost you an arm and a leg and you'll need experience, quashing the claims they made on the sales page.
They actually tried to summarize all the steps in making money into 3:
1. Pick a proven offer
2. Blast with traffic
3. Relax and enjoy the commission flood
I'm sure you understand by now that it's not as easy as they make it seem. Before you can ever "relax and enjoy" you'll go berserk with all the additional spending.
4 Reason Why I Don't Like Phoenix
1. Blatant And Unncessary Scarcity Tactics
They use a fake countdown timer to try and squeeze you for money out fast.

Total emotional deception.
If that's not enough, they go on to say, "The offer will be gone soon to avoid potential saturation… if you want to get in you must move with fast feet!"
Don't fall for it!
2. Unbelievable Testimonials
I find these testimonials really hard to believe. Instead of telling you HOW they made money from it, all they ever say is how "amazing" the training is.
3. Requesting A Refund Is An Uphill Battle
Instead of processing your refund directly, they'll try hold you back as much as possible by bombarding you with other offers just so you won't get your money back. I've experienced this first-hand.
4. The Sales Page Claims Are Downright Misleading
Unlike what they said on the sales page, the methods they teach are expensive and definitely not recommended for beginners.
Is Phoenix A Scam Or Legit?
Phoenix is not a scam. You do get training videos on how to use online tools like Clickfunnels, ClickMagick and Aweber, but the training has huge gaps and doesn't properly equip you with the knowledge and skills you need to start earning.
Where Do You Go From Here?
There are no quick fixes to earning affiliate commissions. It's not as easy as creating a few funnels and paying for traffic.
Making money in affiliate marketing involves a lot more than what Phoenix teaches. If you're a beginner just relying on the Phoenix training videos, you're seriously going to struggle.
They say nothing about how to pick a niche, the importance of creating compelling content and getting targeted traffic; all vital things you need to know.
No visitors = no commissions. You definitely don't want that to happen to you!
So ditch the quick fixes and learn the right way with Wealthy Affiliate.
Unlike Phoenix, getting started with Wealthy Affiliate is free and you'll have a whole community of experts ready to help you out.
Their time-tested affiliate training has helped 10,000s of aspiring digital marketers reach their online income goals.
Click here for the full tell-all Wealthy Affiliate review.
What's Your Take?
Did you feel like the Phoenix sales video was all hype too? We're you disappointed by what they only teach inside the members' area?
Share your thoughts in the comments section, we'd love to hear from you! 🙂
Simon Crowe is on a mission to help as many people as possible kiss their bosses goodbye.
Take the free Commission Academy course to discover how to smash your online income goals and make your dream business a reality.