By the end of this My Freelance Paycheck review, you'll know whether or not this is worth investing $47 of your money into.
Trying to figure out how to start working from home? You've come to the right place!
Like Write To 1K, My Freelance Paycheck is a training program that claims to show you how to "put words into the computer for money" but here's the all-important question:
Is My Freelance Paycheck a scam or a legit way of becoming a freelance writer?
And just so you know:
I don't get paid if you sign up for this program so rest assured, I write this honest and unbiased review with the sole aim of helping you to start making real money online.
My Freelance Paycheck Review At A Glance
About: My Freelance Paycheck is Laura Pennington's 156-page eBook on freelance writing. It also includes an audiobook version.
Price: $47 for the physical version of the eBook, $99.95 for shipping, and $37/month for the Passive Profits Mastery upsells.
Pros: The owner is a real person and is upfront about the work involved. 60-day refund policy.
Cons: Ongoing upsells could be expensive in the long run.
Verdict: My Freelance Paycheck is a legit eBook to learn the ropes of freelance writing. Just be sure you earn enough to cover the cost of the eBook and ongoing upsells.

What Is My Freelance Paycheck?
MyFreelancePaycheck.com is a sales page for a 156 page eBook with videos and audio files that teaches you how to become a freelance writer.
My Freelance Paycheck is created by Laura Pennington, a successful freelance writer who put together this course to try and help anyone looking to start getting writing work online.
What's Included With My Freelance Paycheck?
1. A 156-Page eBook
This is the main bulk of the training which is also given in an audio format so you can listen on the go.
2. Laura's Video Training
You'll also get access to 23 short but helpful training videos that will run you through every aspect of getting started, choosing your writing niches and building up your client list.
I like the fact Laura shares her own personal experience of how she built her thriving freelancing business from the ground up.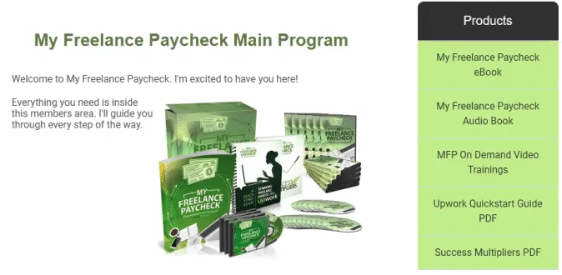 3. Freelance Project Response Templates
Includes 5 done-for-you professional responses to help you interact with your all-important first few clients.
4. Success Multiplier
A downloadable PDF file, here you'll get 25 top tips from 5 experts in the freelancing industry on what to do to ensure you get the highest buck for the work you put in.
5. 5 Most Common Mistakes of Freelance Writers
In this bonus chapter, you'll learn from the mistakes of others so you know what common pitfalls to avoid.
How Much Is My Freelance Paycheck?
You can buy the My Freelance paycheck digital course for a one-time fee of $47 or order the physical version to be shipped to your door for a one-time fee of $99.95 and both are covered by Clickbank's 60-day money-back guarantee.
When you buy the book you'll be sent an automated email with the download links and files.
But there's a catch:
Whether you want to or not, before you check out and pay your money for My Freelance Paycheck, you have to agree to sign up an expensive $37 per month up-sell for a program called Passive Profits Mastery.
You're automatically enrolled so whilst the first month is free unless you contact them directly to cancel, $37 a month will be taken out of your bank account.
You literally can't get past the check out button without signing up for it!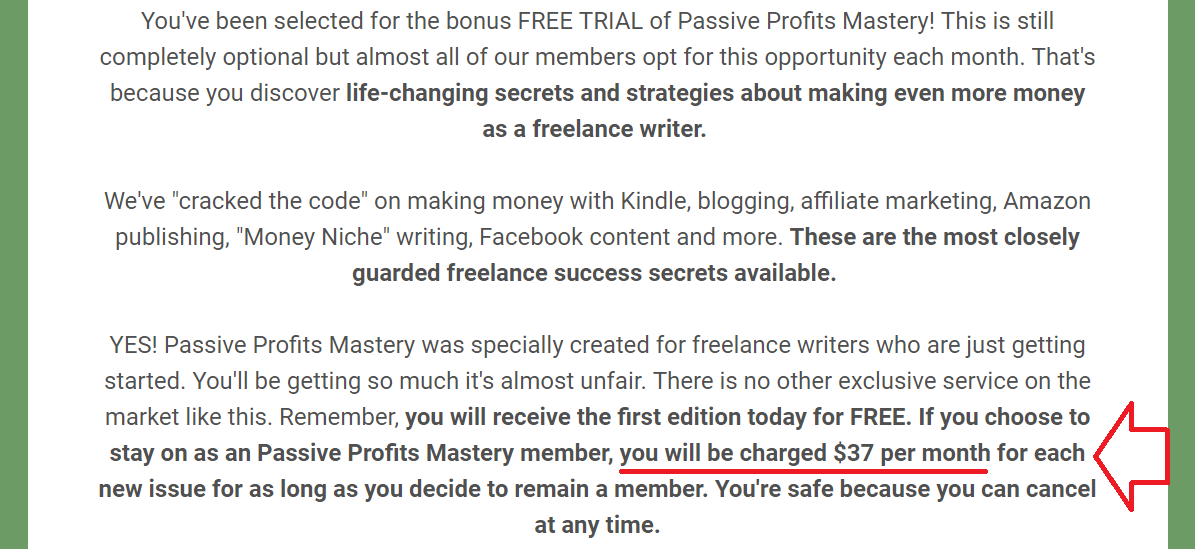 I really don't like this! It's not just because I hate upsells, but the way they do this feels slightly underhanded.
I understand they want to squeeze as much money out of you as possible but if they want to get you to pay a monthly subscription then they could at least offer it as an extra add on, not as a compulsory sign up.
Update: See Laura's comments below. This upsell may not be mandatory after all.
Can You Make Money With My Freelance Paycheck?
I've listed working as a freelance writer as one of my 7 top recommended work from home jobs and if done right, you can earn a good amount of money doing it.
I hire freelance writers regularly and it's true, demand keeps going up.
Freelancing sites like Upwork.com and Freelancer.com give you the opportunity to find writing work, find new clients and build up a good reputation through their rating system.
So whether you're a work at home mum or a student, or anyone looking to build up an online side income, there is an opportunity to do this sort of thing.
Is My Freelance Paycheck A Scam?
My Freelance Paycheck is not a scam, but a legit course by Laura Pennington on how to earn a full-time income as a freelance writer because:
Laura is honest about the work involved
Laura is a real pro with a lot of experience
My Frelance Paycheck comes with a full money back guarantee
1. Laura Is Honest And Upfront About The Work Involved
In 13 Ways To Avoid Work From Home Scams Online you'll see that promising fast and easy cash at the click of a mouse is one of the biggest tell-tale signs of a scam.
So I'm happy to see this training author be honest and straightforward about the amount of work involved.
The sales video says things like:
"Money does not come out of thin air."
"To get paid you need to put words into the computer and meet deadlines."
I couldn't agree more.
The truth is writing full-time is definitely not for everyone and starting to work for yourself instead of for others is something anyone can do, but not everyone has the tenacity and self-discipline to make it work.
2. Laura Pennington Is A Real Person
The second reason I don't think My Freelance Paycheck is a scam is that unlike many of the make money online programs I've reviewed, author and owner Laura Pennington actually exists!
A quick Google search tells you she has a strong reputation online. Her website SixFigureWritingSecrets.com has lots of helpful information on freelancing and Laura has been published on authoritative sites like Business Insider.
On Laura's Upwork profile you can see has earned over $300,000 through writing: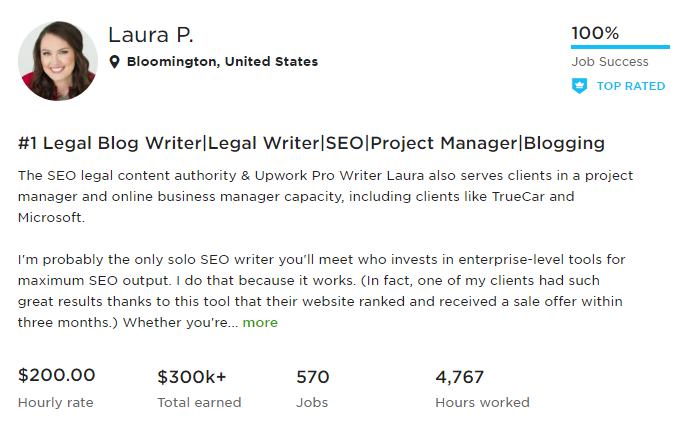 3. You CAN get a refund
Finally, as My Freelance Paycheck is sold through the popular ClickBank platform, you can get your money back. Here's how.
My Freelance Paycheck Is Legit
I believe My Freelance Paycheck is legit but, yes there is a but!
Let me just say there's no new information here and everything you need to know is available online already, but having it all laid out in a step-by-step format can help you save a ton of time researching it all on your own.
It definitely has value for people interested in learning how to become a home-based freelance writer and it is legit.
The website and the training make it clear that becoming a self-employed writer takes a lot of work and time before you can earn a full-time income from it.
Is My Freelance Paycheck Right For You?
Laura's credentials are impressive and I believe this training eBook will help you if you're a beginner to freelancing and are looking to find out how to get started.
But I guess the question I keep coming back to is this:
If this program is so good and gives you everything you need to become a freelancing writer then why the monthly membership for $37 a month?
It just doesn't add up – unless the purpose is to make money from you instead of actually help you launch your freelancing career.
Write For Yourself And Get Paid More
There's a HUGE difference between being self-employed and being a business owner: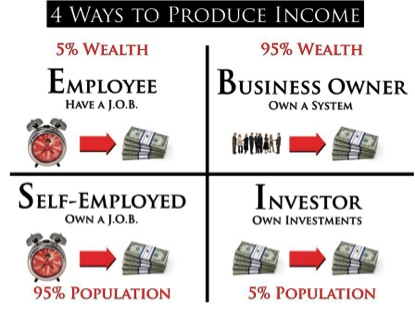 The first sell their time for money and the second build passive income streams.
Why is this so important?
Because being time-rich is just as important as being financially rich.
As a freelance writer, you put in the work and get paid one time only.
As opposed to owning your own web business, putting in the work upfront initially and then reaping the benefits of your efforts many times over for weeks, months and even years down the line.
I type words into the computer but instead of writing ad hoc articles and sending them to other people to publish on their sites, I publish them myself on my own websites
And it's really not as hard as you might think, but it means every time I sit down to write an article I am investing into my own income-producing asset and my monthly income just keeps growing…
The good news is there are free beginner courses like Wealthy Affiliate with full step-by-step training and amazing community support that can take you by the hand and show you exactly how to create your own legit web-based writing business.
Find Out More About The Wealthy Affiliate Community Here »
It's where I got my start 4 years ago and I now make more than $6,000 each and every month as an online author and you can too.
More My Freelance Paycheck Reviews
Your My Freelance Paycheck Review
Have you taken Laura Pennington's course?
If so, let us know what you think in the comments!
Always love hearing your take! 🙂
Simon Crowe is on a mission to help as many people as possible kiss their bosses goodbye.
Take the free Commission Academy course to discover how to smash your online income goals and make your dream business a reality.