iWriter.com is a popular site for both writers and publishers alike, but it's certainly not the only website out there where you can find freelance work or get content written.
There are a ton of better iWriter alternatives out there and each come with their own set of pros and cons.
In this article, I'll show you some of the most popular alternatives to iWriter – some you may have heard of and others you've likely never come across, so you can find the right one for you.
iWriter Alternatives Criteria
Buying Articles
To be considered a great iWriter competitor for buying articles, the content site needs to give you an acceptable level of content in a reasonable timeframe and it needs to be affordable.
(Which is why you won't see Fiverr featured in this list – I've just never had a good experience with them.)
Looking For Writing Work
And if you're a writer then you need an alternative platform that's going to give you a steady stream of work for decent pay and know they're actually going to pay out.
Lucky for you, there are quite a few options that meet those criteria.
So, if you're ready to expand your horizons and try out some new options, here are the 12 best alternatives to iWriter in 2021:
1. OnlineJobs

For Writers:
OnlineJobs.ph is for Filipinos only, but if you live in the Philippines and are looking for long-term salaried work then I can not rate this site highly enough.
For Clients:
This is a gem of a content site that very few people know about and it's probably the one on this list that I've used the most.
Unlike your average content mill site where you pay per article, OnlineJobs is aimed at helping publishers find full-time writers.
They have a free membership which allows you to post your job listing and take look at the applicants but you'll need to upgrade to the Pro membership ($67/month) to be able to contact them.
I've hired 2 full-time writers through these guys and you can cancel your membership as soon as you've found the person you're looking for.
The reason I like this site so much is that I prefer to train and build a long-term relationship with my writers and it's also a lot more cost effective paying a monthly salary than it is paying per article.
From my experience, Filipinos are diligent workers with a high level of English proficiency so you can get high-quality content for the fraction of the price you'd pay someone in the UK or US due to the difference in living costs.
2. OnlineWritingJobs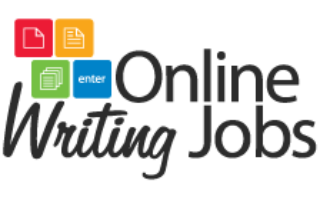 For Writers:
Applying is straightforward and free. Once approved, you can choose your writing assignments based on the type of article, topic, required word count and how much it pays.
Each writing job does have a deadline, so make sure you can complete it before the time is up.
How much you get paid can vary from around the $15 mark all the way up to $50. Online Writing Jobs pays you every Friday via a check in the mail or PayPal.
For Clients:
You hire specialised writers based on topics like science, health, automotive and education. They don't list prices on their website and have you fill out a contact form first so they have a better idea of the type of content you're looking for.
3. Upwork

For Writers:
There's no joining fee and you get paid exactly 1 week after finishing a job.
The only drawback is Upwork takes a percentage based on how much you've earned. If a client pays $0-$500 then Upwork takes a 20% commission, from $501–$9,999 they take 10% commission and for $10k+ they take 5%.
For Clients:
You fill out a job listing, set how much you'd be willing to pay and Upwork will give a shortlist of potential candidates to choose from.
On the basic membership, you only pay a 2.75% fee per job completed, meaning if you bought an article for $100, you'd pay $102.75 in total.
4. PeoplePerHour

For Writers:
Creating your profile gives you the opportunity to sell your skills and talents to potential clients.
You can then search for writing jobs and bid on the ones you're interested in. With PeoplePerHour you can bid on 15 jobs per month for free with the option of buying more credits if you want to.
For Clients:
Posting a job offer is completely free and you'll usually start receiving proposals within a few minutes. You get to set the price and the minimum rating level for potential writers with a full description of the work you want doing.
5. Compose.ly

For Writers:
If you are a US citizen with a natural flair for writing, Composely pays you well for your time.
Be warned though: only 1% of applicants are approved!
For Clients:
With 350-500 word blog posts starting at $64.95 you are paying a bit more for this premium content site, but the writing quality is a lot higher.
If you're looking for something long-term they also offer a fully managed service and a chat with one of their consultants so they can provide you with content that's right for you.
6. HireWriters

For Writers:
HireWriters is probably the content site on this list that's been around the longest.
They pay up to $20 per article depending on your expertise level and type of content and payout every Friday.
For Clients:
You can get a 1,000-word article written for less than $5 but don't expect the quality to be that great. The advantage of this site is you can get access to a ton of writers at very affordable rates.
7. Contently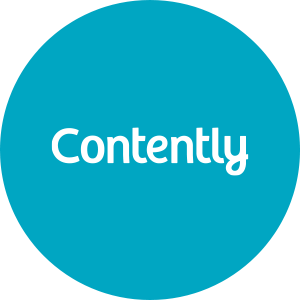 For Writers:
Depending on your skill level and experience, you can make a lot of money as a freelance writer with Contently and potentially have the opportunity to work with some big brands like Euronews and TechCrunch.
Check out their payments rates here.
For Clients:
Contently is similar to the managed service you get at Compose.ly in the way they don't list prices on their website (which is annoying, but I get there are so many variables.) They prefer to offer a bespoke service designed around your brand needs.
8. Crowd Content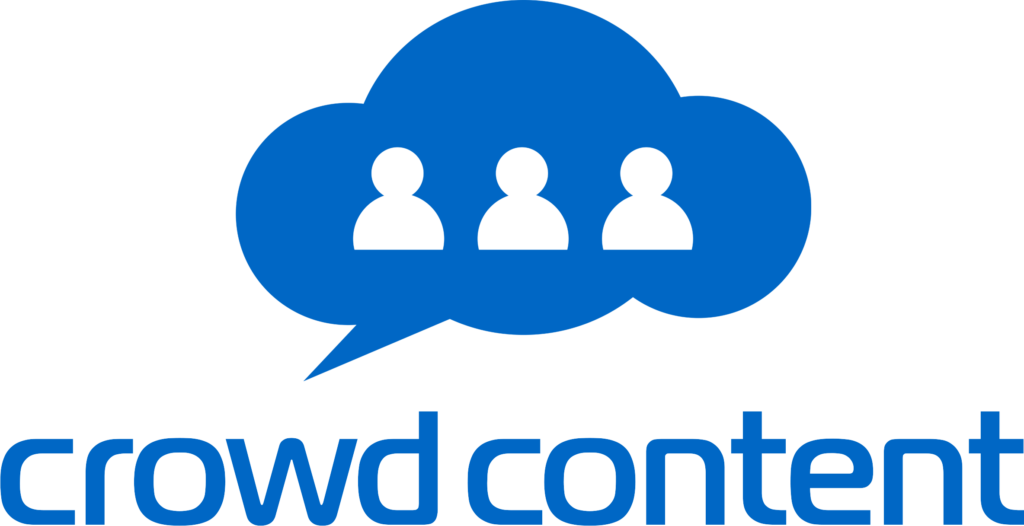 For Writers:
According to their website, only 15% of new applicants get approved, but if you are, you really do feel like you're part of a team.
They give you clear guidelines to follow which makes it easier for you as a writer when you know exactly what their expectations are.
There's a wide variety of writing work available with this one: from writing Tweets and Facebook posts to blog content and product reviews.
They also process payments every Tuesday and Friday which is handy.
For Clients:
Crowd Content has a ton of writers all from the UK, US, Canada and Australia and they hold their writers to a high standard, which shows in the quality of writing.
The cost of content will depend on the type of content you're after and the star rating of the writer. According to their pricing calculator, a 600-word article written by writer rated 3 out of a possible 4 stars will cost around the $48 mark.
9. TextBroker

For Writers:
TextBroker is free to join and never charge you membership fees or commission.
The amount you earn depends on your personal rating, ranging from 0.7 cents to 5 cents per word: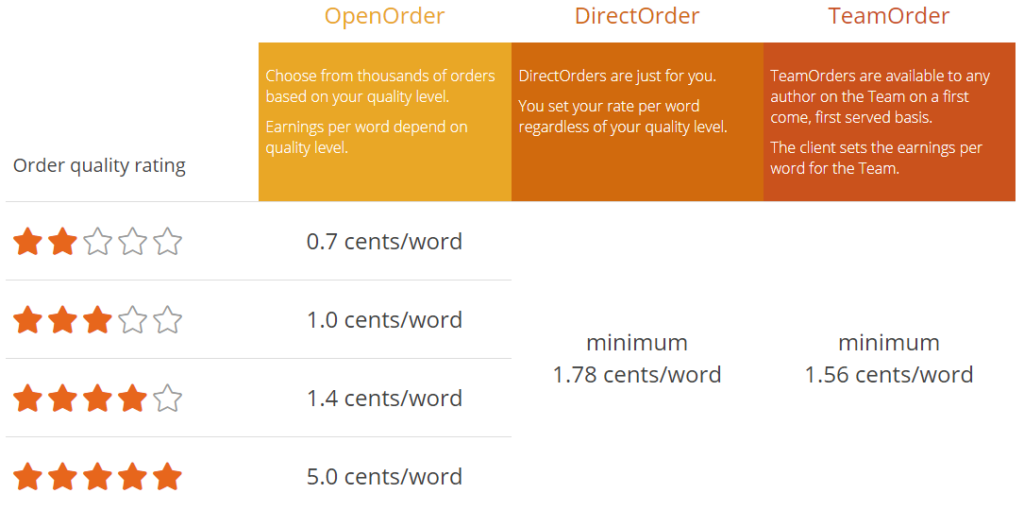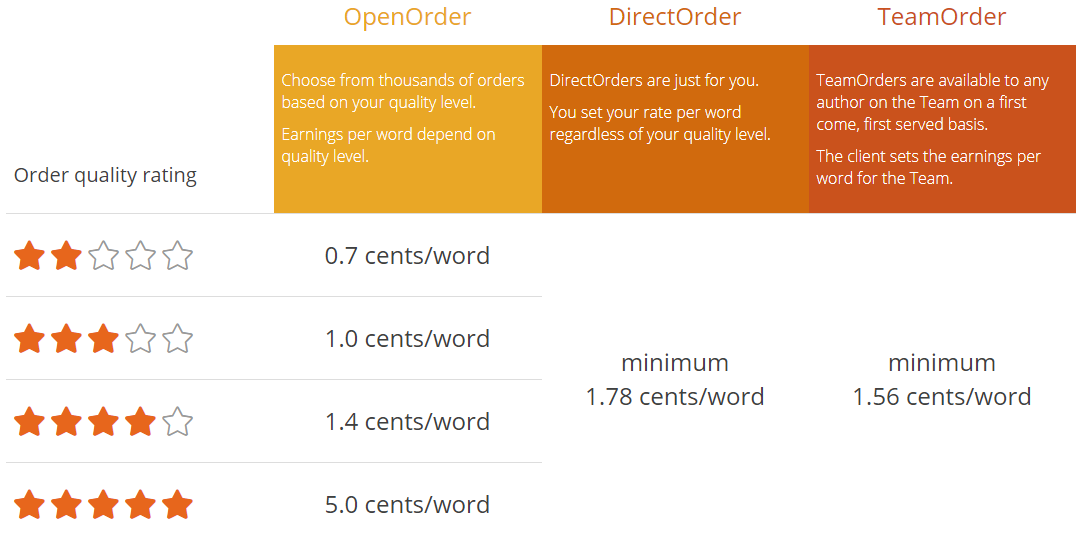 They pay their writers (who have a balance of more than $10) every week via PayPal.
For Clients:
You decide the word count, the processing time and the level of writer. I personally would only recommend writers with a 4 or 5-star rating.
Content starts for as little as 1.5 cents per word and as TextBroker recruit US citizens only, you know all your content will be written by a native English speaker.
10. Freelancer

For Writers:
Freelancer is a free and flexible freelancing site with big and small jobs available.
Once you create your account you can browse jobs and choose whether you want to get paid per project or per hour.
For Clients:
I really like the layout of this site and the fact you have complete control over your job specifications and the price you set, plus you only pay for the work once you're happy.
The site is free to use and you only pay a 3% commission or $3 (whichever is higher) when you're paying your freelancer.
I hired someone through Freelancer for the first time recently when I decided to get a new logo for this website (the old one started to look very dated) and I will definitely use this service again.
Within seconds of posting a job I had dozens of bids and the freelancer I dealt with replied to me almost immediately throughout the ordering process. I got my logo within 24 hours.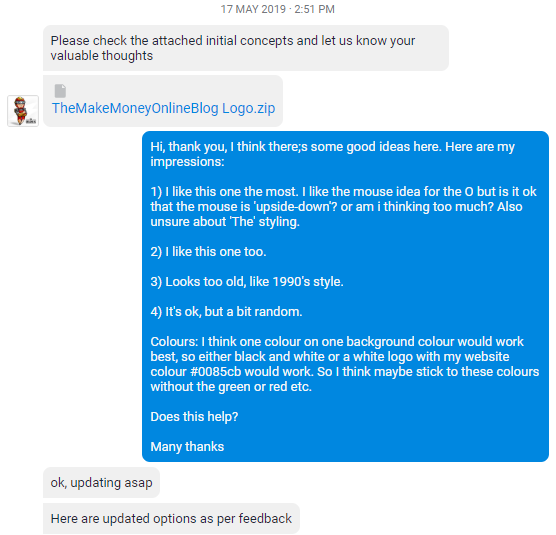 Of course your experience can vary using these types of sites depending on who you get but go for someone with a lot of positive ratings and you can't go far wrong.
11. Outsourcely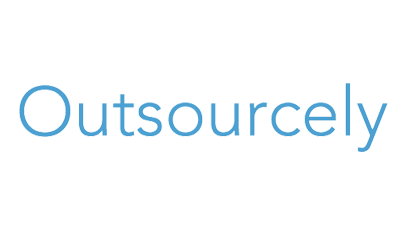 For Writers:
This is a site many disgruntled iWriter writers have flocked to lately and unlike Upwork, Outsourcely doesn't take a 20% cut of your earnings.
The site is free forever or you can choose to upgrade to a 'featured profile' for just $10/month (billed quarterly) to have your profile show up at the top of clients' search results.
Most of the writing jobs on this site are salaried, full-time positions.
For Clients:
Outsourcely is a great site if you're looking to hire someone long-term or if you're looking for content in very specific or technical niches.
You'll find a bunch of highly qualified candidates and I don't think the price is bad either.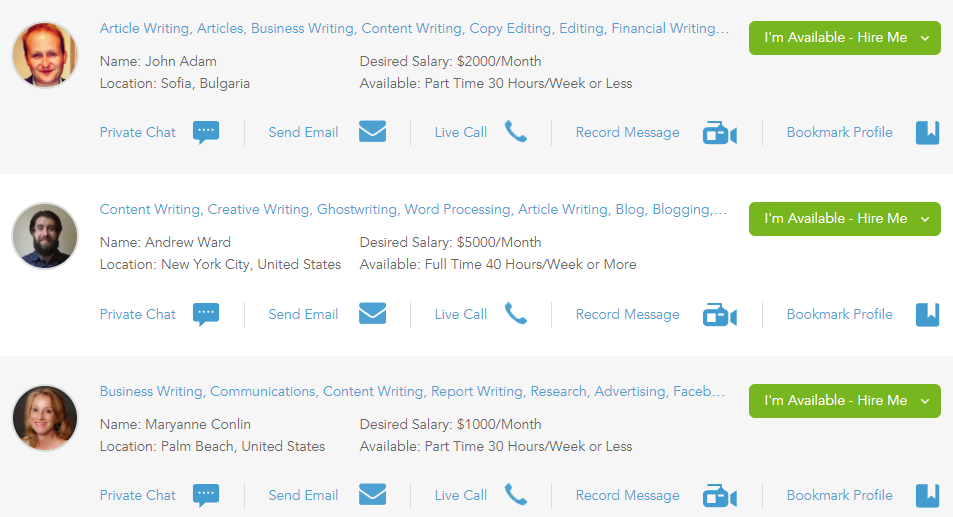 12. WriterAccess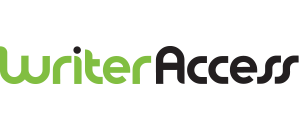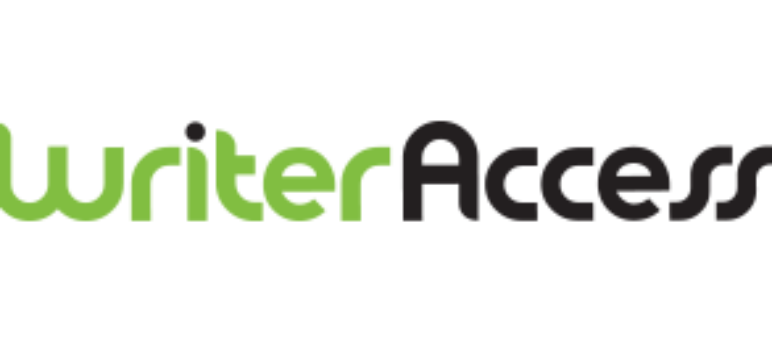 For Writers:
Last but not least, our final iWriter alternative is WriterAccess who have a very simple sign up process.
You only need to take a quick proficiency test, provide a quick writing sample and you're good to go. Based on your profile they will match you up with potential gigs.
WriterAccess take a 30% cut and you get paid every two weeks for all work completed. The pay is higher than average though, ranging from 3 cents to 8 cents per word. You can take a look at their pay rates here.
For Clients:
This is a premium writing service where you pay a monthly fee starting from just $39 a month. They have highly specialised writers and a pretty cool interface where you can manage your outsourcing.
I hope this list of iWriter alternatives gave you some new options to look at.
If you're an aspiring writer looking to go full-time, you might want to take a look at my review of Elna Cain's Write To $1k course.
In it, Elna shares some of the best resources, tips and tricks from her own experience as a freelance writer and it comes highly rated.
Know Of A Great iWriter Alternative That Should Be On This List?
Scroll down and share your recommendation with us in the comments!
Not sure about to get started as a freelance writer? Ask your questions below and I'll personally do my best to help you out.
Simon Crowe is on a mission to help as many people as possible kiss their bosses goodbye.
Take the free Commission Academy course to discover how to smash your online income goals and make your dream business a reality.