MindfieldOnline.com calls itself your solution for earning extra cash online, but the site seems out of date and there's tons of complaints about them from angry users.
Is Mindfield Online a scam or legit? That's exactly what you're going to know by the end of this review.
Survey sites seem the first port of call for people looking to make a bit of extra money from home, even though they pay far less than the national minimum wage and take away a lot of your time.
Websites like One Opinion, Daily Rewards and Cashback Research might give you 3-5 mind-numbing surveys a month and pay you less than $1 an hour for your private information.
Personally, I think your time is worth way more than that!
Which is why if you have the time an energy to put into something, you're better off checking out this training program right here so you can learn a legit way to earn some serious money online.
It's the blueprint I followed to earn more than $6,000 a month.
When I know earning a full-time income is more than possible, I just don't understand why people are still wasting their time with sites like these but who knows, maybe Mindfield Online will exceed my expectations.
Let's find out.
Mindfield Online Review At A Glance
About: We're told Mindfield Online is your solution for extra cash. Basically, it's a survey site owned by McMillion Research.
Price: Free to join.
Pros: Pays out.
Cons: Survey rewards are outrageously low than usual.
Verdict: It's a total waste of your time for the little money you make from it. Try Swagbucks instead.

What is Mindfield Online?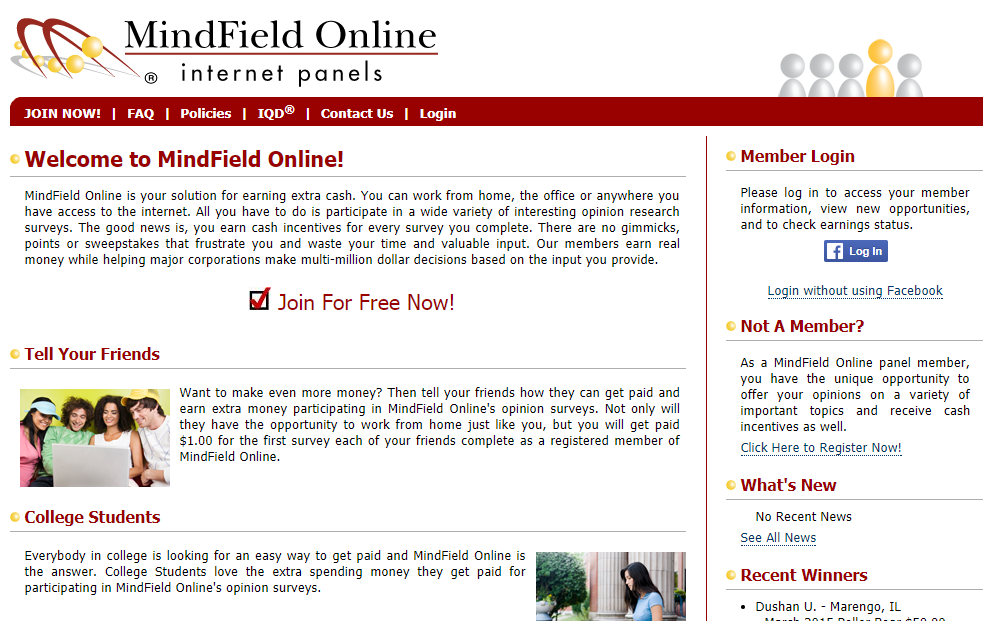 [alert-note]Update: The site appears to no longer be accepting new members. See below for details.[/alert-note]
Mindfield Online and it's app Survey Cloud is owned by McMillion Research who have been around for donkeys years. In 1980 they started out asking consumers questions door to door.
Fast forward to today and Mindfield Online gets consumer feedback to companies faster than ever before.
U.S. and Canadian residents aged 15 or over can join the site for free and opt in for email notifications to tell you when new surveys become available.
A typical survey could take 20-30 minutes to complete and pay out between $0.50 to $1. You can request a cheque in the mail if your balance reaches $5 or over.
The fact this survey site is owned by a reputable and long-standing research company should be a strong indication that Mindfield Online is legit, though the hundreds of negative reviews on sites like SurveyPolice tell a different story.
Mindfield Online aren't accepting new members?
Usually I sign up to the scammy survey sites so you don't have to, but for this review it's just not possible.
When I clicked on the "Join now" button and was given the following message: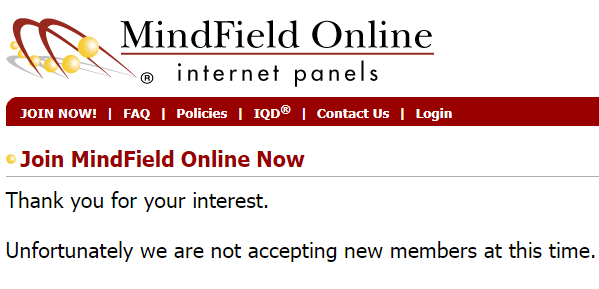 Whether this'll change in the future or not, I have no idea, but what I am sure about is I'm not going to schedule routine visits to keep checking this site in the hopes of becoming a member.
Mindfield Online reviews and complaints
I'll be honest: I'm shocked at the number of complaints Mindfield Online has against it, which may explain why they seem to be closing the site down…
The Complaints Board has page after page of negative reviews and after reading through them, there's a handful of issues that come up again and again.
I'm showing you these because if you're deciding whether or not to join then it's good for you to see some of the issues you'll inevitable find yourself working against to make a buck.
Getting disqualified from surveys halfway through is annoyingly common
The site does not have an ample, never-ending supply of surveys. At best you should expect no more than 4 survey invites a month.
Factor in their lower-than-average 20% qualification rate and you'll see you might only be able to take 1 survey per month.
Here's a user who only managed to qualify for 1 out of 500 surveys she started: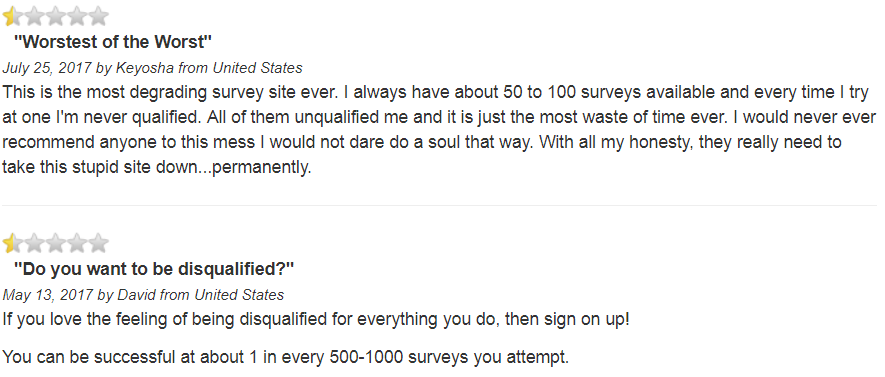 This member made just $59 in 6 years!
Surveys are scarce, qualifying is rare and payout rates ridiculously low. Here's a review from a lady who spent 6 years of her life with Mindfield Online only to make $59.
Please allow me to state the obvious:
This is NOT a legit income-earner for you, me or anyone. It's a few measley cents a day! Is this really going to make a difference to your bottom line?

You get paid less than $1 an hour and it's not worth it
It annoys me when survey sites tell people making money by taking surveys is easy, fun and worthwhile because it's clearly not.
You might not think it, but surveys are long and boring and I promise you Mindfield are making way more money from your personal information than they ever give back to you.
This is why more and more people are waking up to the fact that sites like this are just not worth it.

Is Mindfield Online a scam? No, BUT…
Mindfield Online is not a scam. They are owned by a legit company and have been around a long time. However, surveys are becoming more and more infrequent and the site itself seems to be shutting down.
They're not as bad as some of the sites I've reviewed so far, but there are better ones like Swagbucks if you're adament survey taking is the way you want to go.
Should you become a member and use it to try make some extra money?
It does look like they do pay out when you reach the minimum $5 amount but with the high disqualification rates, lack of surveys and low payouts I can't recommend it as a legit option for you.
What I would do if I were you
If you are really serious about finding a way to build an online income stream for yourself then do me a favour and forget silly survey sites like these. You'll end up putting in hours of your time with absolutely nothing to show for it.
Instead, why not invest your time and energy into creating a real internet business? This is exactly what I did in 2014 and I now earn $6,000+ a month.
I followed a brilliant free beginners training course that I think you'll want to check out. It will take you by the hand and guide you through building a real online business step-by-step.
Yes you'll need to put in the effort and give it time to grow, but once the profits start rolling in, it will grow and grow.
Simon Crowe is on a mission to help as many people as possible kiss their bosses goodbye.
Take the free Commission Academy course to discover how to smash your online income goals and make your dream business a reality.