I'm guessing this is not the first MLM you've heard about. But since you're interested in what this review has to say, Heal Worldwide looks impressive to you and you want to make sure if you have the right thoughts about this money-making opportunity. Is it a legit opportunity or just another scam?
There is a thin strand that separates an MLM from a pyramid scheme. Added to that are aggressive distributors, recruiting requirements and overpriced products of legit ones. I'm sure you want to find a money-making opportunity that won't give you a constant headache.
By the end of this review you'll have a pretty good idea of how you can make real money online in a sustainable way.
So stick around!
Heal Worldwide Review At A Glance
About: Heal Worldwide is a health and wellness MLM. They offer nutritional supplements and digital products like fitness programs.
Price: Has an option of $9.97/month or $99.97/year membership.
Pros: 17%-50% commission rates.
Cons: Cunning business model, expensive products, low success rate, high competition.
Verdict: Heal Worldwide is legit. However, the chances of making money here are very low because of the saturated market health and wellness has. 

How Heal Worldwide Started
Stephen Munson is the founder of Heal Worldwide.
He had an MLM experience prior to Heal Worldwide with Empower Network, working for David Sharpe. Unfortunately after some reboots, this gifting scheme which was launch in 2011 collapsed 6 years later.
After Empower Network. Munson promoted DS Domination.
Although Stephen Munson is the main face of Heal Worldwide there are two other founders named Eric Sharpp and Vincent Webb.
Munson started Heal Worldwide after he hit his low in 2014. He got sick (getting allergic to regular foods like bananas, black pepper, and garlic), broke, and to top it off his best friend died from cancer.
This might seem to be a marketing strategy for people to feel how hopeless he became and how Heal Worldwide changed it all for him. But then again, he might just be sharing his experiences.
Sometime after getting sick and traveling finding a way to heal, he met Dr. Pichaet. He studied plant-based health and that's how he found his product line for his MLM.
I must say, I'm pretty impressed by how Munson backs up his "healing story" by creating a timeline of his experiences from 2014 to present. It makes him pretty credible to be.
Heal Worldwide Products
Heal Worldwide has both physical and digital products.
The physical products include nutritional supplements produced by APCO which stand for Asian Phytoceuticals Public Co. that is headed by Dr. Pichaet.
The APCO supplements include:
TH Plus- claims to activate a blood group to balance the immune system
BIM.A- claims to be an immune modulator which also helps with arthritis problems
BIM.D- claims to relieve Diabetes symptoms
BIM.E- claims to help with eye issues
LIV Plus- claims to boost the immune system
The main ingredients of these supplements include:
Black Sesame
Mangosteen
Isolated Soy Protein
White Guava
Centella Asiatica
But there's a catch:
I purposely described the products as "claiming" to have the benefits because there is no mention of these benefits directly from the website and scientific journals to support the supplements' effectiveness.
If they did disclose a direct claim, they will have to be evaluated by the FDA.
If they had this scientific proof of the claims, it will be a great credibility and marketing boost.
Aside from the supplements is a radiation protection called Cell Protect Disc and EMF Protec Strips which claims to protect from harmful radiation.
You just have to stick the disk to your gadgets and the strip to your appliances like TVs and microwaves and will do its work.
But then again:
There's no scientific evidence to back up the claim.
The funny thing is:
They used to sell weird "shungite pyramids" that does the same thing of protecting you from radiation. It's like a magical carbon pyramid against radiation.
Either it didn't sell or people find the product outright absurd that can damage the product line. So they stopped producing it.
I wonder when the radiation discs and strips will be off the line.
Oh, they also have shirts and jackets and pet food supplements. (You guessed it, no scientific proof too)
As said they also have digital products:
Big Profile Profits – $199
The 21 Day Challenge – $397
Heal Fitness- 197
Business Class- 997
You might have your eyes wide with the "Business Class". It's a hand on coaching class in various courses.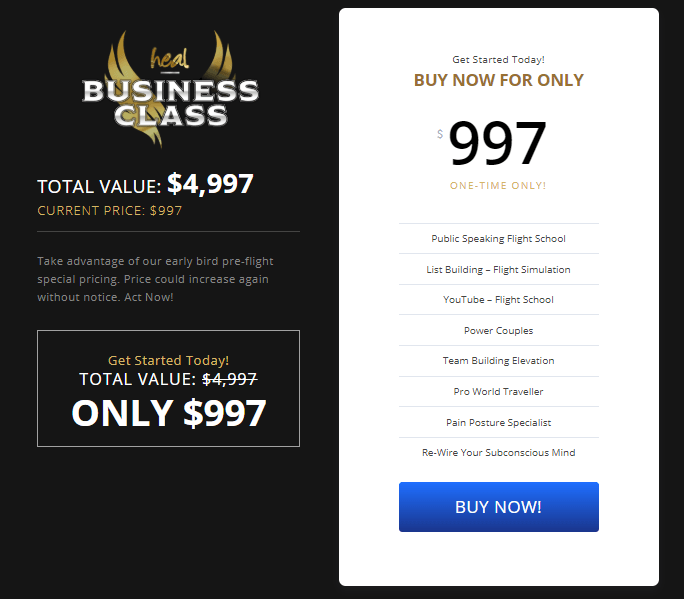 Honestly though, I think $997 is worth more than what they offer. If I had that money, I'd use it somewhere more profitable.
I mean come on if you avail this course you will have to do your best to earn that amount and it will take you an awful lot of marketing to sell the products they offer.
And aside from that the company also puts together events in various countries where the tickets are also commissionable.
How You Will Earn
Here's a video to explain that:
Basically to be a member and start earning you will have to pay $9.97 membership every month or $99.97 per year.
There is also the VIP subscription for $99.97 a month that lets you access additional marketing tools. (I don't think it's worth the money too)
Because it's an MLM like Sisel International, Pink Zebra, and Total Life Changes uni-level structure handles their retail sales.
You can from 17%-30% on supplements, 33% on digital products, and marketing courses.
There are also:
1. 33% on Coach VIP Sales
2. 10% on Power Line/ Tribe Money
What I Like About Heal Worldwide
The compensation is only 2 pages and easy to understand unlike most MLMs that take 20 pages to explain.
The commission rates are pretty good too, earning 17%-50% depending on the products.
What I Don't Like About Heal Worldwide (It's a longer list than what I like about Heal Worldwide)
1. Shungite Pyramids
Although they discontinued selling this, in the first place why did they consider this in the roster? It's very sketchy and it will only damage their branding. This can also show that they did not do enough research on the product before putting it in the market.
2. Cunning Business Model
Actually, you won't have to sell the products. You just have to recruit people and sign them up for auto shipment. This means they automatically buy products even if they don't really need it. As long as the members are on auto-ship, you can generate commissions.
3. 99% Of People Who Join MLM Lose Than Gain income.
Overpriced products ($69 per pack) and recruitment difficulty will lessen your chance of earning from this.
4. $997 For A Masterclass
It's way overpriced for the courses they offer! Plus you can't be sure you can get a good ROI to cover the cost after the courses
5. Bothering Friends And Family
If you're good with marketing this won't be a problem. But most people aren't and they might end up harassing these people just to get a sale. That means that these people will start walking across the road when you're around.
6. No Income Disclosure
People will trust a company when they see it's earning, Heal Worldwide however didn't even bother to give this assurance that potential members can boost their confidence in this business opportunity.
7. Limited Product Line-up
More products mean more chances of selling. Sadly I don't think the company has that principle.
Is Heal Worldwide A Scam?
I will say no. Heal Worldwide is legit BUT it's not worth it. You'll just end up losing money than gaining some.
Other than the stuff I mentioned above about what I don't like about MLMs, working for a single company puts you at great risk.
What if it closes down without you knowing? How will you recover your investment? This means you have to start over again and painstakingly find another company to trust.
The Bottom Line
Although Heal Worldwide is legit, it's definitely NOT an assurance that it is profitable. In the first place, you're doing business to earn right?
The products have no scientific evidence to show that its really effective. Plus it's very expensive. If you check on similar products at retail stores, you'll get the same kind of supplement for a far cheaper price.
There are not even reviews or feedback to support if the products they offer are effective or not. I don't recommend reviews from members either, they tend to be biased to sell you know.
No feedback can mean no one is using the products.
Other than that , there's no income disclosure which could have substituted for positive reviews and feedbacks. It would have been a good source to know if there's great earning potential in this business.
So we're left clueless how much an average member can make in a year.
If you really want to make money online minus the blunders of MLM, a better choice is affiliate marketing.
With affiliate marketing you can start from scratch because there is training and support available and you can sign-up for free. Plus, you can work with unlimited products because you are not bounded in one company.
If you want to know more about Affiliate Marketing check out this link.
How I Make A Living Online?
After years of working in call centres I finally figured out how to create a 5-figure monthly passive income stream and become financially free.
Thanks to the right training and a lot of hard work I kissed my old boss goodbye and booked a one way ticket to Thailand.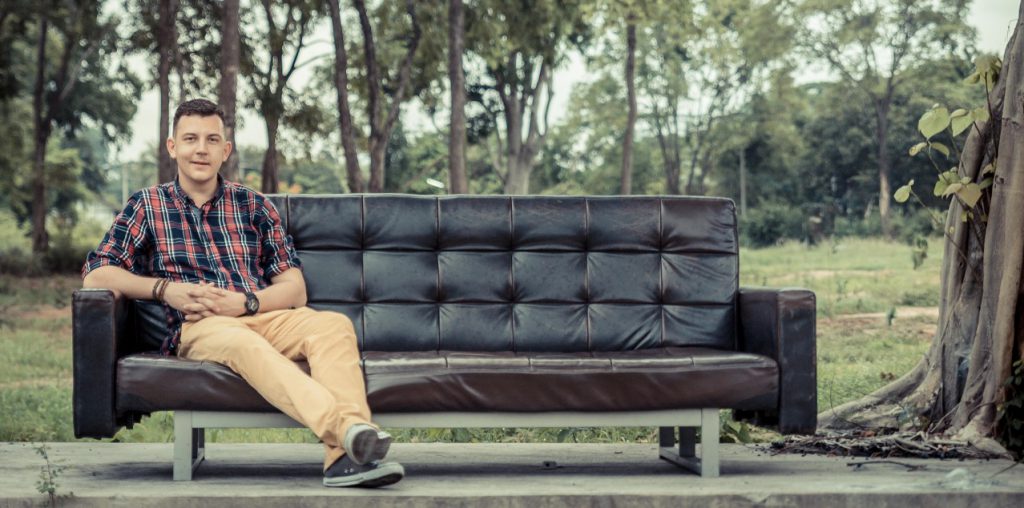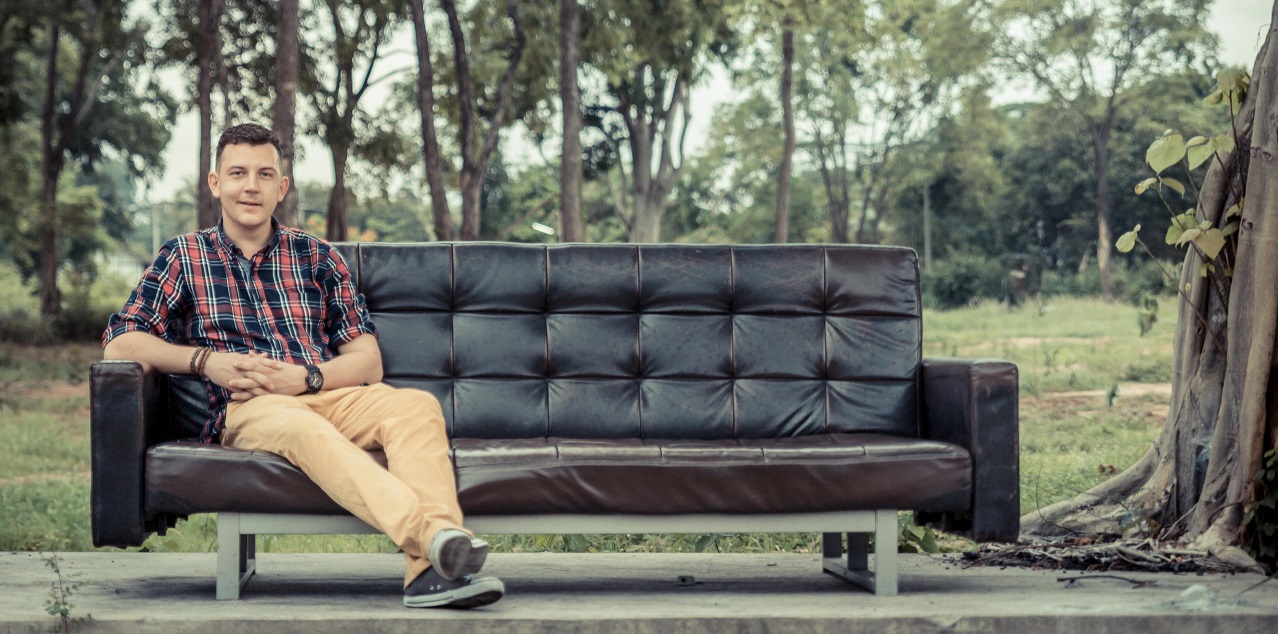 So if you're serious about building a thriving online business, click here for the exact step-by-step formula I follow.
Simon Crowe is on a mission to help as many people as possible kiss their bosses goodbye.
Take the free Commission Academy course to discover how to smash your online income goals and make your dream business a reality.