Welcome to my Earnably review! Today we're going to find out the answer to the pressing question of whether it's a scam or not.
A lot of people wanting to earn some extra cash turn to GPT (Get-Paid-To) and survey sites. The thing is, only a handful pay you back for the tasks you do for them. So today, we're going to find out if Earnably is one of the good ones or the bad. 
After all, you won't want to make an effort for something worth nothing, right?
Earnably Review At A Glance
About: Earnably is a GPT site where you can earn points that can later be exchanged for. cash or gift cards.
Price: Creating an account is free.
Pros: Joining is free, easy to navigate, and you can choose between cash of gift cards.
Cons: Not available in some countries, poor customer service, low income potential.
Verdict: Although some vouch they got paid, others complained their accounts got suspended. I won't recommend this for people looking for a way to pay the bills. 

What Is Earnably?
Earnably is a survey platform owned by Forma Creative Ltd founded by David Ryan Davies. The website says Earnably existed since 2015. To be sure, I checked on the domain details, and true enough it was registered back in 2015.

As for Forma Creative Ltd, it's a London-based company that's been reported to have taxes and accounts filed. A good indicator bringing them far away from the scam tribe to me. 
Here's the kicker though:
Earnably is only available to a limited number of countries like the US, UK, and Canada. For the full list, check out this link. 
How To Join Earnably
Easy. You just have to click on the sign-up button and provide your name, email, and password. After that, you just have to go to your email inbox to confirm the registration.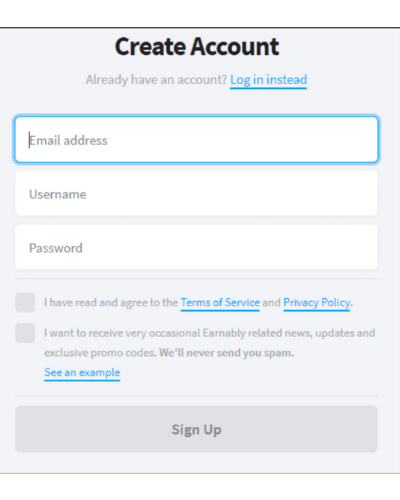 You'll be redirected to Earnably's website and can start checking out surveys and tasks you can gain points from. 
How Earnably Works
Earnably is a sort of middleman between users and advertisers. Advertisers or business owners tap survey sites like Earnably to create surveys for their research. Earnably in turn provides the people to answer the surveys according to the demographics they're looking for. 
When advertisers pay Earnably for the surveys, Earnably gives a portion of the payment to survey takes and task doers. 
Earnably rewards you with points for doing tasks that you can later on use to redeem gift cards from partner brands or cash.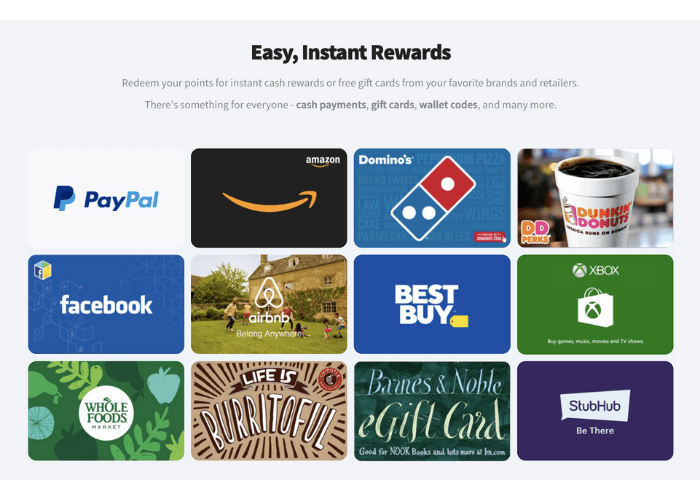 Here's the list of things you can do in Earnably to gain points:
1. Completing Surveys
Earnably partners with PeanutLabs for the surveys. A lot of survey sites do so too. Before taking the test,  you'll have to pass the demographic qualifications. You'll be asked questions like your age, education, income, purchase habits, and even electronics owned. 
It can get pretty frustrating answering long demographic questions only to end up disqualified. 
If do you pass, you'll get access to surveys ranging from 10-20 minutes long. The longer the survey, the higher the points.  
Here's an important part you should know:
Compared to other survey sites, Earnably gives lesser points for the same surveys taken on other platforms. For example, you earn 720 points from PrizeRebel for a certain survey, when you take the same survey in Earnably, you'll only get 469 points. 
If you take surveys in PeanutLabs, I suggest you do so in PrizeRebel or Swagbucks rather than in Earnably for more points. 
Other than PeanutLabs, you can also head to Adscend Media for surveys. Adscend Media rewards more than PeanutLabs. With some surveys, you can earn points worth a dollar for a 30-minute survey. 
Still not that big,  but better than the measly points PeanutLabs give.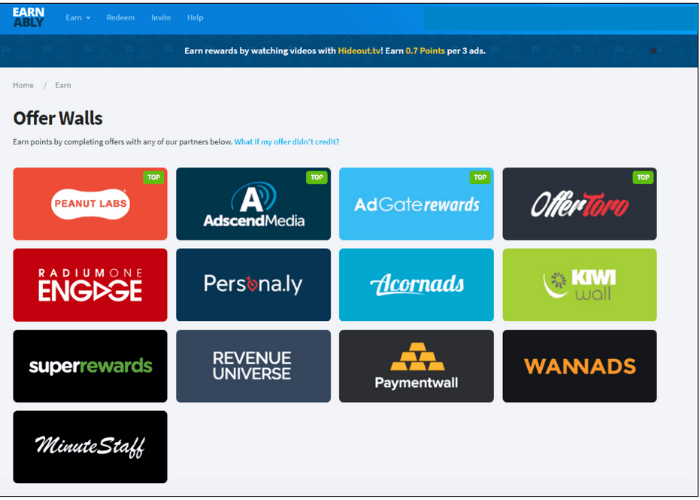 2. Watching Videos
Because it's one of the easiest things to do, the points you'll get is lesser than what you can gain in taking surveys. You only get 1 point for watching 3 videos! It's going to be a total waste of time especially because $1 is equivalent to 125 points.
3. Downloading Apps
You can download games and apps to earn points. But that's not the end of it, you have to check the instructions otherwise you won't get the points. Some apps require to be used for some time or played until a certain level before you can get the points. 
4. Completing Offers
You can also earn points from clicking on ads or from signing up for free trials. Ads usually take around 5-15 seconds to watch to get points.  
Free trials can include digital or physical products in some cases. This task can be a bit tricky. You have to watch out for some trials because they only last a week. You have to be cautious because if you don't cancel in time, you'll end up getting billed for the subscription. 
If that happens, you'll lose more than you'll ever earn! If you decide to wad in the danger, you can use a spreadsheet to take note of trial offers' details so you can cancel before you get billed. 
5. Referring Others
You can invite others to sign up for Earnably and get 10% of their overall earnings. It can be a challenge if you're not the type who likes to recruit others. Especially because Earnable requires that referrals need to stay active for a long time. 
6. Promo Codes
This will require you to keep tabs on Earnably's social media pages. You can either earn automatic free points or a percentage bonus which will be points added to other tasks you complete. 
On average, most of the tasks will only give you points worth $2 for almost 3 hours of work. This is not new for survey sites. Advertisers don't pay them much so they can't also afford to give larger payouts to users.
Honestly, it's really not worth your time. If you have 3 hours to spare in a day, you can actually use that to learn how to build a business that you can earn with month after month. 
In reality, survey sites are losing their power. Most advertisers now prefer turning to social media to get user feedback. 
This is why they also partner with brands to spend lesser on users. If you decide to redeem your points using gift cards, here's a list of how much you'll need: 
Amazon: 125 Points
eBay: 500 Points
Target: 125 Points
Walmart: 500 Points
Nike: 1,000 Points
Under Armour: 2,500 Points
Dominos Pizza: 500 Points
Dunkin' Donuts: 325 Points
Burger King: 500 Points
Nintendo: 1,000 Points
Airbnb: 2,500 Points
There are actually more, you can find in the website. I just chose listing the big brands you might be interested in. If you want to redeem in cash, you can do so with Paypal.
Pros Of Earnably
Sign up is free
Easy to use
You can choose between gift cards and cash
Cons Of Earnably
Not available in some countries
Poor customer service
Low income opportunity
Is Earnably A Scam?
I don't think it is. I checked on some user feedback and some of them did get paid. 


However, there are also those who complained about their account getting suspended.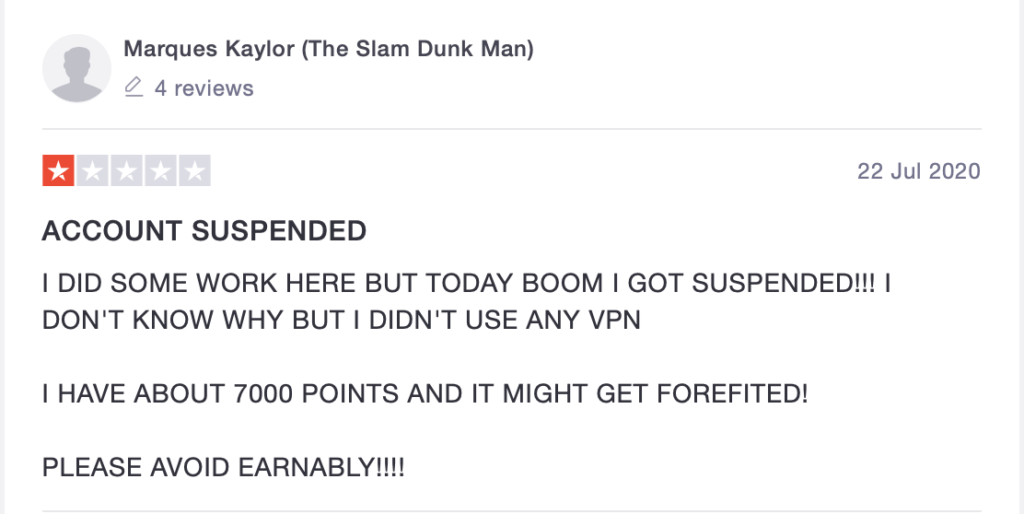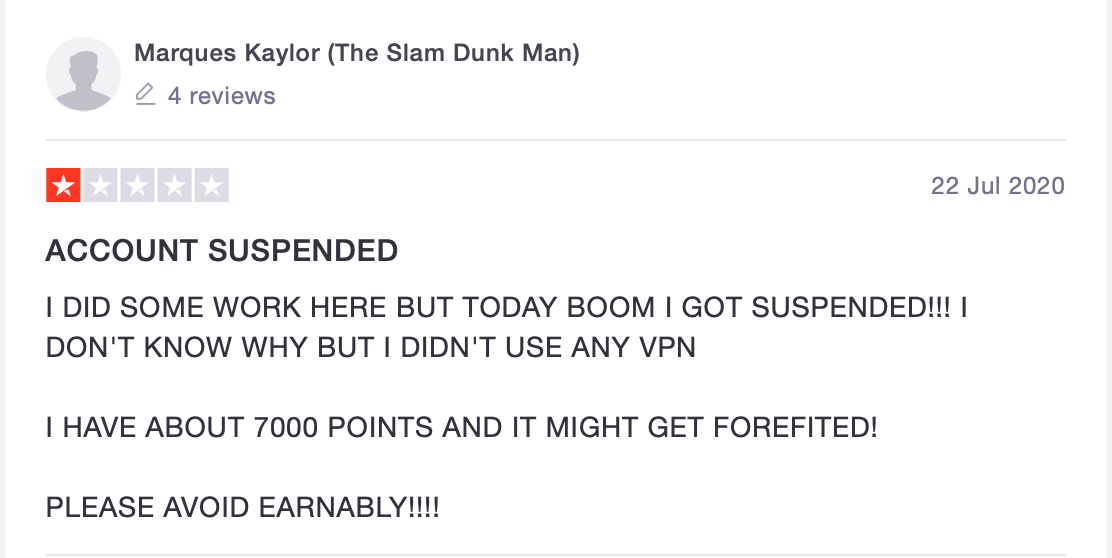 Generally speaking, as a survey site, I won't recommend it. The point value you get for doing surveys is lower than what other survey sites give. For survey sites, I think you'll be better off with Swagbucks.
Still, even Swagbucks can't be enough to make you quit your 9-5 to work at home. 
Earnably Review Closing Thoughts
Let me be straight with you, not all legit money-making opportunities are worth going after. Case and point: survey sites.
Looking at the average earnings, the demographic qualifications you have to go through, and complaints about getting suspended I don't think it's a worthy path to tread.
Like I've said earlier, survey sites are not as flourishing as they were years ago when there was still no social media as an alternative. 
Personally, taking surveys for measly points is not something I'd like to pursue long. It takes too much time only to receive trifling rewards. 
The time and effort you put in survey sites are better spent in building your own business where you'll earn month after month. 
If you're looking for a sustainable way to make money online, enough to let you say goodbye to your boss, I suggest you try affiliate marketing. 
Affiliate marketing involves promoting other people's products for a commission. 
But I don't know how it works..
No problem, Wealthy Affiliate comes with a training program that will teach you everything you'll need to run your very own business. 
You won't even have to recruit others to earn!
You can try out the first 10 lessons for free and if you feel it's a good fit, you can move forward to the next lessons for $49 per month. You won't only get the training, you'll also get in touch with like-minded people ready to help you monetize your website. 
The best thing of all, after establishing your business, you won't need to be in front of the computer all the time to keep the earnings coming in!
Rather than spend your time for peanuts, you can use it to reach it online income goals.
How I Make A Living Online?
After years of working in call centres I finally figured out how to create a 5-figure monthly passive income stream and become financially free.
Thanks to the right training and a lot of hard work I kissed my old boss goodbye and booked a one way ticket to Thailand.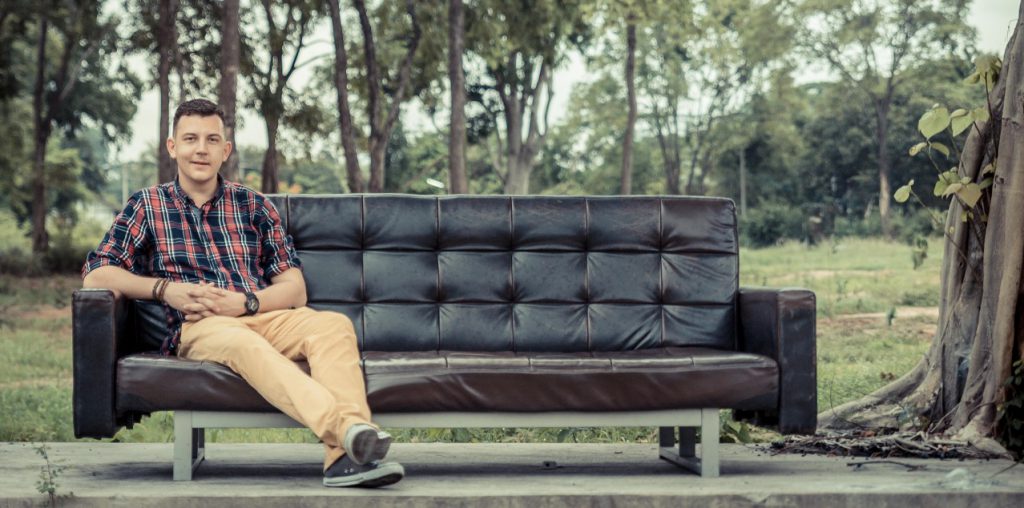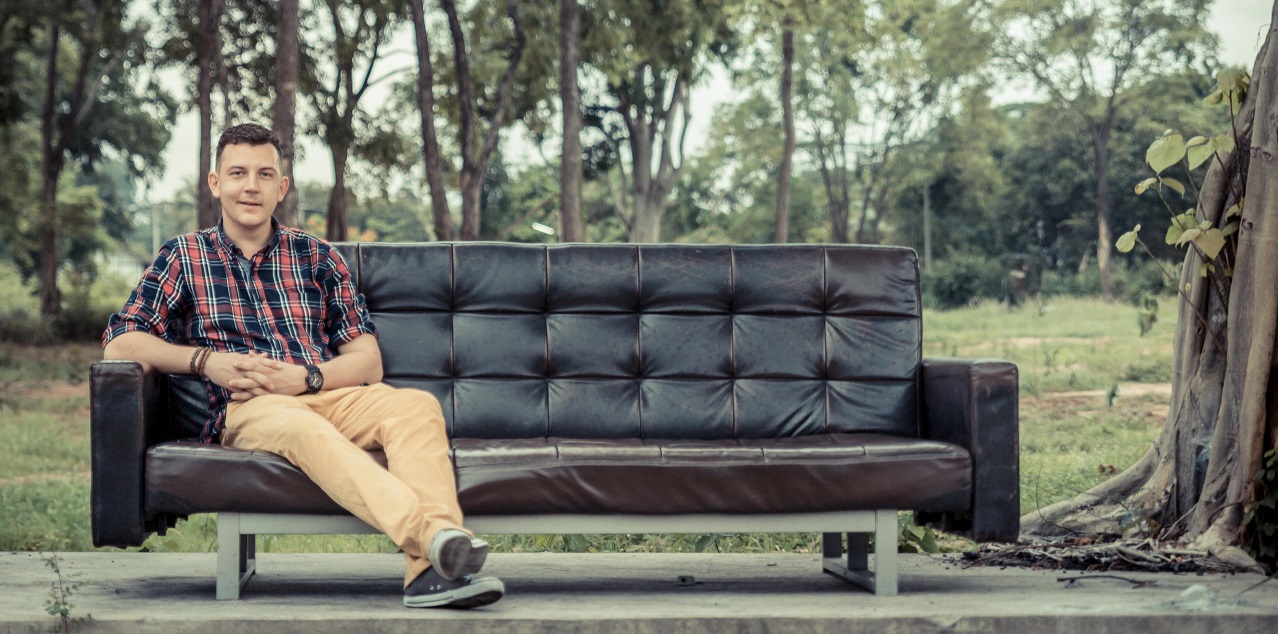 So if you're serious about building a thriving online business, click here for the exact step-by-step formula I follow.
Want To Share Your Thoughts?
Did you find anything interesting in today's review? Tell us what you think in the comments section below. We're excited to hear from you!
Simon Crowe is the founder and editor of The Make Money Online Blog on a mission to help as many people as possible kiss their bosses goodbye.
Watch this video here to discover how to smash your online income goals and make your dream business a reality.