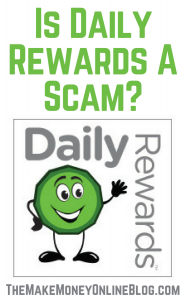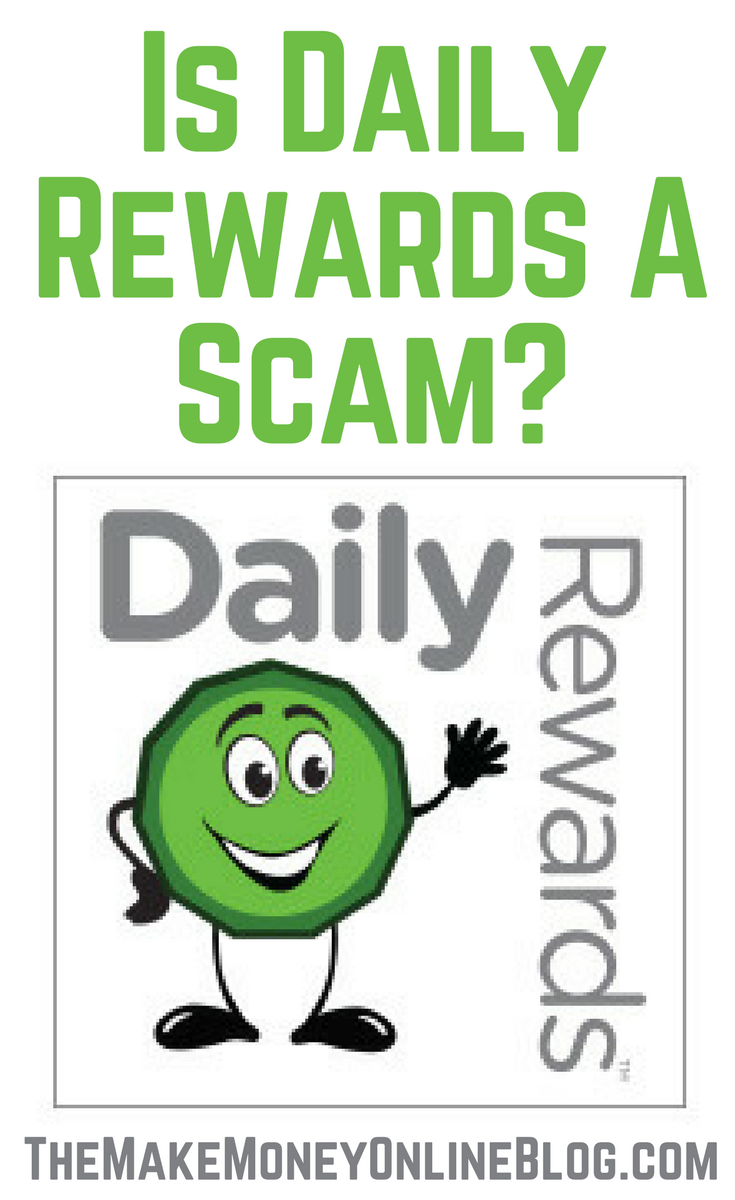 Welcome to the Daily Rewards review where we're going to answer the question: "Is Daily Rewards a scam?"
Here we'll cut through the hype and do a bit of digging around to see what we can find out this as a money-making opportunity.
Let me start by telling you here and now:
I don't work for Daily Rewards and unlike most reviews out there, this isn't sponsored so I'm free to give it to you straight.
Are you ready?
Let's get to it…
Daily Rewards Review: Quickie Version
If you haven't got time to read the full review then here's what you need to know:
Like Survey Club, InboxPays and Amazon Mechanical Turk, Daily Rewards is a rewards site where you can take surveys and complete simple tasks to earn points and cash out.
On the surface, doing things like watching videos to earn some extra money while you're waiting for the bus or watching TV sounds like a no-brainer, but after signing up to Daily Rewards it didn't take me long to realise this is a huge time-sucking, energy-draining exercise that will leave you with hardly anything to show for it.
As I'll show you in the review below, you could put 6 hours a day into this bored out of your head for an entire week and still come out with less than $10.
When you actually sit down and work out how much money you're making, it's no more than cents an hour and this is assuming you can find surveys that fit your location, gender and family situation.
Some members claim Daily Rewards a scam because they didn't get paid for surveys after spending 20 minutes handing over their personal details.
Swagbucks are one of the best survey sites I've reviewed so far, but even then I can only recommend them as a way to make an extra $20-$30 per month.
In truth, you're getting paid peanuts to give away your private information when you could better use that time to create a real online business for yourself.
There are free beginner's courses like Wealthy Affiliate (where I got my start) that can show you how to create websites based on any topic of interest or passion you have and turn it into a thriving and profitable online income stream.
What Is Daily Rewards Exactly?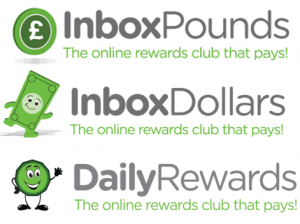 DailyRewards has been around since 2014 as CotterWeb Enterprises' Canadian version of Inbox Pounds (UK) and Inbox Dollars (US).
All three sites have exactly the same layout and slogan: "The online rewards club that pays!"
The only difference is each site's surveys and offers are tailored for each specific country.
But the concept is the same: lure people in with a chance of winning big and they'll spend hours of their time working for you almost for free.
How Much Money Can You Make?
Once you've reached a balance of $30.00 you can request a PayPal payment but it's going to take you months to get there and you're about to see why…
Here are 7 ways you can make a few cents:
1. Get $5 For Creating Your Account
To lure people in Daily Rewards offer new members a $5 signing up bonus.
I found the signup process itself simple enough and once I created my account I only had to answer a few questions about myself to complete my profile.
2. Get Paid Up To $1 A Survey
Surveys are the bread and butter of Daily Rewards. You answer questions about your shopping habits and you get $0.25 – $1.00 per survey.
They display surveys from other survey sites like Dollar Surveys, Peanut Labs and Clear Voice Surveys under one handy dashboard area: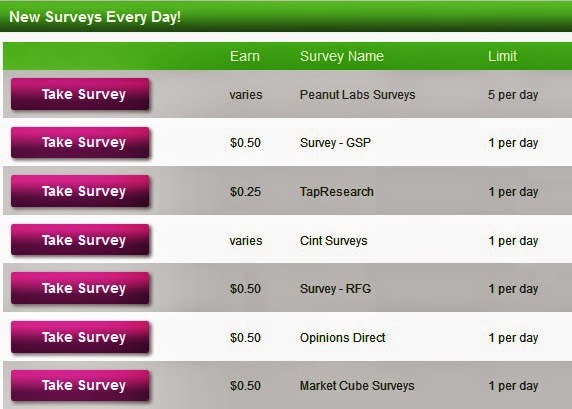 The average survey, including pre-qualifiers, can take you 30 minutes which means you're trading your time and personal information working for $2 an hour at best.
Be prepared to tell companies exactly how many credit cards you've got, who your internet provider is, how many children you have and what your weekly grocery budget is.
This makes me nervous. I value my privacy and the last thing I want is companies holding this kind of data about me. Not only that, I know they're going to sell my information to other companies and I'll end up bombarded with spammy emails in my inbox.
3. Search The Web No Longer An Option
It sounds simple and it is, though the payouts are tiny. Just search for any random keywords and phrases into their search bar and earn a quarter of a cent.
You can earn $0.01 for 4 searches, up to $0.15 per day. Do this every day for a month and you've banked a whopping $4.50 (sarcasm intended).
It sounds easy and simple, almost like you're getting money for nothing. Maybe this is why there are so many people still doing this..
But here's the deal:
Look at how much money you're actually earning – how can you call this a viable way to make money on any planet?
4. Read Emails For 1¢
Sign up Daily Rewards and they'll start sending you a ton of promotional emails you can open to earn a cent. Sometimes you might have to like a Facebook page or complete a free trial offer.
Many times an email will try to get you to sign up for something and I have a sneaking suspicion this is how Daily Rewards are actually making their money – by getting paid from outside companies to send advertising offers to you.
5. Watch Videos
Another way to earn Daily Rewards points is by watching videos, usually promos and ads. Again, you won't earn much through this but it is very passive.
6. Refer Friends
If your family and friends have got way too much time on his hands then you can send them over to Daily Rewards and earn 10% of what they earn every month.
7. Complete Offers
Daily Rewards partner with other business that offer free trial offers and you can earn some points by signing up.
Obviously, this could end up costing you more money if you're not careful so keep a calendar and be sure to cancel subscriptions before trials end so you don't get charged.
With Daily Rewards You're Working For Less Than Minimum Wage
Once you reach a balance of $30.00 you can request a PayPal payment, but let's just say it's going to take you a while to get there…
The vast majority of people never get to cash out – whether this is because they got bored and gave up, realised how time-consuming it was or found more worthwhile things to do I don't know.
But who can blame them?
When you sit down and work out the hourly rate, you're working for peanuts. It's not worth your time; they take too long to pay you and you're working for less than $1 an hour.
Some people accuse Daily Rewards of exploitation and using misleading marketing to lure people into giving them their personal information.
It's not just Daily Rewards who are guilty of massively underpaying the people generating income for them though – I have reviewed dozens of survey sites in the last few months who all have the same complaints stacked against them.

Look, I get it when people say it's not a lot but it can all add up…
But 10 x $0.30 is still only $3.00!
I've seen people over the moon on Facebook boasting about how they've earned $30 in 3 months without realising how ridiculous this sounds!
While things like searching, watching videos and answering paid surveys might seem easy, you could end up investing God-knows how many hours and still not make enough to buy a McDonald's happy meal!
Is Daily Rewards A Scam?
Daily Rewards is NOT a scam. They are a legit survey site and if you manage to get to the $30 threshold amount they will usually pay you.

But are they a legit way of making money online? Honestly I can't say they are…
When you look at the average earnings per hour, the lack of surveys available and the sheer number of complaints against Daily Rewards online I think this is something you should avoid.
And if you're not very careful to cancel the free offers before the end of the free trial date, Daily Rewards could end up taking more money out of account than it ever puts in.
Daily Rewards is a great money maker for the owners, but not for you as they survey taker. It's all very monotonous, boring work where you have to give away a lot of your time and personal information with very little to show for it in the end.
A Better Way To Make Money Online
Want my honest advice?
Survey sites like Daily Rewards are never going to give you enough money to pay the bills. Rather than spending hours filling out mind-numbing surveys for very little pay, why not invest that time doing something more profitable instead?
If you're ready to take action then check out this free beginners course. You'll learn how to create an online business that will generate real income for you month after month.
Tell Us What You Think
If you're a member of Daily Rewards, has your experience been positive or negative? Let us know. If you have any questions just ask and I'll be more than happy to help you out!
Simon Crowe is on a mission to help as many people as possible kiss their bosses goodbye.
Take the free Commission Academy course to discover how to smash your online income goals and make your dream business a reality.