Hi and welcome to today's review of Creations Rewards!
In this review, you're going to find out everything you need to know before signing up. This includes what Creations Rewards is, how to make money earn from it, if it's a scam, and lots more. 
From an ocean of survey sites available to make money from, it's great to make sure you're signing up the good and legit ones. Otherwise, you'll just end up wasting your time and not get paid and I don't want that for you.
Creation Rewards Review At A Glance
About: Creations Rewards is a survey/GPT site where you earn a few cents for taking surveys, playing games, completing offers, and playing games.
Price: Free to join.
Pros: It's a legit survey site. And you get $5 as a sign-up bonus.
Cons: Making money from this largely depends on how fast you can finish tasks and how many tasks are available to do.
Verdict: Creations Rewards is legit but if you want to make sustainable money online that can pay the bills, this won't do. You should try affiliate marketing instead. 

What Is Creations Rewards?
Creations Rewards is a survey site established in New Jersey, the USA back in 2000. It's currently run by Christopher Basista. As a GPT website, Creations Rewards allow its users to gain rewards for completing tasks like answering surveys, downloading apps, completing offers, and playing games among others.
I must say, I'm impressed with how the website looks. Most of the survey sites I've tried that have existed for a long time never really put a good effort into leveling up the website's interface. It usually ends up not being user-friendly but not Creations Rewards.
Here's more of what you can expect from Creations Rewards:
Another thing I'd like to talk about is the privacy policy. A number of the survey sites I reviewed before Creations Rewards outlined in their policy that they will collect, share, and SELL the data of their members. This can either result in getting annoying spams or worse, identity theft.
It's a quite a relief to know Creations Rewards discloses they will not sell, rent, not share your information with third party websites.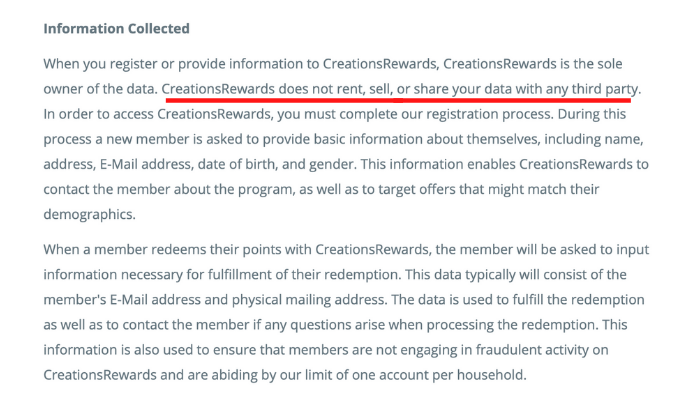 Here's the kicker:
They will however use your information to send you targeted offers. So, the spam problem will still be there.
Here's the reason why:
Survey sites don't make as much money from companies tapping them for research as much as they did before. Since the birth of social media, companies have turned to these platforms to know user behavior. Survey sites have to keep the money coming in so they partner with brands and promote them to users who will most likely be interested in signing up or in buying a product.
The questions they ask will help them know which products will mostly convert to an individual. So, if you sign up, be ready to get spammed!
How To Join Creations Rewards
Those who want to join Creations Rewards must be at least 18 years old and are living either in the USA, UK, Canada, or Australia. You will only be asked 3 questions during sign up your email, location, and password. If you lie about your location, your IP address will be the one to verify it.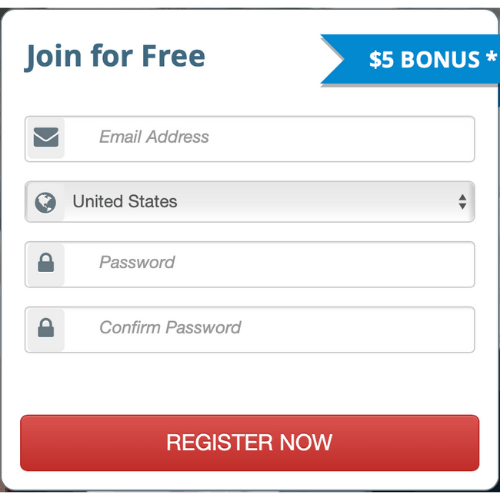 This is a bit of a deal-breaker because anyone outside those countries won't be able to earn from Creations Rewards. You also have to be at least 18 years old because some of the rewards like Paypal will require you to make an account with them so you can withdraw your rewards.
Paypal only allows 18 years old and up to make an account with them. If you are living in one of the locations mentioned and qualifies for the age requirement but don't have a Paypal account yet, you can make one here.
7 Ways To Earn From Creations Rewards
1. Sign Up Bonus
Joining Creations Rewards alone gets you $5 as a sign-up bonus. A little downside is, you will only be able to get this bonus if you rack up 5,000 points in your first 60 days from signing up.
2. Surveys
Creations Rewards also partner with survey providers like Peanut Labs and Zen Surveys. Each survey can get you roughly 100 points which are equivalent to just about $0.50. Surveys usually take 15-30 minutes long sometime shorter, sometimes longer. It really depends on how fast you can answer each question.
If you think about it, it pays quite low. A number of surveys pay better than this rate.
There are only less than 20 surveys available at a given time and you can't always take all of them straight away. You have to answer some screening questions to make sure you fit the target market they are looking for.
This means you can end up with just a few surveys or even none if you don't qualify the screening.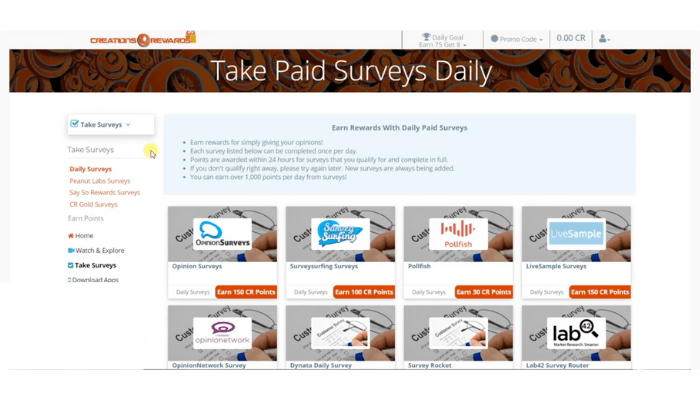 3. Watch Videos
Creations Rewards also has the option of watching videos to earn some points. It's common for tasks like watching videos to pay really low, in Creations Rewards case, just 2 points for each video.
However, you should also be alert to instructions. Almost all videos require you to watch it to the end, others forfeit the points if you just keep it playing in another tab.
4. Offer Wall
Creations Rewards also has an offer wall. This means you can earn points from participating in contests, registering for free trials, and downloading apps.
You also have to be careful with the instructions here. For example, downloading an app can also require you to make an account to earn the points.
For free trials, you have to keep track of when you signed up for it so you can cancel the subscription before they start billing you. A lot of free offers still ask for your credit card info so they can charge you immediately after the free trial is over.
5. Online Shopping
Another way to earn points is by shopping online with Creations Rewards' partner brands. You can choose from Amazon, Starbucks, Old Navy, Walmart, and tons of other popular brands.
6. Referral
You can also earn points by inviting others to sign up. If you successfully recruit someone who becomes active in Creations Rewards, you can earn 10% of their overall points.
7. Daily Contests
There are also ways to earn points every day. You can either answer daily trivia, achieve daily goal bonuses, or take note of promo codes.
Still, it doesn't reward much, the daily trivia only rewards 1 point per trivia. The daily goal bonus pays a little bit more. If you get 75 points for doing various tasks in a day, you'll get an 8-point bonus. If you get 218 points, the bonus is 21 points.
It's not much but if you just stay active, it's a good bonus to motivate you to sign in every day. Even with the bonus points, it can still take months for you to make enough points to redeem a $5 gift card.
How To Get Paid With Creations Rewards
Creations Rewards pays in either gift cards or cash through Paypal. It will take some time to make enough to redeem rewards when you do however, you can choose from a lot of partner brands like:
Amazon
Dunkin Donuts
Disney Store
Starbucks
And lots more
There are slight differences in how much points you'll need to redeem a specific gift card. If you want an Amazon gift card, you'll need 1,000 points to get a $5 gift card. On the other hand, if you want cash through Paypal, you'll need 1,020 points for $5 cash.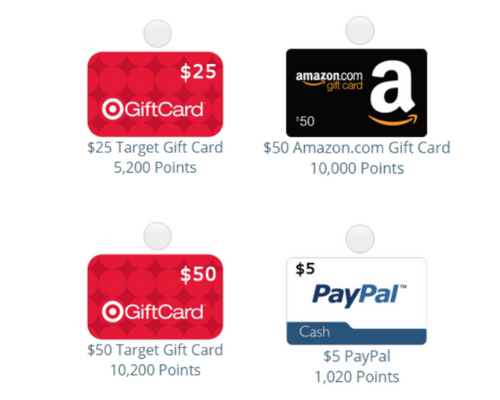 Here's the kicker:
Processing the rewards can be quite dragging. It takes a week or two to process your redemption request.
The worst part is:
It will be another 2-4 months to actually receive the rewards. Because of this, a lot of users have labeled them as a scam.
How Much Can You Earn From Creations Rewards?
It's really up to how diligent you are in doing tasks and how much tasks are available for you to take. Accumulating 1,000 points can usually take up a month or more especially because of the limited number for surveys and other tasks are just too low-paying.
The best it can do for you is provide you with a few dollars for side money. It can never be enough to replace a full-time monthly income.
Does Creations Rewards An App?
Yes, they do, so you can do tasks on the go. Just head on to the App Store or Google Play to download. They don't have many good reviews though; a lot has been complaining about how they were not paid.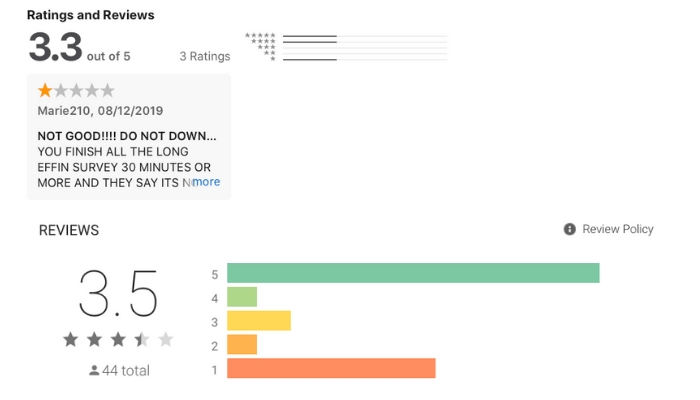 There are opposing views on this. Survey Police review has showed some were unhappy after doing tasks while others were satisfied with it.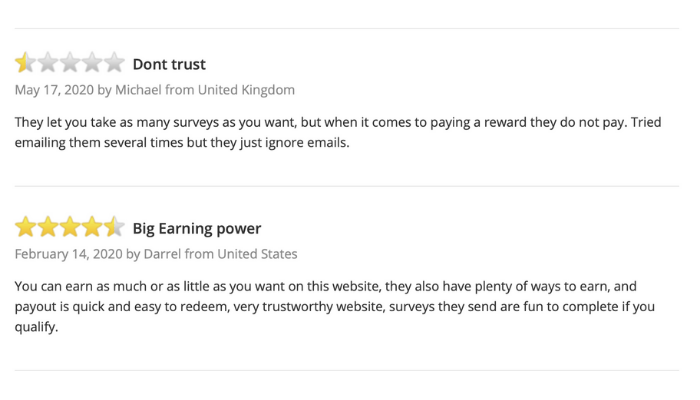 Pros Of Creations Rewards
Free to join
$5 sign up bonus
Various tasks to earn points
Many payouts option
Doesn't sell or share data with third-party websites
Existed for 20 years
Cons Of Creations Rewards
Low point values
Slow pay out processing
Not consistent point value system
Don't always pay out
Can't rely on customer support
Minimum payout is high
Low BBB rating
Is Creations Rewards A Scam?
Creations Rewards is not a scam. They have been in business since 2000 and they have satisfied users.
However, a better question is if it's worth your time. Honestly, the pay you get for spending hours doing tasks is not worth it. You'll earn better flipping burgers. Earning 1,000 points can take up months.
Basically, you'll just get $5 for more than a month's work!
Creations Rewards Review: Final Words
If you have some extra time to do surveys, I think you're better off with Swagbucks.
Honestly though, your time is better spent building your own online business where you can earn from month after month.
Why waste time for something that can only give you $5 a month?!
Starting your online business with affiliate marketing can replace your 9-5 job and give you the freedom to work at home.
If you're interested, check out this in-depth Wealthy Affiliate review and test the waters with the first 10 free lessons!
Questions? Recommendations?
Have you tried Creations Rewards yourself? Do you have experience with other paid surveys? Share with us your experience in the comments section below.
Simon Crowe is on a mission to help as many people as possible kiss their bosses goodbye.
Take the free Commission Academy course to discover how to smash your online income goals and make your dream business a reality.