Is Branson Tay a legit guru who genuinely wants to put more cash in your pocket or is Branson Tay a scammer who takes your money and puts it in his?
Brandon wants you to believe you're just one click of a mouse, one secret hack or one program away from making $1,000s online.
But who is Brandon Tay and more importantly, can you trust him?
I've spent hours watching Brandon's videos and reviewing his courses.
Here's what I found out about the guy…
Is Branson Tay A Scam Or Legit?
Branson Tay is a professional scam artist and a con man who is very good at tricking you into giving him your hard-earned cash. He will tell you what you want to hear but don't believe a single word he says.
Branson Tay scams beginners looking for ways to make money online. Most of his scam victims are from India, Bangladesh, Pakistan, Nigeria and The Phillippines where the bulk of his YouTube subscribers come from.
He scams people by making outlandish and unsubstantiated claims about you can earn $1,000s online fast and easy before trying to sell them the latest get-rich-quick schemes.
Consider:
the questionable marketing tactics
the promises of get rich quick
how he ignores refund requests
the sheer number of Brandon Tay complaints
If you're sick and tired of the phoney make money online systems that never work, you need a different approach.
Unsubscribe from Brandon Tay's YouTube channels and email list immediately and check out the 100% legit and free crash course below to build a REAL online business!
Who Is Branson Tay?
Branson Tay is a popular YouTuber, affiliate marketer and product creator best known for making crazy claims about making money online. Branson launched his first WarriorPlus product called Morph (which he claimed could generate $500 a day) in March 2021 and has released 10 more similar get-rich-quick programs so far this year.
Branson Tay's main YouTube channel has 586,000 subscribers: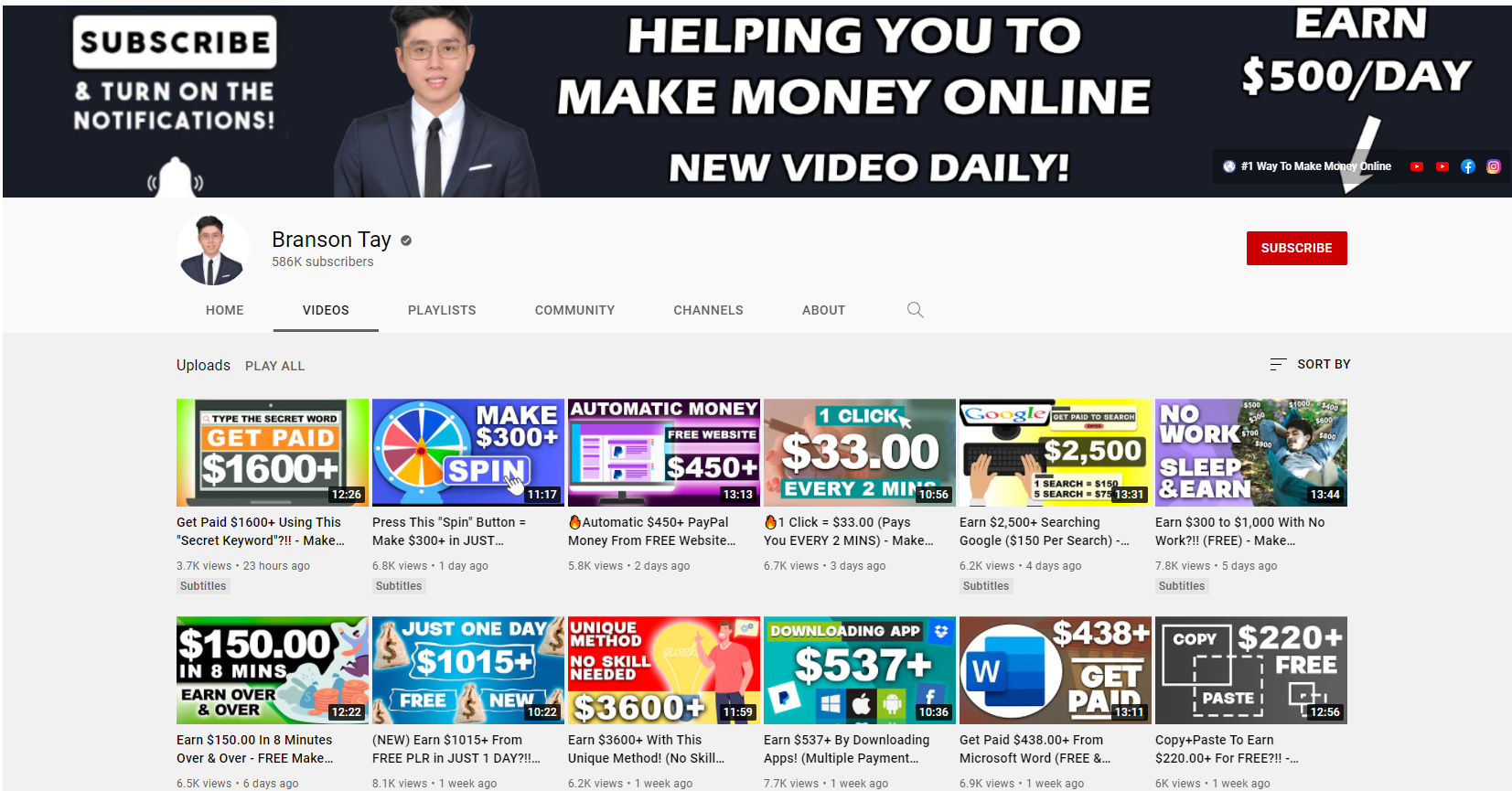 He also has the Branson Tay and Branson Tay Official channels with 197K and 44K subscribers.
Every one of his YouTube videos has a very clickbaity title and promise some kind of "hidden loophole" or "autopilot profit generator" you can use to get rich doing nothing.
Inevitably, these hollow promises soon lead to disappointment. Branson Tay is all hype and zero substance, and anyone buying his products is left feeling cheated and let down.
How Does Branson Tay Make Money Online?
As far as I can tell, Branson makes money online in 3 ways:
Creating and selling get-rich-quick scams
Selling other people's get-rich-quick scams
Earning YouTube ad revenue
1. Creating And Selling Get-Rich-Quick Scams
Branson Tay's main way of making money is by creating digital products on WarriorPlus, then selling them to his YouTube audience as well as recruiting affiliates to sell them for him for 50% commissions.
According to his WarriorPlus profile, Branson has created 10 "make money online systems" since March 2021 and all of them score no higher than a 2 out of 5-star rating after 1,073 reviews.
Products Branson Tay has launched so far:
Browse N' Bank (my review)
GooglyPay
Type4Cash
PermaLink
MailerLink
LoopholeLink
ViroLink
Ultron
DeepLink
Morph
Each product promises a secret loophole to make $26 in 2 minutes, $374 an hour or $2,000 in 24 hours. They're all scummy scams with hyped-up sales videos of people rolling in dollar bills.
The problem is, not a single one of his products does what it says it will do and you will never get the results you're promised. Then you're left high and dry trying to get a refund, which will never come because Branson Tay won't even bother replying to you once he's got your money.
2. Selling Other People's Get-Rich-Quick Scams
Branson also promotes other WarriorPlus products created by Jason Fulton, Jono Armstrong, Anthony Morrison, Brendan Mace and many others.
He promotes these products as an affiliate and earns 40% to 75% in commissions for every sale he generates.
I love affiliate marketing. It's by far the best way beginners can start earning online.
But instead of promoting legit online business training platforms like:
Branson promotes fake make money online scams like:
Why?
Because instead of teaching people how to build a successful and profitable online business, he's far more interested in squeezing you for as much cash as possible, even when he knows what he's selling isn't going to help you.
3. Earning YouTube Ad Revenue
Finally, with over 830,000 YouTube subscribers, Branson earns a considerable amount of money in ad revenue via the YouTube Partner Programme.
Essentially, YouTube pays him a few cents every time his videos get watched.
What Is Branson Tay's Net Worth?
It's hard to pinpoint Branson Tay's exact net worth but he has made at least $500,000 scamming people online since January 2021.
Let's break it all down…
His breakthrough really came when he took Jono Armstrong's Ministry Of Freedom course and started selling his own products and became a top 1% WarriorPlus vendor
To date, Branson has made over 58,000 sales on WarriorPlus. That's his own product sales and sales of other W+ vendors' products.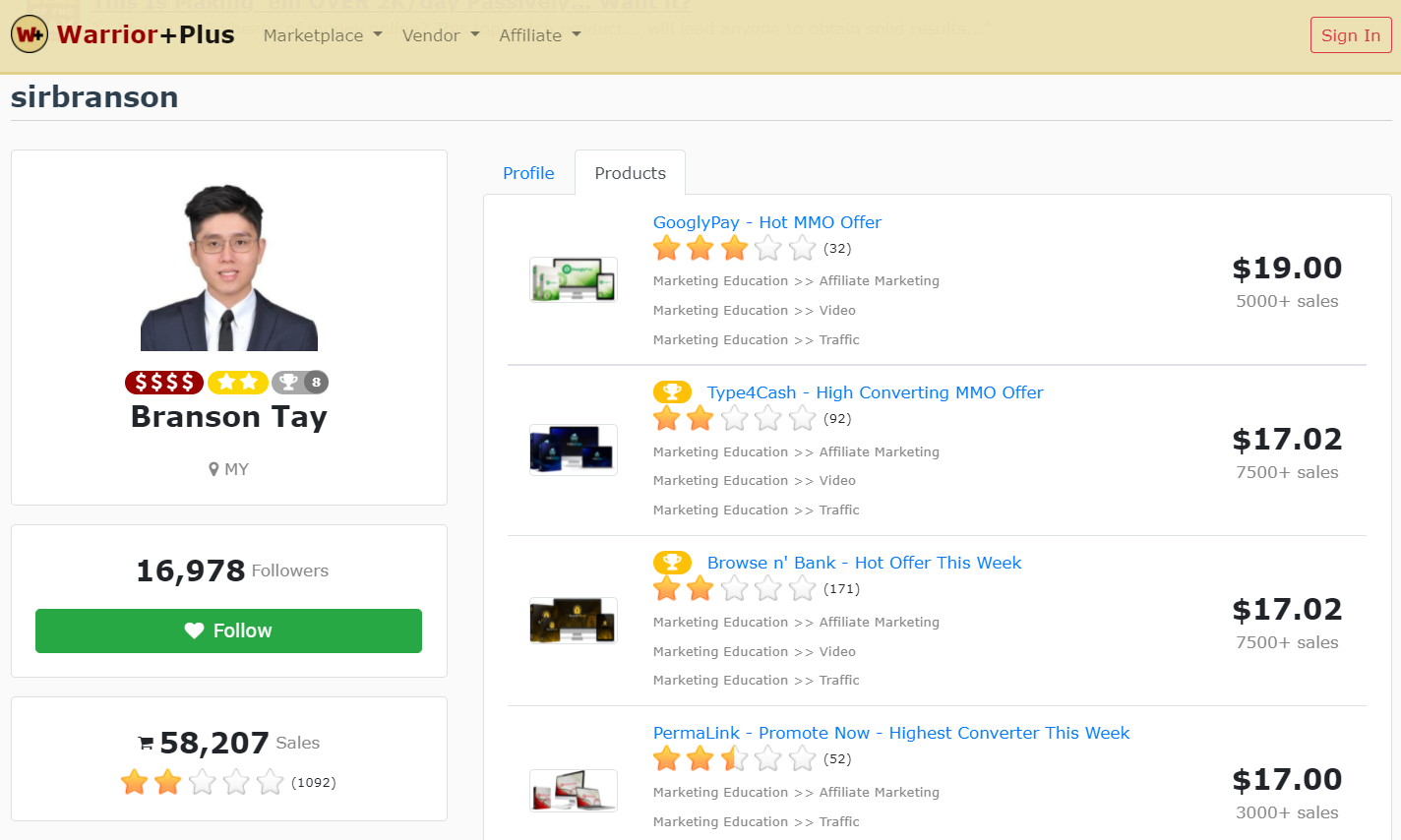 Let's say the average price per product sold is $17 and he gets half of that as a commission or after paying affiliates.
50% of $17 x 58,000 = $493,000.
Then you've got to add the ad revenue.
We can use a Youtube ads calculator to get a *rough estimate* of Branson Tay's ad revenue which show he earns about $1,695 through YouTube ads each month from his 3 channels combined:



Has Branson Helped Any Of His Students Get Rich?
Unfortunately, it seems Branson is all hype no substance
Despite his channel's slogan: "Helping you to make money online" there is a distinct lack of student success stories and all you'll find are complaints…
Branson Tay targets beginners looking to make real money online with deceptive marketing and false promises before leading them down a path of trashy get-rich-quick scams and endless upsells.
But what else would you expect when Jono Armstrong is his mentor?
Jono is a guy who has been cranking out scam after scam now for the last few years and through his latest Ministry Of Freedom program, is now teaching others (including Branson) how to do the same.
How do Jono and Branson justify their actions?
Watch this video, it's a real eye-opener:
Can Branson Tay Help YOU Get Rich?
Branson can not help you make any money online but he will certainly do his best to make you poorer by duping you into buying the latest scummy scam (plus countless upsells!) he can get his grubby hands on.
If you really want to achieve success then it's time for you to leave the fake shiny objects behind and start a real online business.
Will it take time and work?
YES!
Will it be worth it?
100% YES!
Making money online isn't complicated…
This video will show you exactly how to get started. Tap to watch now »
BOTTOM LINE: Is Branson Tay A Scammer?
Branson Tay's programs are so terribly bad, he is quickly becoming known as one of the biggest scammers in the make money online space. Subscribe to Brandon's email list or YouTube channels and you're blasted daily with hyped-up get-rich-quick scams that never deliver the results you're promised.
The Collins dictionary defines a get-rich-quick scam as:
"A scheme that promises to make a person extremely wealthy over a short period of time, often at with little effort and at no risk."
Branson last 5 video titles certainly match that description!
Earn $584.73 in 1 Hour WATCHING VIDEOS!
Earn $375+ PER Hour Typing Online! (Sign Up FREE)
Get Paid $1600+ Using This "Secret Keyword"?!!
Press This "Spin" Button = Make $300+ in JUST MINS?!!
Automatic $450+ PayPal Money From FREE Website
There's nothing wrong with making big and bold promises as long as you actually deliver on them, but Branson never does.
Let me give you a quick example:
His latest video is titled "Earn $375+ PER Hour Typing Online!"
Earning $375 an hour would be phenomenal – that's a $3,000 8-hour workday!
In the video, Branson tells his viewers to join TranscribeMe.com and Rev.com; both legit sites where you can get paid to transcribe audio files.
But the reality is you're making $400 a month working every hour God sends, NOT $365 an hour as Branson says.
I could do this for every single one of his videos but I think you get the picture. Branson is leading you down the garden path. Don't fall for his BS!
But here's the real kicker:
Branson knows he's scamming people and doesn't care as long as he gets paid.
More Branson Tay Reviews
Google "Brandon Tay" and where you look, a ton of scam complaints come up. This guy is rapidly become notorious for promoting make money online scams…
Branson Tay Reviews On Facebook
Branson Tay Reviews On YouTube
By the way, I've given Branson the opportunity to respond to this review but I'm still waiting for a reply…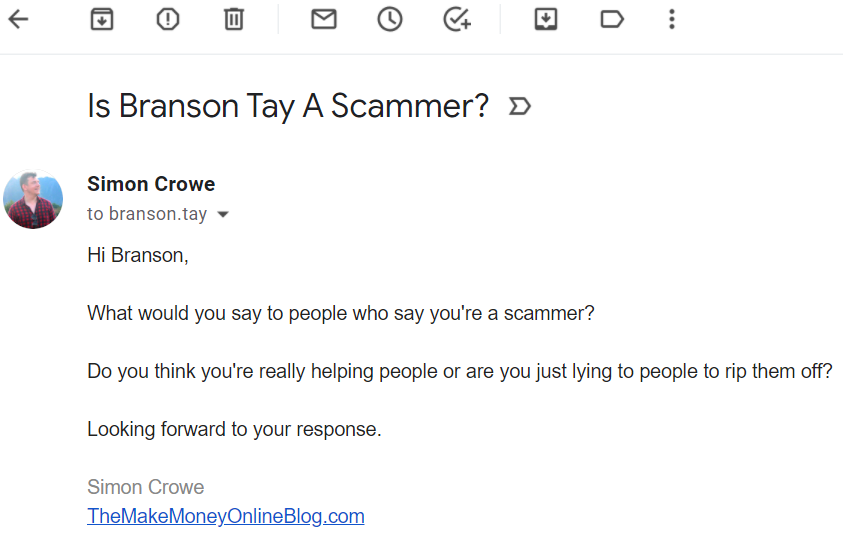 Your Branson Tay Review
Are you a huge Branson Tay fan or would you not trust this fake guru as far as you could throw him?
Have you fallen for one of Branson Tay's scams?
Sick and tired of online scams that promise the earth but never deliver?
Go ahead and tell us about it in the comments!
Simon Crowe is the founder and editor of The Make Money Online Blog on a mission to help as many people as possible kiss their bosses goodbye.
Watch this video here to discover how to smash your online income goals and make your dream business a reality.