Do you love writing and have the finesses for making top-notch articles?
If so, you've probably stumbled upon Blogmutt and wondered if this is a good place to make money online.
And even if you're a business owner or a website owner who'd rather pay someone else to make some content, you'd probably be interested in this platform is legit or just another pesky scam. 
Whether you're someone who's looking to monetize your writing skills or a person who wants to hire well-experienced writers, knowing the pros and cons of Blogmutt from this review will help you decide if you should give it a try.
Blogmutt Review At A Glance
About: Blogmutt (now rebranded to Verblio) is a content writing platform that now also offers multimedia content where brands can hire content creators.
Price: Being a content writer or creator is free. You just have to be a US citizen, is at least 18 years old, and has a US social security number.
Pros: Freedom to choose what topics to write about and offers higher income potential as you write more and more articles.
Cons: Can't communicate with clients directly, poor customer service, won't get credit for articles written, and account can get terminated anytime.
Verdict: Blogmutt is not a scam but is a risky choice if you need a full-time online income opportunity since they can cancel your account without proper notice.

What Is Blogmutt?
Blogmutt is a content writing company owned by Scott Yates and Wade Green. They founded in in 2011 and 7 years later relaunched it as major content authority now branded as Verblio. When you head to the website, you'll see Verblio in the logo so don't get confused, they're the same thing.
With the rebrand, Blogmutt now offers not just written content, but also multimedia content. They still maintain having high standards for their written articles though. Over time, they've won 4 Mercury 100 awards from Bizwest.
Impressed? If these facts strengthened your confidence in Blogmutt as a legit platform, that's understandable because I'd also feel the same way. But if you think you can just head on to the website and apply to be a writer, you should know this part.
Part of the first few things required in applying are:
Being a US Citizen
At least 18 years old
Has a US Social Security Number
If you don't fit these, I'm sorry but you're out of the game.
Not just that:
Blogmutt just hires 5% of the people who'll apply. When you do get accepted, you'll be put on the waiting list while waiting to match demand.
There are two sides of the coin with this:
Newbies can't get hired here which is frustrating if you want to kickstart your online money-making journey. On the other hand, if you're an experienced writer, this is a good place to be because you'll have less competition to think about.
If you're a business or website owner this can tell you they've filtered their manpower enough to give you the best people to do the job.
How Does Blogmutt Work?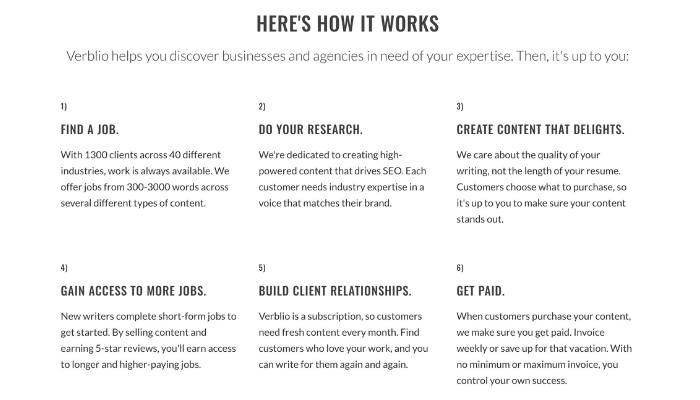 Basically, if you're a writer, you get paid by clients to produce an article they'll need. You'll need to pass the basic requirements and they might also need to ask for your Facebook and LinkedIn profiles to prove you're really a US resident.
There's also a writing test you'll have to take to assess your writing skills and techniques.
After passing all these (which mind you is not easy) you can then start looking for articles you want to write about.
After finding the client and article you want to work with, you have to make sure you'll follow his instructions thoroughly.
Why? Because finishing the article alone won't mean you'll get paid. You first have to submit it for review.
Here's the kicker:
Your article will be put in a queue together with other writers' articles. You have to be the best or one of the best so the client will choose your article, that's the only way you'll get paid.
I'm kind of irked with how the process goes. While the process will be good for clients, I can't say the same for writers. It's like you'll be in a constant struggle to give your best shot in what you do without really getting any assurance your effort will pay off.
You can work your fingers to the bone but if the client won't approve it, you won't make money. Anyway, you can reuse the article and submit to other clients needing an article on the same topic.
But if there's no other client asking for that topic, that can mean a wasted article. If it does get accepted, you'll still have to deal with revisions.
On the upside, Blogmutt allows writers to ask client feedbacks so they can improve their articles.
Here's how you'll get paid when on queue:
If someone else's article gets approved too and they're ahead of you in the list, you'll only be paid on the week your article will be published.
Let's say 3 articles are approved ahead of you at the start of July, even if your article gets approved on the first week, you won't receive your payment until the last week of July. They'll pay using Paypal.
Here's an idea of the pay you can get:
$8 for 250 words
$19 for 600 words (Level 4 writers and up)
$40 for 900 words (Level 5 writers and up)
$72 for 1200 words (Level 7 writers and up)
You might ask: how can I raise my level? Well, articles written have corresponding points. If it's an approved article, you'll get 20 points. If not, you'll still get 2 points.
The more articles get approved, the better chances to rank.
Here's a rundown of how many points are needed for you to qualify for a higher level:
Level 1 – 12 points
Level 2 – 50 points
Level 3 – 250 points
Level 4 – 750 points
Level 5 – 1,500 points
Level 6 – 3,500 points
Level 7 – 5,000 points
Level 8 – 10,000 points
Level 9 – 20 – Additional 10,000 points each from the previous level
Yikes! It can take some time. That's an awful lot of articles to write and get approved.
Pros Of Blogmutt
You can choose what topics to write
There's a potential of higher pay with more articles you write
Cons Of Blogmutt
You can't communicate with your clients so there's no chance of establishing long-term relationships
Some writers complain about customer service
You won't get credit for the articles you'll write so you can use them in portfolios
Your account can get terminated without them telling you why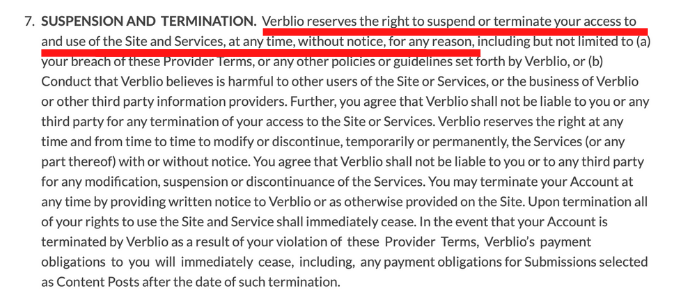 I'd like to talk more about the last part.
The moment your account gets terminated, any right to use the site will end. Any payment obligation for pending articles will also not be paid. A total slaughter, right?!
The insane part is, it can happen anytime. Your account will get canceled without them being obliged to give you the reasons why.
So, if you have a lot of approved pending articles it's going be a sheer ludicrous loss! Part of their terms of service says "reserve the right to suspend or terminate your access to and use of the Site and Services, at any time, without notice, for any reason…"
Basically, this says you can't do anything and you can't sue them for doing it.
I hope they show some empathy for writers by making this part clear instead of hiding it behind a lot of legal text.
Is Blogmutt A Scam?
I don't think it is. I'd actually like to start a riot over the terminating of accounts without any reason rule but since they own the company, it won't mean much.
They have a reputable background and a lot of clients already trust them. All is good on the client's side, but not for all on the writers' side.
In the spirit of fairness, here's what others say about Blogmutt: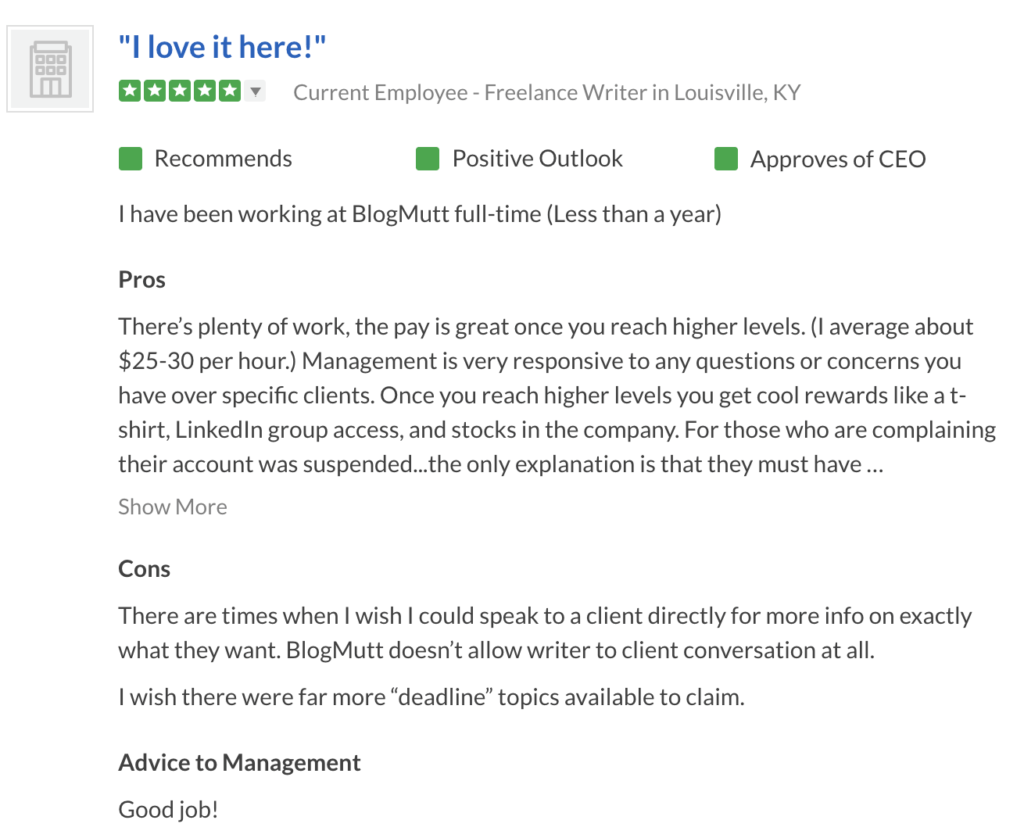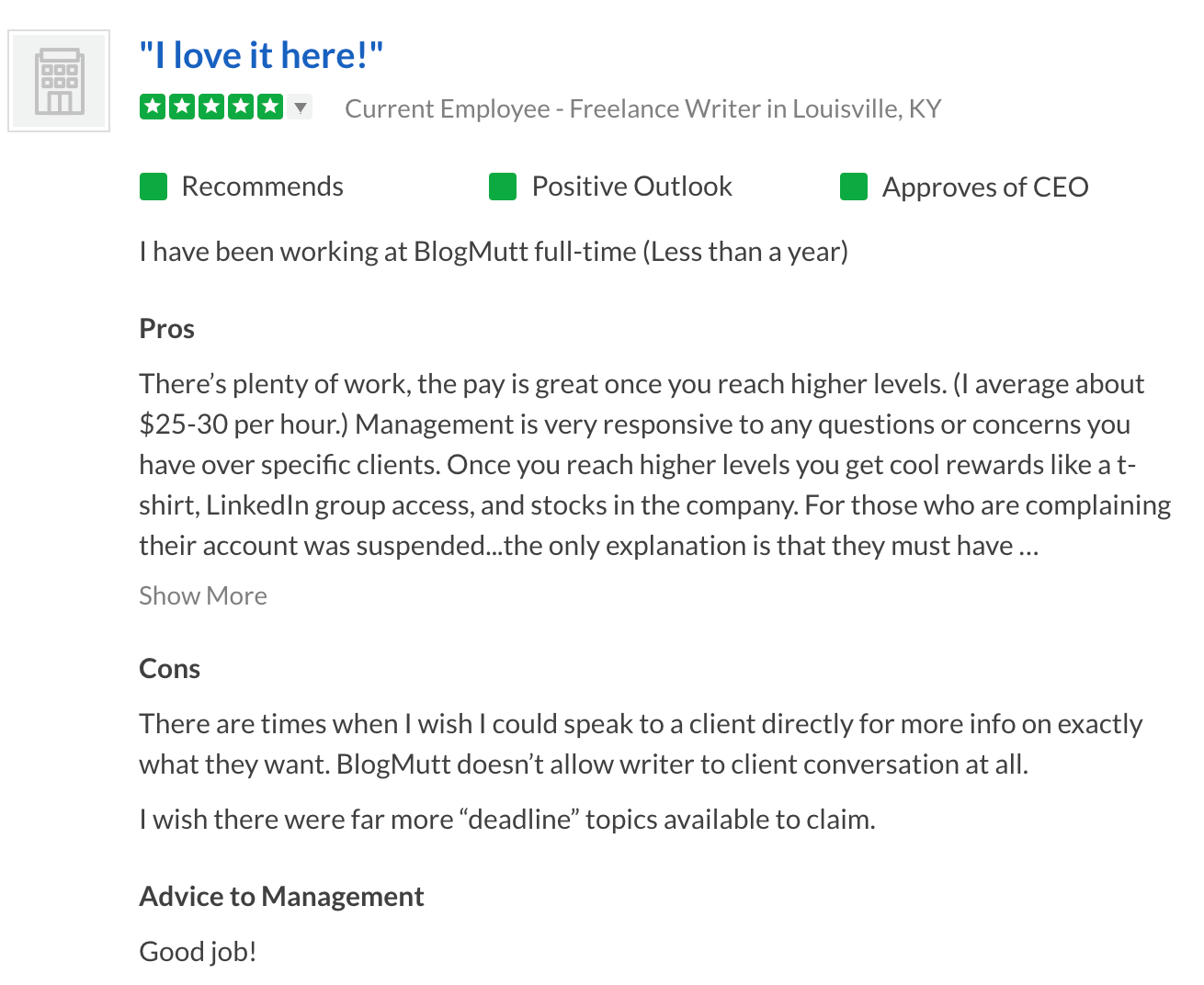 And to say it's a good way to make money online is another story. Here's a negative review: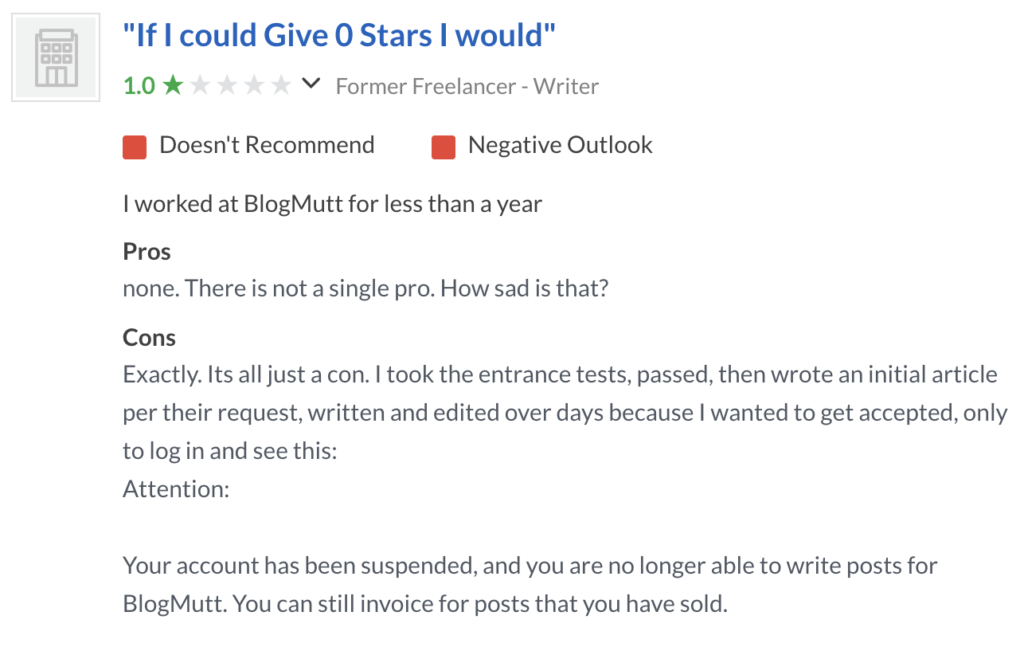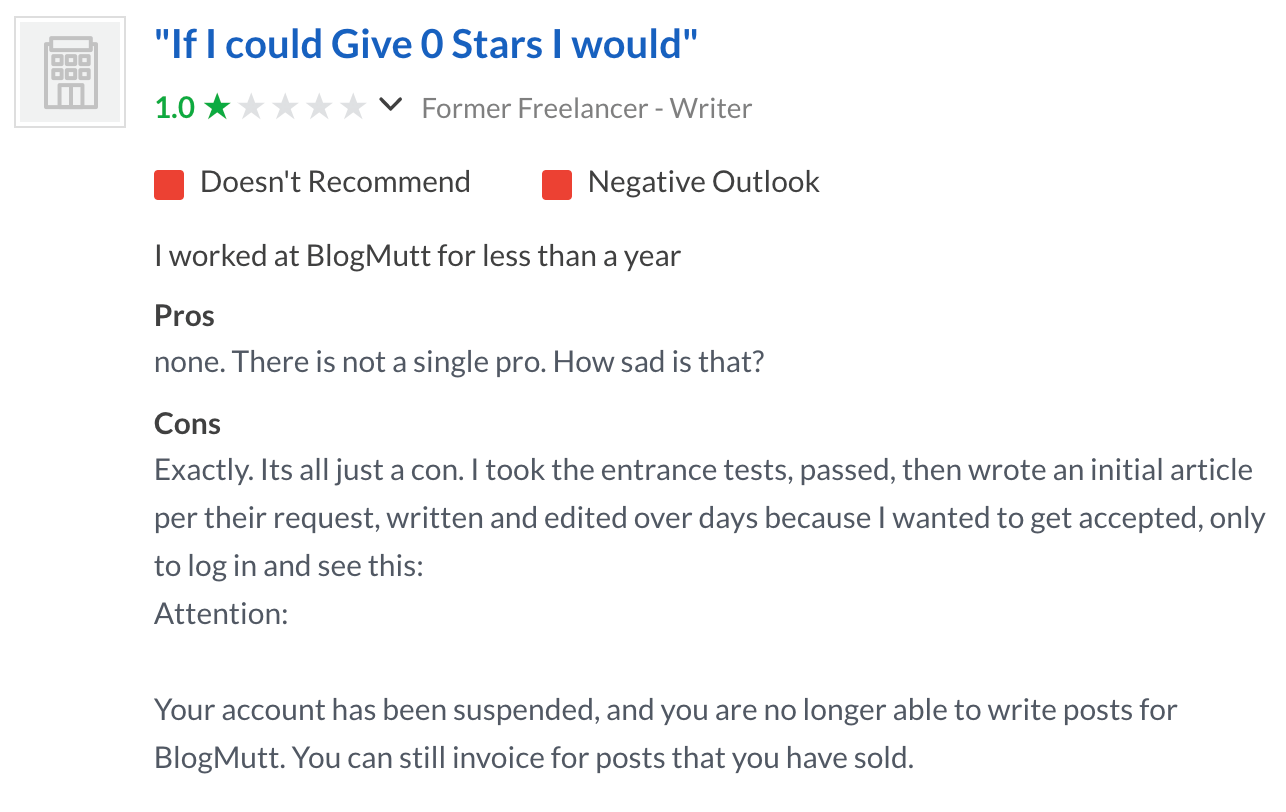 Blogmutt Review Closing Thoughts
Personally, I think Blogmutt will only work as a side income. The process seems too long and the risk a bit high.
The platform is only open to a limited set of people and even if you get in you're going in a constant wrestling match with other writers to win a client.
If you ever you do get a lot of clients, you're still on the risk of getting your account terminated for reasons they're not obliged to tell.
So if you work like crazy for your articles this is going to be a complete bloodbath! I was you, I won't set all eggs on Blogmutt's basket.
Also, Blogmutt works as a middle man between you and the client. This can mean a huge cut in what you can earn. Plus, you can't establish a long-term relationship with clients to ensure you keep the money flowing.
Making money online isn't complicated…
This video will show you exactly how to get started. Tap to watch now »
If you want other options aside from Blogmutt, you can check out these alternatives.
Better yet, instead of writing for someone else to make money, you can start a blog and earn an income writing about things you're interested in.
It can be a travel blog, a food blog, a gadget blog, or any other topic you'll love writing about!
If you want to know more about the benefits of starting your own blog, you can check out: 7 Compelling Reasons To Start A Blog And Make Money Online In 2020.
The bottom line is, yes, you can make money online for writing articles. You can even choose topics you'll love writing about. The key is finding clients and avoiding unnecessary risks and cutbacks in what you're supposed to earn.
How I Make A Living Online?
After years of working in call centres I finally figured out how to create a 5-figure monthly passive income stream and become financially free.
Thanks to the right training and a lot of hard work I kissed my old boss goodbye and booked a one way ticket to Thailand.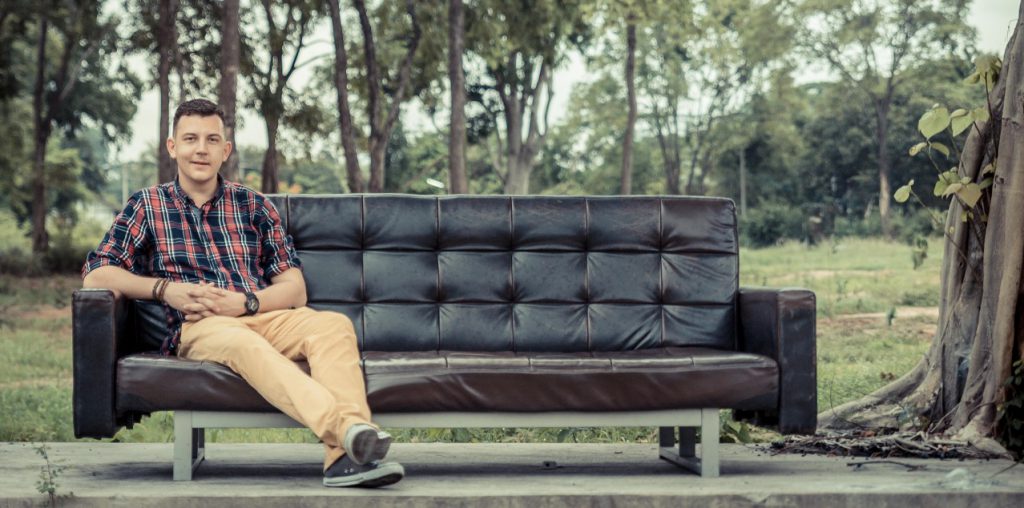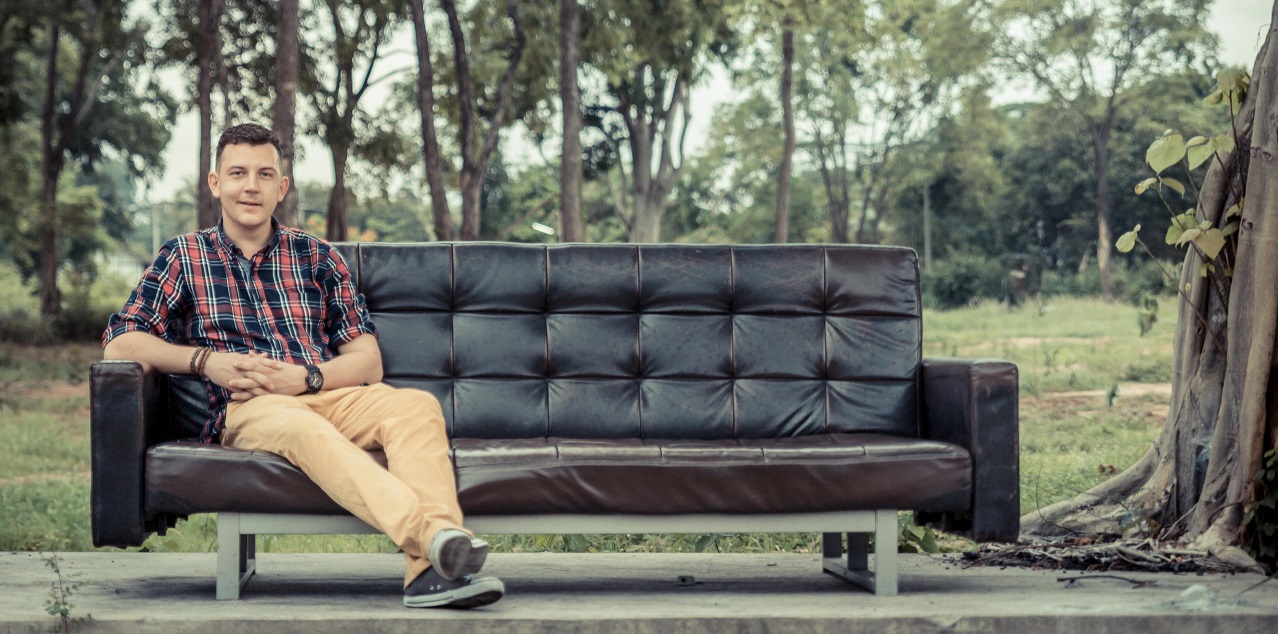 So if you're serious about building a thriving online business, click here for the exact step-by-step formula I follow.
Share Your Writing Journey With Us!
Do you can platforms to recommend? What can you tell us about them? We'd love to see them in the comments section below!
Simon Crowe is on a mission to help as many people as possible kiss their bosses goodbye.
Take the free Commission Academy course to discover how to smash your online income goals and make your dream business a reality.