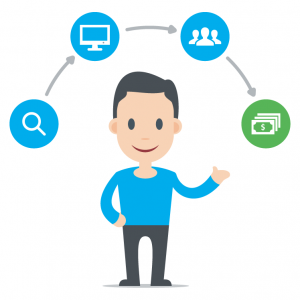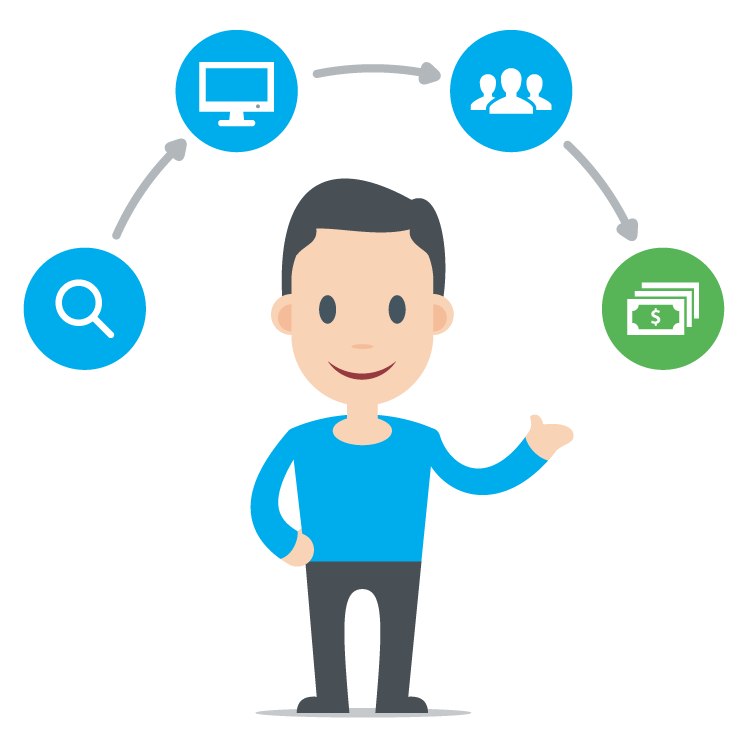 Most people don't know how to start a home business with no money.
They say things like:
"Money makes money" and think they have to invest a lot of money before you start even making a profit, but it's just not true, at least not anymore.
The cost of starting an online business is nothing like the cost of starting a business offline.
How do I know?
Because I started a home business with no money down at all.
(You can too)
Thanks to the wonderful world wide web, IT IS NOW POSSIBLE for you start a home business, with no money or investment needed to be successful.
Why I'm going to show you how
With no catches, no strings attached, toay I'm going to show you how to start a home business with no money.
Why?
Because I know what it's like to work for other people, making them money.
For 10 years I worked as a customer service assistant in supermarkets, banks and call centres and I just hated it.
Maybe there's something wrong with me I don't know, but the idea of spending my entire life in the 9-5 grind just sends shivers of repulsion down my spine. There's just no way. I can't live my life like that.
I started my home business 3 years ago, more on that in a second…
You can read my story here but basically, after 12 months I kissed my boss goodbye and never looked back. I made the move from the UK to Thailand where I'd always dreamed about helping give slum children a brighter future.
Then about a year ago I came headed to the UK for a month's visit and stayed at my sister's house. (She's a bookkeeper.) It broke my heart to hear her leave the house at 6:45am Mon-Fri to go out in in the cold, wet and dreary British weather to get 2 buses, all so she could pay the mortgage and keep her house.
She wasn't living, she was barely surviving.
Is this it? I mean, is this the best life gets?
I tell you this story because I want you to know this is the reason for this post. I've been there, 11 hour shifts listening to customers complaining about loft insulation all the while, dreaming about becoming an independent entrepreneur and proud business owner.
Okay, by now you're probably saying enough of the sob stories already, just show me how to start a home business!
Okay I will 🙂
So let's start at the beginning. Stick with me here, if you read this post in it's entirety and take advantage of the free training and resources I'm going to give you access to, today can be the day you'll be starting a real and profitable home business.
Work from home jobs vs. a real home business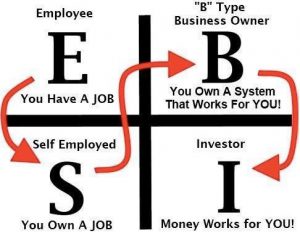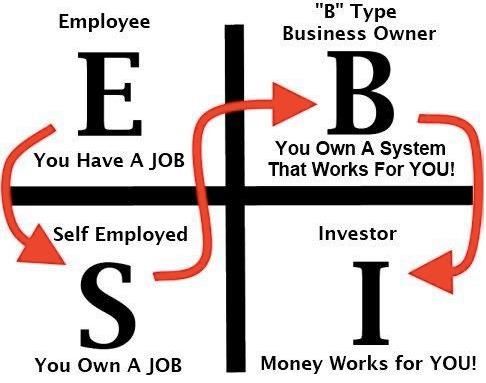 Starting a home business for free is very doable, in fact hundreds of people are jumping on the entrepreneurial bandwagon every day.
But there's a HUGE difference between starting a real home and business and starting a work from home job.
If you've ever read Robert Kiyosaki's book 'Rich Dad, Poor Dad' you'll know about cashflow quadrant. I read this book when I was 19 years old and it changed my life.
The reason I'm telling you this is because many people eager to go from employed to home business owner find themselves stuck in the self-employed category.
Here's the deal:
Starting a home business takes time and you won't see results right away.
If you need money now, I recommend you take a look at 7 Legitimate Work From Home Jobs and 10 Work From Home Opportunities to find quick and easy ways to earn some cash today.
Once you've got your short-term cashflow sorted out, you can come back and focus on building a solid home business that means you're a home business owner, not just an employee who happens to work from home.
Offline business vs. online business
If you're still with me, you definitely want to become an independent home business owner. So what's the best kind of business to start?
There are so many work from home scams out there if you're not careful you could end up paying out lots of money to join a pyramid scheme or dodgy multi-level marketing scheme and end up not making any money at all.
Online business is the best kind of business to start from home because you can do it with no money.
I'm serious.
Back in the day, to start a business you'd have to find a shop unit, pay the deposit, invest in staff and stock and be up against huge running costs, all this before you make a penny of profit.
But remember when I said the internet changes everything? It really does 🙂
To start an online home business all you need is the right know-how, a website (your virtual shop), website visitors (potential customers) and ways to make money with your website.
The good news is all the free training, free websites and domains, free expert help and community support are all available for aspiring entrepreneurs like yourself at a site called WealthyAffiliate.com.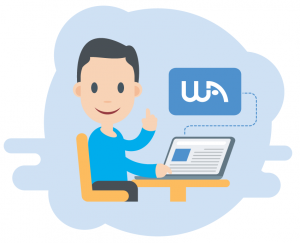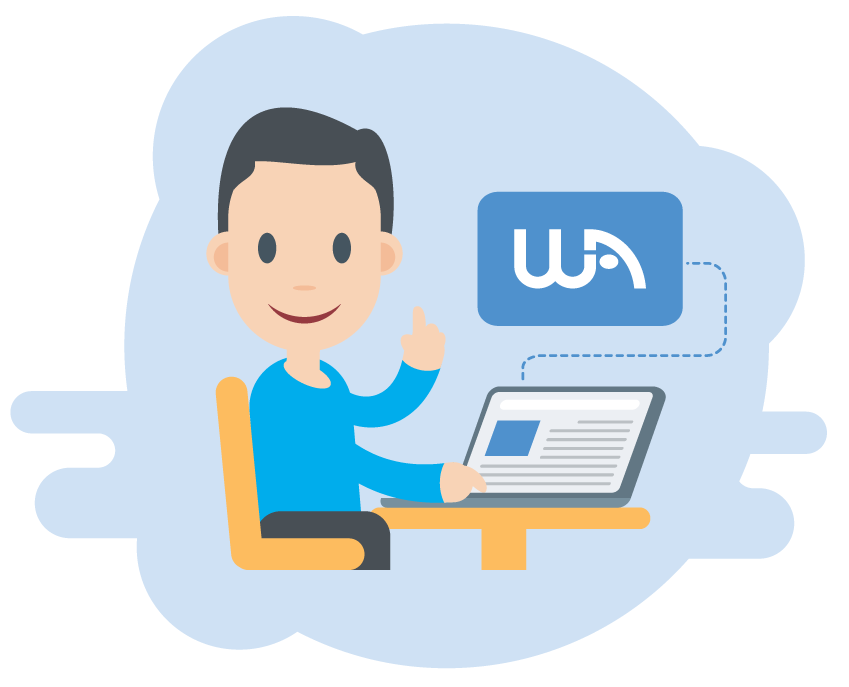 Thanks to Wealthy Affiliate, normal people like you and me can get everything we need to start a home business all in one place.
It's free to create an account. Get started now and start the step-by-step training that will guide you through starting and building your first online business.
Further reading:
Become a full-fledged home business owner in 4 simple steps:

1. Choose an interest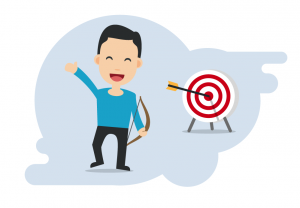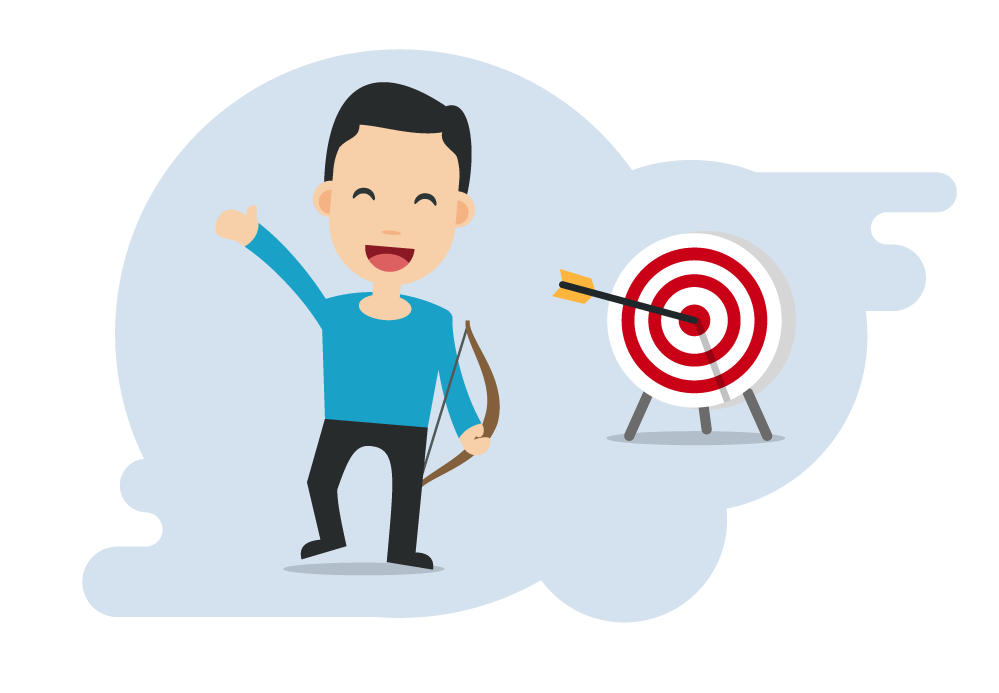 The best thing about starting a home business with Wealthy Affiliate is you get to turn any personal interest, passion or hobby you have into a very successful and profitable income earner.
Start a business you're excited about, love what you're doing and make money at the same time!
Looking for inspiration? Here's 10 Hot Money Making Website Niche Ideas for 2017
Here's some great advice from Pat Flynn of SmartPassiveIncome.com:
"In general, it's great to think big and shoot for the stars, but when it comes to niche selection you can get more results, faster, by thinking specialized.
Not small.
Specialized.
Start by picking a market that actually interests you. The competition doesn't matter at this point – just pick something you like."
Can't think of a topic you're passionate about? Don't worry, this is just a brief overview but the Wealthy Affiliate training will help you to find the best topic for you.
2. Build a website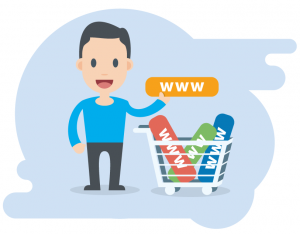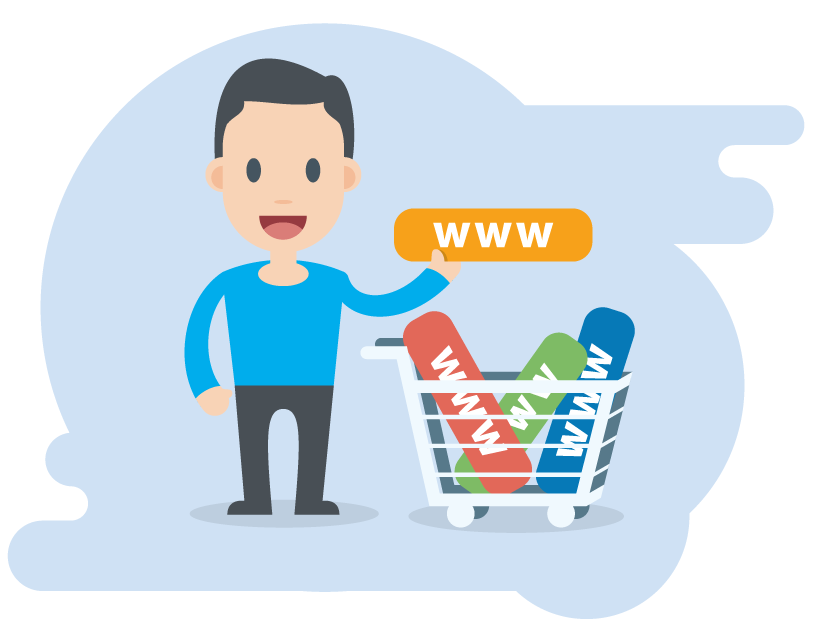 With your chosen topic in mind, you'll then learn exactly how to start and build your first website – don't worry if you've never done anything like this before.
Wealthy Affiliate's SiteRubix web builder platform make it super easy and quick.
It's really not as technical as it sounds – actually it only takes 34 seconds to get a beautiful website live and open for business!
Think of your website like your very own piece of virtual real estate, your online store if you like, and your foundation for your future success.
And remember, with your free Wealthy Affiliate membership this all comes as standard. These websites are yours forever.
If you have a love for horses for example, you could start a website about how to care for horses, grooming horses, training horses and accessories for horses.
Of if you're a keen fitness freak, you could start a website about training for a marathon including sharing your personal journey, fitness challenges, writing reviews on the best fitness trackers and running shoes.
Here are just a couple of ideas from the top of my head but you can build a money making site based an absolutely any random topic you can think of.
3. Attract visitors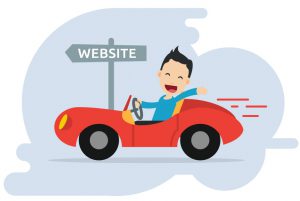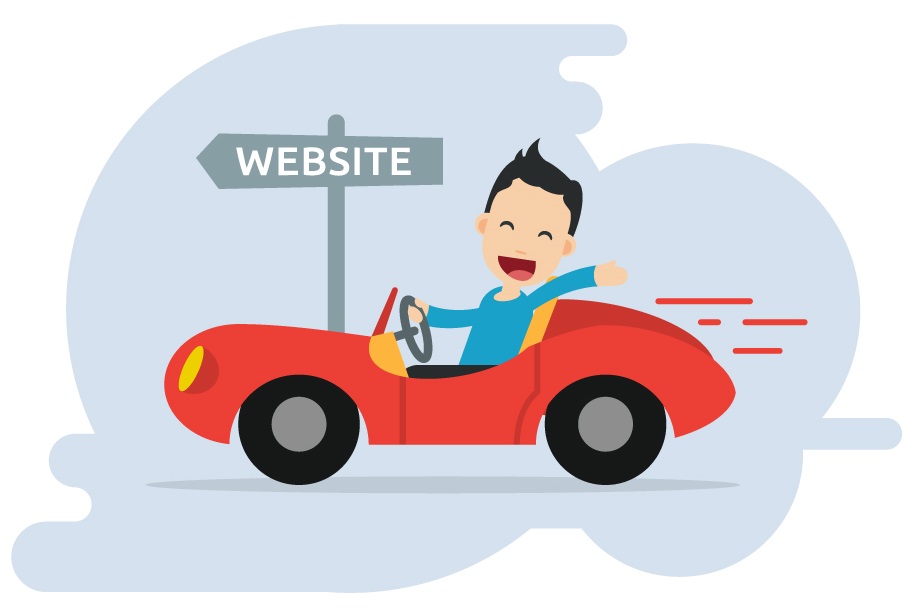 If your website is your online shop front then your website visitors are your potential customers.
If you like horses, you can find and connect with thousands, no, millions of people interested in horse related things.
If you love running, through your website you can find and connect with millions of other people interested in running.
Wealthy Affiliate will show you exactly how to build up a loyal readership through the power of Google search and social media sites like Facebook and Pinterest.
4. Earn revenue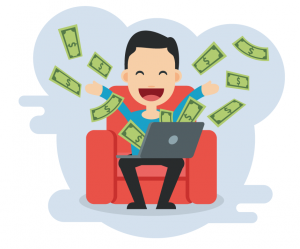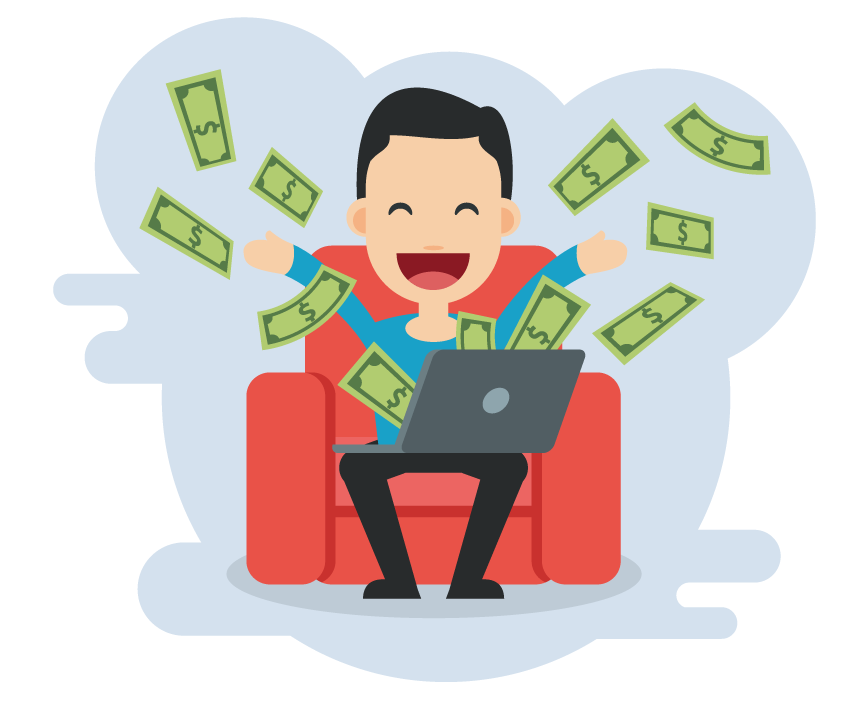 As a website owner, you'll be connecting with your readers by helping to answer their questions and give information.
Website owners make money by providing useful answers to questions and insightful solutions to problems people searching online have.
As you work your way through the Wealthy Affiliate training, you'll pick the best topic for you, build your website and start to get a steady stream of traffic (visitors) to your website.
Once all this is in place it's time for the fun making money bit! Okay, maybe money flying out of a laptop is a bit much, but you get the point!
I mean what kind of home business would you have if it didn't make any money? 🙂
There are literally hundreds of ways you can make money with your website and Wealthy Affiliate teaches them all, but my favourite way to make money online is through affiliate marketing.
This is where you make relevant and helpful recommendations to your readers.
Almost every company you can think of has an affiliate program, companies like Amazon, eBay, Samsung, Nike, Walmart, Apple, Canon, Starbucks, LEGO, Hilton Hotels and Sony to name a few…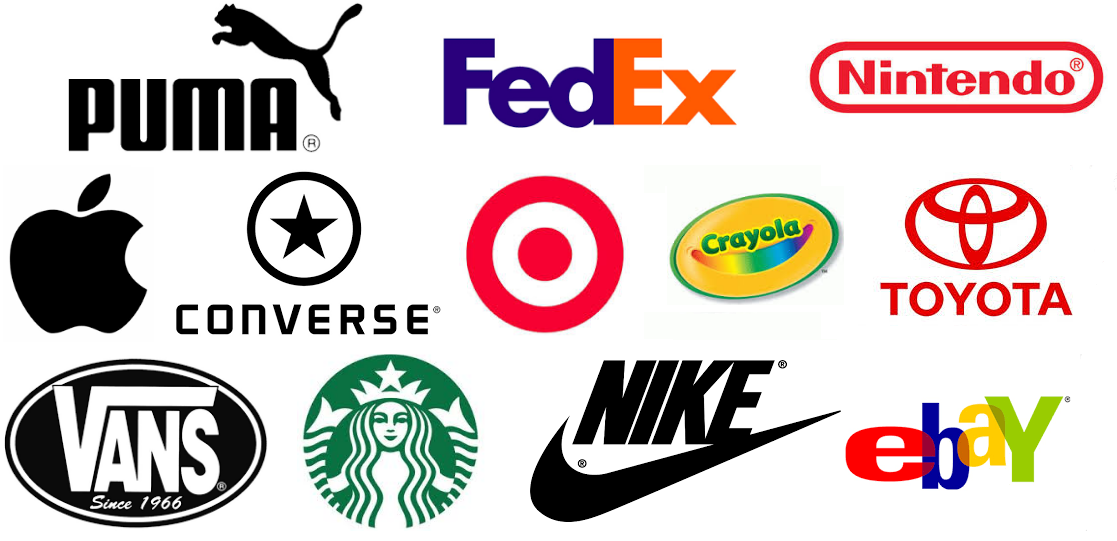 When you join their free affiliate program they give you a unique link you can place on your site.
If someone clicks on that link, heads over to the company's site and buys something – you as the referrer (affiliate) get paid commissions.
Sounds pretty simple right?
The bottom line
I love this home business model and what I've just shown you is the main way I make all my money online. I have several websites based around different topics for different audiences.
The reason this is my favourite business model is because, do this and you really are an independent online entrepreneur. Not only can you work from home – you can work from anywhere!
Another thing is, with a conventional work from home job, you put the work in, put the hours and get paid. Once. Call me lazy but I can't get excited about that idea!
With online business, you might spend an hour writing a blog post but you'll paid for the time you put in, not just once, but again and again, even months, years down the line. Now I'm motivated! 🙂
I don't work for other people, now I have people working for me all over the world. All thanks to the lessons I learned at Wealthy Affiliate.
If you're serious about starting a home business, create your free account and get started. You'll have everything you need – the right training and know-how, expert support, free websites, domains and hosting all at your fingertips.
Heck, I'll even be on hand to answer any questions you might have along the way, because as I've said, I get a kick out of seeing others achieve their dreams and watch another success story unfold.
See you on the inside!
To your online success.

Got any questions about starting your own home business? Want to bounce ideas around or get some feedback?
Leave your comment below – I personally reply to every comment.
Simon Crowe is on a mission to help as many people as possible kiss their bosses goodbye.
Take the free Commission Academy course to discover how to smash your online income goals and make your dream business a reality.