Last Update 22nd January, 2017.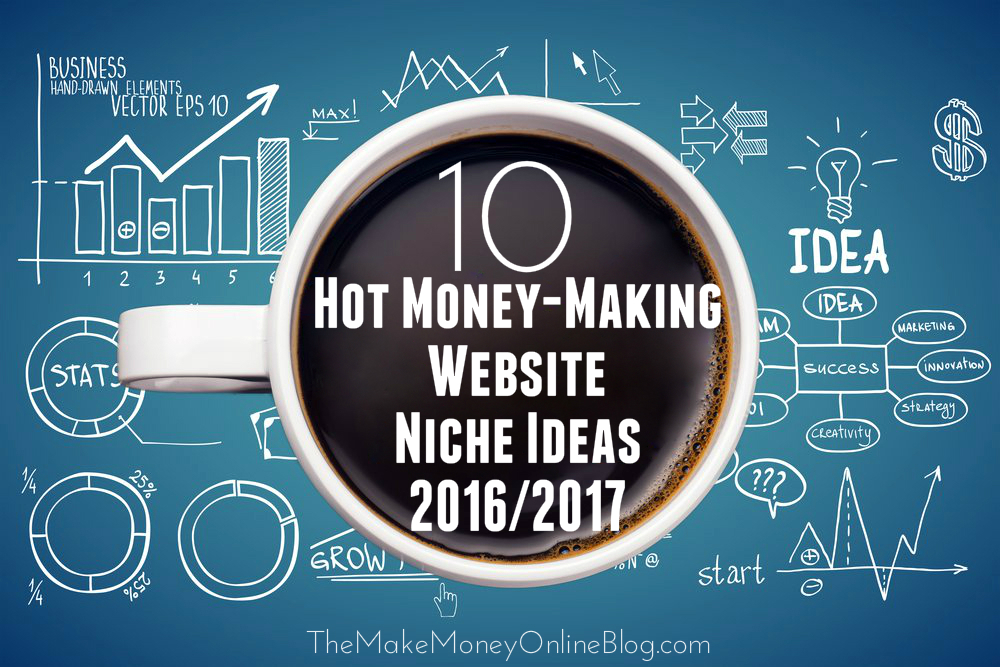 Struggling to pick a niche for your website or blog?
Choosing what to start a blog about is a question I get asked the most from people launching their online business.
And it should be. It's important.
To help you, I want to share ten HOT money-making website niche ideas I've discovered recently.
If you're looking to make a lot of money with niche websites in the next 12 months – one of these niche ideas could be for you.
Feel free to grab one and run with it. Not sure how to start a blog? Read: Ready to start you're own blog?
If you're serious about turning our blog into a cash cow then you really should enroll for the free training at Wealthy Affiliate.
From creating your first website, to generating traffic, to earning serious money – it's all covered within the Online Entrepreneur Certification Course.
Further Reading on learning how to make real money online:
Finding the right niche
I've found the hidden gems I'm about to share with you using Jaaxy, so if you're not already using this to bolster your online business, you should at least try it.
Take a look at the top ten niche website ideas, look at the trends, see what they all have in common and use that to launch your own research.
At the bottom of this blog post is a list to several resources I used to find the hottest trending website topics for going into 2017. If nothing tickles your fancy here, use the resources below to find something that can get you motivated to start a website about.
How Criteria I Follow When Picking A New Niche
Before I get carried away with a new idea and start buying up domains, I always run my potential business idea through these four question filters:
Is the niche based on a topic I can write about regularly?
Is this niche something that interests me?
Is the niche broad enough it can be expanded to an authority style website?
Can I promote products or services relevant to this niche and make money doing it?
If I think I've just found gold after discovering the best untapped market online but it doesn't pass all four of these tests I dump it.
Keep this in mind when reviewing the top ten hot and trending money website niche ideas.
Shall we take a look?
1. Drones
Drones have gradually increased in popularity since 2014 and are not becoming more mainstream.
Prices range from from small little RC helicopters for under $20 to the Phantom 4 Quadcopter which starts at $1,400.
A website in this niche can cover a wide range of topics to drone reviews, drones for kids, building your own drone, drones for photography and much more.
Although people are searching for information on drones all year round, as you can see, there's a spike in the number of searches just before Christmas.
Jaaxy Keyword Ideas
Top Products on eBay
2. Adult Colouring Books
Random I know, but adult colouring books are really hot right now.
Developing a whole website around the topic of colouring books could be a little difficult, but you could easily include other arts and crafts type hobbies within the niche.
There's nothing saucy about these colouring books, just in case you were wondering. They're just simply targeted at adults.
Jaaxy Keyword Ideas
Top Products on eBay
3. 4K TVs
You'll see the names 4K, Ultra HD, UHD and even 4K Ultra HD being banded about a lot right now, but they all refer to the same thing.
A 4K TV is super HD with more than 8 million pixels. I might even get one myself soon…
Curved, Smart, HD, ultra HD – electronics companies are always looking to entice us to replace our old sets for newer, better ones.
A review website based on 4K TVs could prove to be very profitable in the next year or so…
Jaaxy Keyword Ideas
Top Products on eBay
4. 3D Printers
The popularity of 3D printers has greatly increased in the past few years is still at a high.
Prices are slowly coming down after a couple of years which means these'll become more mainstream and available for home use, representing a huge niche opportunity.
Jaaxy Keyword Ideas
Top Products on eBay
5. Matcha
No idea what Matcha is? Don't worry I didn't either until I started researching trends.
It turns out Matcha is a healthy green tea. As you can see form the trending graph, the rise in demand for Matcha shows no sign of slowing down.
A niche website explaining the benefits and offering reviews on the different flavours and comapring different brands would do really well.
(I would do it myself if only there were more hours in the day!)
Jaaxy Keyword Ideas
Top Products on eBay
6. Nootropics
Here's another hot topic I knew nothing about…
Growing steadily in popularity since 2011, Nootropics are brain supplements that help improve mental alertness, focus and IQ.
Coming within the broad health niche, like Matcha tea – launching a niche website based on the cognitive benefits of Nootropics would be a smart move.
Here are a few potential keywords you could target:
Jaaxy Keyword Ideas
Top Products on eBay
7. Tiny Homes
Simply put, Tiny Homes is a recent social movement where people are choosing to downsize and live a more economical lifestyle.
Whereas the typical American home is around 2,600 square feet, whereas the typical small or tiny house is between 100 and 400 square feet.
If I were to launch a website business around Tiny Homes I would focus on interior design, tiny home furniture and people who already live in a tiny home.
Jaaxy Keyword Ideas
Top Products on eBay
8. Beard Oil
We all know men sporting 70's style beards is popular – not surprising then is that beard oil is another trand on the rise.
Whatever you think about it, people are buying everything from beard oil to beard combs to beard decorations.
You can't argue with the stats!
Jaaxy Keyword Ideas
Top Products on eBay
9. Fitness Tracker
Another in the health and fitness niche, is the fitness tracker.
Jawborn, Misfit, Fitbit, Garmin (try saying that really fast ten times), are all brands that were unheard of just a few years ago but are everywhere now.
Fitness trackers are at an all time and show no signs of slowing down.
Healthy & Fitness as a niche has been around since the dawn of time and high-priced fancy gadgets will continue to help you build a solid income for years to come.
Jaaxy Keyword Ideas
Top Products on eBay
10. Mirrorless Cameras
Simply put, mirrorless cameras are essentially high-quality DSLR cameras in compact bodies. They're user-friendly take great photos.
While interest has been slowly climbing, there is a lot of room in this niche to really build out a strong authority site. I would focus on one specific brand and follow their mirrorless camera release, news, updates, and lenses.
Jaaxy Keyword Ideas
Top Products on eBay
Other Resources
If you're still left scratching your head wondering which niche to choose or have any questions with any aspect of starting a money making niche website, I want to give a another chance to take advantage of the free training at Wealthy Affiliate.
The training is ideal for newbies to the online business world or bloggers looking to turn their sites into cash generating machines. Get Started Here.
Okay, your turn!
Have you noticed any new and exciting trends that could be profitable? I'd love to hear from you. Have you seen any examples of content that is new and exciting? I'd really like to see it. Please leave a comment below and let me know.